JumpSmart by ChargeHub Creates Ultimate Solution For Emergencies
Whether it's in a vehicle or at home, the JumpSmart features a vehicle jump starter and power bank USB charger, packed in a single high-powered 4-mode LED Flashlight.
All of which is easily carried in the durable JumpSmart heavy-duty Carrying Case, ensuring your preparedness anywhere you go!
JumpSmart is there when you need it for an emergency. This single unit combines a 37000 mWh jump starter, 330 Lumen flashlight and a power bank in one device. The JumpSmart is powerful enough to jump-start 4, 6 and up to 8-cylinder, 5.0L engines and even works on boats, motorcycles, and lawnmowers.
The Smart Jumper Cables have 10 built-in safety features with audible alarms and visual safety indicator lights to warn of any improper connection.  The flashlight has a 495ft reach and features 4-modes: high, low, SOS, and strobe.  The power bank charges your USB devices, including phones and tablets, fast with the patented SmartSpeed Technology at 2.4A output.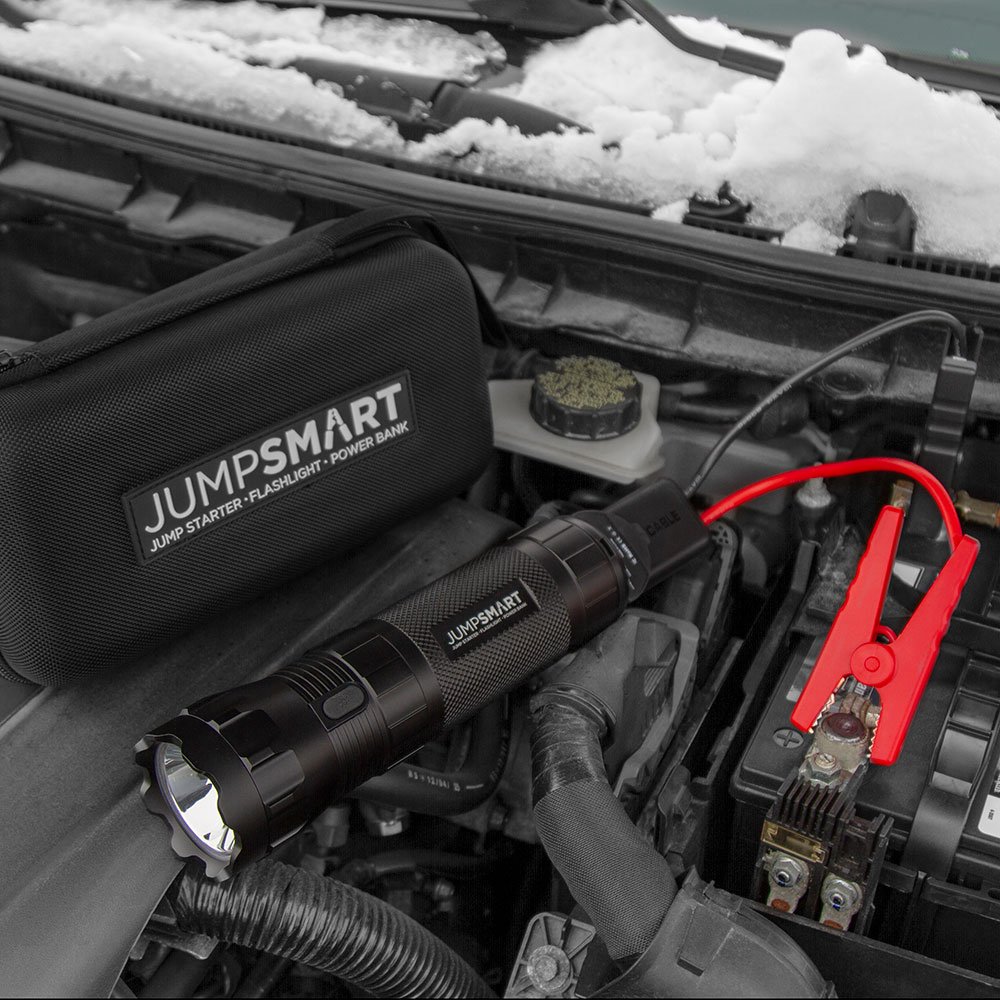 Really understand all of the benefits of the JumpSmart:
JUMP STARTER
The JumpSmart can jump startup to an 8-cylinder, 5.0-liter engine with ease.  Its powerful 37000 mWh high-grade Lithium-Polymer battery is compatible to jump start with most cars, trucks, SUV's, boats, motorcycles, lawn mowers, ATV's, and more! Re-charge up to 1000 times.
FLASHLIGHT
Beyond its jump start features, this 8W, 330 Lumen LED Flashlight has 4-Modes (High Beam, Low Beam, SOS & Strobe), and a 495ft reach is a perfect tool for daily use, traveling, outdoor activities, and in emergency situations.
POWER BANK
Use the patented SmartSpeed Technology to charge (1) USB device fast at 2.4 amps when you run out of power! Power up virtually any device, such as mobile phones, tablets, cameras, navigations units, and more.
ERGONOMICAL ALUMINUM DESIGN
Aside from the other plastic and rubber jump starters on the market, this durable, anodized, and CNC-machined aluminum extruded casing with knurled casing can withstand collision that comes with everyday use.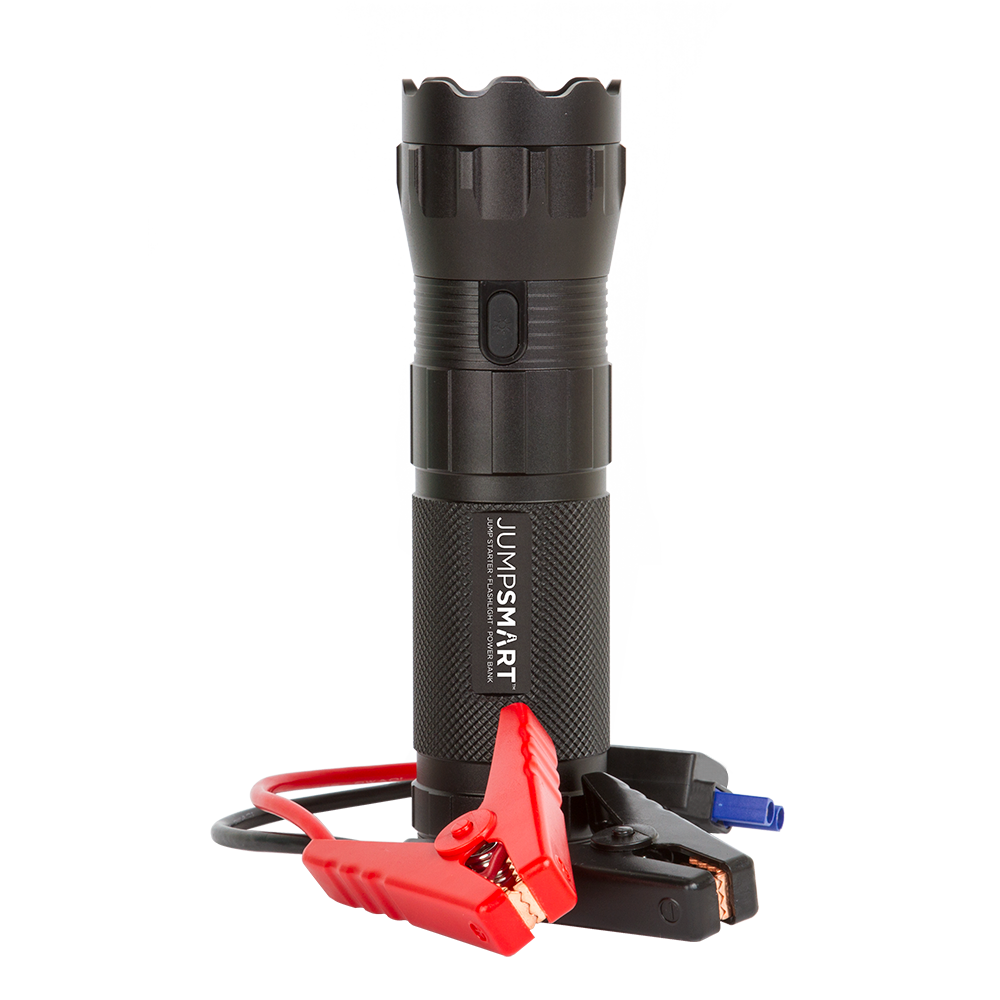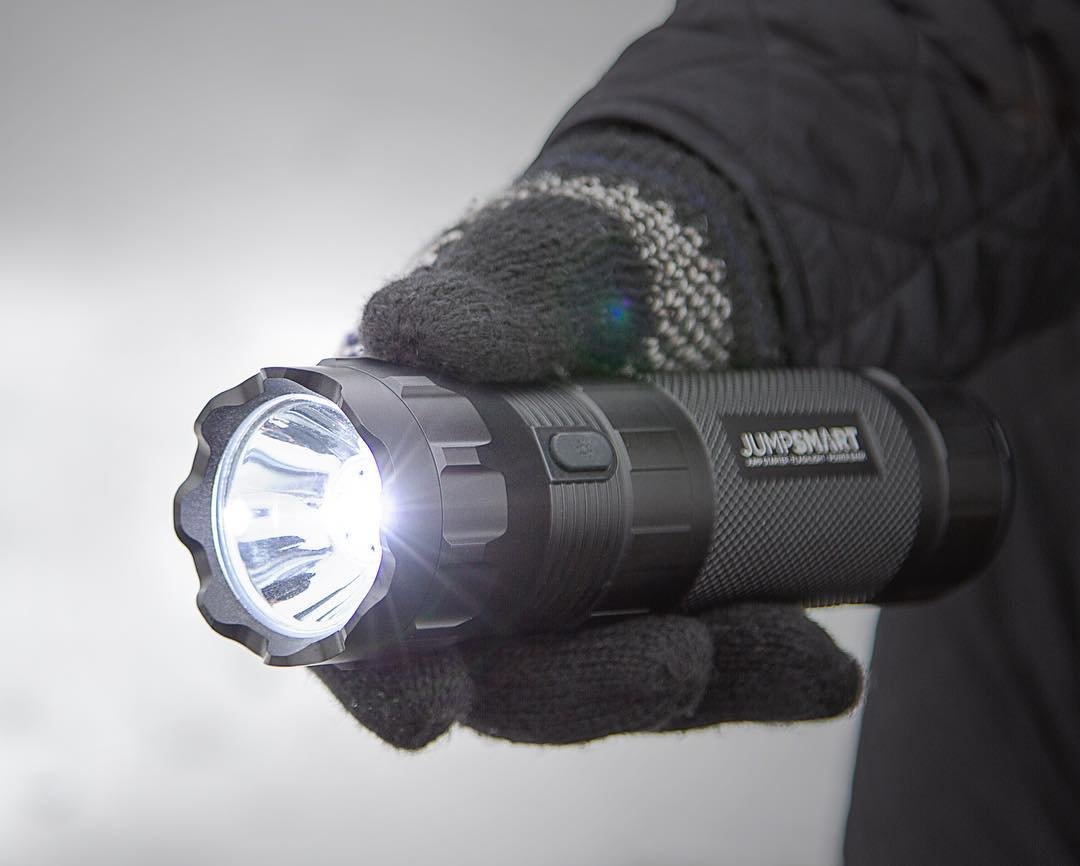 Use it at home and take it on-the-road to help ensure peace of mind everywhere you go!