Low Blow Saves Face For Amir Khan
Amir Khan put everything on the line at Madison Square Garden.
Some say It is never wise for a man to admit that a personal achievement would top his wedding day, but it's even worse if that wedding was one of the most lavish that New York has ever seen. Fortunately for Amir Khan, he never had to say that to his lovely wife, model and make-up entrepreneur Faryal Makhdoom Khan because he lost the fight that he told reporters would have been the best day of his life. And when you take a look at the wedding he compared it to, perhaps it was just as well that he didn't win, in the end.
Wedding at the Waldorf
Amir and Faryal's wedding was no quiet service, followed by a few friends and family at a local hotel. It was something straight out of the lavish world of Aladdin. Held at the exquisite Waldorf Astoria, it was a spectacular event that reflected the finest of Pakistani culture. Exotic foods, rich colors, swirling costumes and dancing until dawn marked their coming together as a couple in what was one of the biggest social events in New York in 2013.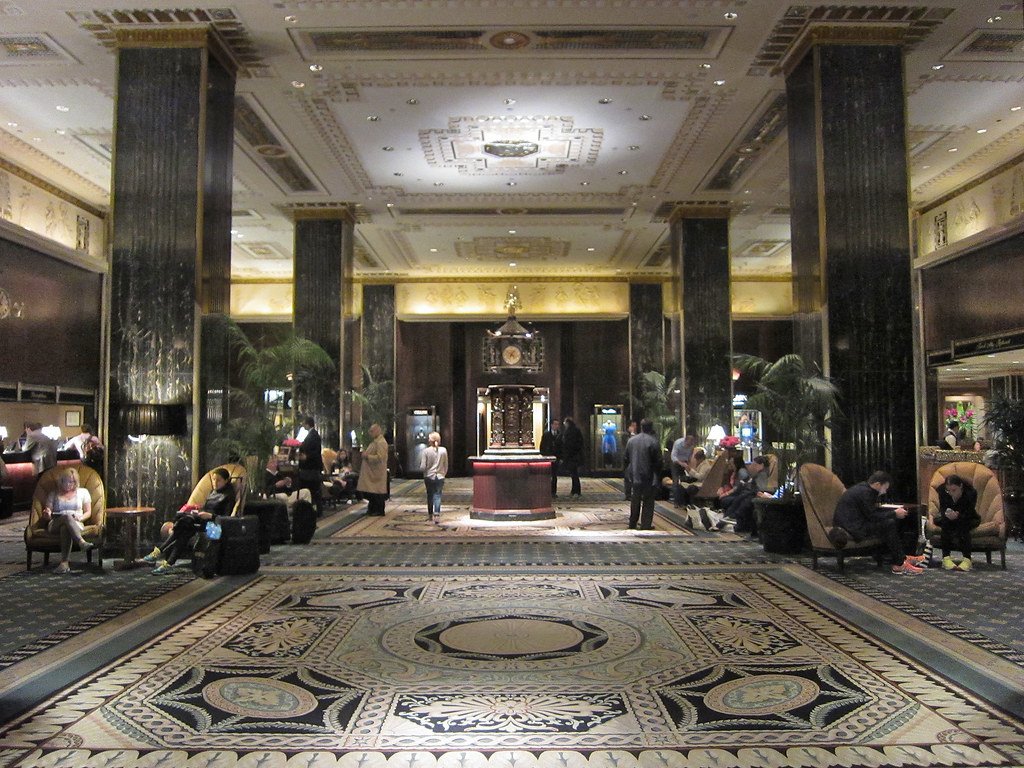 The lobby of the magnificent Waldorf Astoria New York. Image by Alan Light
A Luxury Lifestyle
The couple said to be worth over £30 million, have continued their lavish lifestyle ever since, enjoying the fruits of Khan's career, including the $3 million he received for his latest fight. Their home near Manchester, England, is worth over $2.5 million and includes a swimming pool, a home cinema and a huge garage to store the Khan's collection of luxury cars, including a Bentley Continental and a Lamborghini.
A Beauty Star
Amir may be the big name in sports, but Faryal can more than hold her own when it comes to fame and influence. A popular model, she also runs her own make-up business and has over 800,000 followers on Instagram where she shares fashion and beauty tips. And she's not only a pretty face. She graduated from Rutgers University with a double major in political science and journalism.
The Fight of His Life
With a stunning wife, a beautiful home and two lovely daughters, what on earth would prompt Amir Khan to suggest that winning his latest fight would top his wedding day? The simple answer is Terence Crawford. Rated as the second-best pound-for-pound fighter in the world and holder of the WBO world welterweight title, the match against Crawford meant far more than just a £3 million payday for Khan.
It was a chance to show the world how far he has come since winning Olympic silver in 2004. It was also a chance to become the world champion for the third time. But sadly, or perhaps happily for Mrs. Khan, this huge New York occasion was not to be as successful as their last.
Simply Outclassed
While few expected Khan to win against Crawford, Oddschecker analysis before the fight had predicted that he would last until round 10. As it was, he was sent to the canvas after only two minutes and went on to receive a pummeling for the next five rounds. When an accidental low blow caught him where no boxer should ever be hit, his corner saw the opportunity to end the fight, although Khan insisted at the post-fight press conference that he had not quit.
The Future
Following the fight, Khan underwent elbow surgery, but he maintains that his career is not over yet. Despite being 32 years old, he says he will be out for only three to four weeks and will come back stronger than ever, extending his remarkable career.
"I didn't expect to be boxing as long as this," he says. "It's gone much better than I thought it would."
As for Faryal, she continues to work hard to set a good example for her daughters, showing them that you don't have to be a man or a fighter to make your mark in the modern world.