Oprah Winfrey Wears Bespoke Rivet Utility On The Ellen De Generes Show
On Tuesday, May 24, Oprah Winfrey wore Rivet Utility's Bespoke Powerhouse Jumpsuit in pale blue.
On Sunday, May 8th, Oprah also wore the Rivet Utility Bigwig Jumpsuit in pink corduroy on Instagram.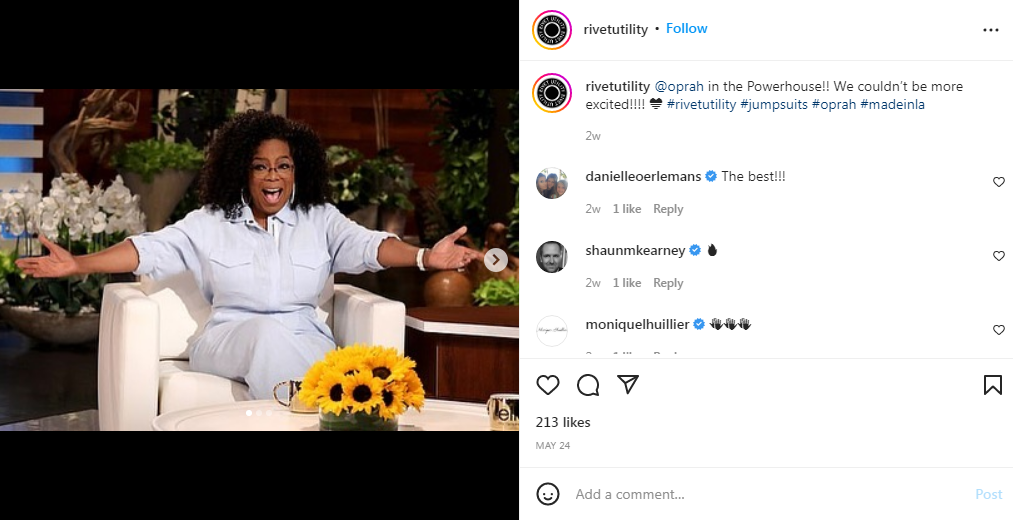 On Friday, December 17 Oprah was seen on Instagram wearing the Rivet Utility Maven Jumpsuit in white.
On Sunday Dec 4, Oprah was seen on Instagram, wearing the Rivet Utility Bigwig Jumpsuit in heather grey velour.
About Rivet Utility
Rivet Utility is a women-led brand built around the idea of problem solving. We make one thing— jumpsuits. The BEST jumpsuits for every occasion. A whole outfit in one, designed to take away the daily stress of finding something to wear.
Founder Daun Dees, mother of 5, spent two years in R+D to create the right fit for Rivet Utility. All jumpsuits are made with zippers so it's an easy zip in— and more importantly— easy zip out. Creating a marriage of elegance and utility with the core collection and exciting specific pieces that are launched each season.
Rivet Utility is committed to creating quality products sustainably and ethically and is currently sold on Net-A-Porter, GOOP and Neiman Marcus.
Fans of Rivet Utility, who have been photographed in the brand include Gwyneth Paltrow, Demi Moore, Jodie Comer, Jessica Seinfeld, Camila Morrone, Jennifer Meyer, Barbara Sturm, Sara Foster among others.