Diversify Yourself With Kendra Qual
Kendra expresses the importance of being yourself and following your heart in whatever areas draw you in.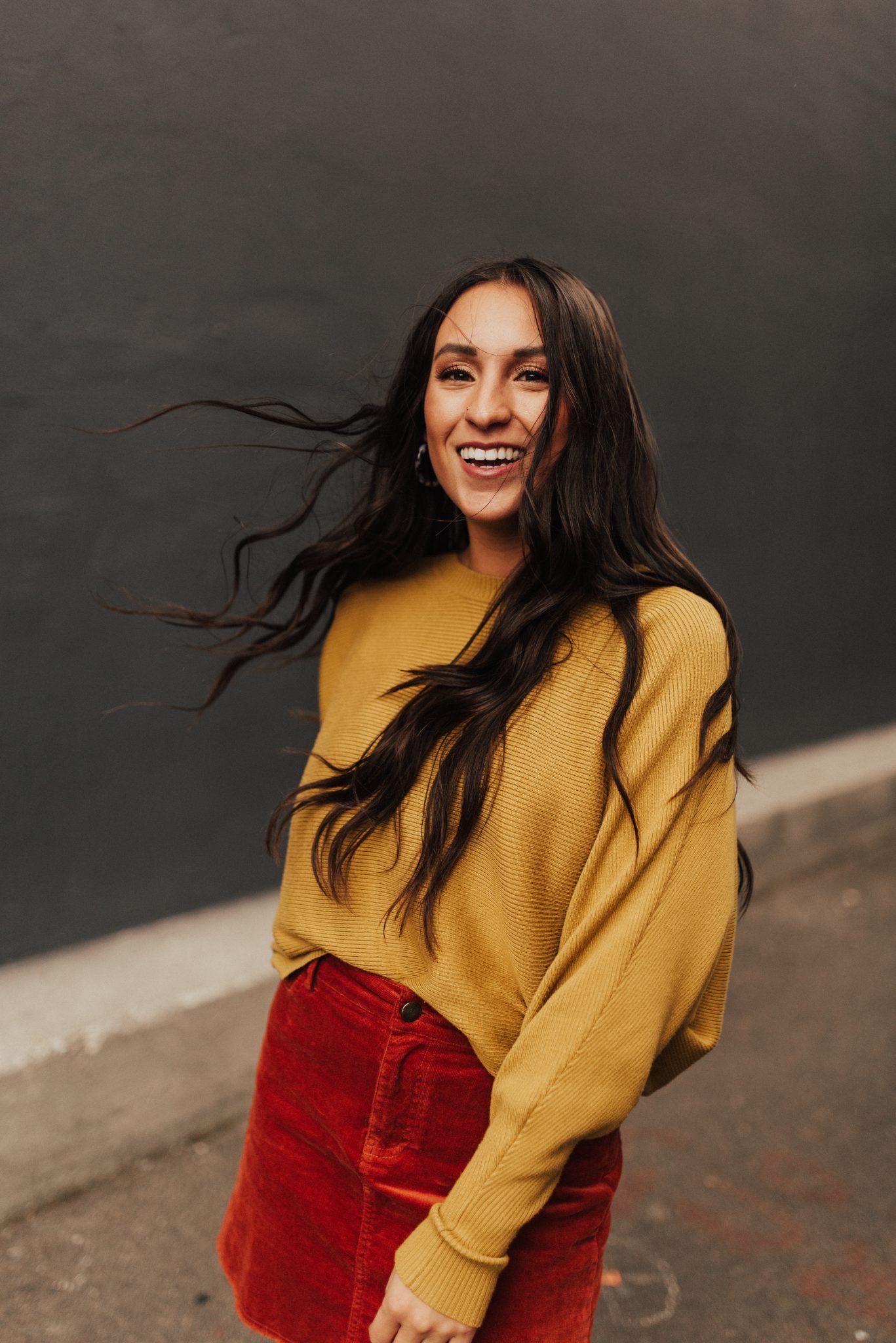 We interviewed Kendra about her upbringing, journey her career and perspective on style hailing from the PNW.
Where is home?
I've lived in Oregon for almost my whole life. It really is such a beautiful state that I grow to love more and more the older I get. We have a little bit of everything: beaches, mountains, desert, and forest. There's always a new place to explore! I don't think my husband and I will ever leave. It's home for both of us.
Has fashion/lifestyle blogging always been your career plan? 
I graduated with a bachelor's degree in counseling and clinical psychology and decided at the end of my senior year of college to give blogging a try. I loved my degree and plan to still use it in the near future, but blogging offered a creative outlet that I was craving and additional income on my terms. My cousin, Karlee Flores, is a successful food blogger (@oliveandartisan) and she really showed me that blogging can be more than just a hobby. Since then I've been taking it one day at a time, always making sure that as this business grows, I'm still just as excited and passionate about it as when I first started. The day that I no longer feel that way, I'll probably pull back the reigns and see what happens next.
What's a typical day like for you? 
Blogging isn't my only job. I also work as a personal support worker for my brother with Autism. Before that, I worked at a wealth management office for five years and blogged on the side. Getting to work with my brother has been both rewarding and has offered me more flexibility to grow my blog and push myself creatively. After the day work is done, there's always emails to answer, content to shoot and edit, and posts to plan and write. It's a jam-packed schedule for sure, but I make sure to have fun while doing it.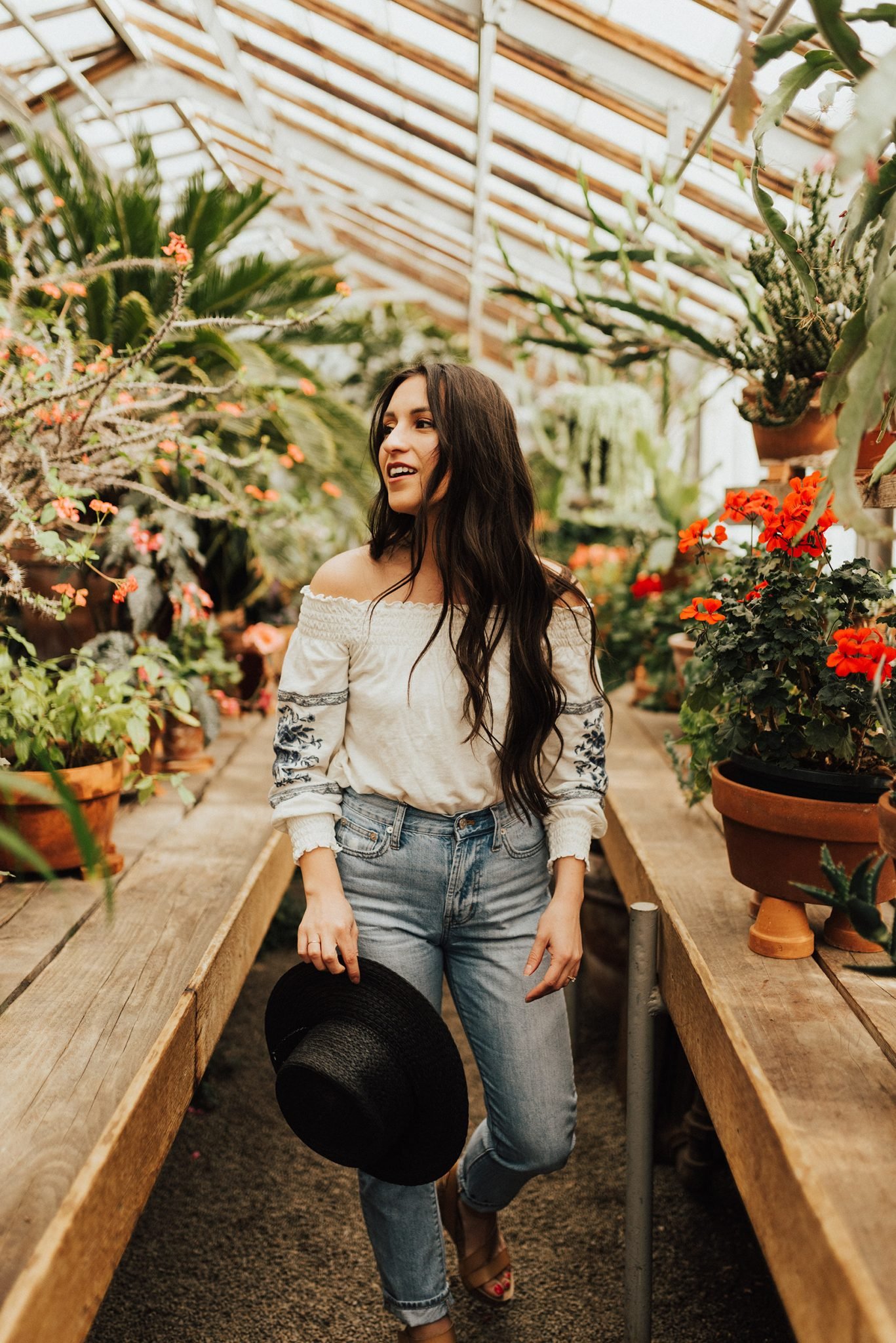 What's your favorite vacation spot?
I'm a huge Disneyland fan and dream about being there probably five times a day. That place is just so magical. But when I'm just wanting to relax, I love anywhere with a beach. My husband and I have vacationed in Mexico and Turks and Caicos, and we definitely love the tropical destinations. Anywhere where I can lay on a beach, snorkel in clear water, and eat yummy food is the perfect vacation spot for me!
How much has your style changed since you started blogging?
I feel like in some ways my style is always evolving, but in the last few years I've really settled on a look and feel that's stayed consistent. A lot of it has to do with choosing to invest in more expensive pieces that I love, rather than owning a closet full of cheap clothes that I never wear. If you've read any of my shopping guides, then you know my number one tip is to never buy something just because it's cheap or on sale. I try to choose items that will last longer and that I'll want to wear for years to come. When I feel like trying something new or mixing it up, I'll buy a new pair of earrings or shoes, but I'm a basic girl when it comes to those must-have, will always love, staples in my closet. Denim makes up a huge part of my closet because it's so classic. I don't think that will ever change for me.
The Fox Magazine is all about inspiration, what/who inspires you the most?
Jaci Marie Smith (@jacimariesmith) has been my biggest Instagram inspiration for years now. Even though her feed and style are often so different from mine, I love her ability to create moving images. I just never get tired of her feed and I think it's because she's always pushing herself to try new things and be creative in new ways.
Kristin Johns (@kristinjohns) is another influencer that I love. She's the cutest person ever, but she just comes across as the kindest and genuine person as well. I love feeds that portray a good example of producing quality content while staying honest. She's also a major boss babe with her own brand, so there's a lot to be inspired by.
Do you have any tips or tricks for achieving an aesthetically awesome Instagram page? Any social media tips? 
It's such a cliché answer, but for a good reason. Be true to who you are. If you're trying to present yourself as something that you're not, you're wasting your time. People are hungry for honesty and want to know the real you. That being said, a beautiful Instagram isn't something to avoid. I look at my Instagram as a form of art. I genuinely enjoy styling shots, editing them and sharing them with the world. I think you can have an aesthetically beautiful feed and still be a genuine person.
What's something people would be surprised to learn about you?
I don't consider myself a fashion blogger. When I first started blogging, the majority of my posts were about outfit styling and shopping. It's what I love to do. It's literally a form of therapy for me and my number one choice activity on any given day. But I knew I didn't want to focus on just fashion for forever. I love to share good deals I find and cute outfits I'm currently in love with, but what I really crave and love to share is real life. Some of my personal, faith-based posts have been some of the hardest and most rewarding to write, because they're the most honest about myself and the world we live in.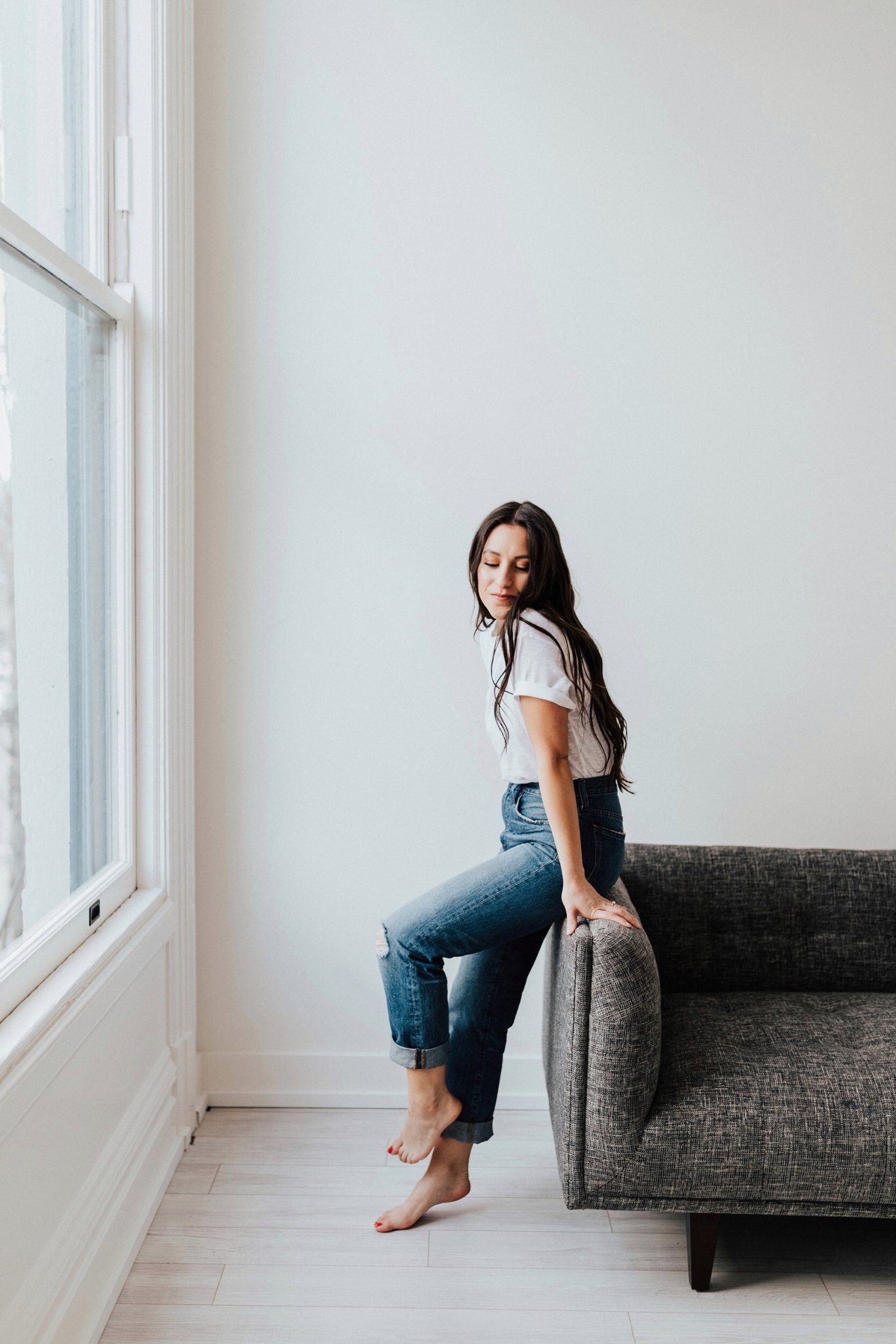 I strive to make Sagebrush Roads a place where you can find fun, light-hearted posts about my latest shopping finds, but also find yourself being challenged and encouraged as I share life lessons I'm currently learning. I really hope my blog is a place that feels real and inviting, and that includes both the serious discussions and the fun fashion posts.
What's your best advice for people looking to get into fashion and lifestyle blogging?
Be patient and manage your expectations well. I went into blogging thinking it would be so easy and fun all the time. If you're really wanting to be successful in this industry, then you need to be ready to work hard. There are still times when I'm not in the mindset to work full time on my blog, but then I have to manage the expectation of where my business is at. I can't treat it like a hobby and still expect it to perform like a growing business. And give yourself same grace. There will be times that you'll need to take a step back and that's healthy. It can be a very competitive industry, but it doesn't have to be that way. Your attitude and mindset make all the difference.
How do you separate fashion and style?
I think that style is something unique and personal to us, and fashion is the way we express that. Just because something is "in fashion" doesn't mean it may represent your personal style. I have girls tell me all the time that they don't feel like they can pull off the latest fashion trends, and that's ok! If those trends aren't you, then why would you bother with trying to pull it off? For me, style is really a feeling. If something makes me feel beautiful and confident, if I'm naturally drawn to it whether it's in style or not, then I know it's for me. The same is true for the opposite. If I feel like I'm trying to make a piece work, then that's a piece of fashion that just isn't me.
What's your go-to brand for fashion?
I don't know if I can pick just one. I love brands like Free People Madewell, but that's often a splurge for me (shop their sales though, they always have good stuff). I'll shop anywhere from TJ Maxx and Target to Nordstrom. I try to focus more on individual items rather than the brand name. If I really love something, I don't care what the nametag says it is.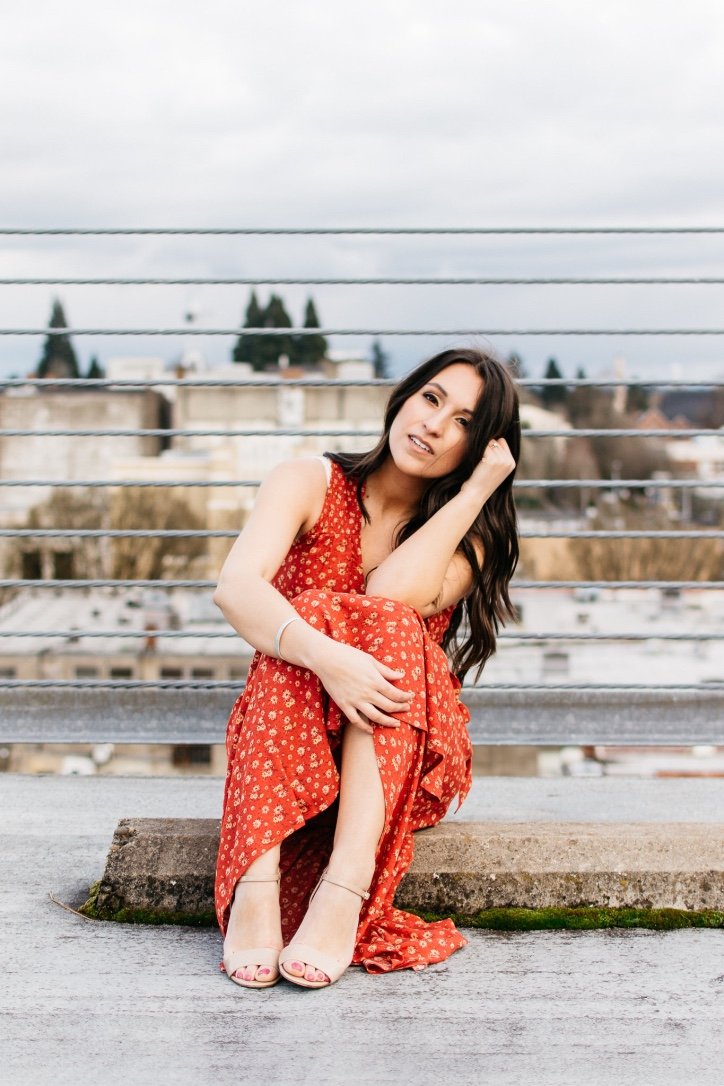 Where do you find the most inspiration? Celebrity culture, or what's trending?
Pinterest has been my obsession since day one, but Instagram has taken over my fashion inspiration in recent years. Most of the people I follow are clothing brands or influencers who inspire me with not only the clothes they wear but the way they style them. There are so many accounts I just follow simply because they have the cutest outfits. I'm always drawing inspiration from others.
What's a trend that you are loving right now?
I am loving the hair accessories! Especially scarves! I have yet to find the perfect way of styling scarves in my own hair, but I think it's such a chic and classic look. It's a super-easy way to add something eye-catching to an outfit and there are so many beautiful scarfs to choose from! Anything that gives any outfit a vintage touch immediately has my attention.
What's one trend that you will never try on personally?
I've seen a few fashion bloggers and influencers rocking Crocks recently and that's just not for me. They're the cutest girls, and I love that they're keeping it casual and comfy, but I don't think I'll be jumping on that bandwagon.
How do you translate trends to your readers?
I try not to use the word "trend" as much as possible. Of course, it inevitably comes out in my writing and Instagram stories, but I never want to portray the idea that you should buy things simply because it's what's trending. Instead, I just share the pieces I'm currently loving and think my followers will enjoy too. I try to share the ways I choose to style the pieces and encourage my followers to try new things, whether it's trendy or not. Sometimes my current favorites are 100% in and trending, and sometimes it's a go-to look I've been rocking for years. I hope that my followers see that it's all about mixing the forever classics with the fun trends and finding the style you love most for you.
Do you have any fundamental fashion tips for young professionals?
You can be professional and true to your style at the same time. I think our clothing plays a major role in the way we present ourselves. People will try to tell you that the opinion of others doesn't matter, but when our physical appearance is often the first impression we give, it definitely carries some weight. As a professional, you need to dress like you're ready to take on the job. Whatever your work dress code requires, you can still find ways to express your unique style and still keep it professional. Look to color schemes and accessories to bring character to your work wardrobe and buy clothes that make you feel good and confident. Confidence in the workplace is always important and your clothes can help you get there.
How do you style an outfit? Where do you start (the shoes, the top, or the accessories)?
It depends on what I'm wanting to wear that day. I usually start with my top, but if I have a new pair of shoes or a favorite accessory I want to wear, that becomes my inspiration for my look. I try not to put too much thought into it. I don't think that putting together an outfit should be rocket science. I just wear whatever I'm drawn to in that moment and mix it up with pieces in my closet. Denim, whether a pair of jeans, a jacket or skirt is always a safe way to throw an outfit together quickly. It goes with everything and will have you looking put together and on-trend with minimal effort.
What advice do you have for someone who wants to push the restart button and makeover their look?
Start with a new piece that you love. Or maybe it's one item in your old wardrobe. Find that pair of jeans that fits just right or that jacket that you've been eyeing for months and build from there. Start simple. Get just the basics and only add pieces that you truly love. You can have a complete and super chic look with just a pair of jeans, and a white tee. You don't need to pick a stereotyped look or trend. Just invest in pieces that you're drawn to and make you feel confident in who you are.
What style item is a must-have that you can never go wrong with?
Have I mentioned how much I love a good denim jacket yet? It's a must-have and there are different variations if you're not into the traditional blue jean look. Whether you go for white or black, classic or distressed. You just can't go wrong with such a versatile piece. It's great for all seasons and looks good dressed up or down. Need I say more?
What do you see as some of the economic and design challenges of the industry?
It's very difficult to grow in this industry right now. Most of my business comes from Instagram, which is ever-changing and ever-growing by the day. You'll get into a groove of growing your audience, connecting with followers, and bringing in income and then things will change, and your business takes a hit. This industry requires you to always be looking ahead and ready to take on whatever tomorrow brings. That may mean you need to change your growth strategies, brainstorm new content, and find new ways to connect to your audience. It's hard, but it's sort of a blessing in disguise. It pushes you to grow and often leads to the content and work you're most proud of.
What elements separate your work from other style gurus?
I try to present an attainable, everyday style that is accessible to anyone. I wouldn't call myself a budget fashion blogger, but I know what it's like to shop on a budget. I also like to invest in quality pieces that I sometimes splurge on. I hope that there's something for everyone in my style tips and fashion choices. I don't ever want to post something and make someone feel like that can never be them.
What is your favorite fashion-related motto, quote or words to live by?
Only buying the latest trends, or impulse purchasing something because it's a really good deal are not what dream closets are made of. No matter what your budget or style looks like, you should buy things that make you feel beautiful, confident, and YOU. If you're buying clothes for any other reason than the joy you feel when you put them on, then you're doing it wrong.
Wear what makes you happy.
---
Connect With Kendra!