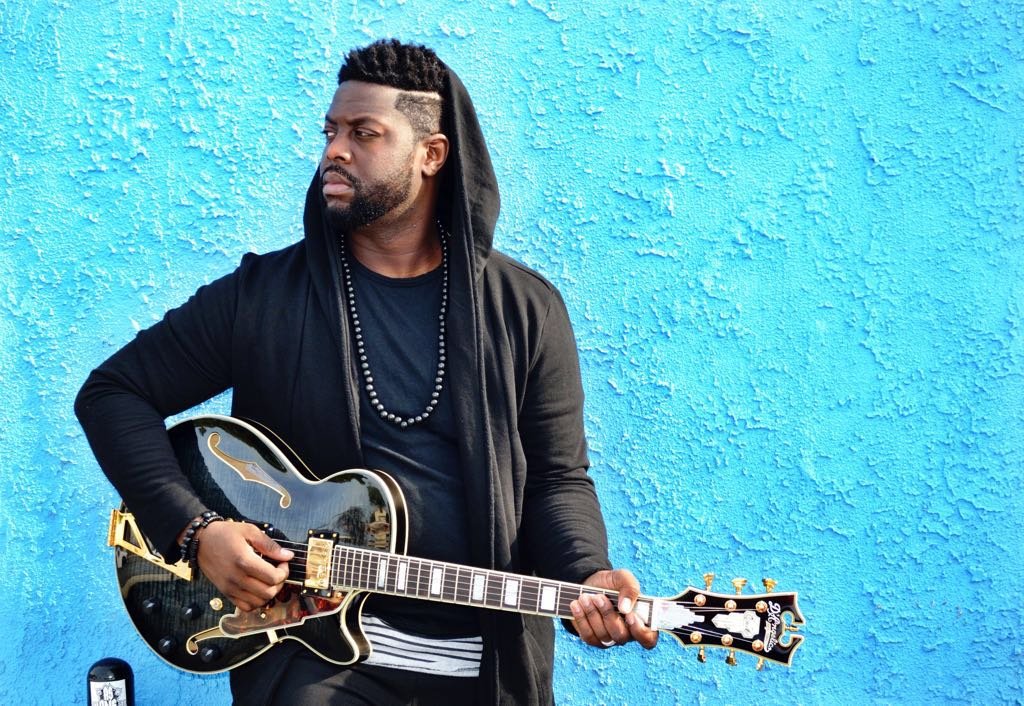 Kerry Marshall is a True Inspiration
With his undeniable talent, charming personality, and niche fanbase, the spotlight is on Kerry Marshall. An incredible story of resilience and tenacity, having gone from the combat zone in the middle east, to playing guitar around the world with some of today's biggest artists, he has organically grown a significant following on social media and influences many guitarists with his signature sound.
Kerry has over 1,025,000 views on his YouTube channel as well as being a member of the celebrity platform WhoSay which lead to many opportunities such as being lead guitarist (electric and acoustic) for Ty Dolla $ign, Ledisi, Chante Moore, Sebastian Kole & Sean Kingston. Although it doesn't stop there, Kerry has also toured and played with Jason Derulo, Tyrese, Chrisette Michele, Michelle Williams of Destiny's Child, Fantasia Barrino, Jacob Latimore, and many others.
Photo by: Birdie Thompson. – @birds_eye_photo
We had the opportunity to interview Kerry about his success as well as his lifestyle.
What's a typical day like for you?
If I'm at home, I typically wake up and think about everything I have to accomplish for the day, then read scriptures and eat breakfast with my wife. After getting cleaned up, I get dressed and watch SportsCenter for about an hour and then it's time to get to work. I head into the music room, look at my social media, and respond to my followers. Sometimes they ask for specific videos or tutorials and from there I decide what to work on first.
I spend a few hours working on videos, then it's typically the time for me to work on a session for a client. Some days I have guitar students throughout the day that I teach on Skype. After that, I take a break, grab lunch or a snack and start working on videos and posts for the following day. In the afternoons I usually touch base with my manager and publicist and we work very closely in strategizing campaigns to build my brand and platform. Before my wife and I sit down to dinner, I usually spend time practicing music that I have to play for a show that evening or coming up. I typically spend about six hours a day with my instrument, not including showtime. After we eat dinner, it's time to get ready for the show that night. My military background has really prepared me for this industry. I'm known for being the first to arrive and set up, ready to play.
If I'm on the road, I catch a red-eye the night before, and by the time I land, we usually head straight to the hotel. While on the way to the hotel I try to coordinate to meet up with musician friends, old classmates, or family members in the city I am in. After that, I typically have a couple hours of downtime where I nap before heading to soundcheck. We get to the venue and do a line check before we play. I usually try to get to sound check about 20-25 minutes before everyone else so I can dial in my amp and pedals and play to the room. I'm very meticulous about my tone and making sure that my musical voice has heard the way I want to convey it. We play the show and then meet fans and friends who have come out to support. After chatting for a few minutes it's time to head back to the hotel or bus because typically we leave out super early the next morning for the next city.
Photo by: Birdie Thompson. – @birds_eye_photo
Has music always been your career plan?
No. I initially thought, coming out of high school, that I would be a high school football coach and a history teacher. Music has always been a part of my life but wasn't always my ambition until I joined the army. When I went off to the military I did general studies. It all changed for me when I won a talent show performing in front of 2,000 of my peers. That's the day I knew I wanted to do music full time for the rest of my life. Once I got out of the military I went to college to finish my degree and majored in stenography. Midway through I realized it wasn't what I wanted to do, so I switched my major to criminal justice. While in college, I was gigging throughout the week and on weekends. I got an opportunity to play at the BET awards in Los Angeles and decided to forego my college education and pursue music full time. It wasn't an overnight success. I had several jobs over the years. I worked in insurance, I was a personal trainer, I worked in law enforcement, and served in the Army.
What's something people would be surprised to learn about you?
That I served eight years in the US Army and was in combat arms in Iraq.
What's your best advice for aspiring musicians?
If it is your dream to play professionally, really sit down and plan it out. Set benchmarks to measure your growth and see if you're getting close to obtaining your goal or not. Remember that your vision isn't always everyone else's vision. Don't get discouraged when people try to sway you from achieving your dreams. Study what other successful people have done in order to be successful. Use their blueprint. Adopt principals of success from their life and apply them to yours.
To win a Grammy Award, have a successful musical career, and become a household name amongst guitar greats is what I strive for. I aspire to influence kids everywhere musically. I also want to inspire people to pursue their dreams by being a living example of a dream chaser. To win a Grammy Award, have a successful musical career, and become a household name amongst guitar greats. I want to help others to tap into their purpose. I plan to continue creating a life-long signature sound that others want to emulate.