Beauty Influencer And Entrepreneur Sasha Anne Raises Smiles For A Good Cause
Sasha Anne is a beauty entrepreneur, makeup artist, and influencer, who started her first limited edition line of lip gloss when she was just 18-years-old.
Now at 21, with an amassed following of over 28k Instagram followers, over 1 million combined views on YouTube, and a collaboration with Lady Gaga's makeup artist Dani Fonseca, the empowered businesswoman is ready to build an inclusive and intentional beauty empire with more products now in development.
While Sasha Anne's success is inspiring, things weren't always easy growing up as an eccentric and creative teen. Searching for a space to fit in, Sasha Anne was continually bullied by her classmates and peers for being different.
Then, she discovered the power of makeup. Makeup offered an outlet to be creative, transform, and express herself unapologetically. As she harnessed this power for herself, she wondered, "how can I help other young people around the world like me to feel empowered through makeup too?"
Sasha Anne is a Shorty Award recipient for empowering young girls with her Wonder Woman makeup tutorial, continuing to grow and expand her platform of inspiration with tutorials like "Pride Rainbow Glitter Eye," the "5-minute bold makeup challenge," a Lady Gaga inspired tutorial from the pop star's new music video with Ariana Grande, "Rain on Me" and even a TikTok dance tutorial with Amelie Anstett to get people having fun and moving from quarantine. She also did a makeup tutorial for Animal Crossing fans, a Nintendo Switch game that dominated the game industry among teens and young adults throughout the pandemic.
Sasha Anne currently has a limited edition nail collection set out now.
"The shimmer and glimmer of costumes and cosmetics brought me a sense of empowerment I had never known, and I share that shine with everyone. With my new Sugar & Spice nail colors, you can transform from sweet to sassy with the stroke of a nail brush," said Sasha Anne.
We talked with Sasha Anne about her inspiring One Million Smiles Campaign, her rise as a social media influencer, and her favorite beauty trends. 
What are your favorite inspirations and why?
Audrey Hepburn had so much elegance, style, and kindness that I truly admire and aspire to take on some of her amazing qualities.
What you hope to change with your work & success?
I hope to empower young people to be proud of who they are and that they can go after any dream!
What was the inspiration for the development of your One Million Smiles Campaign?
I created the One Million Smiles Campaign shortly after I was diagnosed with lymphoma and realized quarantine was still a requirement for me. It made me think of the millions of high-risk people around the world that can't see loved ones due to COVID-19. Beyond that, even healthy people are no longer seeing smiling faces walking down the street because everyone is covered in a mask. So this campaign was a way to bring smiles back into everyone's lives.
Social media is the widest used method of information sharing and communication, do you think that this will change or only evolve?
I definitely think it will keep evolving. If we look back over the past couple of decades, social media started with AOL and different blogging sites and then went to Friendster and MySpace. So it's already evolved so much over the past 20 years, I don't see it going away. I do hope it never replaces real human interactions though. It's easy to get lost in social media, but it's important to remember not everything you see is real.
What is a current challenge for you and how would you approach it?
Currently, my biggest challenge is battling lymphoma and managing my business. I launched a new nail polish collection, Sugar & Spice, and I'm so excited and proud of it, but it takes a lot of energy to keep up with business meetings, social media, and creating my makeup transformations on YouTube. Some days, I can't get out of bed due to side effects from chemo, but I just try to give myself the rest I need and when I'm feeling well, I push myself to get as much done as possible.
How do you prefer receiving feedback?
I like hearing an explanation with the feedback especially if it's negative. I don't want to hear "no" or "that's not good" without hearing a reason why. I'm open to compromise and willing to hear what people think, but I want to fully understand why I'm getting the response I'm getting regardless if it's positive or negative.
What was one thing you did that exceeded your expectations when you began developing your YouTube channel and blog?
I won the Audience Award at the Shorty Awards for my Wonder Woman transformation focusing on empowering women. I couldn't believe it and was so honored!
What does success mean to you? What are your rules for success?
For me, success means doing something you love and sharing it with as many people as possible to spread a positive message.
How do you handle comparisons between your YouTube channel and blog and that of other influencers? What is one way you continue to distinguish your brand and stand apart?
There are so many amazing influencers out there that I admire, but I know I'm different than many of them. While I love looking glam, I also love playing dress-up in the form of my cosplay transformations. One day, I might post a photo of me on a red carpet (pre-COVID), and another, it might be me with no makeup on, and another, I'm Wonder Woman or Hannah Montana. I try to stay true to myself and not let what others think I should be affecting me.
What trends are you most excited about for 2021?
Say goodbye to the nude nail. Highly saturated nail colors that make your nails pop. My Sugar and Spice nail collection is right on trend!
Cat eyes. It's a great look that's a fun and easy way to play up your eyes given we are wearing masks over the bottom half of our faces. Go natural or go full-out glam with glitter and a bolder line!
I love the fact that brands are focusing on skincare, specifically healthy and natural products that enhance the way we look and the way we feel.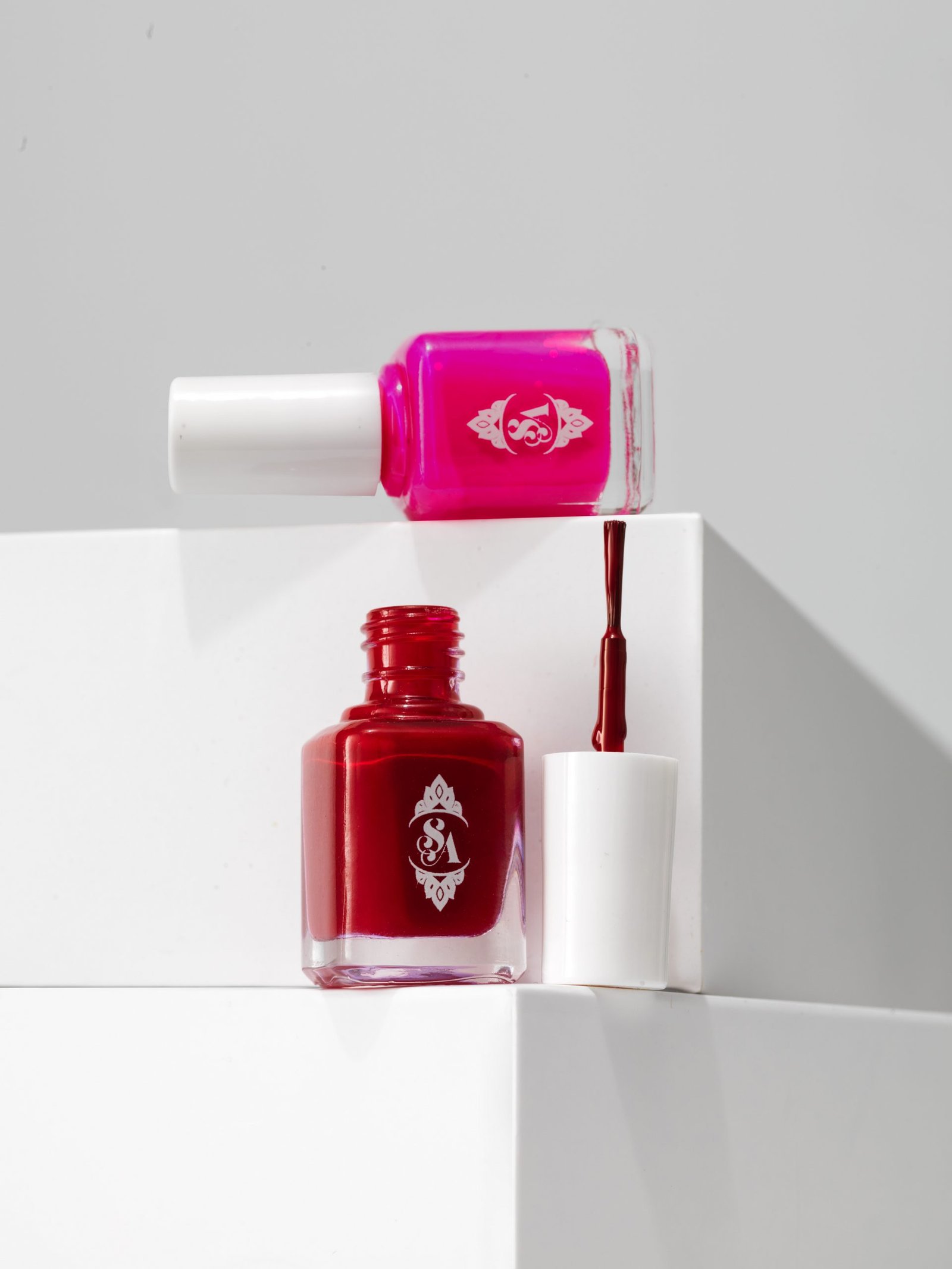 The Fox Magazine is all about inspiration, what/who inspires you the most?
Since I was a kid, Miley Cyrus has had a positive influence on me and helped me be comfortable with being myself. She takes a lot of changes in her style and music whether people approve or not and I really respect her for being true to herself and her artistry.
What's something people would be surprised to learn about you?
My passions besides makeup artistry include singing and dancing and reading fairy tales. I am a real homebody, and I am most comfortable in the company of my family. Being the youngest of four brothers and two sisters plus 19 nieces and nephews means getting together with family is a party unto itself.
What is your favorite or original innovation-related motto, quote, or words to live by?
"You're braver than you believe and stronger than you seem, and smarter than you think."
My mom tells me that. I believe it was originally said by Winnie the Pooh. When I feel overwhelmed – it's very helpful.
---
Connect with Sasha Anne!