Can't Swim Announces Brand New Album 'Thanks But No Thanks' Out March 3rd
New Jersey rock band, Can't Swim, announces their fourth full-length studio album, Thanks But No Thanks, arriving March 3rd via Pure Noise Records.
Thanks But No Thanks highlights the evolution of Can't Swim as a band. What once was presented as insurmountable obstacles on previous albums are now framed as hard-but-necessary lessons that need confronting to move forward and grow, calling upon new levels of resolve and strength to dull down life's demons. Through it all, the band has been able to truly block out the noise and let their conscience resonate loudest of all.
Pre-order Thanks But No Thanks now HERE.
Speaking on the making of the album, lead singer Chris LoPorto says,
"This was honestly the most fun we've ever had making an album. We've reached a point as a band where we're able to stop overthinking and instead just do what feels right. I think it's brought a lot of joy back into our music."
To celebrate, the band shared a brand new single,
"me vs me vs all of y'all,"
out now.​​ The upbeat, pop-rock anthem is a reflection on the past 7 years of the band and the life lessons learned along the way. Listen to
"me vs me vs all of y'all"
now.
The band also shares the accompanying music video for the track. Directed by Danny Rico & Mike Brown, the clip is a nod to the day-one fans and new fans that have supported the band throughout the years.
Lo Porto says,
"'me vs me vs all of y'all' is one of the more personal songs I've ever written. Though the music is upbeat and poppy sounding, the lyrics talk about questioning my life and the decisions I've made.

Looking back on the last 7 years of being in Can't Swim and asking myself if there was a better way. Listing a few of my favorite artists and comparing myself to their success.

Missing my little cousins grow up, my friends getting married and being broke as fuck (haha). Also exposing that it isn't so glamorous constantly being on stage and seeing every mistake you make through the camera lens of strangers."
Coming up, Can't Swim is gearing up to head out on tour supporting Free Throw. Beginning March 3rd in Buffalo, NY, at The Rec Room, the band will visit over 25 cities across the country including stops in Pittsburgh, Chicago, Anaheim, San Diego, Houston, and more before wrapping up on April 9th in Worcester, MA, at the Palladium. See below for a full list of dates and get your tickets now HERE.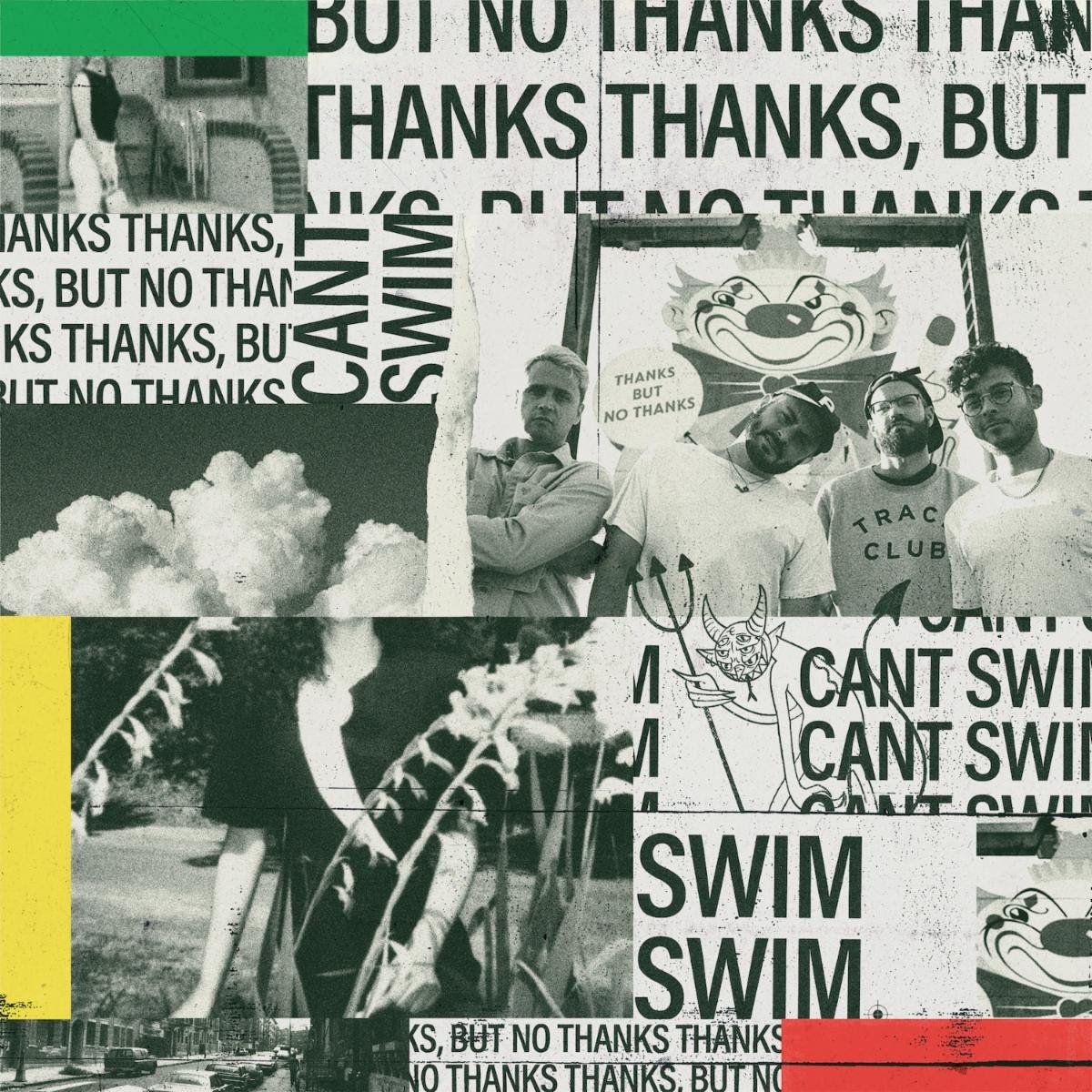 Thanks But No Thanks Tracklist
Nowhere, Ohio
"can you help me?"
me vs me vs all y'all
met u the day the world ended
yer paradox i'm paradigm
i heard they found you face down inside your living room
ELIMINATE
i've never paid a toll on the garden state parkway
even my anger has issues
thx but no thx
2023 Tour Dates
March 3 – Buffalo, NY – Rec Room
March 4 – Pittsburgh, PA – Thunderbird Cafe
March 5 – Toronto, ON – Velvet Underground
March 7 – Grand Rapids, MI – Pyramid Scheme
March 9 – Chicago, IL – Cobra Lounge
March 10 – Madison, WI – High Noon Saloon
March 11 – Omaha, NE – Slowdown
March 12 – Denver, CO – Marquis Theater
March 14 – Salt Lake City, UT – Soundwell
March 15 – Boise, ID – The Shredder
March 17 – Portland, OR – Lola's Room
March 18 – Seattle, WA – Substation
March 20 – Sacramento, CA – Harlow's
March 21 – Berkeley, CA – Cornerstone Craft Beer & Live Music
March 22 – Santa Cruz, CA – Catalyst
March 23 – Anaheim, CA – Constellation Room
March 24 – San Diego, CA – Soda Bar
March 25 – Scottsdale, AZ – Last Exit Live
March 27 – San Antonio, TX – Vibes Event Center
March 28 – Houston, TX – White Oak Music Hall
March 30 – Birmingham, AL – Zydeco
March 31 – Pensacola, FL – Handlebar
April 1 – Gainesville, FL – High Dive
April 2 – Tampa, FL – The Orpheum
April 4 – Carrboro, NC – Cat's Cradle
April 5 – Richmond, VA – Canal Club
April 6 – Garwood, NJ – Crossroads
April 7 – Baltimore, MD – Ottobar
April 8 – Philadelphia, PA – First Unitarian Church
April 9 – Worcester, MA – Palladium
Can't Swim:
Christopher LoPorto | Lead Vocals
Danny Rico | Guitar
Greg McDevitt | Bass
Blake Gamel | Drums