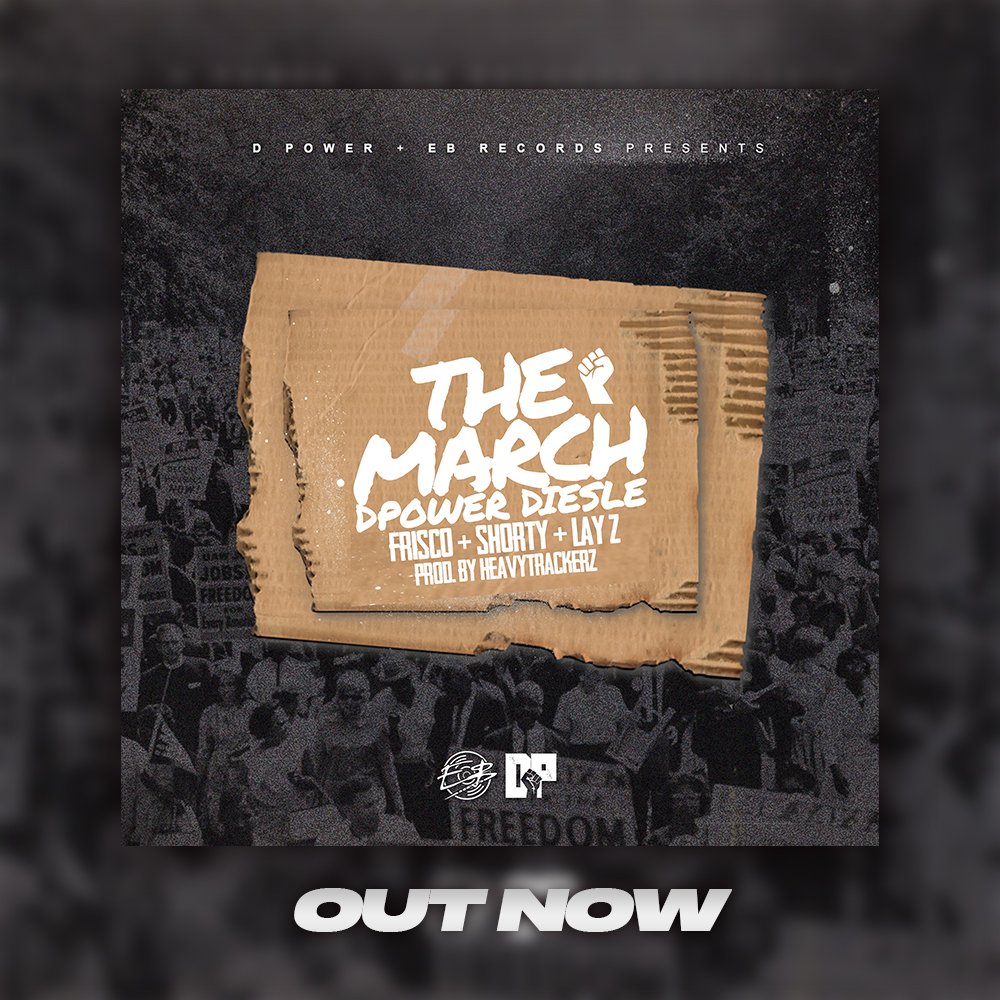 D Power Diesle Leads 'The March' Into The New Year With A Legendary Line Up Featuring Frisco, Shorty & Lay-z
Continuing to demonstrate why D Power Diesle's name is synonymous with the grime scene, he unveils his latest masterpiece 'The March' with the assistance of Boy Better Know MCs Frisco, Shorty and Lay-Z.
As the Grime scene pioneer teases his long awaited follow up project 'Graphene 2', he plans to keep the same high calibre that he delivered in the first project. With Graphene 1's stand out single 'sniper', featuring Skepta, amassing over 5.2 million collective views as well tracks with guest verses from Wiley, Footsie, Jammz and Grim Sickers, the talented grime MC refuses to miss his shot!
Diesle knows exactly what it takes to make an instant grime classic, he uses his proven formula to make sure this track is a head-banging anthem. Teaming up with the world renowned producers 'Heavy Trackerz', the MCs are set up with a sinister, vibrant instrumental which is filled to the brim with bouncing percussion and intricate production work. Detailing his extensive career, Diesle sets the tone of the track by referring back to his roots as a DJ at Déjà vu. Embodying the raw energy of  this era, he effortlessly attacks the beat with an intense yet inciteful delivery. This momentum is carried on throughout the track by the featuring Boy Better Know artists. As a group at the cornerstone of the evolution of the UK music scene, they are well equipped to match the passionate vocals that Diesle brings to the table.
D Power Diesle has created a legacy that stretches back to the origins of grime. From his pioneering days at Rinse FM and Déjà vu and his inclusion on Lord of the Mics 3 clashing Wariko through to touring with Skepta, Wiley, Jammer and Modestep, D Power Diesle has definitely earned the stripes to make him a grime scene veteran. He also aims to help new and upcoming talent, creating his very own label 'EB Records'. Diesle spoke on this subject and said "It's important for vets to guide and show love to the youth, to keep them committed, it motivates them to know that people who have been there before can do it." After partnering with Deezer and Relentless the label continues to grow from strength to strength!
'The March' signifies the start of what is set to be an eventful year for D Power Disele. As his fans eagerly anticipate the release of Graphene 2, we get to see exactly why the London-based MC continues to build up so much momentum.