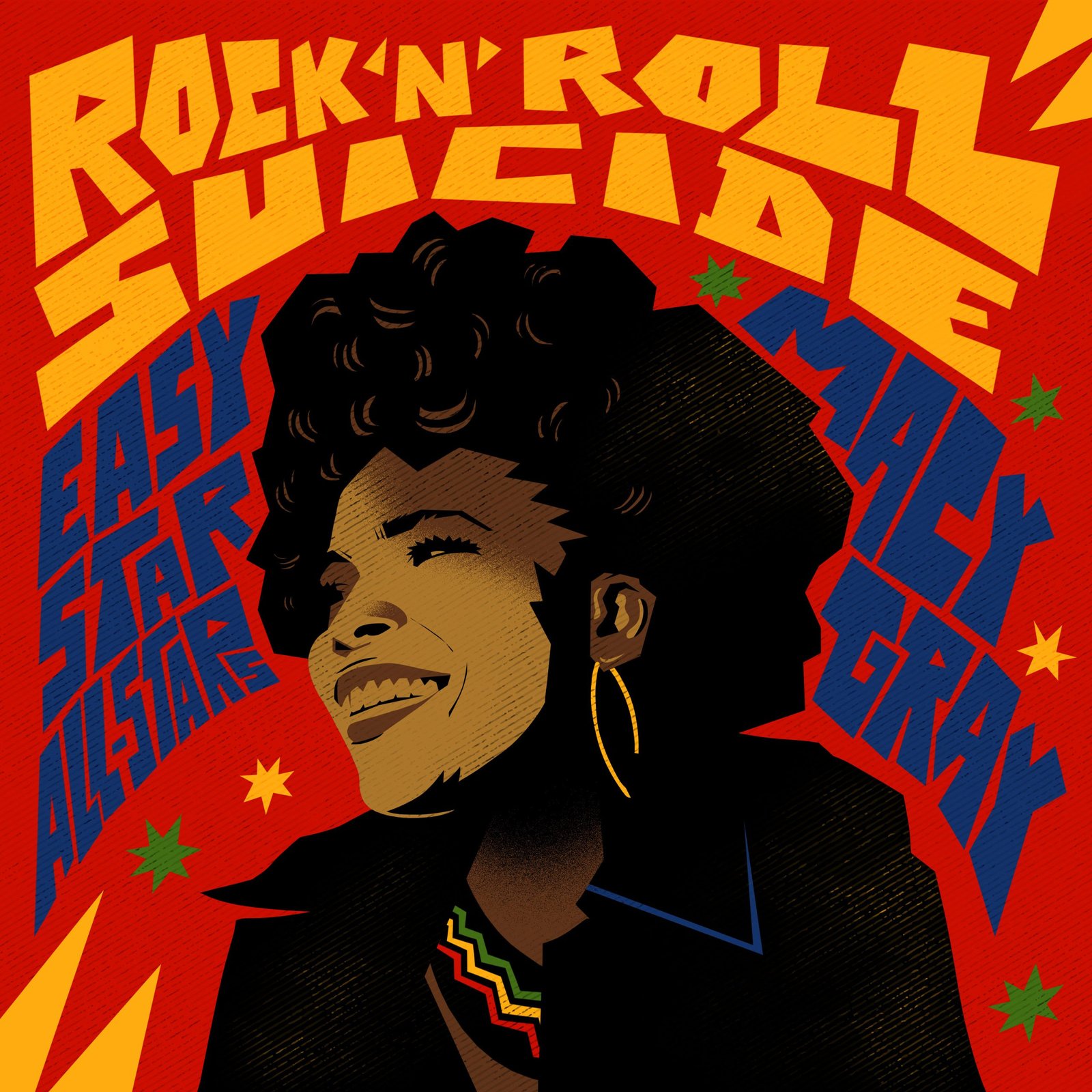 Easy Star All-Star's Draft The Iconic Macy Gray For New Visuals: Rock 'N' Roll Suicide
After a run of sonically mesmerizing singles, on Friday, April 21, acclaimed reggae group Easy Star All-Stars released their highly anticipated album Ziggy Stardub via Easy Star Records.
The project is a reggae reimagining of David Bowie's The Rise and Fall of Ziggy Stardust and the Spiders from Mars, and features guest performances by Maxi Priest, Steel Pulse, Fishbone, Alex Lifeson (Rush), Vernon Reid (Living Colour), The Skints, Mortimer, The Expanders, Samory I, and many others.
"Rock 'n' Roll Suicide" features multi-award-winning musician, songwriter, and producer Macy Gray, showcasing her one-of-a-kind voice. The passionate rendition offers a fresh spin on the original, forging a laid-back atmosphere across a bounding drum beat and swaggering horns.
Michael Goldwasser, producer, arranger, and multi-instrumentalist of Easy Star says, "The main key was finding an emotive and ground-breaking vocalist, and we did just that with Macy Gray, who is truly inimitable in every song that she sings, including this one." The track is paired with a stop motion video, taking viewers through the journey of two cats during an evening in a paper town.
The renowned burger chain Five Guys has also named Easy Star All-Stars as the restaurant's Featured Artist of May. The chain will be playing an Easy Star track every hour in every store for the entire month.
Easy Star All-Stars are set to take to the stage in the U.K. later this year in August at Cropredy Festival, Beautiful Days Festival and Camper Calling as well as their U.K. tour (dates below). The 'Ziggy Stardub' album will feature guest performances by Macy Gray, Steel Pulse, Maxi Priest, Fishbone, Vernon Reid (Living Colour), The Skints, Mortimer, The Expanders, Samory I, and many others.
TOUR DATES
12th August – Southampton, The Brook
13th August – Brighton, Concorde 2
15th August – Norwich, Epic Studios
16th August – Birmingham, Hare & Hounds
17th August – Bristol, The Fleece
22nd August – Manchester, Band on the Wall
23rd August – Leeds, Brudenell Social Club
24th August – London, Electric Ballroom
25th August – Chester, Live Rooms
BIO: Easy Star All-Stars
Blending musical versatility, instrumental prowess, beautiful vocal harmonies, and a premier rhythm section, Easy Star All-Stars have established themselves as one of the top international reggae acts on the scene for over two decades. During this time, they've toured in over 30 countries on 6 continents, bringing together fans of reggae, classic rock, dub, and indie rock into one big family. Previous releases of the band's long-standing collection of tribute albums include Dub Side of the Moon (2003), a critically acclaimed reggae re-working of Radiohead's OK Computer, Radiodread (2006), Easy Star's Lonely Hearts Dub Band (2009), and Easy Star's Thrillah (2012), as well as the remix album Dubber Side of the Moon (2010). The All-Stars have also released two original collections, Until That Day EP (2008) and First Light (2011).
BIO: Macy Gray
Macy Gray is a multi-award-winning American musician, songwriter, producer, and actress. She is renowned for her own approach to sound, lyrics, and fashion, and is known for her distinctive raspy voice and a singing style. Gray has released ten studio albums and has received five Grammy nominations. Her track "I Try" became a Top Five pop hit in 1999, and in 2001, she was awarded a Grammy for Best Female Pop Vocal Performance. She also received multiple platinum certifications for the parent album, On How Life Is, shortly after.