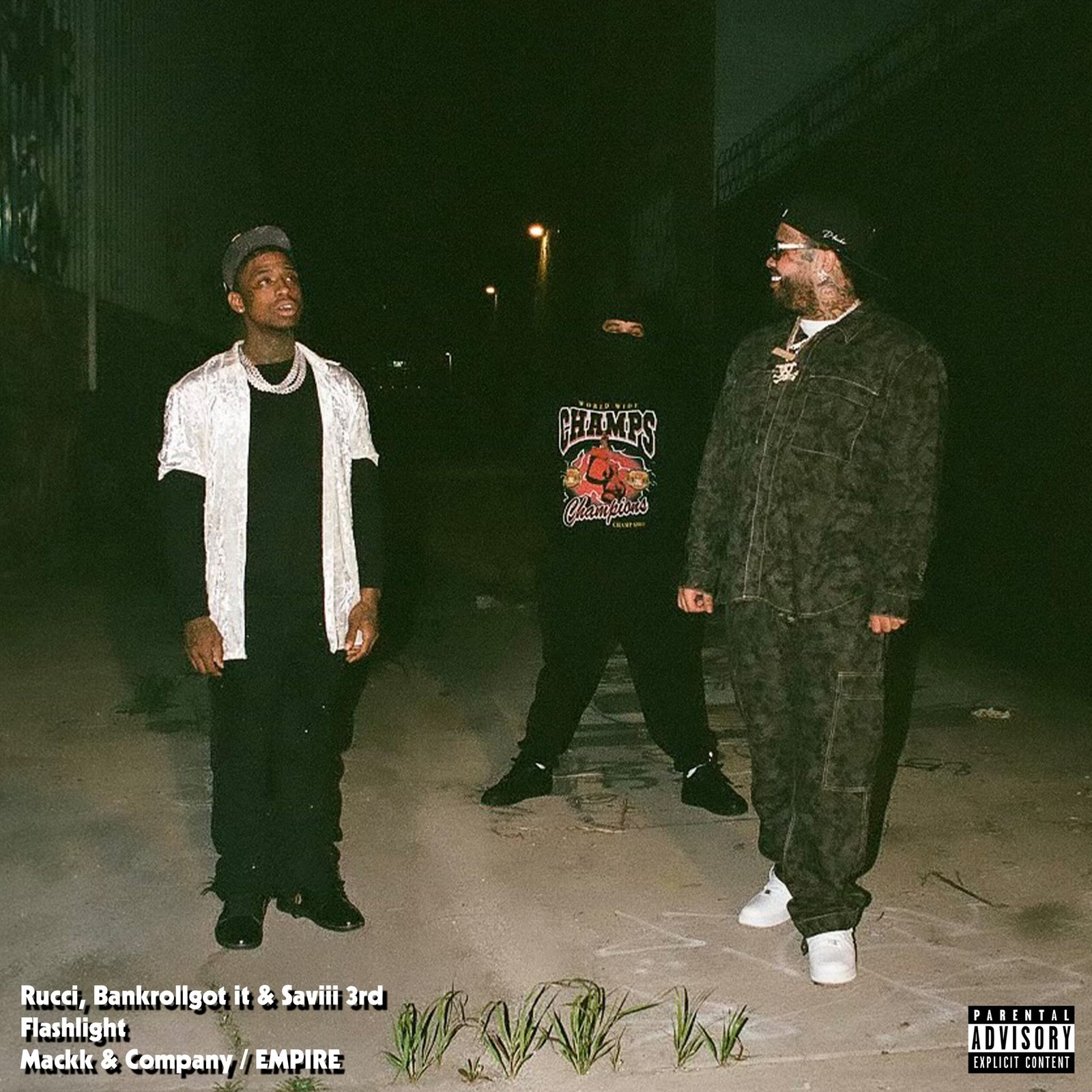 Rucci & Saviii 3rd Shine Bright In The Bankroll Got It-produced Single: Flashlight
Rucci and Saviii resume the historic hip-hop connection between Inglewood and Long Beach over hard-hitting Bankroll Got It production in the new video single.
A reliable purveyor of neck-snapping West Coast anthems, Inglewood rapper Rucci is his neighborhood's top dog. Teaming up with hitmaking production duo Bankroll Got It for the latest track from their upcoming collaborative album, Rucci shares "Flashlight," a sparkling new video single.
Powered by Bankroll Got It's glistening bounce, Rucci teams with Long Beach rhymer Saviii 3rd, as both L.A. county heavy-hitters discuss their favorite mind-altering substances and their general disregard for haters and fakes. In the video, directed by Stacking Memories, Rucci and his squad whip through Long Beach in sleek black SUVs, flexing their diamond-studded chains out the window to any passerbys.
Following in the wake of the luxurious "Lamb Chops" video single, 'Flashlight" is the latest salvo from the upcoming joint album by Rucci and Bankroll Got It. The first-ever collaborative album between the production team–responsible for producing platinum hits for artists like Latto and Coi Leray, among others–and a single artist, Rucci's next project arrives later this year via Mackk&Co/EMPIRE.
Since emerging in 2018 with his breakout mixtape El Perro and staking his claim as one of his region's most vital artists with 2019's Tako Son, Rucci has gracefully grown into his status as one of the West Coast's top dawgs. 2022 was a busy year for the 28-year-old rapper, marked by three full-lengths, two EPs, and countless music videos. He made the biggest splash with El Perro 2, which featured guest spots from G Perico, 1TakeJay, and Wallie The Sensei. Rucci made waves online with "Tell Your Friends" ft. Kalan.FrFr, which racked up over 2 million streams across platforms. Hits from Rucci's deep catalog (150 million career streams to date) continue to percolate in the West Coast, including the G Perico collab "Keep Killin" (nearly 10 million total streams), the Blxst-assisted ballad "Understand" (4.9 million Spotify streams), and "Hoodrat," a Boosie Badazz-featuring banger from Kourtesy Of Us, Rucci's collaborative project with frequent rap partner AzChike.
Rucci started 2023 on a high note, sharing the Been Here, Still Here EP, a collaboration with L.A. beatmaker Cypress Moreno. Stay tuned for much more music from Rucci, as the Year of the Dawg kicks into high gear.