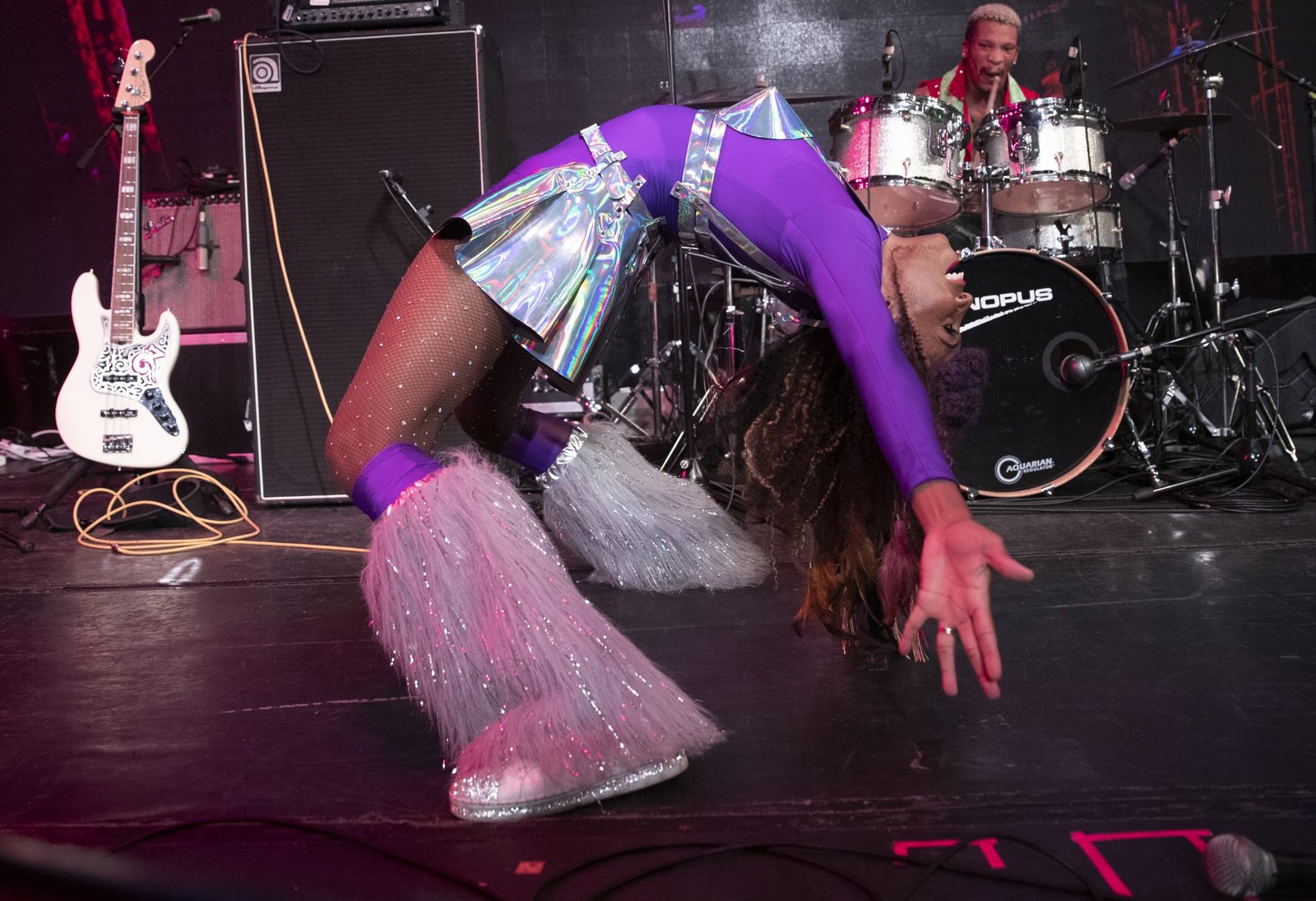 The Colorful Nik West Has Stage Presence Like No Other
She sports a colorful mohawk shaped like a bass clef. Explosive stage presence isn't enough to describe the way Nik West moves, wows, and shocks crowds everywhere.
With credits that include work with Quincy Jones Productions, Prince, Glee, American Idol, Dave Stewart of Eurythmics fame, and more, bassist, singer, and songwriter Nik West is anything more than just another pretty face.
Noted music journalist Alex Henderson (Billboard) sums West's incredible talent up saying "Nik West is one 21st Century artist who isn't lacking in the chops department. She is a young electric bassist who clearly knows her way around her instrument and plays like she has been inspired by the funky likes of Larry Graham, Louis Johnson (of Brothers Johnson fame), and Marcus Miller." She is also a highly expressive singer. Known for impressively recording a cover of "Back In Black" by AC/DC, Nik shocked many rock fanatics and became a new favorite of Steven Tyler and Lenny Kravitz.
She has also shared stages with John Mayer, Sugarland, Macy Gray, Bootsy Collins, George Clinton/Parliament Funkadelic, and Orianthi. In June 2016 Nik joined Taylor Swift, Bruno Mars, and Slash as a cover girl for American Musical Magazine. She has appeared on the covers of virtually every bass magazine and has been featured in numerous publications for People Magazine, Vanity Fair, Teen Vogue, Rollingstone, Ok! Magazine, Billboard, Afropunk and more. "Nik West is definitely bringing back the funk groovement and I love everything about what she stands for!" -Bootsy Collins
We interviewed with Nik regarding her start in music, favorite instruments, and a few surprising facts.
When did you start your musical career?
I started my music career in 2009, shortly after I heard about Esperanza Spalding and met her in my hometown of Arizona. I was so inspired by her that I had to jump in. That's when I decided I wanted to be a musician.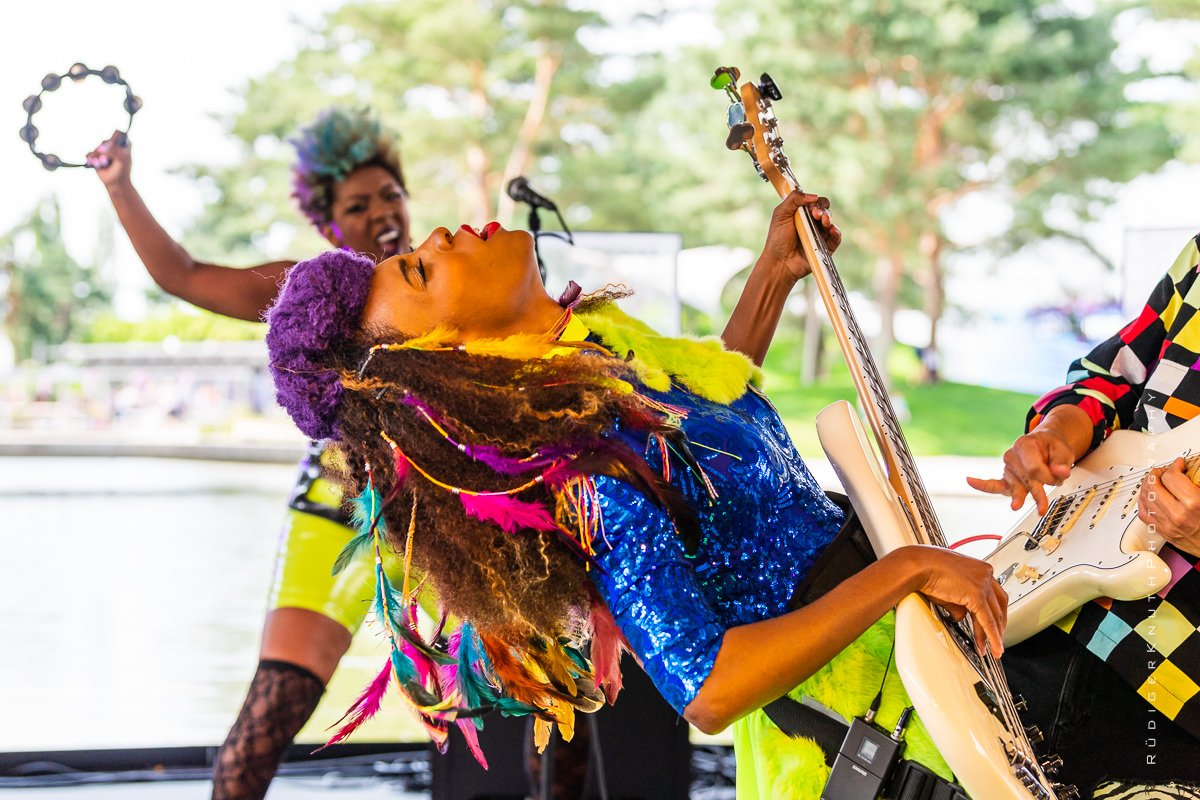 How do you feel artists stay relevant locally, nationally, or even globally?
Multi-tasking for SURE! It's not enough to just be one thing anymore. Yes, be yourself, but branch out and use everything you love and make it a part of your art! I am a bassist, a vocalist, a producer, a composer for corporate brands like ESPN, and I am a visual brand. Colorful hair, colorful show, and just something out of the ordinary. I call it walking, talking, breathing art. Be about something, support causes, and other people. 
The past, present, or future. Which period would you like to recreate in a form of art?
This is a good question. I'd love to do a combination of the past and catapult it into the future. I wasn't born early enough to really experience the 70s and 80s like my parents, so I would love to take those sounds… Chaka, Prince, Tina Turner, and futurize it. Keep the same funkiness and throw some year 2040 type electronics on it. 
What medium or instrument is your favorite to work with and why?
I love the bass guitar. It's my spirit animal. The groove is what makes the booty move. I love being responsible for that! I've had a fan tell me that even though she is deaf, she can feel the vibrations of the bass and that's what really made me understand how powerful the bass is. 
What sets you apart from other artists?
I'm completely crazy. I wear a big bright mohawk on my head and I "fly" when I play live. Photographers love photographing my shows because they know they are going to get action and something completely different and unique from many of the shows that they capture. Money shots, they say. IDK… I'm just being me… doing me… keeping myself from being bored of my own self visually and artistically too hahaha!
Music is all about expression, what do you like expressing in your work?
I like expressing realness. The Gold Standard like Prince said in one of his songs. Upper echelon grooves. I express only what's inside of me (when I am writing for myself). I can't sing about something that I don't believe for myself. If I am in love, I can't sing a song someone wrote for me about breaking up. I'm a purist.
The Fox Magazine is all about inspiration, what/who inspires you the most?
Unique people, unique personalities. I like things that are imperfect. Rasp. Grit. Rare Vocal tones. Unapologetic Art. BOLDNESS.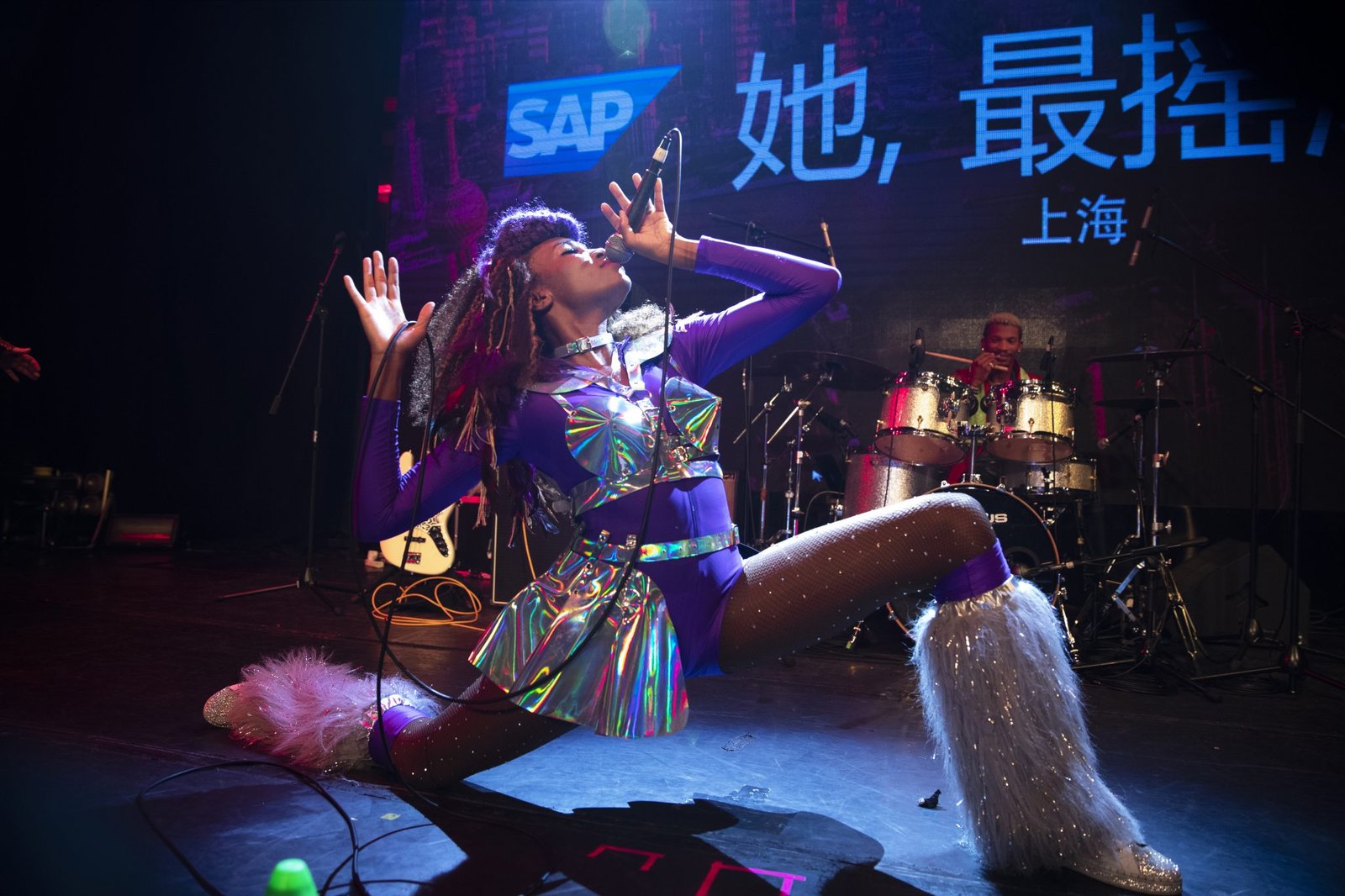 Do you feel you would create music forever?
I really don't know the answer to that… I am so fascinated by so many different things. I know, it sounds crazy right? You're probably wanting to hear "I will ALWAYS create music… I'd die without it" But I don't know if that's true. I create in waves. Sometimes I will go months creating music and then the rest of the year, I'm into something else. But who knows, I'm just a very open person. 
What motto, quote or words to live by do you use to stay motivated when you aren't feeling inspired?
What God has for me is for me. Sometimes,  I will go and look at other social media pages to light a fire under myself. People working hard and succeeding… I will wake up with a fresh new take on things. I need competition in my life to be the MOST productive. That's why on stage, I have people much better than me in my band… people that challenge me and compete with me. Otherwise, I might slack off. Aw man! I must sound like a terrible person LOL!!! Im not lazy, but if there's no competition, it will look that way to the people that know me best. Like I might do an "amazing" show by the audiences standards and then my sister will say, "You didn't even break a sweat, so I know you slacked" LOL! Insert new dope guitarist that beats me on stage…HA! Now Im back! That's an inspiration for me.
What's the best part of being a musician?
FREEDOM!!! I love the freedom I have. I can do what I feel and my fans accept it because they know it's coming from my heart.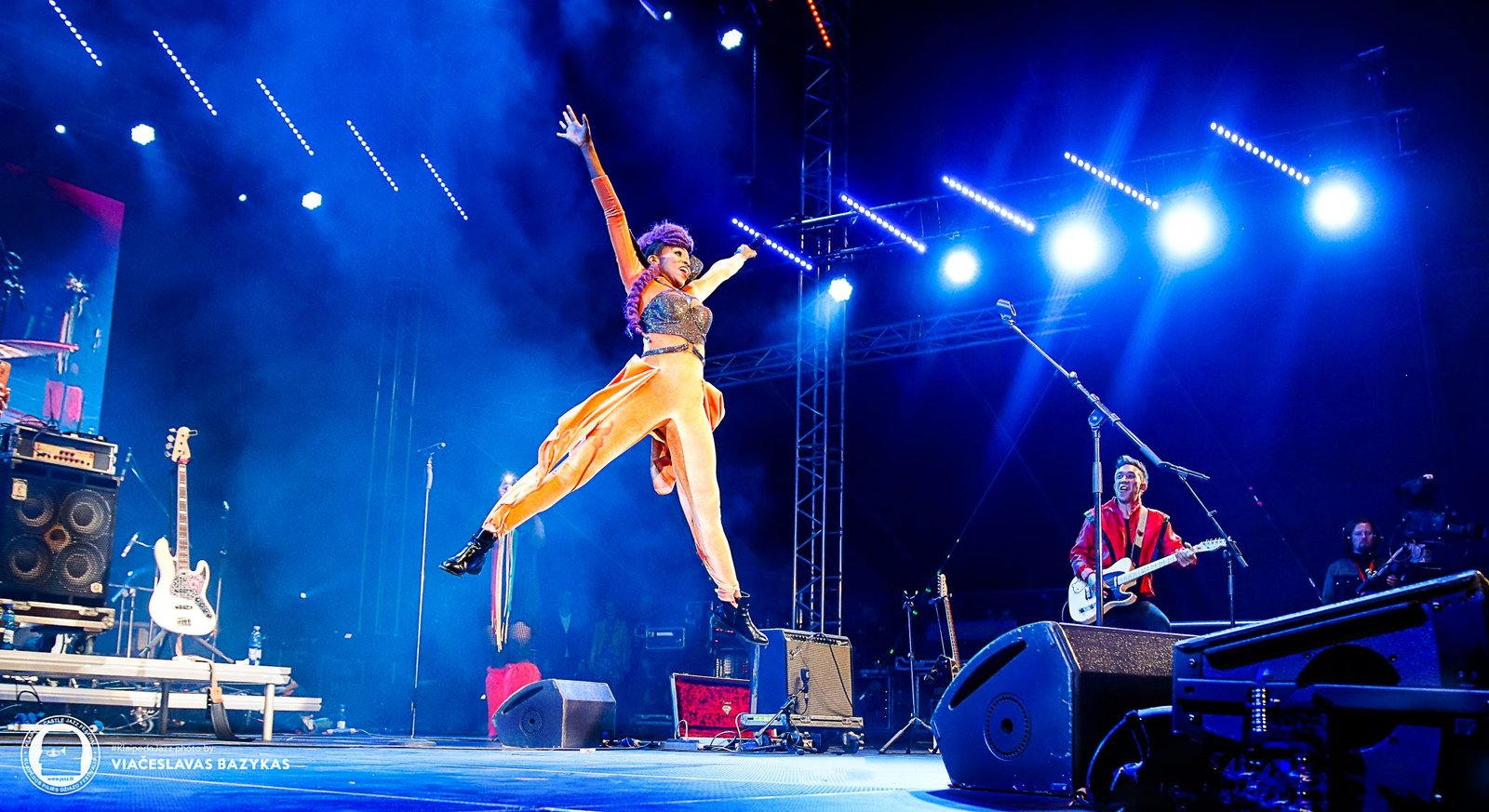 Name a few artists would you love to do a song with and why  –
Lenny Kravitz-I'm a huge fan. One of the last great Rock and Roll stars
Alicia Keys- because keys and bass are cousins!
Lianne La Havas-her CRAZY Vibrato… and we'd look cute together
H.E.R- she's a dope R&B singer and she's the ultimate Black Girl Magic
Billie Eilish -I think she's unique and different and the basslines in her songs groove.
Janelle Monae- that's super obvious I think. Everyone has been asking for this since I stepped on the scene. Hair, funk, drama!
Parliament Funkadelic- DUHHHHH!!!!
What's something people would be surprised to learn about you?
Im a calculus genius! I used to tutor it in high school and while I was making money to fund my first bass and studio equipment. 
What's your best advice for aspiring musicians?
Be yourself, but be THE BEST AT WHAT YOU DO! If someone else is doing it better, find a way to specialize and differentiate yourself… and then be the best at THAT!
---
Connect With Nik!