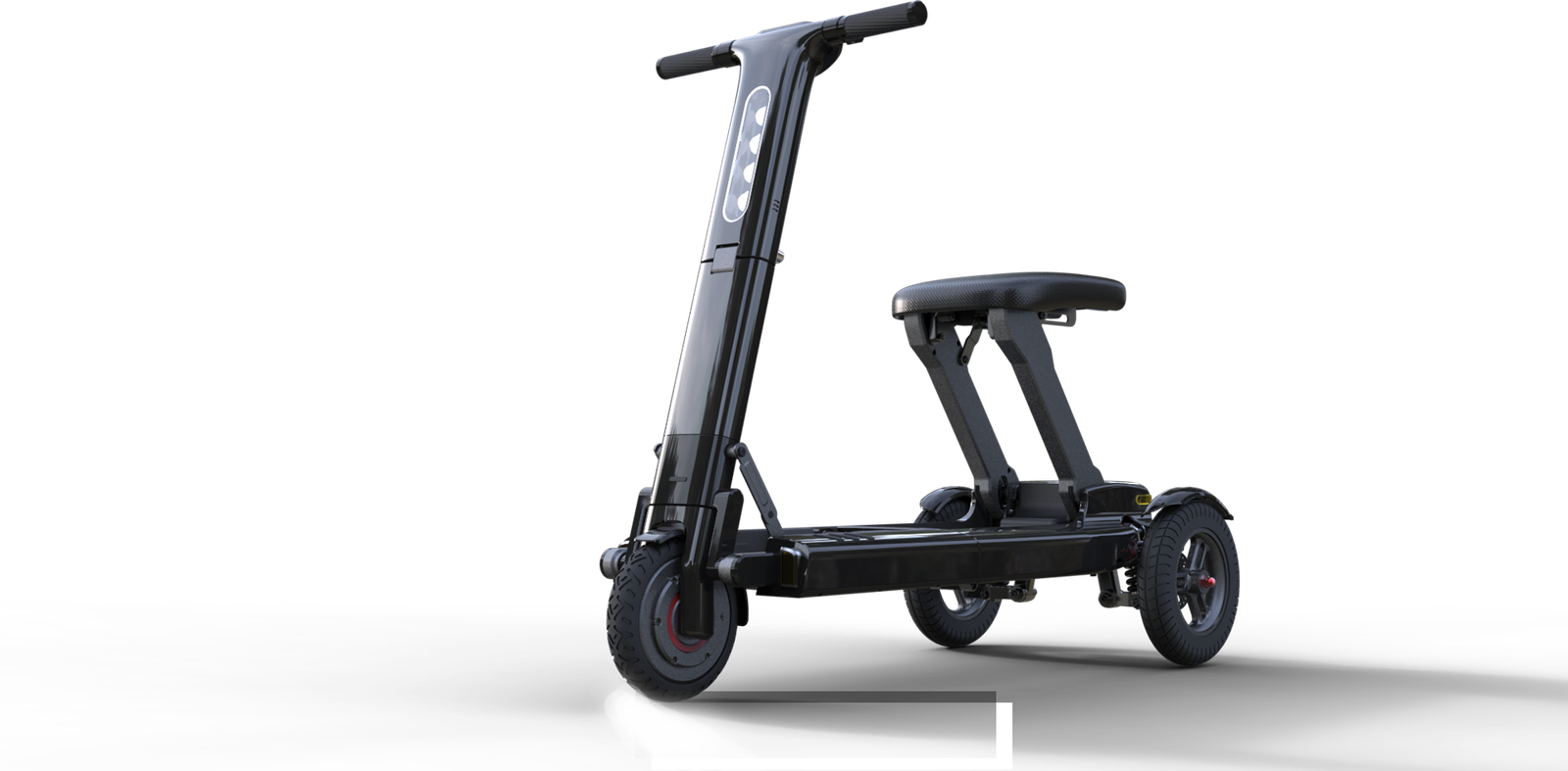 The World's First Smart Folding Mobility Scooter
A new generation of smart scooter promises to transform the lives of mobility users.
RELYNC is the world's first smart folding mobility scooter and is designed to revolutionize the lives of users, providing the most portable, stylish, smart and portable travel experience available to those with mobility needs.
Launched in January at CES Unveiled in Las Vegas, its market-disrupting features, and cutting-edge design led to RELYNC becoming one of the first products to ever be recognized by the CES Innovation Awards in the new Smart Cities category.
The light frame is thinner and more portable than existing mobility scooters to make travel simpler, easier and more elegant. The scooter can be folded and packed away into a portable, self-contained suitcase in a matter of seconds – faster than any other mobility scooter on the market.
The smartphone-compatible scooter boasts a number of smart features, including a built-in, LED light navigation system, which allows users to focus on the road rather than consulting a phone or satnav, and automatic speed adaptation via a GYRO sensor and speed algorithms, preventing accidents by automatically reduce speed if safe limits are exceeded on bends or hills.
RELYNC can also be locked, located and tracked in real time via a smartphone app using GPRS and GPS, and boasts intelligent alarm and tamper functionality, which alerts both passers-by and the user if it is disturbed or moved. The scooter also features a USB port, allowing users to charge devices on the go.
"Although many mobility scooter users are physically fit, the traditional designs can lead to perceptions that the user is weak and helpless. And often they can detract from the users' sense of style, and therefore their confidence. When we developed RELYNC, bringing together form and function was one of our goals because we believe that mobility doesn't simply have to be practical; it can be beautiful and fashionable as well. RELYNC is more futuristic and innovative than any product like this has ever been. It is designed to be stylish, eye-catching and aspirational, to make it more of a lifestyle choice than a purely functional product – much like a luxury car."
The RELYNC design aims to provide owners with pride in their mode of transport and add style to what has traditionally been a purely functional item. It is this sleek design, partly inspired by the unique race cars of the 1960s, which sets RELYNC apart from the industrial and traditional products on the market.
Gueuning continued, "Mobility needs should never be a hindrance to enjoying life to its fullest, and mobility scooters are a mature market that is in need of disruption. RELYNC is designed to be smaller, thinner, more comfortable, easier to fold and more portable than all other folding scooters and mobility scooters."
RELYNC Tech LTD is a high-tech company focused on integrating the latest in smart technology with mobility and urban lifestyle vehicles, to combine functionality with style and fun. The business' vision is to create whole new riding experiences which meld functionality, stunning design, safety and fun, to transform the way people travel – and feel while doing so – forever.