Cotton Camera's Carrier System Merges Style and Comfort 
Cotton Camera's Carrier System merges style and comfort so you can focus on capturing images that inspire.
It doesn't take long for new photographers to fatigue in the field. The CCS StrapShot offers a unique and versatile solution that secures their camera to a backpack strap, sling bag or belt to provide comfort and avoid neck pain from those thick straps. The camera stays locked down, even when mobile. It's always ready to shoot, so photographers don't miss an opportunity digging their camera out of a bag.
The Cotton Camera Carrier Systems
Andy Cotton worked as a Special Effects Supervisor in the film industry for over 26 years. Later, as a professional landscape photographer, he found no product to meet his need for a camera-carrying solution that was comfortable, secure, and accessible. So he set out to design the system he needed.
"It had to be simple, without springs or moving parts. Nothing that could fail, jam, or break. Made of top-quality materials, it had to function and be absolutely reliable in all situations. It had to provide comfort and accessibility in order to improve my photographic experience." -Andy Cotton
The CCS Hand Strap Takes The Weight Off
The CCS Hand Strap ($19.95) provides comfort and security when holding your DLSR. The heavy-duty Velcro strap allows you to instantly tighten or loosen your hand against the camera's body, making holding heavy cameras and lenses a pleasure.
The Hand Strap is attached to the base of your camera using an Arca-Swiss style plate that also offers a standard ¼" x 20 threaded hole. You can either clamp your camera directly to a tripod or attach any number of popular quick release plates to the base such as Manfrotto.
Placing your camera on your tripod is simple and easy allowing instant movement from hand-held to tripod shooting. The ability to use the CCS Camera Hand Strap with all DSLR's. The strap will work with virtually any tripod on the market making this a must-have accessory!
CCS Camera Handstrap kit includes:
– Hand Strap
– Rubber Mounting Plate
– Arca-Swiss compatible mini-plate
– Allen Key
– Camera-hub mounting bolt
– Camera tether ring (split ring)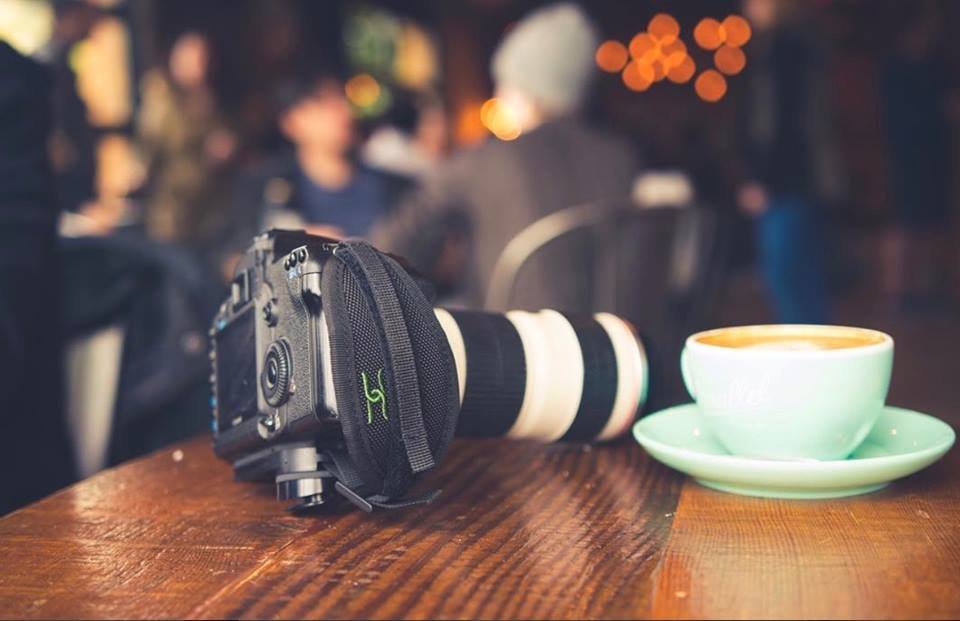 Stay On The Move With The CSS StapShot EV-1
Outdoor enthusiasts who love photography will like the rugged EV-1 StrapShot Holster ($79). Secures DSLR camera to a backpack strap, sling bag or belt to stay tight against the chest while hiking or biking. No more missed shots digging the camera out of a bag and the design eliminates neck pain from those thick camera straps. Plus, it comes with a free $20 camera hand strap!
The CCS StrapShot EV-1 for one camera is the perfect camera carrying system for people on the move. Hikers, travelers, skiers, climbers, bikers and more. This compact camera carrying system fastens to the strap of a back pack, sling style bag or even your belt, keeping your hands free, your equipment safe and your body mobile.
CCS StrapShot EV-1 includes:
– EV-1 patented Velcro-Wrap holster
– Anodized aluminum camera hub and rubber washer
– Mounting strap
– Safety tether
– Hand strap
– Camera-hub mounting bolt
– Allen key
– Tether split-ring
– Lifetime guarantee to the original owner.
Cotton Camera offers two carrying systems designed with the unique needs of photographers in mind. Whether you are an urban photo professional or scouting rural terrain using cotton bagging solutions, Cotton Camera has a system to fit into the way you shoot.