Candy Washington Is The Actress With Style
Candy continues to provide inspiration and entertainment to people around the world by creating unique content on all things fashion, entertainment, beauty, lifestyle, pop culture, and crazy shenanigans from NYC to LA.
The actor, blogger, and social media influencer launched Actress with Style in 2007, and it quickly became a digital destination for engaging and shareable content. Actress with Style is geared toward the active millennial leading an aspirational lifestyle.
The Fox Magazine interviewed Candy about her journey and inspirations that keep her going day in and day out.
Where is home?
I currently spend my time in beautiful and sunny Los Angeles, CA. The vibe and culture here is super laid-back, easy-going, and focused on leading an active and healthy lifestyle and I love it. Before making the leap to the West Coast, I lived in New York City, which has its own unique, infectious, and contagious energy that is fueled by ambition, coffee, and the best slice of pizza in town. I miss it.
Has being an influencer always been your career plan?
Not necessarily being an influencer was a part of my plan, but being a storyteller has always been at my core. I love writing, acting, and creating stories through pictures, images, and videos. It's really the process of creating and sharing my experiences with others that's my passion and purpose in life. There's nothing more humbling than knowing that you've touched the life of someone else in a positive and uplifting way.
What does style mean to you?
Style to me is an expression of yourself. Whether it's an expression of your general personality or an expression of your particular mood that day, style lets people know who are, where you're at, and what you're all about without saying a word. Style is one of the most fun ways to connect and engage with others.
How much has your style changed since you started blogging?
I would like to think that my style has improved! Like a fine wine, style should get better with time. I'm less beholden to trends now and I have my signature looks, but I'm also more confident as I've gotten older and as my blog has grown, so I'm more likely to take style risks. I've learned that it's better to be a tastemaker than a trend follower.
What has working for Disney taught you?
Working for Disney has been a life-changing experience! Everyone is so nice and kind, and they really are like family. Working at Disney has taught me that dreams really do come true and that something that you think is a small thing can grow and become one the biggest blessings that you've experienced yet.
The Fox Magazine is all about inspiration, what/who inspires you the most?
Everyday people. I know it may sound weird since I'm an influencer, but getting offline and interacting with people in real life is where I find my most inspiring moments.
Nobody walks in L.A., and even though I have a car, the New Yorker in me still loves to walk. I walk around some of my favorite neighborhoods like West Hollywood, Beverly Hills, Brentwood, Silverlake, Venice Beach, Hollywood, and Los Feliz, and I just take in the culture of each area from the people walking on the street, the new shops and cafes, street art, and more.
Real life is so beautiful and the inspiration to be found there is so abundant and endless.
Do you have any tips or tricks for achieving an aesthetically awesome Instagram page? Any social media tips?
I once had a meeting with a potential manager who told me that my Instagram page was "too personal." I knew right then and there that he wasn't the manager for me. Luckily, I now have an amazing manager that embraces everything about me and who I uniquely am in order to leverage my personality for bigger and better opportunities.
I say all that to say, don't try to imitate or copy other people's Instagram feeds and style. Learn from their strategy but always make it uniquely your own.
I don't mean to rant and share deep, inner personal business on your social media channels and I say always skew positive if possible, but to allow your personality to shine through on your social channels. Brands will want to work with you for what you can bring to their campaign that no one else can.
For my Instagram, I pick a theme that reflects my brand, and then I edit pics within that theme and I make sure that each photo fits together in a cohesive way. Each pic tells their own story and each picture together tells a larger story.
For inspiration, I create mood boards that are in alignment with my brand. I'm old school and I buy poster board and cut out pictures, images, words, and phrases from magazines and I paste them on the board. Once it's all together I can get a feel for what my natural aesthetic is and that guides my brand and my choices for what to post online. You can easily create a Pinterest board as well and refer to it as your brand guide.
What's something people would be surprised to learn about you?
I'm actually a very introverted person. I love staying at home and being surrounded by a few close friends. Big crowds can be intimidating. I think people think that I'm this super out-going, sociable person, which I am, but I'm much more of a homebody and I love my alone time. I'm pretty low-key in real life.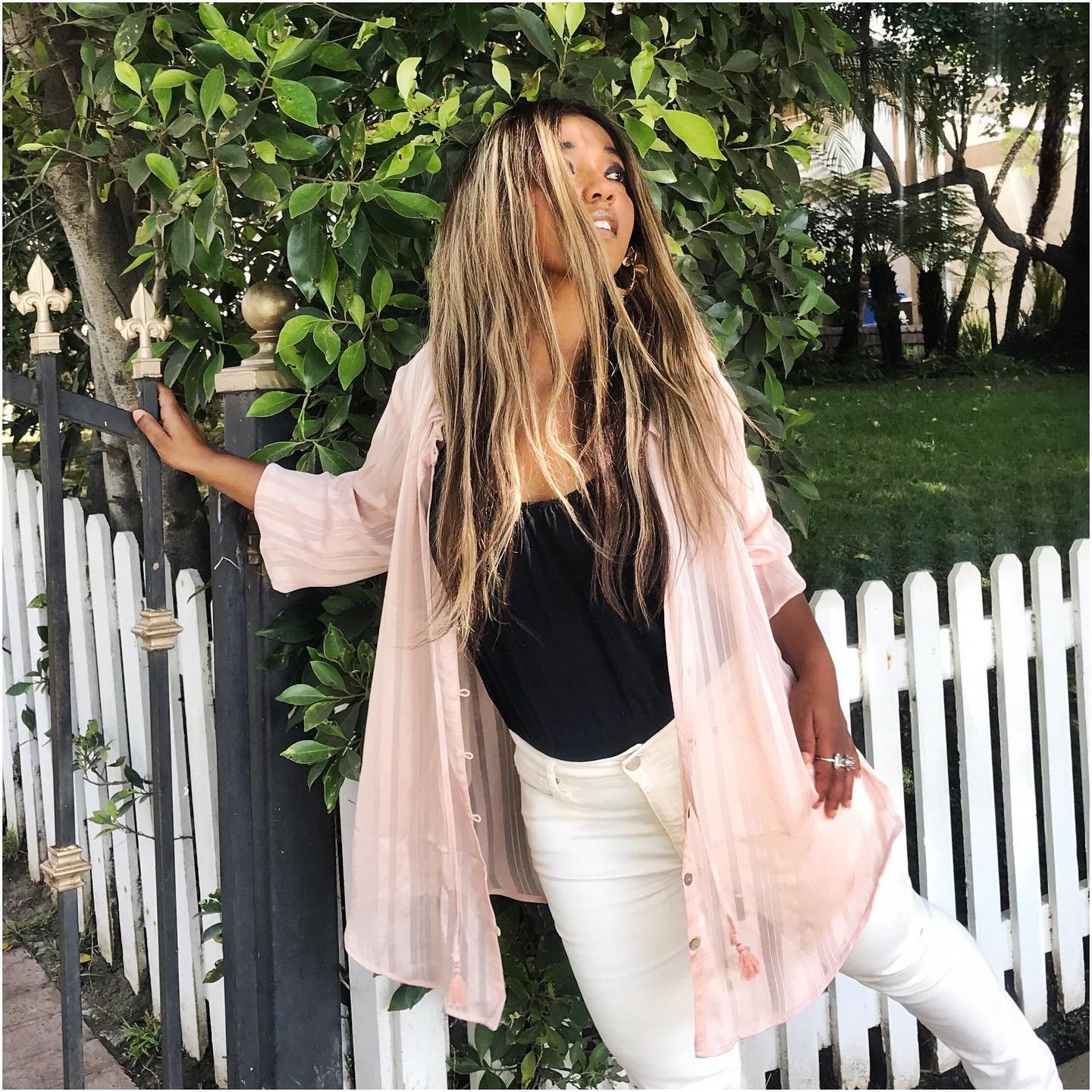 What's your best advice for people looking to get into fashion?
Create your own content, self-promote, and connect with others in the industry. If you want to be a designer, create your own clothes and sell them on Etsy, eBay, Amazon, Facebook, Instagram, etc. You can literally start your own business of any kind online. If you want to be a journalist, start a blog, write every day with a pen, and share it online and on your social media platforms, reach out to your favorite magazine, and offer to freelance for them. If you want to be blogger or an influencer, then blog and share on a daily basis on your social media channels.
Pitch brands and other influencers for collaborations and partnerships. If you want to be a publicist, reach out to the PR agencies for an internship or a job and offer to be PR for an up-and-coming brand or influencer. Join Facebook Groups and LinkedIn Groups, these are great resources for job leads, collaborations, and information.
What is a quote that you live by?
"The most important relationship in your life is the relationship you have with yourself. Because no matter what happens, you will always be with yourself." – Diane von Furstenberg