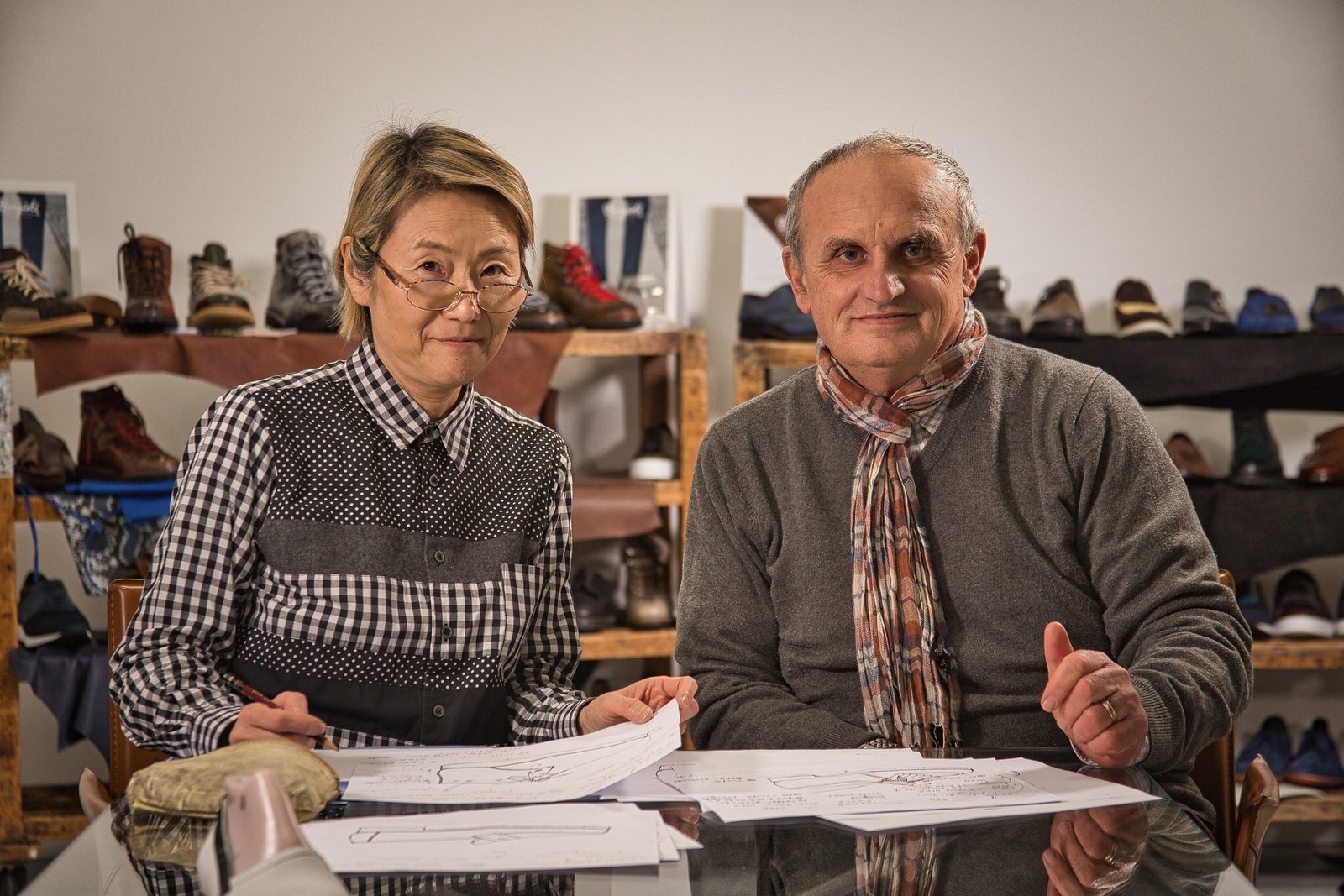 Japan Meets Italy: SEISHOU – Ikeda & Matsuzaki For Fratelli Borgioli
Ikeda & Matsuzaki is a fashion design agency founded by Masaharu Ikeda and Yuko Matsuzaki, based in Tokyo (Japan) and Milan (Italy).
Fashion Director Masaharu Ikeda, born in 1949, has taught at the Sugino Fashion University and the Cultural Clothing Academy in Tokyo and worked in the design room of a leading Japanese shoe wholesaler. He is the founder of Jalfic, a Japanese boutique fashion leather consultancy agency, and magazine.
Shoe Designer Yuko Matsuzaki, originally from Tokyo, has lived for 25+ years between London and Milan. She has worked with the largest Japanese women's shoe wholesaler and as a freelance designer, she designs shoes for famous brands of leading Japanese stores and wholesalers and licensed shoes for Italian and French fashion brands.
Where is home?
Ikeda: For me, home is Tokyo.
Matsuzaki: I love both my cities: Tokyo, where I was born, and Milan, which adopted me.
Has fashion always been your career plan?
Ikeda: I've been working on shoe trends since I was 24, so for 47 years. This is my world!
Matsuzaki: During my university studies, I thought I would devote myself to creating animated monsters for the world of entertainment. When I was nearing the end of my degree course, my professors sent my CV to a large footwear group as a shoe designer. They called me in immediately afterward. It was April Fool's Day and I thought it was a joke! That's where I met my first footwear guru, and I worked 7 days a week for about 2 years. It was a very educational experience.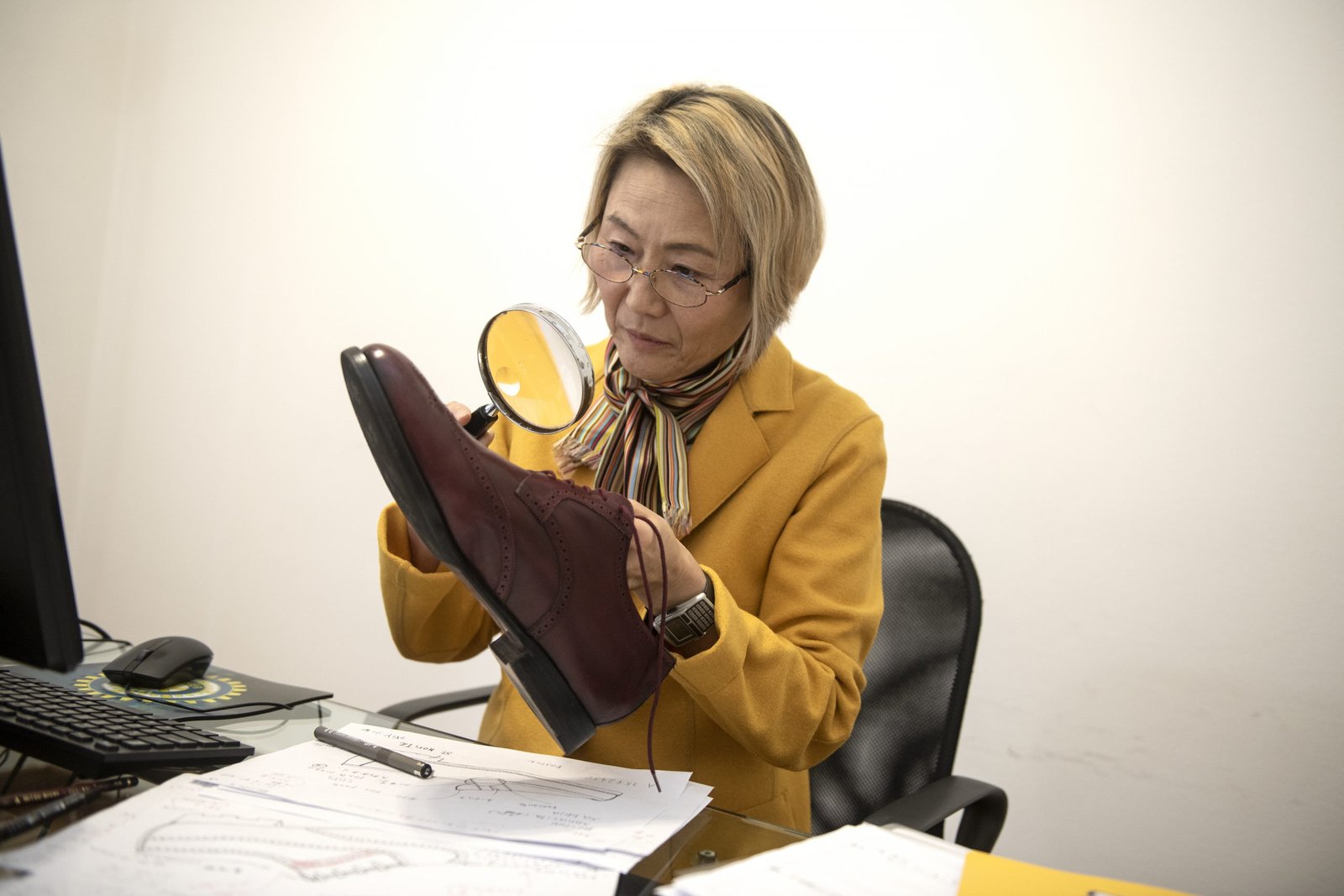 What's a typical day like for you?
Ikeda: Usually, I do seminars on trend analysis and reports on new trends for both clients and our newspaper. I take walks every day to check or look for changes both in the shops and in the city. I like to analyze the difference in value between newly opened stores and stores that are closing. In addition, I really like being able to transmit this research to the new generations on the importance and role of studying trends, during the special courses on trends at Sugino Fashion College.
Matsuzaki: Waking up at 7 a.m., I start the day with the smell of double espresso coffee made with mocha and coconut oil. Then I check my emails and do a half-hour of stretching. After an Italian breakfast, I go to the office. I begin by reading online magazines and magazines of the sector in Italian, Japanese, and then in English. In the middle of the morning, I start my work meetings and calls, I don't have lunch (usually I have lunch at home) until I have sorted out the correspondence. Some days a week I go around the city for some window shopping and more! In the afternoons I dedicate myself to preparing reports for our office and for Jalfic and clients. I like to start drawing and designing in the late afternoon.
How much has your style changed since you started in fashion?
Ikeda: Curiosity about change is still the motivation of my life. I share the brands created by Tokyo designers of the same generation in the 1980s. I am now interested in various usages (military, outdoor clothing, sports equipment), materials, and brands that challenge sustainability and upcycling.
Matsuzaki: It seems that not much has changed. My family always laughs at me because I have the same style.
How do you separate fashion and style?
Ikeda: Fashion is a stimulus to feel current values ​​and perceive vividly. Style is also the basis of a design that goes from the past to the future. The daintiness of creation reflects the essence of fashion based on orthodoxy.
Fashion is a general trend or tendency. Style is a personal issue and covers a wider range. – Matsuzaki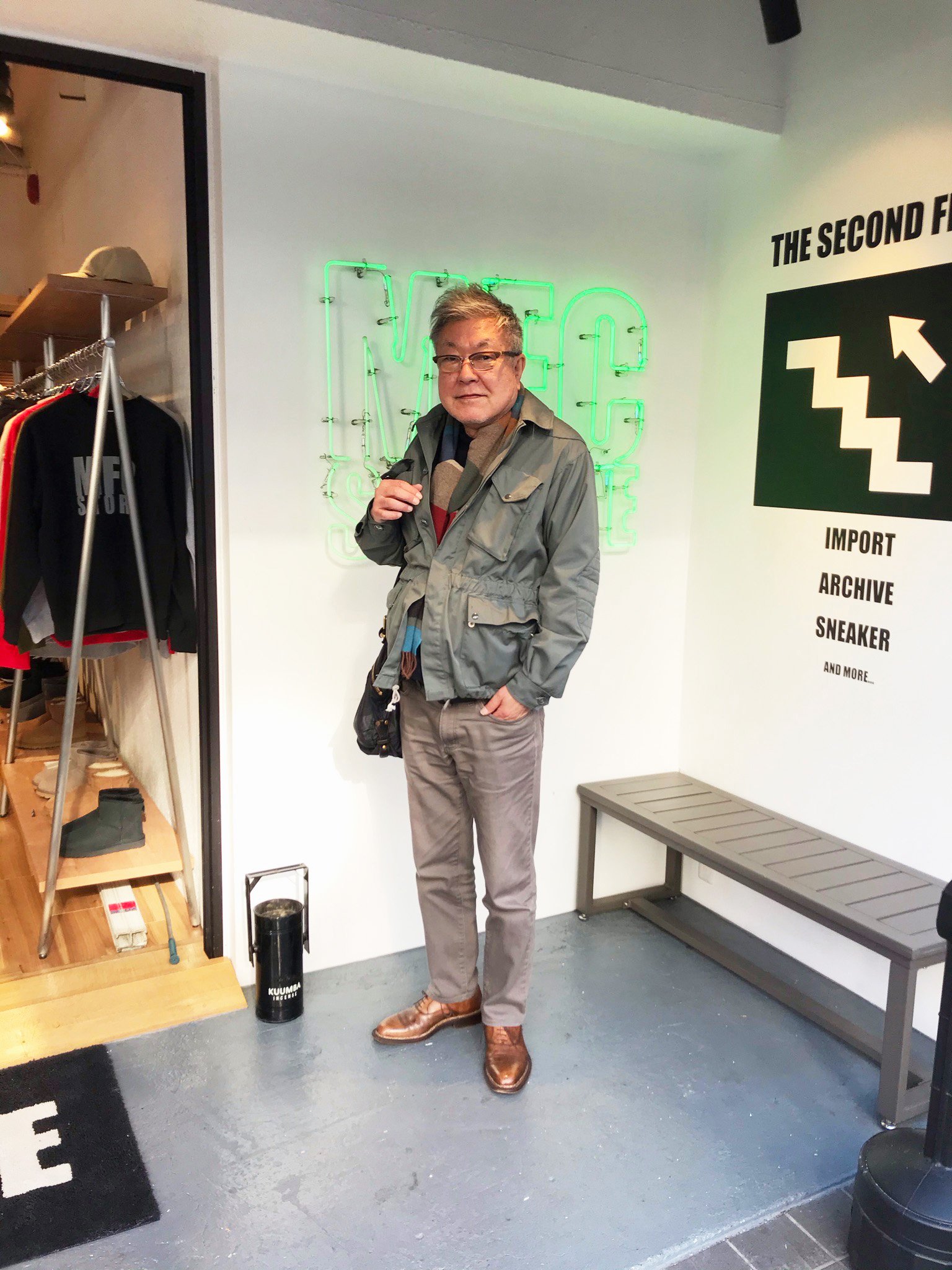 What style item is a must-have that you can never go wrong with?
Ikeda: The first style item you can never go wrong with is the Paraboot with high functionality and versatility, but also the Tricker and the Red Wing and Martens boots.
Matsuzaki: The moccasin is the shoe that should never be missing from a wardrobe, I bought my first one 41 years ago! Of course, I had to include moccasins in the "Seishou" collection!
Do you have any fundamental fashion tips for young professionals?
I would like young people to pay attention to the design theory that combines the functions of utility and quality by taking advantage of the Italian craftsmanship force! – Ikeda
Matsuzaki: The young people currently working in this field are, in my opinion, very well prepared, they find many sources of information very easily. My advice is: follow your instincts with both energy and courage.
The Fox Magazine is all about inspiration, what/who inspires you the most?
Ikeda: What inspires me the most is the revelation received from trendy colors reflecting changes in aesthetics. I attach great importance to the informational power of color and the factors that change the product image.
Matsuzaki: Several times a year I travel around the major European cities (mainly Paris and London) and New York. These visits are my best source of inspiration. I love spending days walking around their streets and just people-watching. How they dress, what are the live trends on the streets, how they move, even what they eat. I take notes of everything which captures my attention. In addition, reading newspapers and magazines in the sector, both online and in print, helps me to keep up-to-date. I've been following The Fox Magazine for years and I find it really interesting and well done, it's a great source of inspiration for me.
How do you translate trends to your audience?
Ikeda: I translate trends through Color Harmony (colorwork) and conceptual words (keywords).
Through our "Seishou" collection, we tell the story of craftsmanship with a modern twist. – Matsuzaki
What advice do you have for someone who wants to push the restart button and makeover their look?
Ikeda: My advice is to add innovative elements that are popular in the sports scene, for example, by trying to incorporate synthetic materials, functional materials, and color blends.
You need to feel good with your style. Focus on what makes you feel good first. Change what makes you feel uncomfortable. It's a soul matter. – Matsuzaki
Do you like pointing your clients in the right direction or taking a more hands-on approach to crafting their style?
Ikeda: I think that by working and creating together, we can find new possibilities and increase the options to expand them.
Matsuzaki: It is my style to participate in discussions together and to create collaboratively. 'Seishou' is the proof of how Fratelli Borgioli and Ikeda & Matsuzaki joined forces to get a new product on the market. We wanted them to take an active role in shaping the design of the shoes.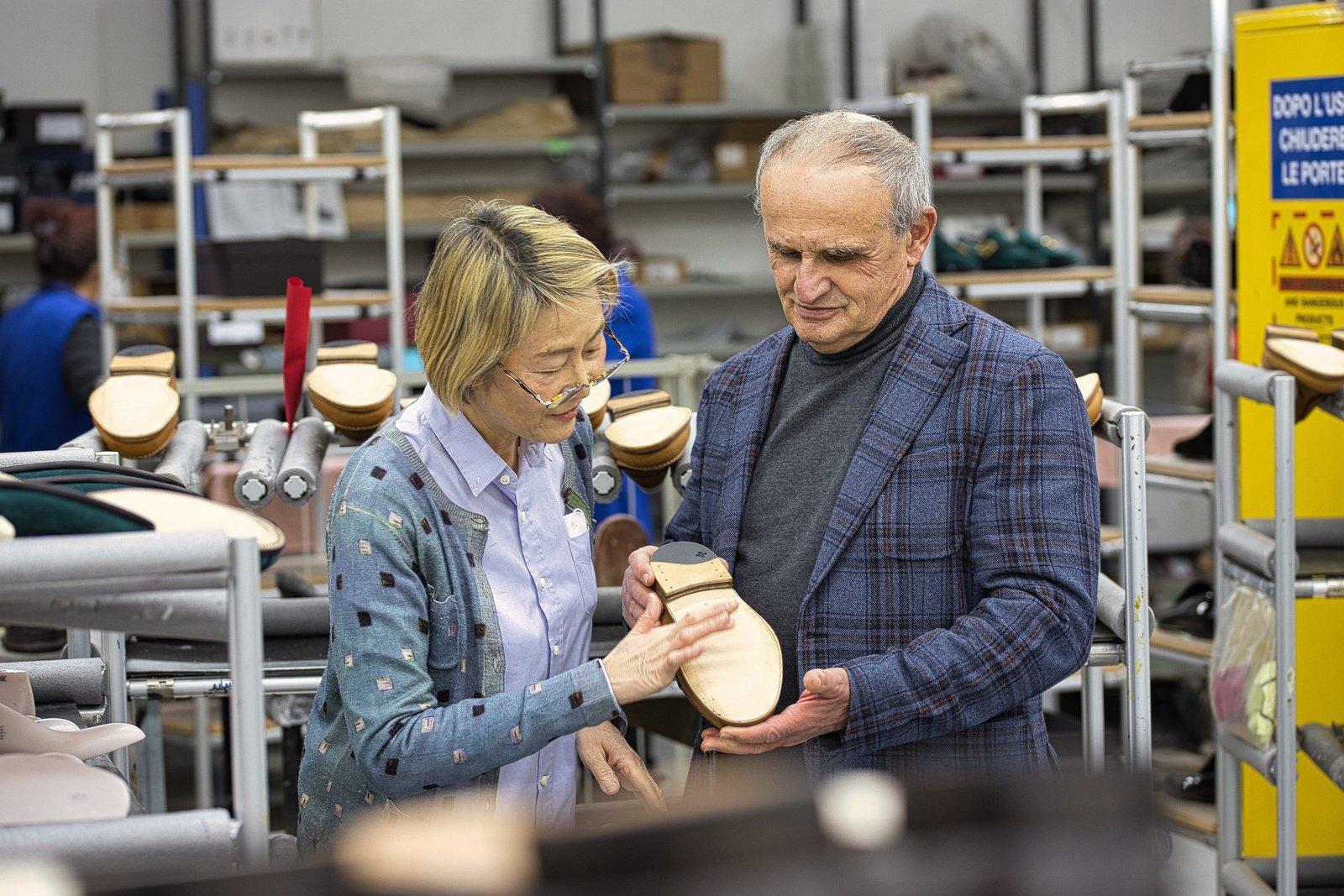 What do you see as some of the economic and design challenges of the industry?
Ikeda: The main challenge is to consider the circular economy and the resource growth cycle. The circular economy must be used in the conventional linear economic system of "Take (mining resources)", "Make (making)" and "Waste (discarding)". Products and raw materials that have been "discarded" are considered new "resources" and waste is generated. It refers to an economic system that circulates resources without waste.
Matsuzaki: Aiming for a green economy, without wasting resources.
What elements separate your work from other style gurus?
Ikeda: What differentiates me is having created a new trend called "Tokyo Trend": a fusion of exceptional artisan power supported by the Borgioli tradition and the Tokyo trends.
Matsuzaki: Having had the strength/courage to have our 'Seishou' collection produced in Vinci, Tuscany focusing on pure craftsmanship. It takes over 200 passages by hand to get a Borgioli branded shoe.
What's something people would be surprised to learn about you?
Ikeda: There is nothing in particular.
Matsuzaki: I am a Japanese woman living in Italy, I can't even bear to think about it!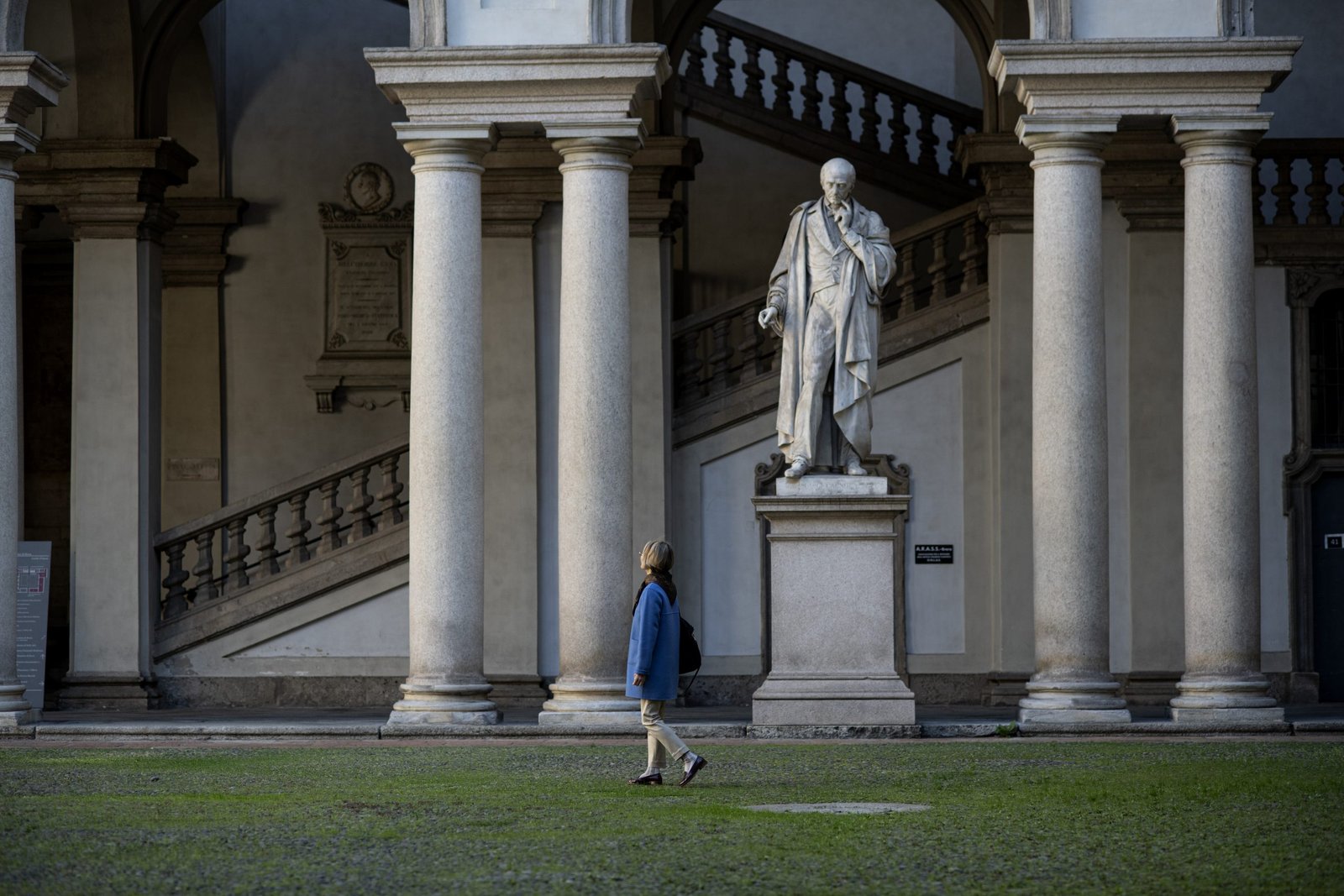 What's your best advice for people looking to get into fashion?
Adopt a flexible sensitiveness that allows you to feel the aesthetic sense of the time. Shoes have a presence that condenses the senses and values ​​of a person. You need to be able to feel this small element, which becomes the decisive factor in styling. – Ikeda
Matsuzaki: To study, to study, and to refine the art of listening and the sensitiveness to perceive everything around you.
What is your favorite fashion-related motto, quote, or words to live by?
Ikeda: Enjoy fashion and life with an endless curiosity!
Matsuzaki: Knowledge and perseverance go a long way! (Knowing your work well and persevering leads to success).
---
Connect with Ikeda & Matsuzaki!