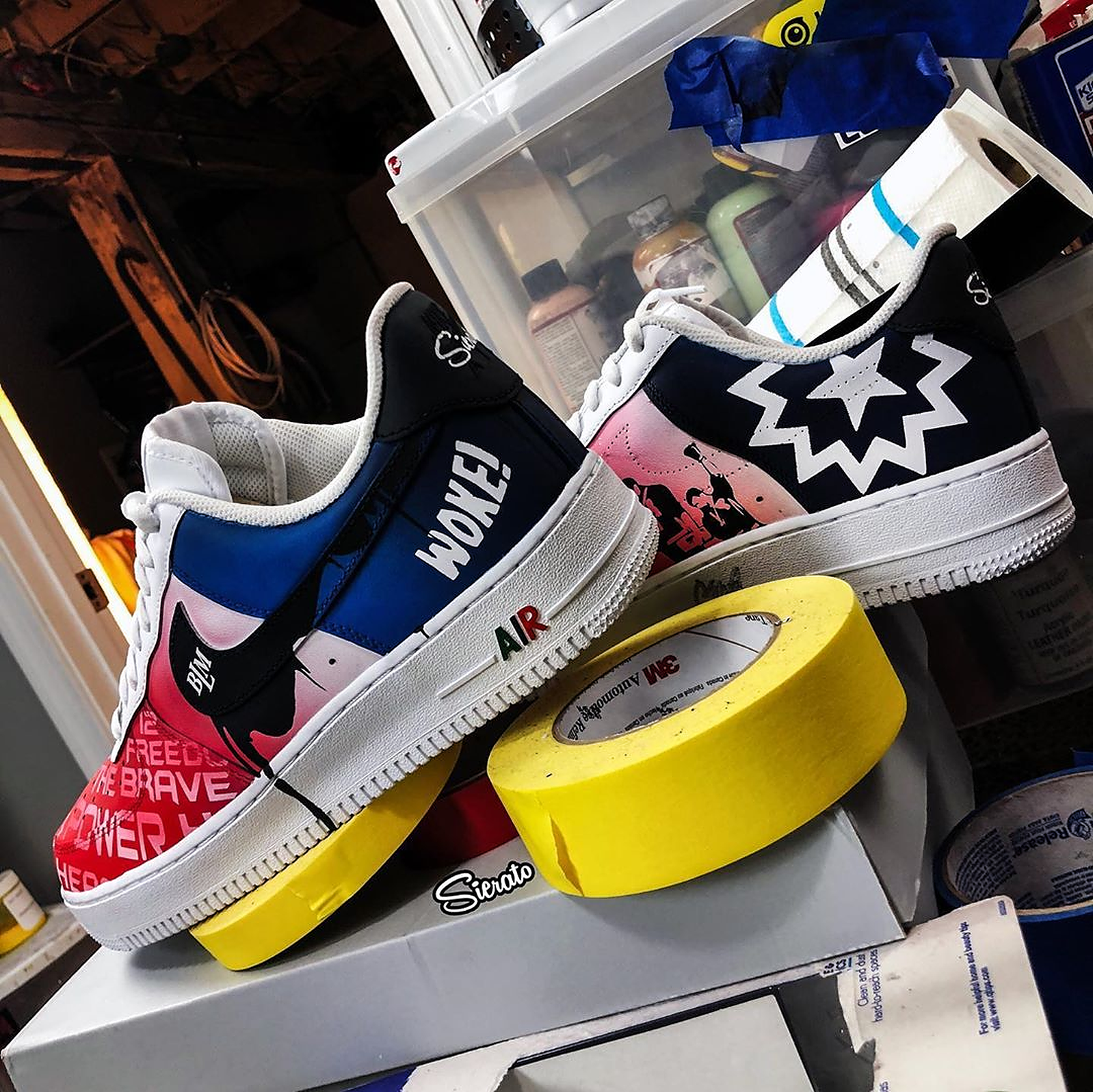 Artist Niko Brim's Juneteenth Sneaker Hits Sotheby's Auction Block
VME will donate proceeds from the sale of the sneaker to Hip-Hop Public Health and lifelong Juneteenth activist Opal Lee's social impact organization Unity Unlimited, on behalf of Niko Brim.
The live auction took place on September 15, 2020 at Sotheby's New York City.
In Sotheby's historic first auction celebrating the history and cultural impact of hip-hop, acclaimed V-Records recording artist, musician and producer Niko Brim's custom-painted Juneteenth sneakers were put to auction.
Staged on September 15, 2020 in New York City, Niko Brim's unique pair of Nike Air-Force Ones were unveiled on June 19, 2020.
The Juneteenth sneakers were featured alongside coveted hip-hop memorabilia, including an iconic crown worn by The Notorious B.I.G. (aka Christopher Wallace) during his last portrait session, and love letters penned by a teenage Tupac Shakur.
Niko Brim's Juneteenth Nike Air Force 1s
Brim conceptualized the collectible kicks with inspiration drawn from the nation's foremost Juneteenth ambassador, Ms. Opal Lee. This unique pair, designed by famed sneaker customization artist Sierato, features a red, white and blue color scheme, incorporating a unifying theme of freedom for all, while honoring the contributions of the African-Americans who helped build the nation.
The bold sneakers feature song lyrics from Brim's single 'Hard to Believe,' and symbolic imagery, which includes the official Juneteenth flag, and the Black Power raised fist emblem, a nod to timeless, silent protest at the 1968 Olympic Games in Mexico City, when sprinters Tommie Smith and John Carlos hoisted their clenched fists while accepting their medals. It also features the number "2.23" across the toe box in memory of Ahmad Arbery, the unarmed African-American man pursued and fatally shot while jogging in Georgia.
As the ever-burgeoning Black Lives Matter movement continues to grow and demand accountability, reflection, and change, Brim and Lee's shoe hopes to inspire a unity that spans generations, strengthening the nation and memorializing Juneteenth as part of a holistic view of American history.
The proceeds from the Juneteenth sneaker will be split between two organizations—Hip Hop Public Health, led by Doug E. Fresh & Dr. Olajide Williams, and Unity Unlimited, founded by Ms. Opal Lee.
Ms. Opal Lee, who has spent the last four decades campaigning to get congress to mark Juneteenth as a federally observed holiday, also graced the sneaker with her autograph. Brim joined Ms. Opal's campaign commission in the Spring of 2020 to raise awareness for the cause.
Her history-altering Change.org petition achieved over 1.7 million signatures, and was the platform's most celebrity-supported cause. It ranked Top 5 most active campaigns. The petitions to arrest those responsible for the deaths of George Floyd and Breonna Taylor are both second.
Since 2016, the tenacious lifelong Texan leads a two and a half-mile walk recognizing the two and a half years it took slaves in Texas to become aware of their freedom after the Emancipation Proclamation. In 2020, her mission gained global attention and support from top luminaries, inspiring Nike to declare Juneteenth as an annual paid company holiday.
Niko Brim is a passionate 23-year old MC-producer and social justice advocate from Mount Vernon, New York, located north of The Bronx, the birthplace of hip hop. His forthcoming album, 'King Has No Crown,' drops soon.
He has independently amassed over one million streams with hits like 'FEDS Watching' and 'Woke,' and appearance on VME label mate Kev Rodger's track, 'It is What It Is,' plus movements with the inspiring hip-hop collective he co-founded, CYN™ (Create Your Now), featuring Kai Ca$h.
Over the last year, his performance stints on Rapsody's 2020 'A Black Woman Created This' tour, 'Sway in the Morning,' and on LiveXLive further positioned him as a rising star who's swinging his mic for what's right.
In addition to joining Ms. Opal Lee's official Juneteenth holiday commission team, Brim has serviced his community in various ways, from promoting financial literacy and feeding the hungry, to speaking at peace rallies. He led the 'Silence is Violence' rally that canvased his Mount Vernon and New Rochelle hometowns, in honor of the countless lives lost to police brutality in June 2020.
Niko Brim's conversation series, 'Power Hour,' which takes place monthly on his Instagram page, features luminaries from business, education, entertainment, and social impact.

Sotheby's auction to celebrate the history and culture of hip hop
A celebration of the history and cultural impact of Hip Hop, the sale reflects on the impact the movement has had on art and culture from the late 1970s through the "Golden Age" of the mid-1980s to mid-1990s, and up to the present.
Among the newly announced highlights in the sale include the iconic Salt-N-Pepa "Push It" jackets; visual artist, filmmaker and Hip Hop pioneer Fab 5 Freddy's 'MTV' ring made specially for Yo! MTV Raps; a private lyric writing lesson and studio session with the God MC Rakim Allah; a unique art installation by DJ Ross One entitled The Wall of Boom, and much more.
Their digital catalogue is live at Sothebys.com/hiphop.