DANiiVORY Releases Stunning New Album VII
Dream-pop artist DANiiVORY releases mixtape VII as a special release for her fans.
DANiiVORY's mixtape VII embodies everything that she is as an artist – fearless, fun, intuitive, and full of life. Dani is releasing these songs after 7 years of having them in her arsenal, and they have been worth the wait.
Dani starts the album with a flirtatious and uptempo song, "Bad Man." This song gives perfect insight into the fun and happy side of Ivory. Most people have had that person that they always go back to after a few too many drinks, or just that certain someone who makes us want to break the mold of the person we've always been. A relationship like this can be a bit like a rollercoaster, chaotic and full of ups and downs. The production on this track matches the message and the feeling of its lyrics wonderfully. The vocals have an electronic quality to them that gives them an extra punch in their delivery. The song keeps listeners on their toes from start to finish.
The next track "On My Mind" is 2022's new club sensation. After a lick of a groovy guitar introduction, you get a fuse of instrumentals that make you instantly want to dance. With a blend of funky electronic beats mixing genres such as EDM, pop, and R&B, we get a flavorful dance hit. Dani brings the heat in her vocals as well with smooth runs and an impressive higher register. "On My Mind" is a track that'll make you want to grab a partner at the club, and fall in love.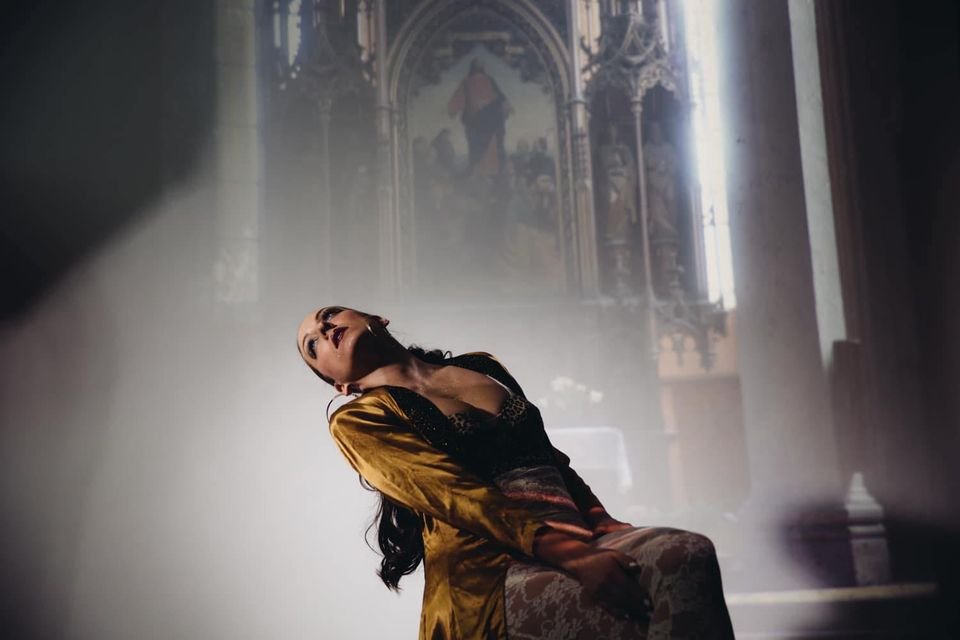 Prepare to be enraptured by the next song, "Pusher." Dani is smitten with her new love interest, almost to the point of addiction. She wants to be around them all of the time until they've overdosed on each other. She is leaning into this relationship to numb everything else in her life that is affecting her. Her vocals are rawer than previous tracks showing her vulnerability in this relationship. Right now she is completely enthralled in this relationship. If it were to end, she would be left in more pain than before. Every production choice shows this vulnerability.
Get an immediate punch of adrenaline in the next track, "Higher." This sexy dance track begins with an energetic beat that immediately pulls your attention. With a blend of pop vocals, EDM instrumentals, and R&B-inspired melodies, "Higher" never gets boring. With the use of angelic-sounding harmonies, Ivory's crystalline tone shines through. The levitating instrumentals within the chorus truly make you feel like you're floating. Overall, the lyrics "You take me away, you take me higher" put you in a trance, and make "Higher" a must-have for your dance playlist.
Be prepared to fall head over heels for "Forever." After a beautiful string and flowing piano introduction, the R&B instrumentals quickly move into an energized beat filled with hi-hats and driving piano chords. Ivory's powerful vocals pull inspirations from contemporary R&B and pop styles and are partnered with lyrics that are nothing short of catchy. Ivory further impresses listeners with her mid-song rapping ability resembling artists such as Iggy Azalea and Dessa. Overall, "Forever" is a soulful ballad that is an instant add to any R&B playlist.
"Freedom" is a mid-tempo track Ivory describes a relationship that she has found freedom in. When she is with him she is completely entranced by him. If she's down he picks her up and helps her cut loose.  No one and nothing else matters when she's with him. Every touch and moment is like fire. A sexy stand-out on this album. The production is downplayed and accentuates Dani's vocals throughout the entire track. The smooth guitar solo in the bridge is a shining moment in the song.
VII finishes out with "Hold On Me." Lyrics continue to walk the line of toxic relationships as Ivory proclaims "you tell me you love me but your actions don't," regardless he still has a hold on her. Sometimes when deep into a relationship it is hard to see a way out even when things are bad. This fact is portrayed perfectly throughout this track. The lyrics are that of a sad and broken relationship, but the production starts out feeling like the opener of a song fit for a club. The song continues to build and build until a drop towards the end. This matches perfectly to a situation building until it finally all crashes at once, be it in destruction or rehabilitation.
Dani also added a bonus track to the album, "This Love." We get an inside glimpse into the break-up conversation with this final track. She recognizes that she has been taken for granted and that she deserves better. Once the chorus hits she takes it a step further, claiming that every other guy would value and want her love in the way that he didn't. She paints a picture of self-love and self-respect as she rounds out her EP.