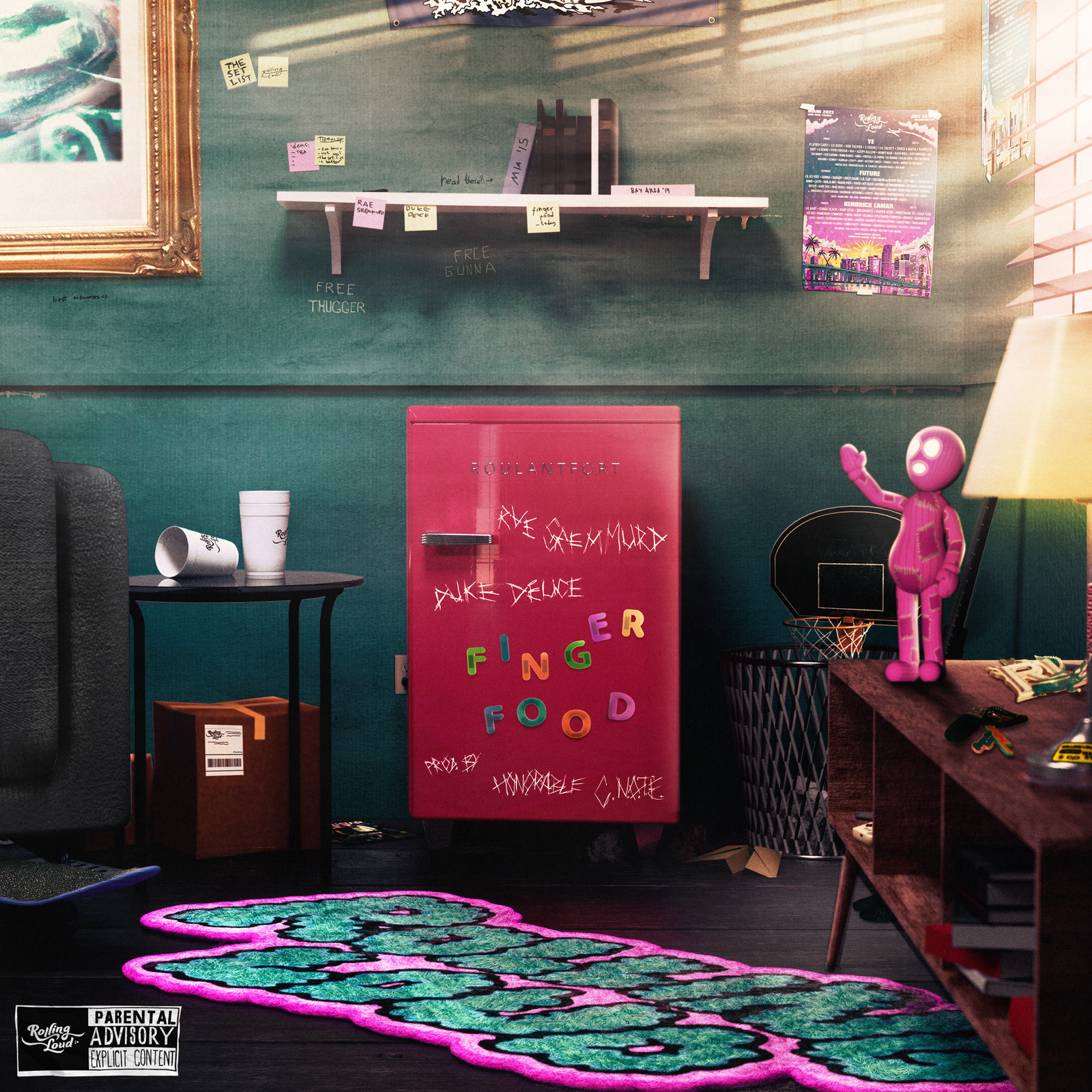 Rolling Loud Announces The First Rolling Loud Album, w/ Single ft. Rae Sremmurd & Duke Deuce
Rolling Loud Shares First Single, "Finger Food" ft. Rae Sremmurd & Duke Deuce (Prod. by Honorable C.N.O.T.E.)
Rolling Loud built its reputation on curating star-studded lineups that draw from all regions, subcultures, and eras of hip-hop. Bringing that same curatorial spirit and talent booking expertise, the World's Premier Rap Festival Brand announces the first-ever Rolling Loud album. Executive produced by festival co-Founders Matt Zingler and Tariq Cherif, the upcoming album embodies the ethos of the festival, which started in Miami and played a major part in the rise of the ascendant South Florida underground scene–Rolling Loud was the first festival to book generational superstars and give them the massive audience they deserved.
Featuring appearances from many of the rap game's most vital stars and best producers, arranged in unexpected combinations that echo the festival's love for surprise guests, the album arrives in Q1 2023 via Rolling Loud Records / EMPIRE.
Along with the announcement of the project, Rolling Loud shares "Finger Food," the first single from the project. The new song is a collaboration between Rae Sremmurd and Duke Deuce, and while the hitmaking duo and Memphis's new King of Crunk don't share many surface similarities, both acts are very capable of elevating a song's energy level to the stratosphere. Blessed with a booming beat by trap maestro The Honorable C.N.O.T.E., "Finger Food" is a high-octane festival anthem, combining crisp 808s with driving guitars to provide a perfect stage for the three Dirty South rock stars to dive from: "Young and reckless put the pedal to the metal let it rock/B*tch you know we crunk as hell doin' donuts in the lot/You ain't get that private message, you can't pull up to the spot/B*tches comin' out they clothes, it ain't really even hot."
Already the biggest rap festival in the world, Rolling Loud continues to expand its empire, making a mark in the worlds of live streaming, merch, and now recorded music. Rolling Loud had a massive 2022, hosting five festivals in four countries this year alone. In September, Rolling Loud threw its first-ever Canadian festival, Rolling Loud Toronto, headlined by Future, WizKid, and Dave. Rolling Loud hosted its flagship Rolling Loud Miami festival in July, gathering the culture for one of the most exciting events of the year, featuring headlining performances from Kendrick Lamar, Kid Cudi, and Future. Rolling Loud keeps the momentum going in 2023 with Rolling Loud California at Hollywood Park in Los Angeles in March, headlined by Travis Scott, Future, and Playboi Carti, Rolling Loud Thailand, its first festival in Asia, in April 2023, and expands its European operation, returning to Rolling Loud Portugal and debuting Rolling Loud Rotterdam.

Led by its founders Matt Zingler and Tariq Cherif, Rolling Loud is the most powerful hip-hop festival in history. Stay tuned for many more announcements about the Rolling Loud album and all the upcoming festivals.
Founded by 5-time Billboard Hip-Hop Power Players Matt Zingler & Tariq Cherif as a one-day Miami show, Rolling Loud has grown into a global festival phenomenon, putting on shows on both coasts and in multiple countries. Rolling Loud is the premier festival brand in hip-hop, known for its expert curation of wide-ranging lineups that reflect the state of the genre.
Rolling Loud recently wrapped Miami 2022, its biggest event to date, headlined by Kid Cudi, Kendrick Lamar, and Future, and the inaugural Rolling Loud Portugal, which brought an international array of all-stars to the beaches of Portimåo, Portugal. The festival's busy 2022 continued in September, with the first-ever Rolling Loud Toronto, headlined by Future, WizKid, and Dave, and Rolling Loud New York, headlined by Nicki Minaj, A$AP Rocky & Future.
In 2023, Rolling Loud expands its empire further, returning to Los Angeles for Rolling Loud California 2023 and venturing to Pattaya for Rolling Loud Thailand, its first-ever festival on the continent of Asia.