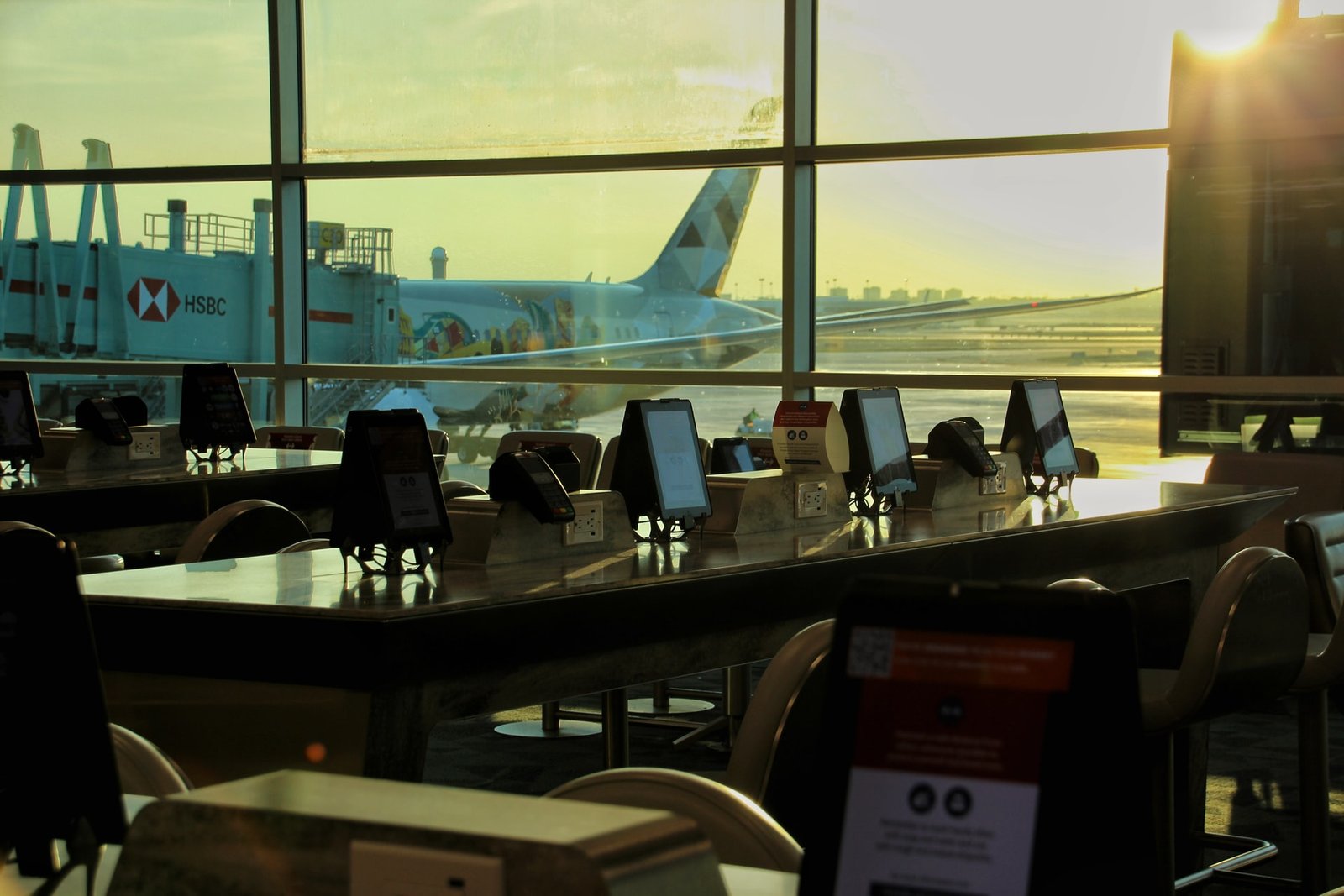 Technology's Role In The New Normal Of Air Travel
ExpertFlyer probes tech innovators to get a glimpse at virtual reality, automated airport cleansing, innovative layaway plans, and even a convenient way to get "bumped"— from home.
Imagine experiencing a once-in-a-lifetime trip around the world without ever leaving your living room or volunteering your seat on an overbooked flight in exchange for a future travel voucher, and being booked on the next flight out, before you even leave for the airport.
These are just a couple of examples of the technology breakthroughs that are supporting the new normal and advancing the future of air travel. Many of these new technologies were developed based purely on need because nothing says "necessity is the mother of invention" like a worldwide pandemic. And maybe more impressive is the accelerated rate at which new technologies are being developed. As airlines continue to improve the air quality onboard their planes, new tech innovations and processes are looking to improve or minimize, how people are interacting at the airport itself. Recent studies have shown that planes aren't really the risk any longer; however, the physical process of going through the airport to your seat can be.
ExpertFlyer discovered a few interesting technology solutions it believes will change the future of air travel and how we navigate through airports long after vaccines are in play and air travel returns to some form of routine. Several inventors and gatekeepers of these technologies shared their innovative ideas with ExpertFlyer, including D.J. Smith, co-founder and Chief Creative Officer at The Glimpse Group, a developer of virtual reality technology that is currently focused on helping destination marketing organizations develop immersive travel experiences using VR technology. While seeing the world from the comfort of your living room isn't too far off, Smith admits work still needs to be done before it's ready for primetime.
"To begin, there is a limited supply of VR headsets currently available, but we hope the recent introduction of the new Oculus Quest 2 headset (Facebook) will help lagging inventories," D.J. Smith explained.

"In addition, most of the VR travel content right now is viewed on a desktop or with cardboard goggles, which doesn't really offer a robust experience, but great things are on the horizon, including the ability to recreate real work environments which would allow employees to visit workspaces virtually," he added.
You can hear the entire podcast with D.J. Smith at ExpertFlyer's blog.
The Convenience Of Getting Bumped
You packed your bags and fought your way to the departure gate only to find the flight has been oversold and the airline is looking for volunteers. If only you knew the day before you might be in a better position to volunteer. Well, thanks to Oversell Protection by Volantio, it's now possible. Azim Barodawala, co-founder and CEO of Volantio, explains how it works. "Volantio's Yana platform alerts passengers 24-hours in advance of departure when the software detects an imbalance of paid seats vs. seating capacity."
From there, Barodawala says Yana automatically solicits and prioritizes volunteers willing to rebook, and proprietary software called Green Leaf chooses the optimal compensation amounts and specific flight alternatives. "If an airline can largely resolve this common issue while customers are still at home, it's a big win all around," Barodawala added.
Don't Touch That!
The coronavirus has certainly changed the mindset of air travelers, including their need to avoid as many contact points as possible. In fact, a recent passenger survey from the International Air Transport Association revealed that 67% of travelers are worried about the check-in process and collecting their baggage at the airport.
Luggage shipping services are changing the way people travel by allowing them to ship their bags in advance of a trip instead of bringing them to the airport. By avoiding the check-in process, standing in airport aisles to place bags in overhead bins, and eliminating the need to stand at baggage claim, the traditional airport experience has completely changed. LugLess offers a calculator to see how much the price of shipping your bags would be so travelers can compare it with the fee airlines typically charge for a similar bag.
Keeping It Clean
The paper and soap dispensers are both empty in the airport bathroom but before you can utter even one expletive under your breath, a cleaning team arrives with new supplies. How did they know? Is big brother watching? Well. Sort of. As a result of the coronavirus and the mandate to wash your hands at every opportunity, GP PRO, a division of Georgia-Pacific introduced KOLO Hygiene to help large facilities, like airports, manage, monitor, and measure heightened cleaning, sanitizing and disinfecting practices.
The KOLO system uses wireless technology and cutting-edge sensors and sensing technology to allow for real-time communication between connected restroom fixtures and facility managers. The system lets custodial staff know if something in the restroom needs attention, helping to ensure restrooms are clean, in working order, and fully stocked with toilet paper, paper towels, and soap.
"GP PRO has been a tremendous partner to us over the past few years, working tirelessly to help Hartsfield-Jackson achieve a number of critical goals related to improving the passenger experience," said Dr. Kofi Smith, president and CEO of Atlanta Airlines Terminal Company (AATC), which provides facility management solutions for ATL.
Buy Now, Pay Later
Another technology application designed to take the financial sting out of airline ticket purchases are "buy now, pay later" solutions.
"Consumers, particularly those whose finances or employment have been impacted by COVID, are keen on flexible payment options for travel," says Kelly Campbell, Uplift, Inc. "Airline revenue managers and marketers are using payment marketing and promotional financing offers to drive targeted leisure travel demand.
Installments allow customers to book travel now with little or no money due at booking and then spread the cost over time in affordable monthly payments and is a great way for travelers to manage their expenses over time and still lock in travel early when prices are low.
"For example," explains Campbell, "for a trip that costs $500, a consumer could pay just $45 at booking, which includes a down payment of around $35. Then they make 11 monthly payments of $45. This is based on an example of 15% APR, but many travel brands are offering interest-free installments as well. And the traveler can take their trip before they are finished making their payments."
Passport To Everywhere
Geared toward re-opening borders, ShareRing's novel, self-sovereign ID technology can be used for a variety of applications, including e-Visa On Arrival processing, as well as secure "proof of health" verification and contact tracing. ShareRing's COVID health documentation includes a unique mechanism to prove validity and ownership of the documents without sending the actual images to any server, using ShareRing's blockchain, COVID contact tracing with provable anonymity.
To see all the cool new technologies that are changing the future of travel, and to listen to the full interview with D.J. Smith from The Glimpse Group, visit ExpertFlyer's blog.
Each month, ExpertFlyer's One-on-One blog goes face-to-face with the travel industry's leading decision-makers to discuss and address topics relevant to many of today's business and frequent travelers.
ExpertFlyer.com was conceived and created by an eclectic team consisting of a veteran elite tier frequent flyer, an airline captain and corporate travel manager, and information technology professionals to deliver a 24/7 real-time powerful air travel information service. The company provides its subscribers and corporate travel managers alike with a complete, concise and efficient way to access the ever-changing details of worldwide air travel information.
Stuck in the middle seat again? Download the free Seat Alerts app from ExpertFlyer and get the window or aisle seat without hassle or frustration.