Cooking Habits In America: What Changed In 2021 Study
Nowadays, everyone talks about how the pandemic has impacted our entire lifestyle, including our cooking habits.
This change of habits made Ana Cerovski curious about whether that was true, and what were Americans' "real cooking habits" in 2021.
In mid-2020, Packaged Facts reported that about 30% of consumers agree they are eating less healthily, while 42% of consumers think they are eating more healthily. These numbers inspired Ana Cerovski from KitchenToast to conduct a survey about Americans' cooking habits in 2021.
This new study aimed to find out more about cooking habits in the U.S. in 2021, as well as the effects of the pandemic on people's habits, whether or not they favor "healthy" food, how often they order take out, and how much they usually spend on groceries.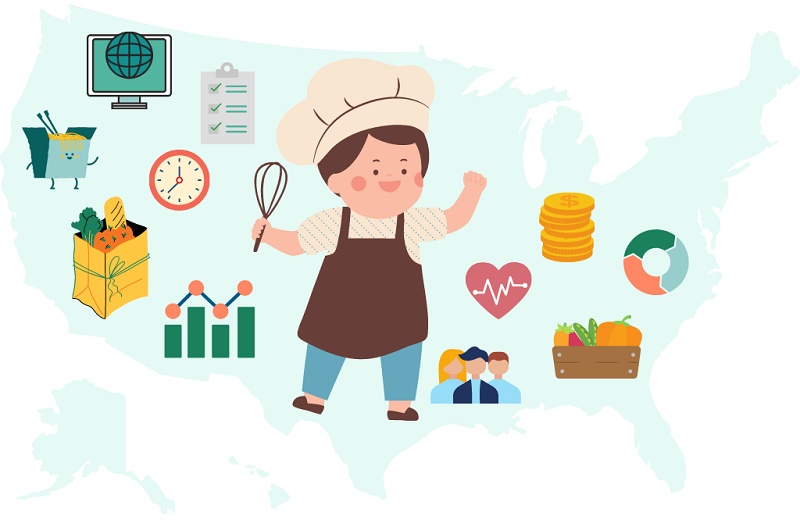 The study collected data between February 15-25, 2021, and collected responses from 1,000 people of different genders and age groups residing in the U.S.
"After analysis, I have found out that 53% of Americans started to cook at home during the pandemic because it is both cheaper and healthier!" Ana says.
Key findings
54% of respondents find their cooking inspiration online through web pages, blogs, social media, YouTube, and apps
A third of employed Americans used the pandemic to start cooking more
37% of people older than 54 never order take-out, while 90% of people younger than 35 make an order at least once a week
59% of Americans cook for a household of 2-4 persons
Read the full survey here.