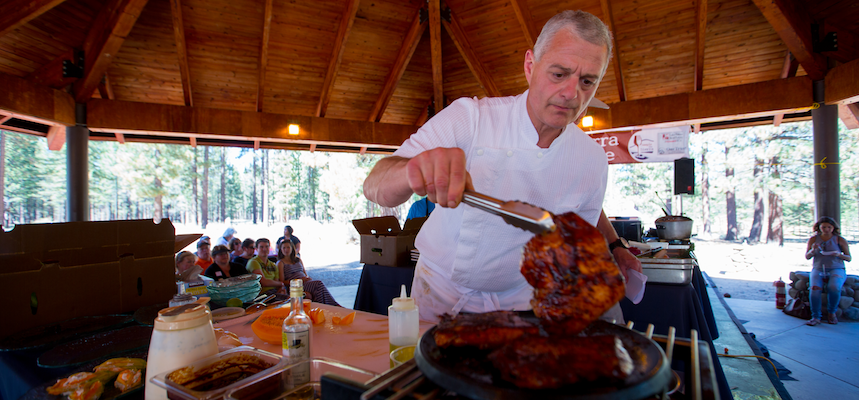 Tahoe Food and Wine Festival Celebrates Over 60 Culinary Talents
Lake Tahoe's reputation as a leading culinary destination is gaining comparative momentum to its world class recreation and scenery with the return of the 8th annual Sample the Sierra food and wine festival, on September 16th.
The emerging foodie paradise will showcase the talents of over 60 participants: chefs, restaurants, brewers, winemakers and farmers during the South Lake Tahoe festival.
Sample the Sierra has created an opportunity for the South Shore's tastemakers to present their food and drink in an easily digestible format. Nearly 1,500 attendees will explore the area's gastronomic offerings via 20 booths of regionally sourced cuisine paired with locally crafted wine, beer and spirits.
One participant that will highlight its brand's unique brews is South Lake Brewing Company, a new craft brewery opened this spring by South Lake Tahoe natives Chris and Nicole Smith. Smith regularly partners with South Shore restaurants, such as fellow festival vendor Chimayó BBQ Tacos y Tortas, and hosts pop-up dinners at the brewery to create holistic Tahoe dining and drinking experiences.
South Lake Brewing Company is just one of many Tahoe businesses that make efforts to incorporate native elements from El Dorado County and Reno to create farm-fresh experiences for patrons. Riva Grill, which has participated in the festival for six years, incorporates local wines into their menus to highlight the bounty available in El Dorado County.
Their cooking aptitude will be tested during the festival's Iron Chef-style Sierra Chef Challenge where they will be pitted against one another in a timed cooking trial that involves mystery local ingredients. The challenge occurs during festival hours.
The Sierra Chef Challenge will be one must-see during a day of food and drink that includes entertainment from local bands Sierra Gypsies and Taking Root, a marketplace of local vendors, artisans and artists, as well as a live art experience after-show at Benko Art Gallery.