Tri Cascade Announces Three New Wireless Connected Products For Builders of The Future Smart Neighborhood
Smart neighborhood technology developer Tri Cascade is unveiling three new products designed for the next generation of smart homes and connected smart neighborhoods.
These next generation Internet of Things (IoT) smart neighborhood products include the THERMORING smart thermostat with Edge Computing capability, i-BRIGHT AIR quality sensor device, and i-BRIGHT Smart Light Dimmer.
According to research from Parks Associates, up to 70 percent of U.S. broadband households express strong interest in smart home packages that feature multiple cross-industry benefits, and 49 percent plan to purchase a smart home device within the next 12 months.
"The development of a true smart home cannot be achieved with third party aftermarket devices—it starts with the builder," said Max Li, president and CEO of Tri Cascade. "The Tri Cascade IoT eco system is designed to be integrated into the home during the construction phase. Tri Cascade is the first to be able to provide the technology builders need to develop entire smart neighborhoods with connected IoT infrastructure before homebuyers ever move in."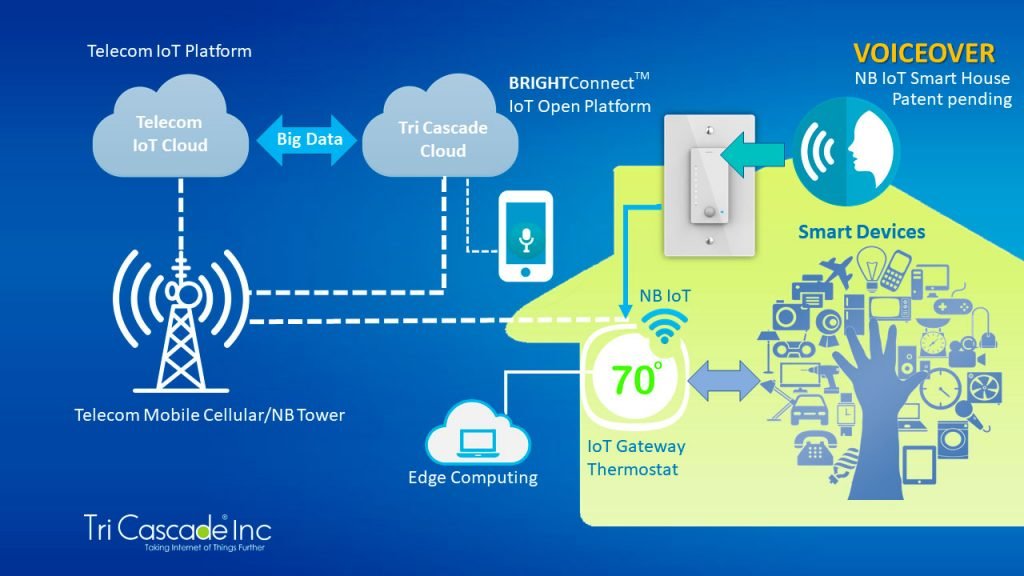 Tri Cascade's first new product, THERMORING, is the first smart thermostat that eliminates the need to establish Internet connection via a router. Instead, THERMORING is a self-internet device built with 1G Edge computing, and serves as the technology hub for tomorrow's smart neighborhood.
Connecting with the THERMORING is Tri Cascade's new i-BRIGHT Smart Light Dimmer. This smart lighting system can be integrated during construction to provide built-in voice-activated technology to control lighting throughout the home without the need for a third party app or device.
Finally, the i-BRIGHT AIR is a highly sophisticated air quality sensor device, which also bypasses the need for a router by using the THERMORING 1G Edge Gateway to achieve Internet connectivity. This air quality detection device measures various forms of air pollution, temperature and humidity. It comes in three different versions—an indoor model for the home, an outdoor model for monitoring air quality throughout the smart neighborhood community, and a third model for use in parks, forests and other areas where a wall outlet connection cannot be achieved.
About Tri Cascade, Inc.
Since 2010, Tri Cascade is committed to developing innovative Internet of Things technologies and products to reduce energy costs and empower the end user for smarter and safer living.
Leveraging its extensive experience in energy management, wireless networking, and home and B2B automation and device control systems, Tri Cascade focuses on bringing leading edge Wi-Fi and machine-to-machine wireless innovations for smart energy management to both residential and commercial markets. Tri Cascade aims to use the Internet of Things to make cities dynamic and responsive to energy demands and sudden energy spikes.