5 Amazing West Mexico Vacation Destinations
For the throngs of people pondering where to go on vacation this year, Mexico may be a strong contender in your cache of options.
If so, you're certainly not alone. According to Statista.com, in 2019 approximately 39.94 million U.S. citizens chose Mexico as their travel destination. And understandably so, given there are innumerable reasons to vacation in the region.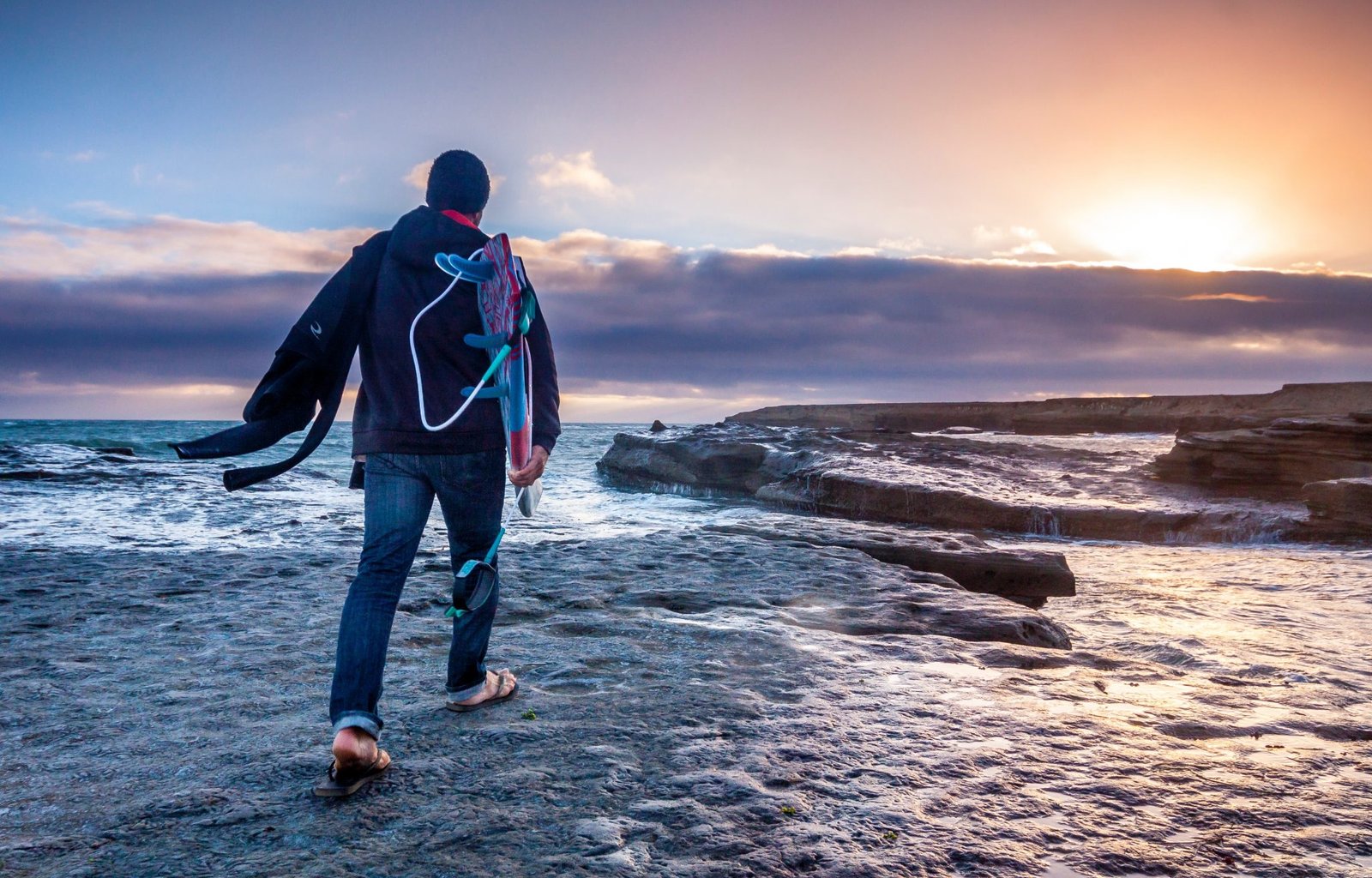 The weather is warm, people are friendly, the culture is rich, the immersive culinary scene is phenomenal, the beaches are beautiful, and dreamy destinations abound. In fact, below are five of my tried-and-true personal favorite places and activities on the west side.
1. Foodie-Forward Private Villa at Puerto Vallarta's Casa Dos Cisnes

Whether for adventure travel or more relaxing vacations, travelers are increasingly seeking regionally-authentic itineraries that offer an intimate view of local life. The trend of being "connoisseurs of local culture" so to speak is booming.
So indigenous tourism and cultural immersion experiences—especially those with culinary components—are extremely popular right now—and that demand is only growing.
Various hospitality sectors have been the beneficiary of the foodie-driven travel movement, and even helping drive it to a certain extent. One of which is the private villa vacation category, specifically. Today's breed of luxury private villa rentals is becoming an ultimate gourmet indulgence for leisure and business travelers, alike.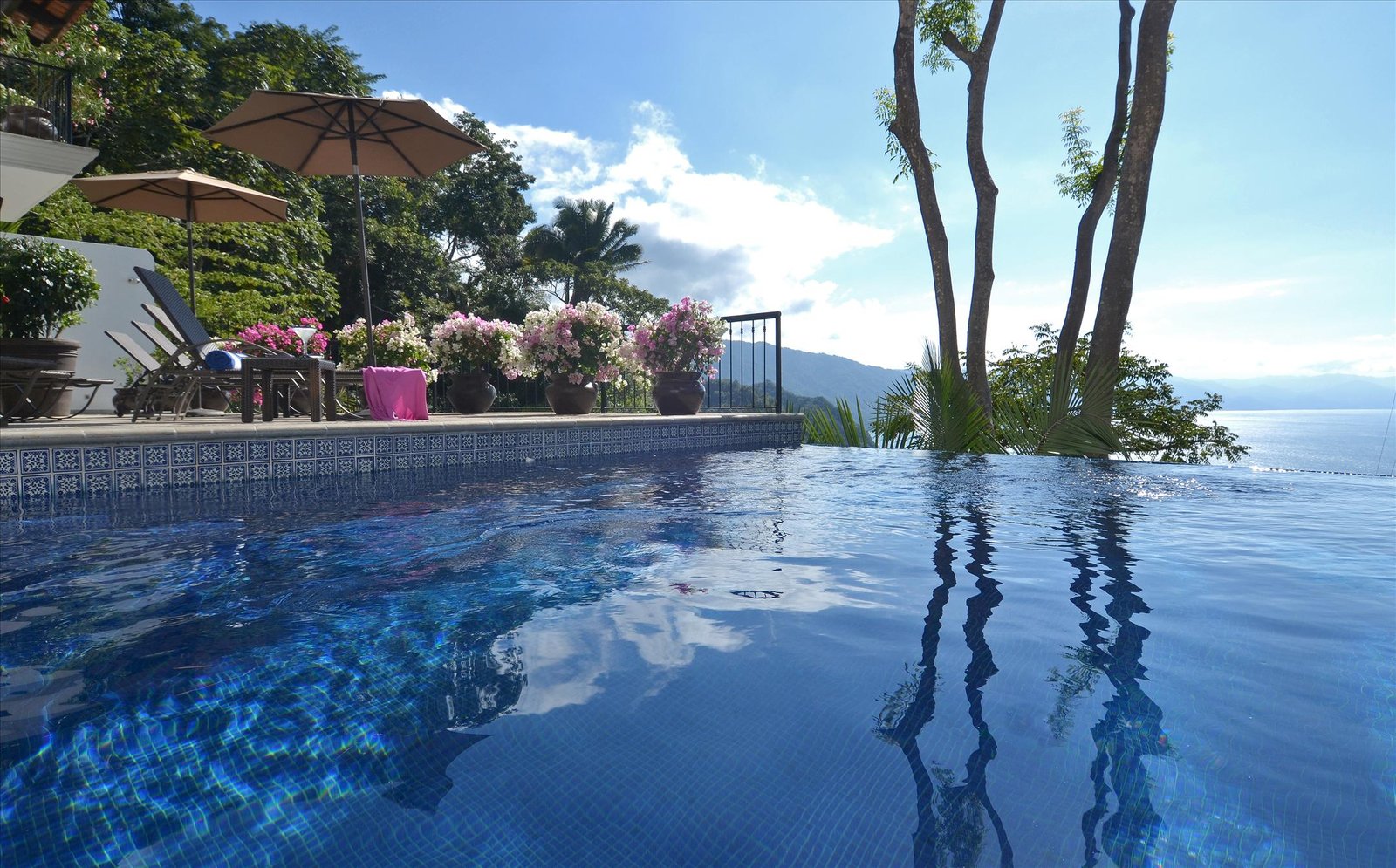 One private villa rental exemplifying this experience is named Casa Dos Cisnes, which is a premier private oceanfront villa in Puerto Vallarta. This 10,000 square foot, five-bedroom colonial style home has breathtaking views of the Pacific, and really goes over and above to ensure each guest's needs, desires and expectations for an extraordinary, foodie-forward private villa vacation are fulfilled.
This includes custom gourmet meals prepared on-site by a dedicated 5-star private chef specializing in Mexican-contemporary cuisine, served in an elegant separate dining room that seats up to 12. You can either specify what dishes you would like the chef to prepare, or you can give "free reign" and allow the chef to conceive a fully authentic Mexican menu on your behalf. It's your choice if you want to go full classic/indigenous or with a more contemporary fare.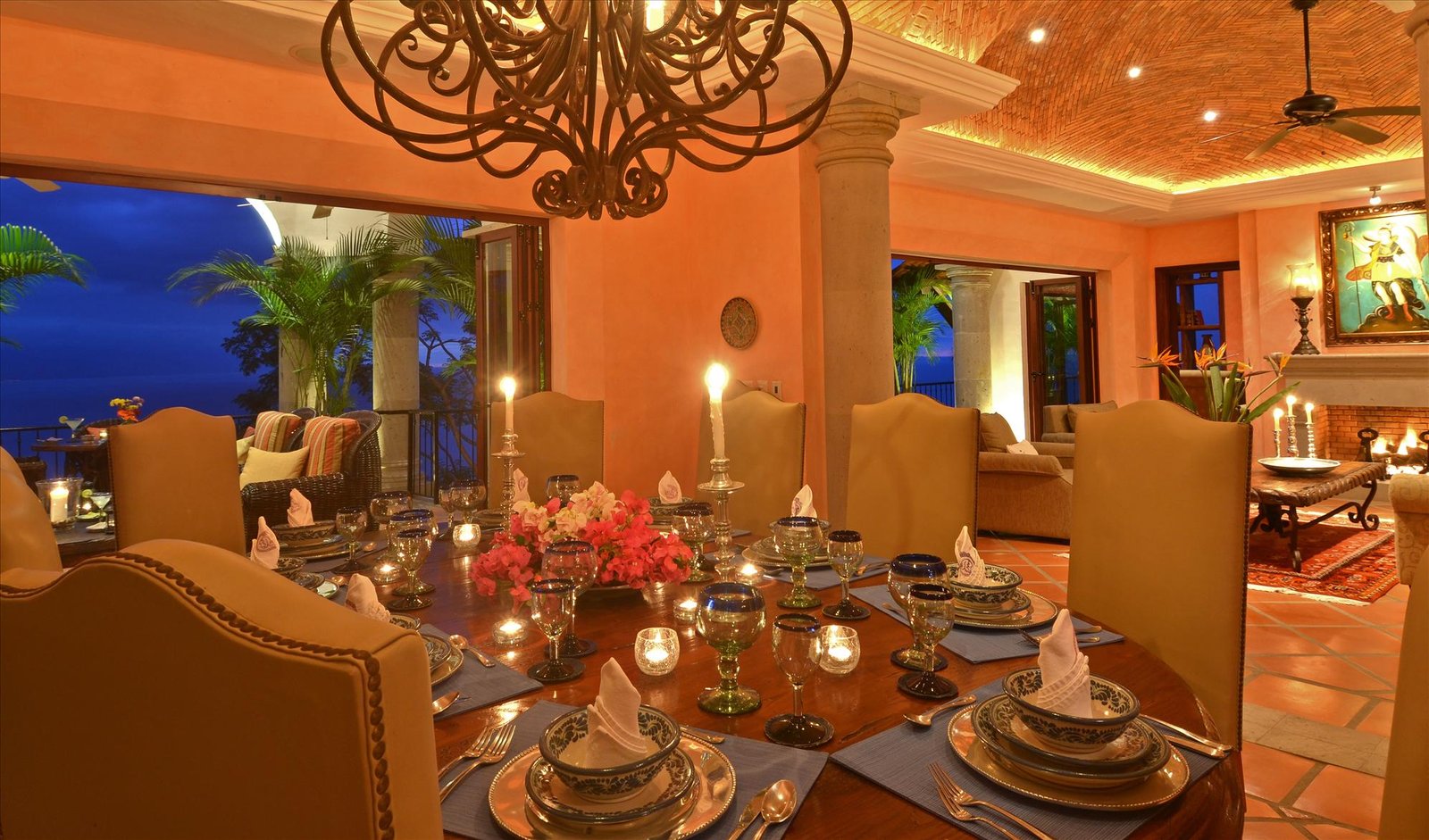 Here, guests have full culinary control. The ingredients (meat, produce, spices, starches) are usually entirely locavore, meaning very locally sourced, and the recipes, preparation, presentation and such are authentic to the region and culture—all allowing visitors to experience what it's like to "eat like a local."
You tell the chef what you want to eat that day or you can plan in advance and, either way, the chef shops at the local markets the day of and prepares the meals on-site, which are served in the privacy of your own dining space, either indoors or out. It gives a whole new meaning to a home-cooked meal, for sure.
For some enhanced group or family fun, this private gourmet chef also prepares what this villa calls a "Magical Mexican Fiesta", which is a lively evening of regional food, cocktails and Mexican musicians entertaining at the property. And all of this is available to guests in addition to three full meals a day plus snack and happy hour service, which can be served in the dining room or the separate dining terraces at both the main and pool levels.
2. Beyond All-Inclusive Innovation Grand Velas Los Cabos Resort & Spa
The newest property in Grand Velas Resorts' esteemed portfolio is Grand Velas Los Cabos—an all-inclusive spa resort with stunning ocean views and a wide variety of amenities and activities for guests of all ages. No ordinary destination, Grand Velas Los Cabos has pulled out all the stops in its readily apparent quest to provide an unrivaled luxury vacation experience for guests at every touchpoint.
Having stayed on-site to see for myself what all of the buzz was about, I can convey with full conviction that this resort proffers what would surely be one of the most impressive and memorable retreats of your life. Not only elevating industry standards for any luxe locale, Grand Velas Los Cabos has certainly raised the bar within the all-inclusive category worldwide. Its level of Haute hospitality and impeccable service standards go well above making each guest feel pampered—but also genuinely cared for. Then, of course, the overarching offerings—the grounds, the accommodations, the amenities, and more—are each standouts unto themselves.
As with all Grand Velas Resort properties, guests here enjoy spacious and sumptuously-appointed accommodations, numerous gourmet fine dining experiences, 24-hour in-suite service, substantial spa facilitates, fully-equipped and staffed fitness centers, pool decks to-die-for, noteworthy family programs, personal concierge service and much more. The resort features 304 suites, each over 1,180 square feet and every single one with private terraces with cushioned lounge seating and breathtaking ocean views. Some of the suites also have personal plunge pools on the terrace as well. The stylish suites at Grand Velas Los Cabos range in size from 1,180 to a whopping 3,412 square feet. Every one of them features wide open ocean views and a fully furnished private terrace.
The variety of gourmet dining options at Grand Velas Los Cabos is impressive, giving guests the opportunity to delight in dishes from around of the world without ever having to leave the resort. Ever. Choose from several fine-dining restaurants with both indoor and open air seating. This includes Cocina de Autor, the resort's premier signature restaurant, which shines above all as there's a two star Michelin chef at the helm. Clearly this resort is making its mark on the gastro-travel front, but its spectacular SESpa is giving the food and beverage program here a run for its money. The two-level, 35,000-square-foot facility with a multisensory pool "water journey" is a not-to-be-missed experience.
3. Ensenada's Hotel Coral & Marina an All-Encompassing Escape
A mere 80 miles from San Diego lies the port city of Ensenada, a charming Mexican enclave that runs along 700 miles of Pacific Ocean and Sea of Cortéz coastline. The city, which is Mexico's largest municipality in the area, offers endless possibilities for vacationers. The region is replete with culture, adventure, inspired cuisine, fine wine and gracious hospitality that's all tempered with a relaxed beach and marine mindset. This certainly holds true for the Hotel Coral & Marina —a luxury Mexican resort that truly has it all for families, couples, groups or any well-heeled traveler seeking an easily accessible, all-encompassing escape south of the border.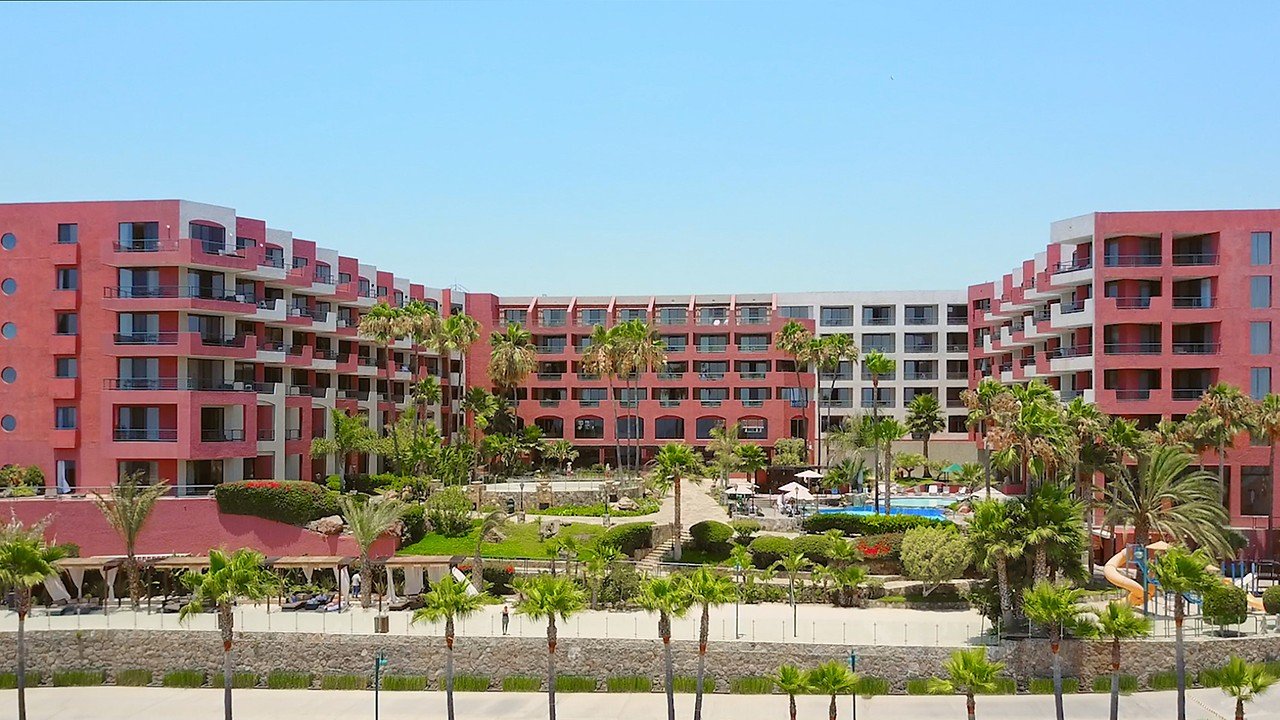 A glistening getaway on the shores of Todos Santos Bay, Hotel Coral & Marina boasts the area's only world-class marina with 353 slips that offer shared access to the property's impressive array of amenities. But, for those seeking accommodations on land, the property offers a comprehensive set of conveniences and creature comforts that start with the 147 rooms and suites with each featuring flat-screen TVs, high-speed Wi-Fi and a coffee maker. Upgrade to a specialty suite for an added refrigerator, dining area, double bathtub, Jacuzzi, wine cooler or fully equipped kitchen. While standard rooms start at 635 square feet, the luxury suites start at 721 square feet (the "Deluxe" suite in which I stayed at 1,022 square feet) and top out at over three times that with the Presidential Triple Suite, which provides a whopping 2,034 square feet of vacation space. In speaking with Lizette Sanchez, Director of Public Relations at Hotel Coral & Marina, she cited many elevated amenities available with the opulent top-tier suites, such as a wraparound ocean-view balcony, chic bar, modern living area, Jacuzzi, hydro-massage shower, dining table and wine fridge.
However fabulous your room may be, don't stay in it too long as there's so much more to do and see at Hotel Coral & Marina. Whether your idea of a good time includes indulging in "Baja-Med" style cuisine at the on-site Bistro & Cava indoor/outdoor restaurant or more casual fare at the Marina Grill indoor/outdoor restaurant; cocktailing at the patio bar; taking a dip in the indoor or outdoor pool or in the large outdoor Jacuzzi; pampering with a service at the fully-equipped "C Spa"; sweating out the stress in the state-of-the-art fitness center; or playing an exhilarating game of tennis, the property offers all of this and more to keep you and your companions duly engaged and entertained.
Guests can also enjoy various water activities like water bikes, paddle boarding, and kayaking all throughout the marina. Paddleboarding is a great way to relax on the water by either standing on the board while paddling or laying down on your stomach. With these enjoyable exploits as well as an on-site playground and professionally staffed Kid's Club, the Hotel Coral & Marina is decidedly family-friendly.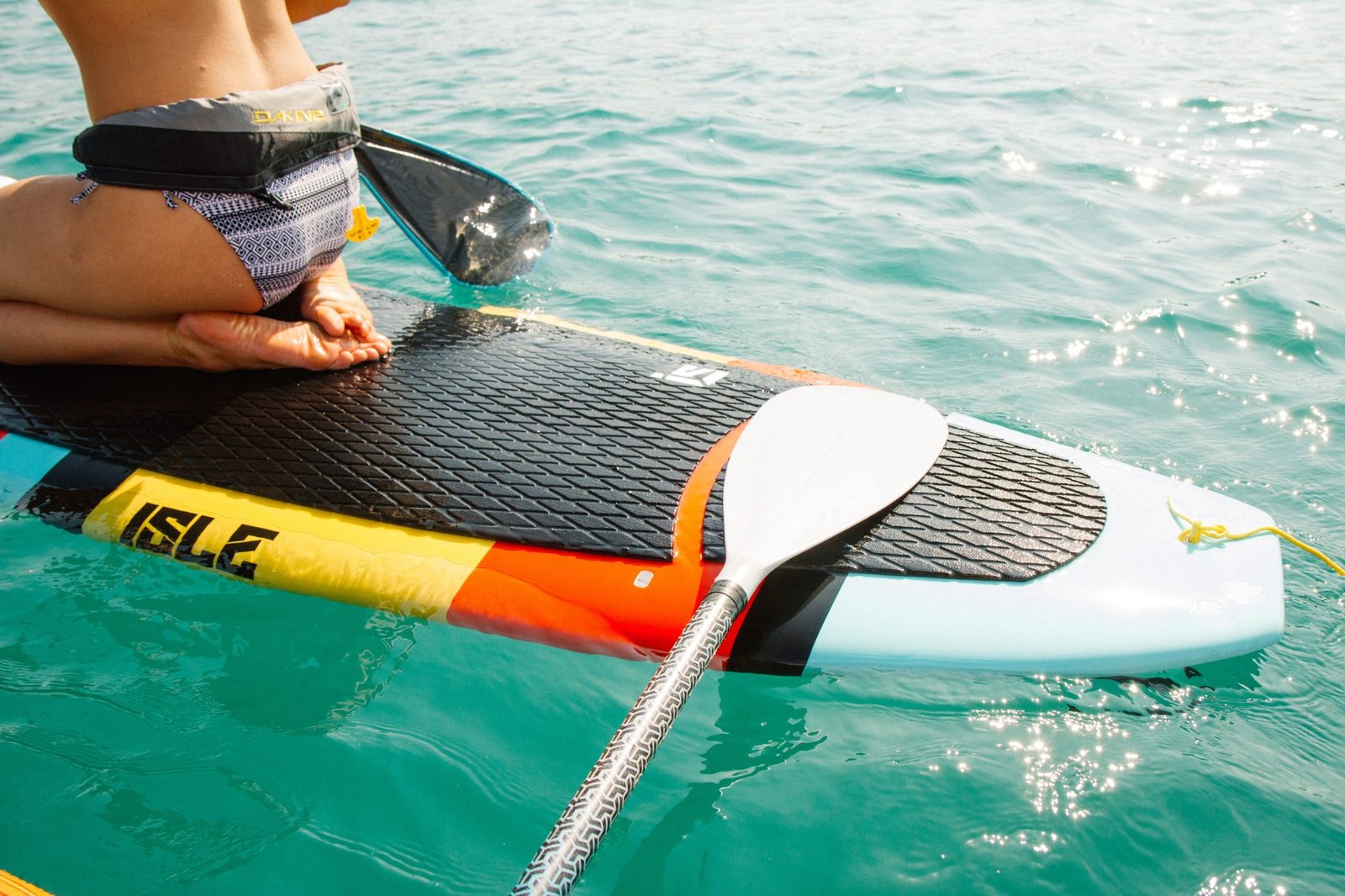 There are also on-site eateries. Bistro & Cava is the hotel's award-winning signature gourmet restaurant featuring a blend of traditional Mexican entrees and locally-sourced Mediterranean cuisine.  But the food isn't the only notable aspect of the bistro, as it also happens to house the largest local wine cellar in Baja California. From this locale, patrons can enjoy more than 150 labels. Those seeking a more casual atmosphere will enjoy eating at the waterfront Marina Grill restaurant or at the Pool Bar, where I highly recommend ordering the ceviche and a margarita. If this doesn't put you in a vacation state-of-mind, probably nothing will. The Arrecife Lobby Bar is another communal space offering sports on the flat-screen and a two-for-one drink Happy Hour.
Whether you're planning a family vacation, a romantic respite or a group getaway, Ensenada's Hotel Coral & Marina enchants as a one-stop oasis where leisure, recreation, and gastronomic pursuits await.
4. Enchanting Evenings Al Fresco at Puerto Vallarta's Rhythms of the Night Dinner Show
Rhythms of the Night is an immersive dinner show experience like none other in Puerto Vallarta, transforming your night into an enchanted evening on a mystical land. The experience begins with a relaxing cruise across the Banderas Bay where complimentary snacks and cocktails are served. As the sun sets and dusk sets in as the moon begins to rise, you will be rewarded with a stunning light display along the coastline. This picture-perfect setting is a primer for the experience ahead.
As your cruise ship ports at the secluded Las Caletas cove, you will be greeted by a beautiful starry night, a torch–lit pathway, and mysterious islanders coaxing you to your initial destination. As if the journey to this tranquil cove was not enough, your evening will only get exponentially better. The fire-lit path will guide you to an exceptionally romantic outdoor dining area right along the coast. Nature provides the perfect setting for this outdoor dining experience, as a light wind from the Pacific Ocean blows through the decorative palm trees. Light from the torches and a litany of candles scattered about flickers on the water. The sounds of nature are intertwined with table-side serenades from talented musicians wandering through the dining area. The atmosphere alone transforms dinner into a mesmerizing experience.
Guests are then treated to a full-service buffet that includes thoughtfully prepared food selections to accommodate any dietary preference. The buffet includes grilled chicken, fish and steak, along with a delicious display of vegetables, salads, and, of course, tortillas that are hand-made exhibition style. The dessert buffet is equally tantalizing, with pies, rice pudding and brownies among the many offerings. After dinner, you will be beckoned to the outdoor amphitheater where talented local artists perform a spectacular theatrical performance amid the backdrop of a pyramid adorned with candlelight.

Through fire, acrobatics, dance, song, music, comedy, and magnificent costuming, the performance proudly reenacts some of the ancient customs that highlight the rich history of this region.  At the conclusion of this perfect enchanted evening, you will receive a final toast as you dance the night away as the cruise ship transports you back to the port with music bumping and cocktails flowing. As with the ride to the cove, the return trip also provides scenic views unique to this part of the world.
Overall, this enthralling evening offers the opportunity to have a relaxing, peaceful and exciting night filled with sights, sounds, smells and tastes you will not soon forget. Whether you are looking for the quintessential romantic dinner experience, a fun-filled family adventure, or are planning a group event, an evening with Rhythms of the Night is a magical journey sure to impress.
5. Adrenaline-Laced Activities at Canopy River Puerto Vallarta
Relative to activities, Puerto Vallarta certainly has all of its bases covered—in large part thanks to Canopy River adventure tours, which is perfect for pure adrenaline experiences by day. Indeed, if you are an action seeker looking for excitement and a way to see the beauty of Puerto Vallarta up close and personal, Canopy River tours are for you. This company offers everything from a fast-paced zip line boasting no less than 12 heart-pounding sections, to thrilling ATV tours, which include diving and dipping at a gorgeous hidden river and waterfall basin, to exciting expeditions through the rainforest. You can complement any of these adventures by dining at the breathtaking on-site Los Coapinoles Restaurant where guests can also participate in one of the greatest tequila tastings in the area.
Your zip line adventure begins with a brief safety training provided by experienced, talented and affable zip line professionals. You will then be safely hooked up to a full-body harness and provided with a security helmet, as you and your tour guides head off for the experience of a lifetime. You will zip through 12 different lines that fly directly above the amazing rainforest located in the Sierra Madre Mountains to heights as high as 709 feet. Each zip line ends on a large platform that gives you the opportunity to stop for a moment, enjoy the surroundings and take memorable photos. Adding to the adventure, at the end of the line, you will travel by mule back up the mountain to the point of origination.
The river expedition is definitely designed for both nature lovers and adrenaline seekers. These expeditions start on the coastline of Rio Cuale and take a six-hour journey through the remarkable rainforest of the Sierra Madre Mountains. Among other notables, you will travel across two bridges that reach heights of up to 88 feet. This journey is only meant for true thrill-seekers looking for unforgettable adventure.
If you want a fun experience, but may not have the daredevil aptitude for zip lining or a full-blown expedition, an ATV tour can provide an amazing experience. These tours are crafted for those with even little or no ATV experience, so even if you have never ridden an ATV before, this tour is for you.
With weather to-die-for, gorgeous waters, robust customs and traditions, and diverse terrains, it is no wonder that west Mexico attracts huge tourism dollars. Travelers flock to the area year after year to enjoy the amazing and unique dishes that are specific to the region, tour historical sites, experience thrilling adventure and entertainment, and just spend some time relaxing and taking it all in. And, if you have a penchant for luxury accommodations, fine dining, and spa treatments, opportunity is plentiful. As you plan your getaways up ahead this year and beyond, a visit to one or all five of these venues should be at the top of your list. Rest assured the time spent would be vacation experience not soon forgotten.