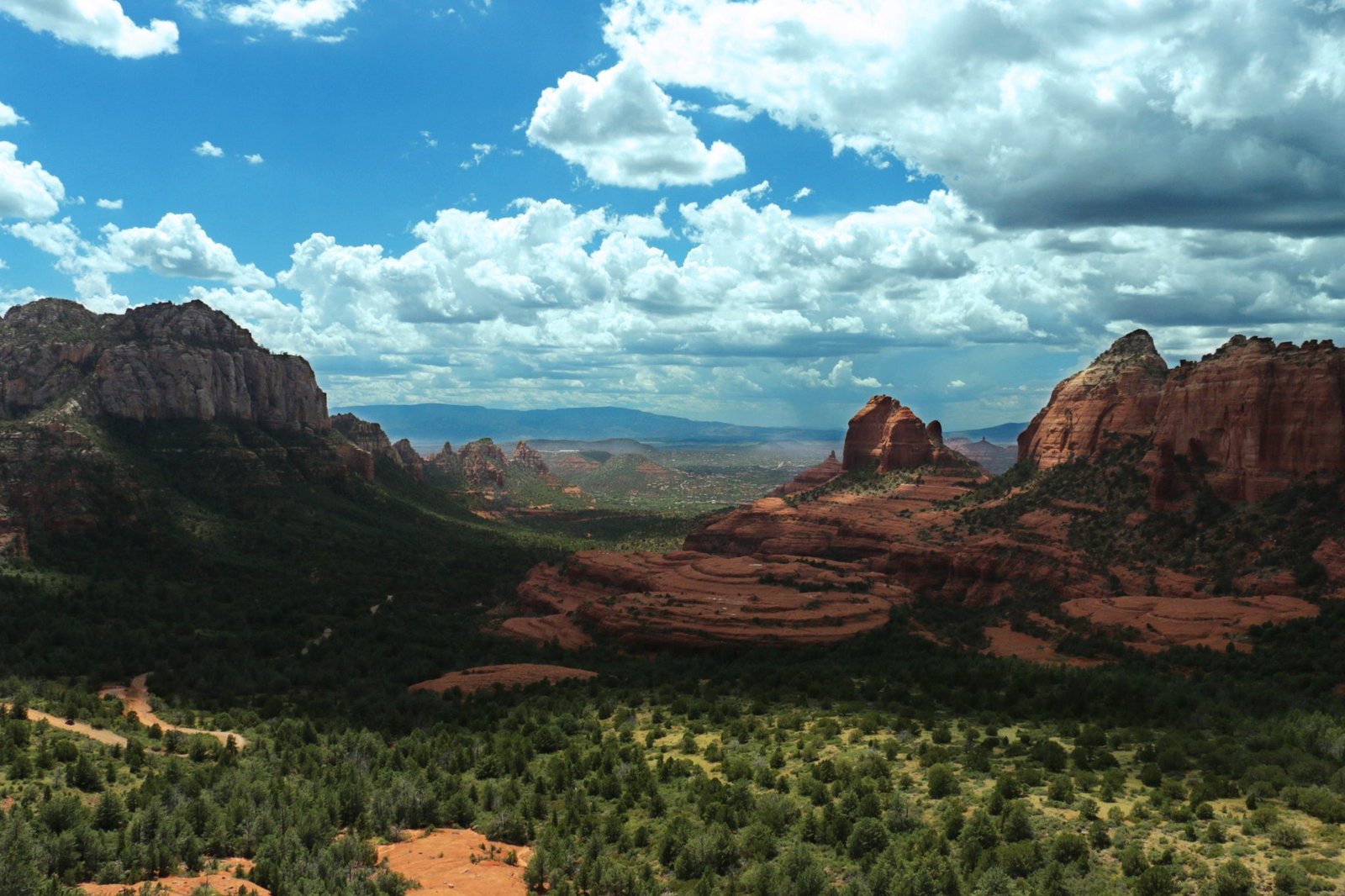 Arizona's Diamond in the Rough
Sedona: A Hidden Gem in the Heart of Arizona
With a population of about 10,000, the small city of Sedona is often overshadowed by more famous Arizona destinations. The Grand Canyon or Scottsdale and Phoenix are all must-see destinations. However, Sedona is a Southwestern gem, with its natural beauty, sophisticated arts and cultural scene, and magnetic spiritual vibe.
Located just two hours north of sprawling Phoenix, Sedona has richly hued red rock formations and verdant canyons. These set it apart from the starker appearance that characterizes most of the Arizona desert. At an elevation of over 4,300 feet, Sedona experiences four distinct seasons and slightly cooler temperatures than Phoenix. Also, the comfortable climate and breathtaking scenery combine to make Sedona a mecca for lovers of the outdoors. The area features a vast selection of hiking and mountain biking trails suitable for any skill level.
Visitors will also enjoy exploring Red Rock State Park, a 286-acre nature preserve with trails and environmental education resources. Furthermore, Slide Rock State Park, a smooth natural water slide, offers a thrilling experience for swimmers who brave the chilly waters of Oak Creek. The thirteen-mile long Oak Creek Canyon is a destination in itself. Providing a haven for fishing, picnicking, and hiking, trees and colorful plants covering steep rock walls provide a vivid backdrop.
World-Class Arts and Events
Sedona also boasts an impressive array of world-class arts and cultural events throughout the year. The Sedona Open Studios Tour offers attendees the unique opportunity to visit with exceptionally talented artists in their private work spaces and learn more about the creative processes behind the amazing paintings, sculptures, and photographs that populate the city's many art galleries. On October 7 and 8, 2017, the Sedona Arts Festival—one of the premier celebrations of fine arts in the Southwest—will feature over 100 juried artists showcasing a diverse selection of works.
From October 14-21, 2017, the Sedona Plein Air Festival will allow attendees the chance to observe over two dozen master artists as they paint the area's stunning landscapes. The Plein Air Festival also features engaging lectures, exhibits, and receptions. At any time of year, visitors can partake in Sedona's First Friday Art Walks, during which dozens of galleries stay open into the evening for receptions, demonstrations, and artist meet-and-greets. For a lively cultural experience, festivals held at Tlaquepaque Arts and Crafts Village throughout the year celebrate Mexican traditions, including Cinco de Mayo and Dia de Los Muertos.
Healing of Body and Mind
In addition to its thriving outdoors and cultural scenes, Sedona is a place of profound peace and spiritual renewal. Spiritual gurus worldwide are drawn to the area's mystical vortexes. Such sites have enhanced energy that facilitate meditation, prayer, reflection, and healing of the body and mind. The Sedona area is unique because it contains all of the different types of vortexes. Masculine or electric enhance spiritual awakening. Similarly, feminine or magnetic support introspection. Another popular site that embodies the city's strong senses of both spirituality and art is the Chapel of the Holy Cross. Emerging from towering red rocks, this awe-inspiring architectural masterpiece is a must-see destination for visitors of all faiths. Inside, the chapel is quiet and serene with breathtaking vistas outside the massive windows.
For visitors seeking to discover the best of Arizona's hidden gem, El Portal Sedona Hotel provides a welcoming base. Located in the heart of Sedona, this pet-friendly, boutique inn offers unpretentious luxury with twelve uniquely decorated suites. El Portal has been named a AAA Four Diamond Hotel, one of the top hotels in the Southwest by Condé Nast Traveler, and has received Trip Advisor's Certificate of Excellence Award.