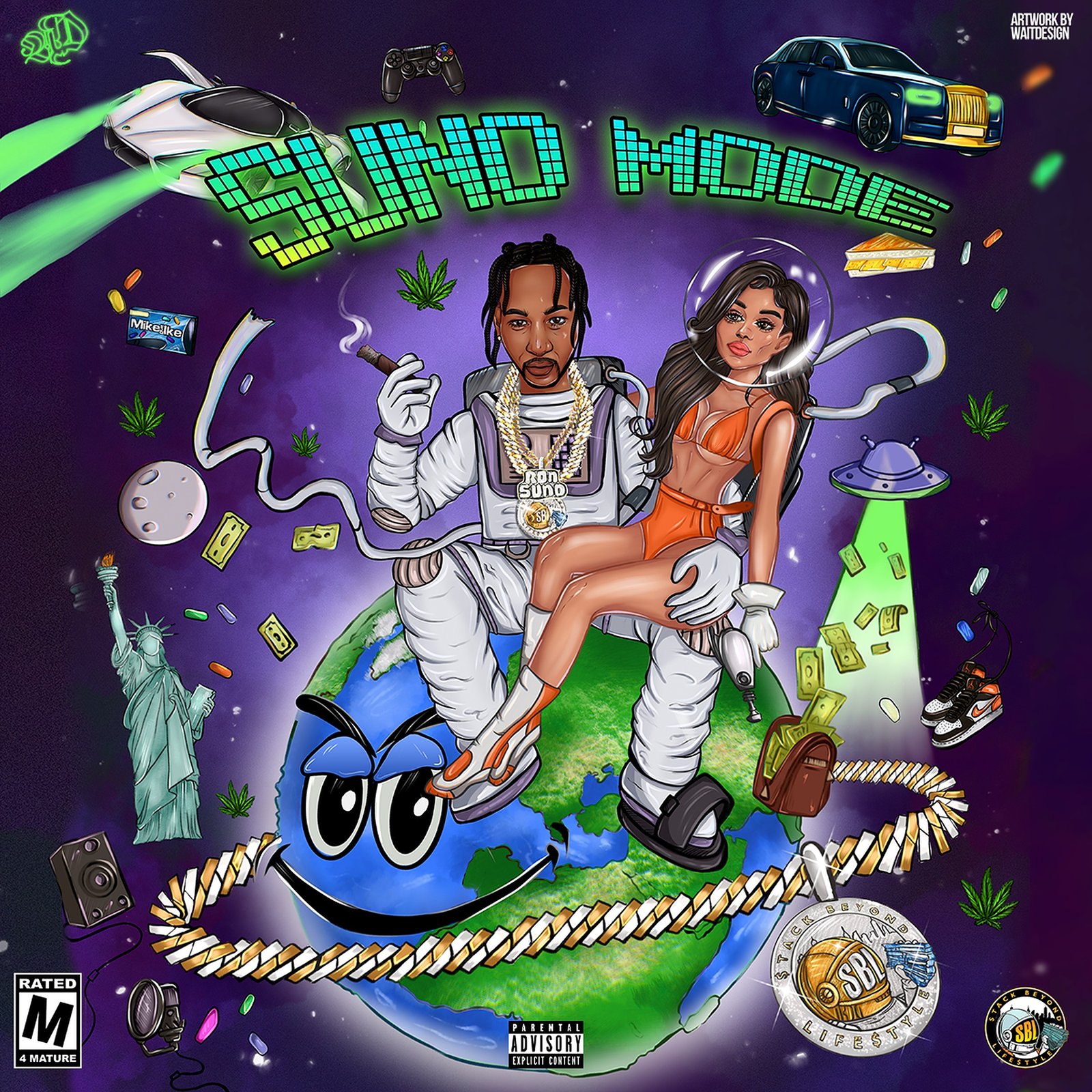 Artists Ron Suno And Money Man Swag Out In NYC In New Video: DCH
The King of the Bronx welcomes his Empire label mate to his home borough in a kinetic, new SUNO MODE clip.
With his outsized charisma and boisterous bars, Ron Suno is taking over the Bronx and beyond. Getting sturdy with one of rap music's most cunning capitalists, Suno shares the new video for "DCH," his collaboration with Money Man. Populated by haunting choirs and sloppily-strummed folk stringed instruments, "DCH" is a vehicle for Ron's pugilistic penmanship, his bruising bars bumping against one another in a furious flurry: "Yeah n****s switch up what the f*ck was they thinkin'/This ain't D'usse, but I'm drinkin'/I'm taking drugs to ease the pain in/All these bullets flyin like it's rainin'"
In the video, shot by regular collaborator Benny Max, Ron shows Money Man the NYC sights, ranging from a graffitied subway car to a Bronx alleyway, to a poppin' nightclub. "DCH" is the latest video from Ron's new project  SUNO MODE, following the clip for the Jersey club-inflected banger "ONE NIGHT" and the NYC drill posse cut "SALLY" ft. Kyle Richh, TaTa, and Jenn Carter
Already a proven inspiration to the youth with the project's viral single, "What They Gon Say" (over 22 million Spotify streams and 12 million YouTube views) and its Rowdy Rebel-featuring remix, SUNO MODE elevates Ron's infectious energy to new heights. Whether he's blending his Bronx drill sound with familiar favorites on "OH LETS DO IT" or letting his refreshingly reflective side shine on "FALL OFF," the fast-paced project progresses without a dull moment. The new project is home to "SHOES" ft. DUSTY LOCANE and Rah Swish (2.3 million+ views in three weeks), a showcase for New York's sturdiest steppers.
"I turned a switch on, unleashing a new power," says Ron. "I think about video games, and how there's a mode you have to get in and it can make you invincible. When I'm in SUNO MODE, I'm invincible."
With the BX on his shoulders and the world in his hands, keep an eye on Ron while he's in SUNO MODE all summer long.
Winning fans with his unique blend of skills, Ron Suno built up a massive following on Instagram (over 1 million followers), YouTube, SoundCloud, and TikTok with his amusing skits and admirable artistry. Ever since high school, Suno has been a restless creative. He uses every expressive outlet available to him to get his message across, from music to short-form video to dance challenges to acting in BK Juice, a new film starring his NYC cohort Rah Swish. Suno's music career started to take off in 2019 when he dropped "Pinocchio," which racked up over 9 million Spotify streams and caught the attention of Blueface, who hopped on the remix. Last June, buoyed by the momentum of "Pinocchio," Ron released Swag Like Mike, the project that put Suno on the map with hit singles like "SPIDER-MAN" ft. Fivio Foreign.