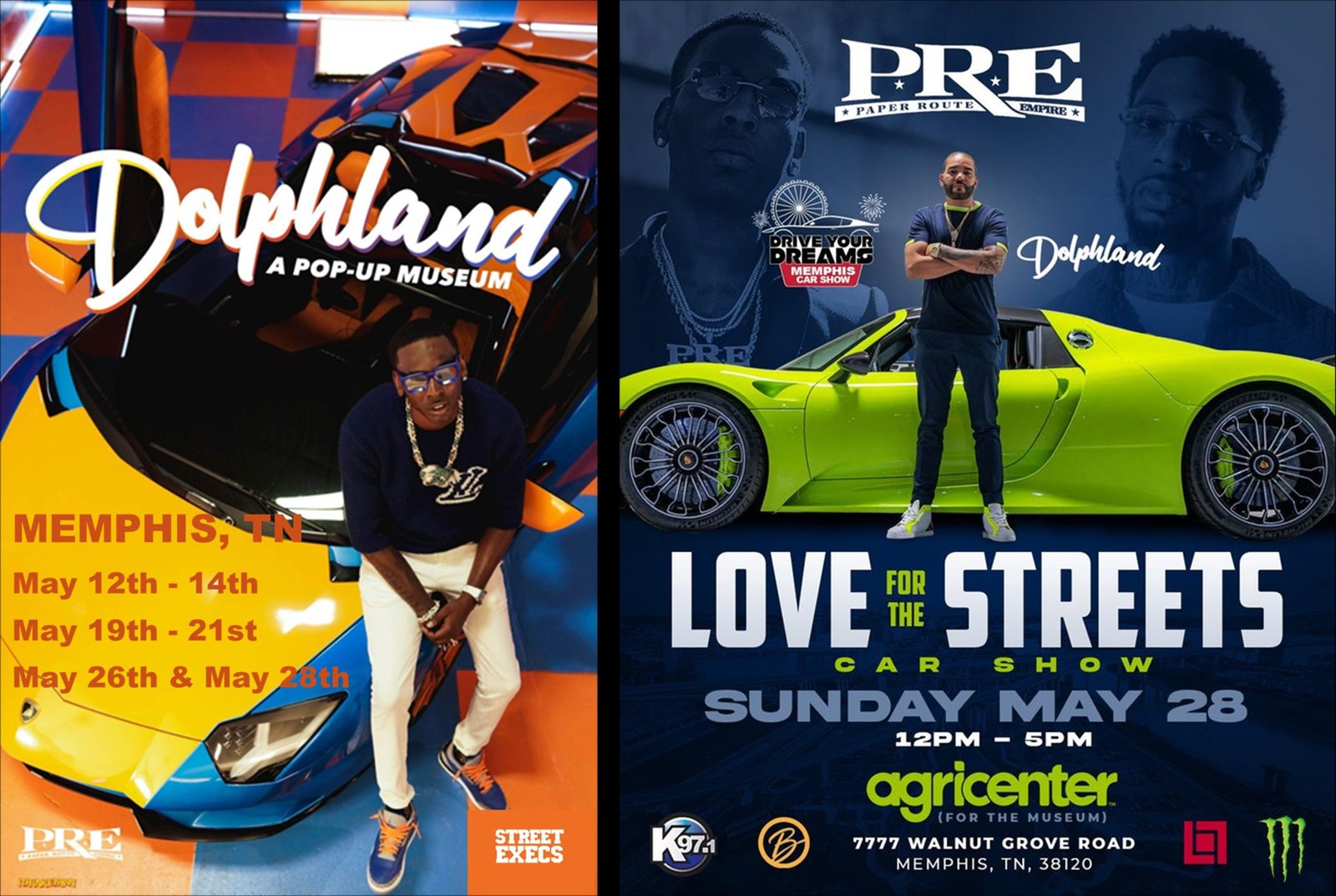 Dolphland Museum Tour Concludes In Memphis With Love For The Streets Car Show
DJ Envy partners with Paper Route Empire and street execs management to present the "Love For the Streets Car Show" at Dolphland featuring Young Dolph's entire luxury car fleet & those of A-list celebs as part of the pop-up museum's grand finale.
Following the successfully sold-out run of the DOLPHLAND Pop-Up Museum Tour at stops across the country, Paper Route Empire and Street Execs Management are concluding the exhibition this month with a month-long celebration of Young Dolph and his posthumous album Paper Route Frank in the rap legend's hometown of Memphis, TN.
On Sunday, May 28th the grand finale of DOLPHLAND will took place with an expansion of the exhibition to include the "Love For The Streets Celebrity Car Show" featuring Young Dolph's entire fleet of exotic luxury cars curated in partnership with celebrity DJ, car enthusiast and host of nationally syndicated radio & TV show The Breakfast Club DJ ENVY and his "Drive Your Dreams" car show series. In addition to Young Dolph's impressive fleet, the car show will also feature stunning custom and luxury cars from the collections of DJ Envy, 50 Cent, Key Glock, and many other celebrities.
About partnering the Dolphland Pop-Up Museum with the Love For The Streets Car Show DJ Envy stated: "I think it's dope for the Memphis community that my car show and Dolphland Museum partnered up to honor Young Dolph. The Love for the Streets Car Show will have Dolph's cars and many other celebrities' cars. We will also have food trucks, carnival rides for the kids, BMX bikes, and much more. The grand finale of Dolphland Museum on May 28th is going to be something you don't want to miss!
"We launched the Dolphland pop-up museum to not only celebrate Dolph's musical legacy, but also with the goal of carrying on his tradition of connecting directly with his fans," says Young Dolph's manager and Street Execs co-founder Allen Parks. "With sold out exhibit dates across the country and continuous requests to bring the Dolphland pop-up museum to even more cities, we achieved our goal ten-fold thanks to the love and support of his fans. It's befitting that we cap off the tour by bringing it to the family, friends and fans of his beloved hometown of Memphis, TN. In having the exhibit open every weekend this month in Memphis and partnering Dolphland with the For The Streets Car Show, we're elevating our honor of Dolph even more by pairing his love for music, art, cars and community into an impactful, month-long grand finale worthy of the musical legend he is. Long Live Young Dolph."
The Memphis, TN edition of the Dolphland Pop-Up Museum will took place from May 12th – May 26th at the Agricenter in Memphis, TN.  The Love for the Streets Car Show will took place on Sunday, May 28th at the same location.
ABOUT DOLPHLAND
Launched January 2023 in New York City with stops in cities across the country including Los Angeles, Chicago, Houston, Dallas, and Washington DC, among others, the Dolphland Pop-Up Museum Tour displays original, curated art and personal items that reflect Young Dolph's unforgettable lyricism, personality, entrepreneurial spirit, philanthropy and historic moments from his legendary career.
ABOUT PAPER ROUTE FRANK
The pop-up museum celebrates Young Dolph as well as his posthumous album Paper Route Frank, a 14-track posthumous album from the legendary Memphis native that was completed and conceptualized by the artist before his passing. The album features production from frequent collaborators like Paper Route Empire's own Bandplay, Cleveland-born Sosa 808, Memphis mainstay DJ Squeeky, and southern rap sound architects including Dun Deal and Drumma Boy. The album also welcomes an expertly curated list of guest stars, each of whom had a personal relationship with the rapper.
Dolph's cousin and frequent rap partner Key Glock returns to spar on "That's How," and Glock's fellow PRE signees Big Moochie Grape and SNUPE BANDZ make a memorable impression in their verses on "Infatuated with Drugs." The album also makes room for star turns from Dolph's peers, including close friend Gucci Mane puts his stamp on "Roster," and 2 Chainz, one of the few in the game who could match Dolph punchline for punchline, on "Beep Beep."