Marcus Rashford Collaborates With Burberry To Help Alleviate Child Hunger In The UK
Marcus Rashford has made a name for himself as one of the top Premiership footballers in the UK today.
The 22-year-old Rashford first began playing for Manchester United youth squads aged seven and made his professional debut in February 2016. In the same year, he was picked to play for the England team and became the youngest player in history to score for his country in his first-ever international match. Rashford was the youngest team member of the England squad for the Euro 2016 tournament and also represented his country in the 2018 World Cup.
In 2020, Marcus Rashford hit headlines once more, but this time the media were not talking about his prowess on the field. Rashford began a campaign to alleviate child poverty across the UK, generating support from the public and cross-party MPs. Rashford initially wrote an impassioned letter to MPs, describing his own experiences of growing up hungry despite having a mother who regularly worked 14-hour days to try and make ends meet.
Rashford had the skills and the luck required to pull himself and his family out of poverty, but most families living in poverty will not be so lucky. This letter was the start of what would become a national campaign working to ensure every child in the UK has enough to eat. Due in part to pressure from Rashford and other campaigners, the UK government pledged £170 million in November 2020 as part of a winter grant scheme to assist families struggling with hunger and poverty.
Poverty and hunger are issues that affect a large part of the UK population. Figures from FareShare show that approximately 8.4 million individuals in the UK struggle to be able to afford to eat. A total of around 4.7 million live in homes where food insecurity is a real and regular challenge. This means almost five million people who do not always know where their next meal is coming from, or who have a reduced intake of food due to financial issues. In the same country, there are 250,000 tonnes or more of food waste generated, which would be enough to create 650 million meals.
In November 2020, fashion label Burberry teamed up with Marcus Rashford in support of his ongoing campaign to end hunger and food insecurity. Burberry has specifically committed to support numerous charities focusing on youth in the UK and internationally, working to support those living in poverty and provide the means to survive and progress.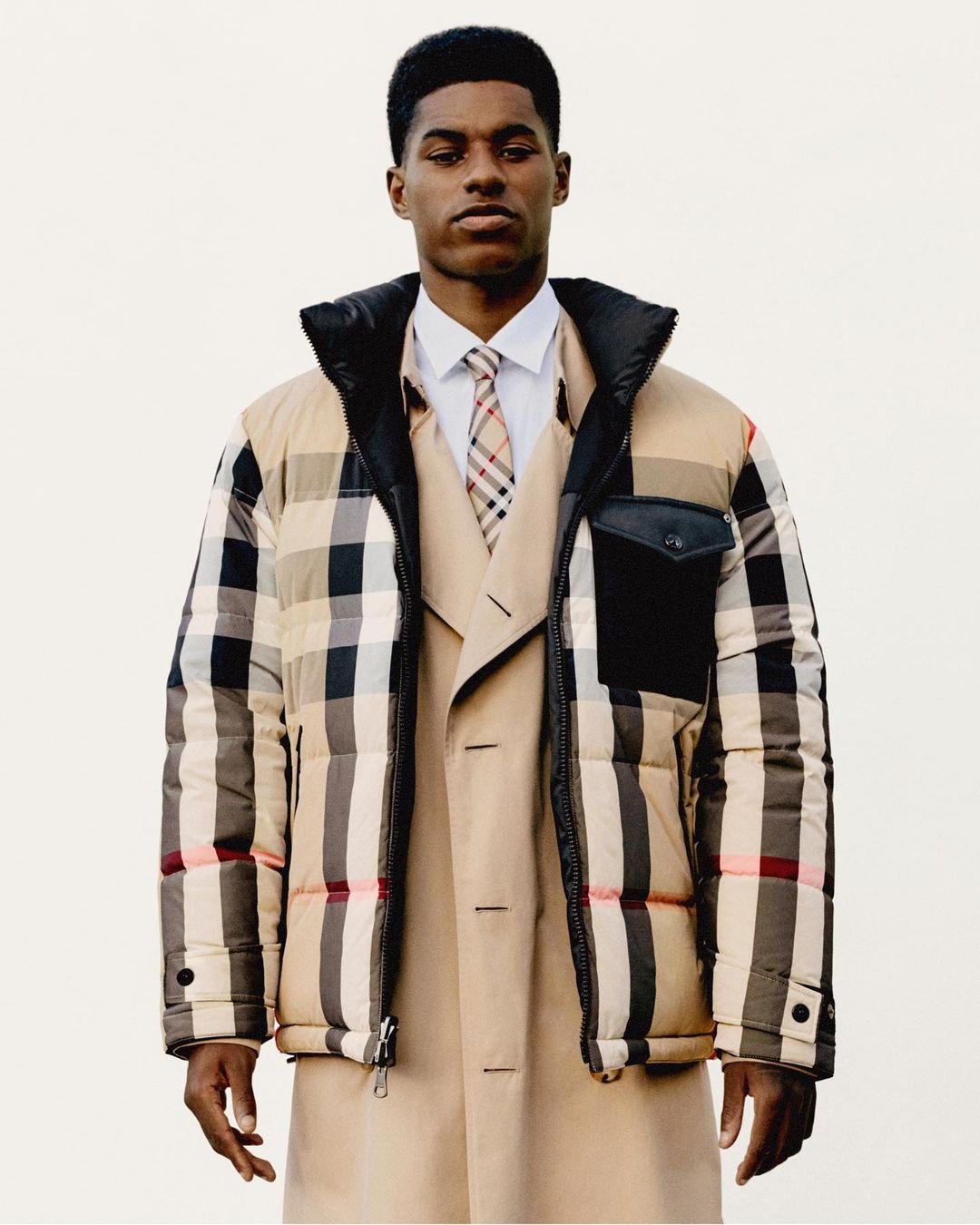 London Youth is one of the key charities being supported by Burberry. London Youth currently supports more than 600 individual community organisations around the capital, providing grants for underserved young people. Burberry also makes regular donations to FareShare, a charity that provides free hot meal programmes to hundreds of thousands of people in the UK. Through his campaigning work in summer 2020, Marcus Rashford was responsible for more than £20 million in donations to FareShare, which has helped extend free meal programmes to reach over 1.3 million vulnerable children in the UK.
In the spirit of the partnership, Marcus Rashford has been featured in campaigns and across the media wearing the iconic Burberry print. Rashford stated publicly that he would typically avoid becoming closely involved with brands as he prefers to spend the free time he has available working on community projects, However, the commitment of Burberry to achieving real, positive change within UK communities struck a chord with the young footballer.
The tireless work of Marcus Rashford both on and off the pitch over the past year has resulted in some prestigious accolades for the young sportsman. On the field, Rashford has ensured Manchester United are among the favourites for the Premier League. At the time this article was written, Manchester United were at the top of the EPL table, standing two points clear of rivals Manchester City. With 6/1 odds to win the Premier League, The Red Devils certainly look like a strong prospect in the football betting sites. Rashford's prowess on the ball makes him a crucial part of the team and any hopes of an EPL title will likely depend on him performing consistently from now to the end of the season.
Off the field, Rashford was named the BBC's Sports Personality of the Year and the Guardian Footballer of the Year, as well as being presented with the Tribute Award from the Football Writers' Association. Perhaps the most prestigious award offered to Marcus Rashford in light of all his hard work in 2020 and beyond is the MBE. Rashford is on the list of people to be awarded the MBE at the next honours ceremony. When speaking to the media regarding his MBE nomination, Rashford was said to be humbled and honoured.
Rashford credits much of his success over the past year in helping those less fortunate than himself to the lessons he learned from his mother as a young child. His mother Mel, a single parent of five, would do her best to ensure her children had home-cooked meals when she arrived home from work.
Mel worked three jobs, which meant the children often had to rely on breakfast and after-school clubs to provide sustenance while she was out. Despite the long hours, low wages meant there were times the family had to rely on food banks or soup kitchens to have enough to eat. Rashford has stated publicly on many an occasion not only his utmost respect for his mother, but also his determination that other children will not have to go hungry.
Marcus Rashford is working with multiple charities across the UK in pursuit of his mission to end child hunger.