Must-Have Basic Bedroom Necessities
Your bedroom is where you start and end your day.
For that reason, you need to make sure that it's equipped to provide you with the serenity and comfort you need to recharge and get ready to face the outside world day in and day out.

While there's no fixed formula that describes the perfect bedroom, some items are absolute must-haves in any room.
A Sleeping Fan
Your bedroom's temperature plays a key role in determining the quality of sleep you're going to get. The best temperature for deep and uninterrupted rest will vary from one person to another. However, studies show that the ideal room temperature for a good night's sleep should be between 60 °F and 67 °F. While an air conditioner may help you get there, a sleeping fan can do an even better job.
You see, a fan will give you more control over the airflow as you can position it at any height and distance where an AC will typically be fixed at a certain height and position. Sleeping fans come in a wide variety of models with different features including adjustable heights, sleep timers, versatile mounting options, and changeable speed settings. If you're not sure which fan is right for your bedroom, click here to find a selection of the best options currently on the market. Whichever one you choose, make sure that it comes with a quiet motor that will work efficiently without disrupting your sleep.
A Cozy Rug
Even if you have the nicest floors, your room will probably feel cold and uninviting without a cozy rug. Not only can a bedroom rug warm-up space, but it can also bring the entire room together. To create a unified sense of harmony and comfort, choose a rug that adds color and texture to the room while complimenting the rest of your interior design.
Proper Lighting
Proper lighting is important for any room, but when it comes to the bedroom, it is especially vital. For your bedroom, you'll want to make sure that you have more than one source of light. The layered lighting will elevate the space while giving you more control over the ambiance of the room. Opt for an overhead lamp for overall illumination, a couple of recessed lights to add depth and style, and a couple of table lamps on your nightstand or your dresser to provide ample task lighting for reading, grooming, etc.
Throw Pillows
Styling your bed with throw pillows adds a pop of color that can instantly liven up space and create a more inviting and comfortable atmosphere. When it comes to picking out your pillows, the options are endless. Between the different colors, shapes, patterns, and textures available, you won't have trouble finding the perfect pillows that complement or contrast the room's overall vibe.
A Nightstand
Having a bedside table is a must in any bedroom. You'll want a place by the bed that can hold your water cup, smartphone, charger, glasses, and any other item that you might need before you sleep or right after you wake up. Besides giving you a place to keep your everyday essentials within arm's reach, a nightstand will also help minimize the clutter, giving you a clean and organized space to relax.
A Statement Mirror
When placed correctly, a mirror can instantly open up the room, giving you the illusion of a larger space. Find a statement mirror — be it a full-length one at the corner of your room or a large one above your dresser— and place it opposite to a light source to effectively bounce the light around the room. Avoid placing the mirror directly below a light source as this will create harsh shadows that aren't exactly attractive to look at.
A Comfortable Seat
Whether it's an elegant canapé, a cozy armchair, or a bench that sits at the end of the bed, having a comfortable place to sit other than your bed will increase the function of your room. A comfortable seat will give you a cozy spot to unwind with a good book after a long day's work, while also offering you a quiet place to drink your coffee as you contemplate the day every morning.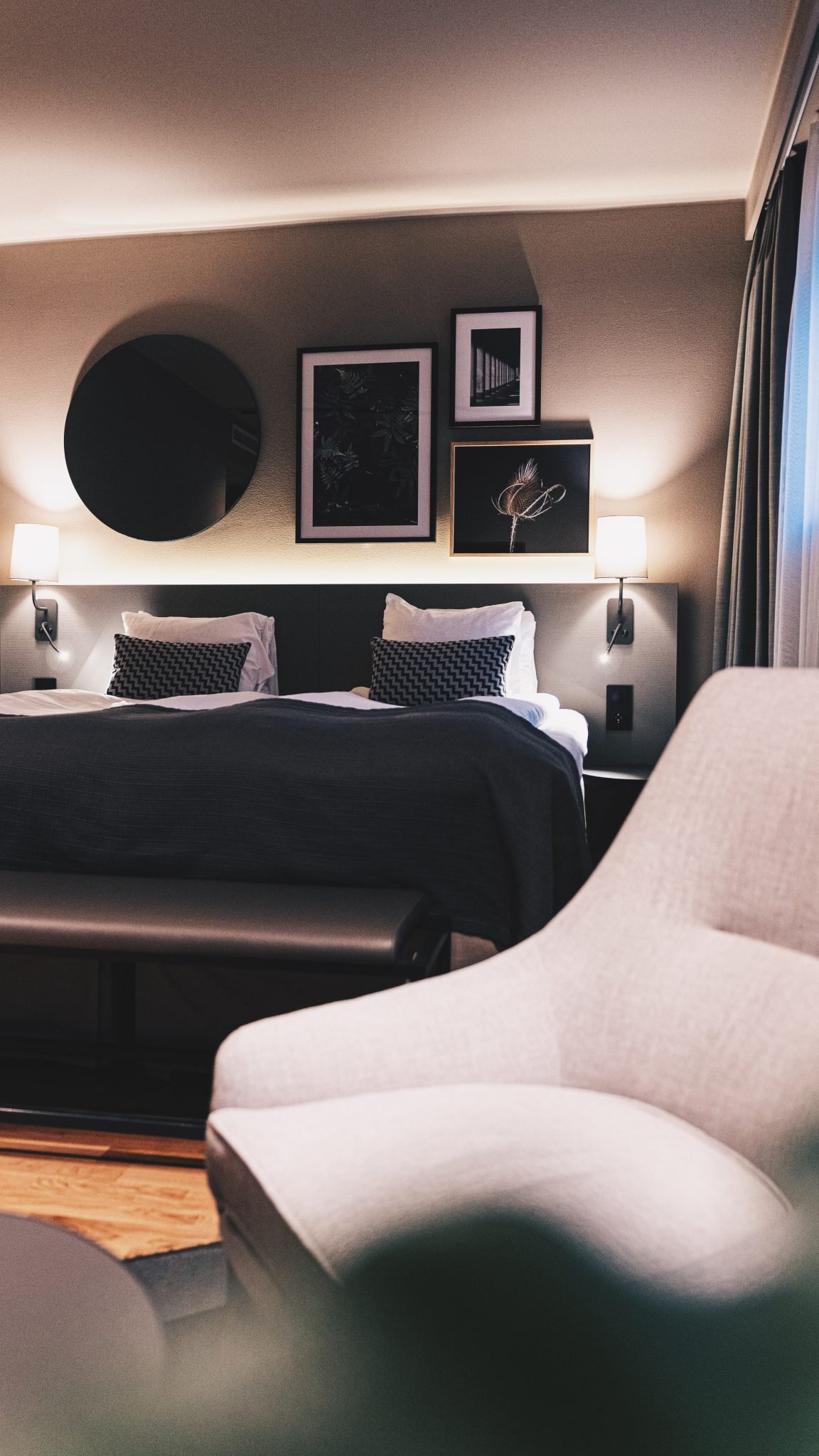 The perfect bedroom may vary from one person to another, but at the end of the day, it's the basic bedroom essentials that can make the difference between a private sanctuary and a terribly uninviting space. So, regardless of your personal style and budget, be sure to check these items off your list, and we guarantee that you'll be transforming your bedroom into your dream room one item at a time.