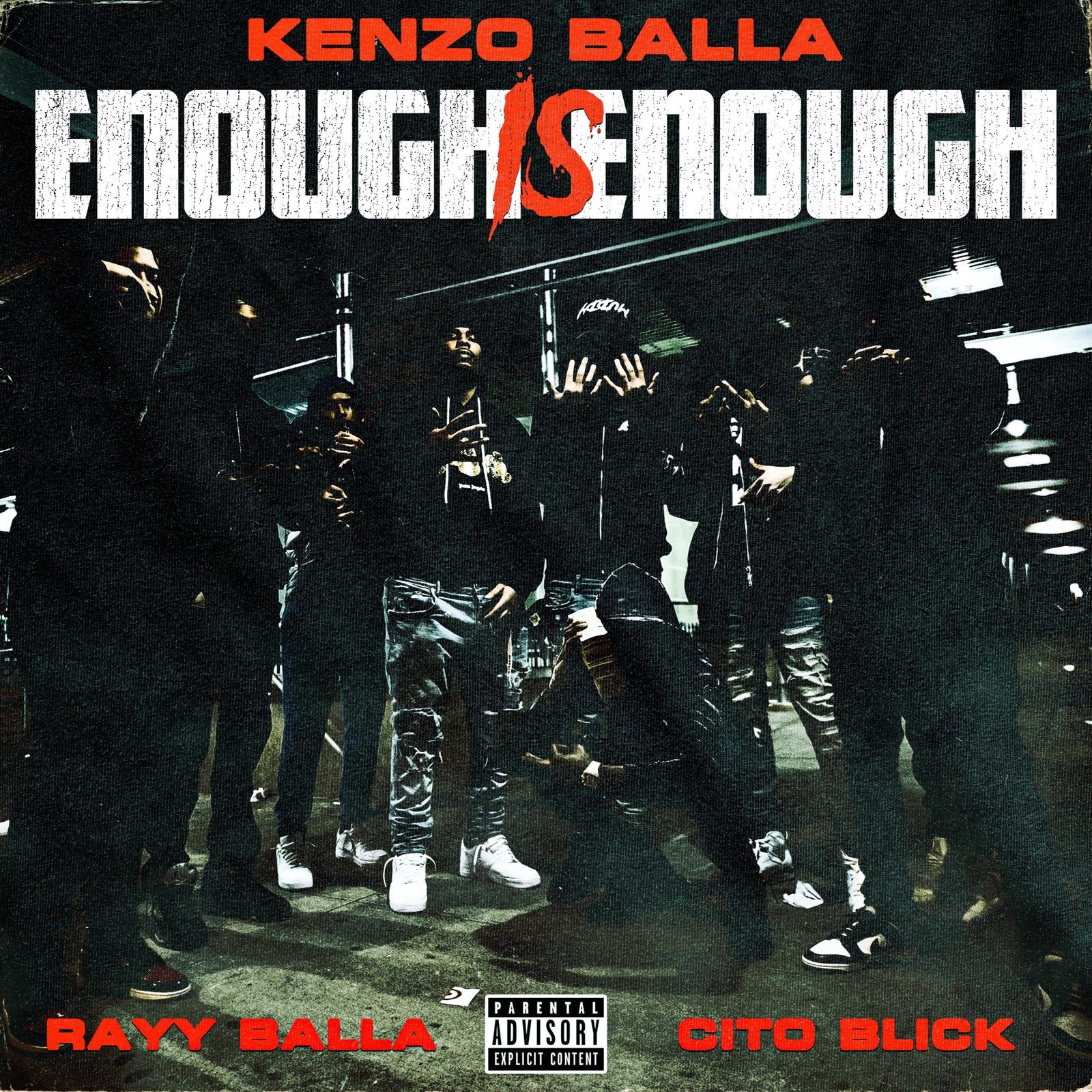 Kenzo Balla Puts an End to the Nonsense in New Video Single: Enough Is Enough
The Rising Bronx Drill Star, Kenzo Balla, Sets the Record Straight with Rayy Balla & Cito Blick in New Video Single.
Spitting battle-ready bars with a roaring rasp, Kenzo Balla won't rest until he reaches the top. Maintaining his high-volume hot streak of releases, Kenzo is back with fellow NYC natives and frequent collaborators Rayy Balla and Cito Blick to share "Enough Is Enough," his new video single. Featuring wicked, dark drill production by Gor888, the track finds Kenzo and company completely out of patience, champing at the bit to stir up some trouble: "Spinnin' with my 'ootas, tryna spark sh*t/We tryna lay 'em down just like a carpet."
The video for "Enough Is Enough," directed by Jus MH, finds Kenzo, Rayy, and Cito wreaking havoc in the Bronx, mobbing up on sidewalks and in hallways and corridors, letting any bystander know who runs the city. "Enough Is Enough" arrives less than a month after Kenzo's latest EP, The Year Of The Balla, home to high-powered recent singles like the unrelenting "Opp Huntin'" (1.8 million views), the soulful "What's The Move," and the TG Crippy and Rayy Balla-featuring "Unfinished Business." Anchored by a cohesive, contemporary East Coast sound that greatly benefits Kenzo's most wide-ranging sound palette to date, The Year Of The Balla is available everywhere via 10k Projects.
A rising name in one of the nation's busiest rap scenes, Kenzo Balla made his mark on the scene with his relentless rhymes and high-energy vocals. Known for collaborating with fellow Bronx heavyweights like his brother TG Flockaa, Kenzo kicked off his career with a frenzy of fiery videos, including local hits like "5th To Sev" ft. TG Flockaa & Pdot Sav (2.2 million video views), "OOTAZ," and the "Love Nwantiti"-remixing "Let Me Know" (2.1 million views). This summer, the former AAU baller tore up the streets with "Dead Gzz," a vicious, uptempo missive that racked up over 1.8 million video views since its release in June 2022. Kenzo closed out 2022 in typically aggressive fashion with Mr. Ready to Blitz (Deluxe), home to the NPR-approved "Krash Out." Kenzo earned a nomination for XXL's "10th Spot," giving him a chance to be voted onto their 2023 Freshman Class. Continuing to rise as his year progresses, stay tuned for much more from Kenzo Balla.