How Courier Software Makes Predictive Delivery a Reality
Route4Me, the courier dispatch software has features like dynamic route optimization and vehicle location tracking that'll help you keep your customers in the loop when you're running late.
"Communication is the key to any relationship". You've probably heard that before about personal relationships, but this rule applies to the business-to-customer relationship as well. Customers don't like being left in the dark. If there's a delay for some reason, they'd like to know about it immediately or they'll feel annoyed and disrespected. They might even leave you for one of your competitors. That's why every business needs an advanced delivery scheduling solution such as Route4Me's courier software. Better yet, with trucking dispatch software, your drivers will be able to show up on time more often and your customers won't need to wait longer.
Route4Me, takes human error out of the equation. Manuel route scheduling has always been a recipe for disaster. In addition to finding the best directions to give drivers, companies must also account for traffic, construction, weather, and other factors. That's just too much to do by yourself. Mistakes will be made which will delay drivers and upset customers. This is why using fleet mapping software like Route4Me is a more efficient way to plan routes. With delivery scheduling software, just plug in the addresses of customers and adjust the settings to fit each specific situation. Then, an optimized route will be ready in about 30 seconds.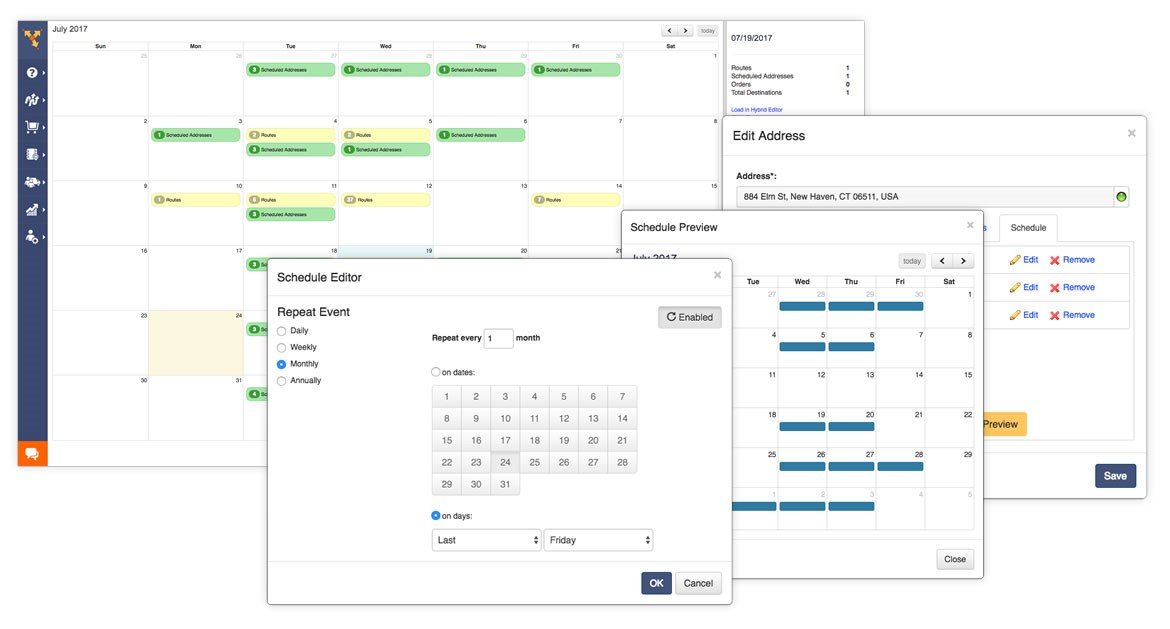 Not all multiple destination route planners are equal, though. Some are very basic. These bare-bones programs will help you figure out good routes for your drivers, but they consider all vehicles and customers the same. The best route planners are able to adjust your routes for more complex variables, such as vehicle capacity, cargo weight, order cost, and more.
Does your courier software have GPS tracking? Business optimization software won't be a benefit if drivers don't actually follow the routes they were given. That's why GPS tracking is a must-have feature for a multiple destination route planner. With a GPS tracker, you'll see where your drivers are and how fast they're going in real-time. Whenever you want, you can check in on your drivers and confirm that they're sticking to their routes and staying on schedule. You can also share this real-time tracking info with customers, so they can see exactly where their order is as they wait for it to arrive.
Knowledge Is Power. Another advantage to GPS tracking-enabled courier delivery software is that it collects data you can use to understand your business better. This information will help you evaluate employee performance more accurately. It'll also help you determine whether gas saving techniques are working or not. Overall, it allows you to make more informed business decisions.
Ideally, the route planner you use will offer the following features (in addition to everything we've detailed above): mobile apps for both Android and iOS devices, geofencing, territory mapping, real-time chat, eCommerce integration, telematics integration, and virtual reality. Route4Me offers all of these benefits.
Highly intuitive and easy to use, the Route4Me platform allows customers to create, share, manage, track and drive optimized routes in a matter of seconds using the company's web-browser software-as-a-service (SaaS), RESTful API and Smartphone apps. Route4Me was the first route optimization company to release native iOS and Android apps simultaneously and reach over 1 million downloads.
The apps are consistently ranked Top 10 highest grossing apps in the navigation category in both app stores. Completely cloud-based, Route4Me is ideal for fleets of any size, parcel and service delivery, eCommerce, territory management, GPS-tracking, final-mile optimization, dynamic routing, and supports API integration with any CRM, TMS, WMS and ISV.