The Best Things to Do in Hollywood, Florida
While Hollywood in Florida might not be as popular or famous as its Californian namesake, that doesn't mean there aren't plenty of fantastic things to do in the city.
Located between Fort Lauderdale and Miami, it offers gorgeous sunshine, beautiful beaches, superb restaurants, and luxurious accommodation, which will provide you with a trip to remember. To plan the perfect visit, here are the best things to do in Hollywood, Florida.
Go Fishing or Camping at Oleta River State Park
If you love the great outdoors, make your way to Oleta River State Park, which is spread across 1,043 acres in Biscayne Bay. It attracts nature lovers from across the country, as its well know for its mangrove forest. It's also an ideal spot for fishing, cycling, kayaking and camping in the city. Just make sure you pack the essentials before taking a trip!
Visit the Art and Culture Center of Hollywood
Culture vultures should look no further than the Art and Culture Center of Hollywood, which offers a variety of art-related exhibitions. The impressive galleries offer rotating exhibitions that attract visitors in their droves. It also regularly features numerous stage performances, such as concerts, shows and dance recitals.
Stay at the Seminole Hard Rock Hotel and Casino
There is no better place to stay in the city than Seminole Hard Rock Hotel and Casino, which offers luxurious, music themed rooms that feature flat-screen televisions, a coffee machine, designer toiletries and a minibar.
If all that wasn't enough, this fabulous hotel offers an incredible nine bars and six restaurants, including an Asian eatery and a sophisticated steakhouse. It also offers an exquisite casino that offers slots and card games, and regularly plays host to a number of glitzy events, such as the grand finale of the Moneymaker Tour.
Take a Stroll Across the Hollywood Boardwalk
The popular Hollywood Boardwalk is a two-mile pedestrian boardwalk that is home to seaside cafés and restaurants, which offer the perfect place to sit, relax and people-watch. It's also an ideal destination for jogging, cycling or skating in the city.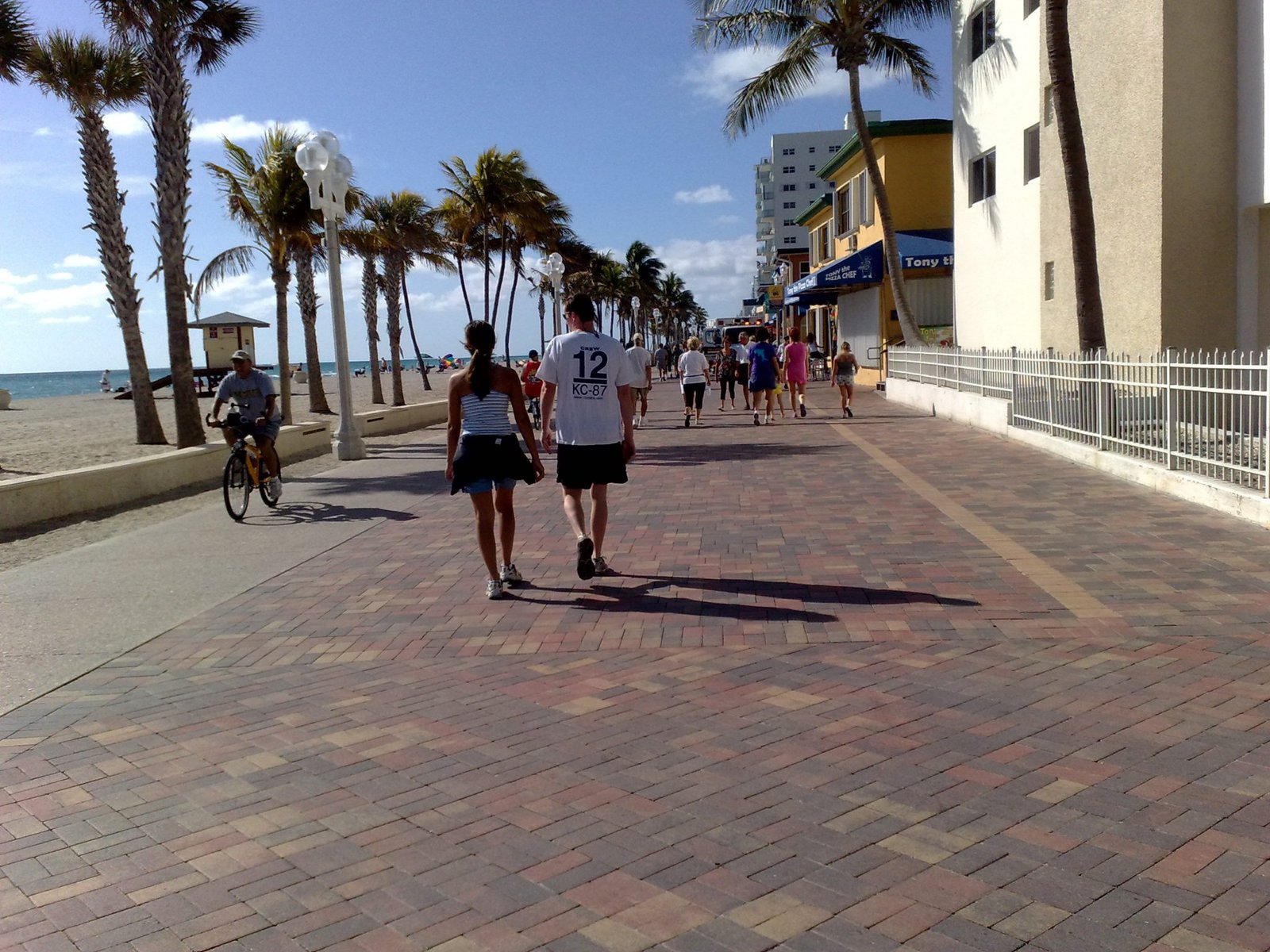 Visit Flamingo Gardens
Flamingo Gardens is a not-for-profit wildlife sanctuary, botanical garden and aviary, which is situated west of Fort Lauderdale, so it's ideal for visitors of all ages and sizes when visiting Hollywood. Not only does it allow you to connect with nature, but it also features an interesting museum, tram tours, a café and entertaining shows.
Explore Anne Kolb Nature Center
Once you have visited Flamingo Gardens, grab your whole group for a visit to Anne Kolb Nature Center. You can enjoy hours of fun embarking on various walking and paddling trails that will take you through the mangroves. You can also enjoy stunning views of the city at the top of the observation tower, and you can watch various sea life at the aquarium.
Catch a Movie at Cinema Paradiso
Cinema Paradiso is an art house movie theatre that hosts both art house and independent movies. Here you can watch a variety of unique and low budget films that you wouldn't find in a commercial movie theatre. It also offers a more intimate viewing experience, as it only has capacity for up to 82 visitors at a time.
Have Fun at Topeekeegee Yugnee Park
Topeekeegee Yugnee Park, often referred to as TY Park, translates to "gathering place" in the Seminole language. It is a 138+ open public green space that is home to a fun water park, which will allow you to have fun with your friends, family, locals and tourists. It also features a two-mile walking loop and an RV campground, so it's the perfect place to both stay and visit when in the city.
Enjoy Family Fun at West Lake Park
West Lake Park is one of the most beautiful destinations in all of Hollywood, Florida, as the lakeside park features a stunning marina that allows you to embrace your adventurous side; it's the best spot for canoeing and kayaking! It also offers many relaxing picnic areas, a ball court, and a playground, so there is something for everyone.
Whether you are traveling alone, with friends or family members, there is always something fun to do in Hollywood, Florida.