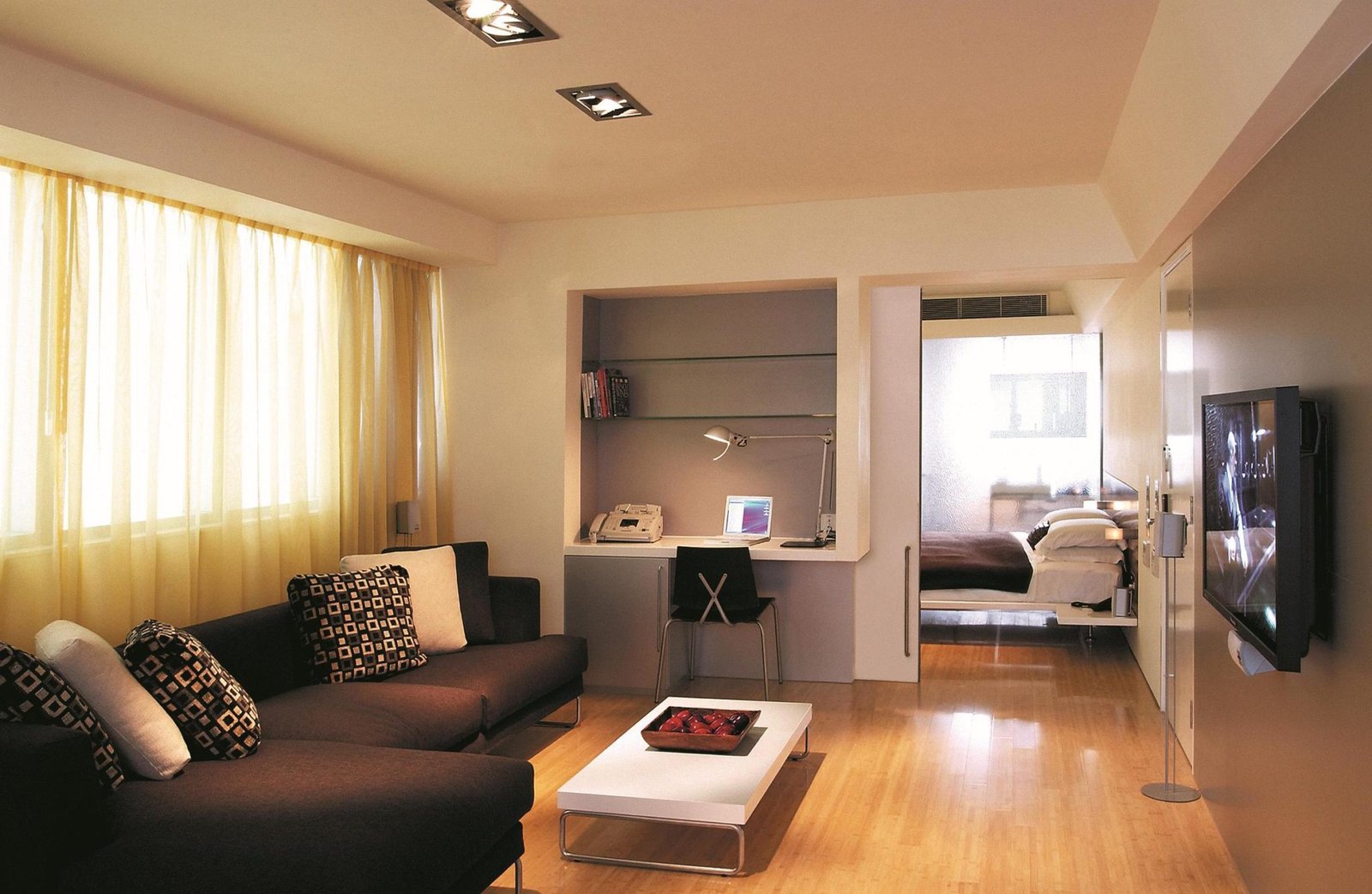 9 Design Ideas For Stylish, Modern Homes
The latest trend lately, when it comes to home designs, has certainly been leaning towards the modern look more and more.
If you envision this style for your dream home, then you there are a couple of things you need to do- and learn as well! Architecture for modern homes is becoming more popular every day as their uncomplicated and natural-looking designs seem to be aligned with our very dynamic and fast-paced world.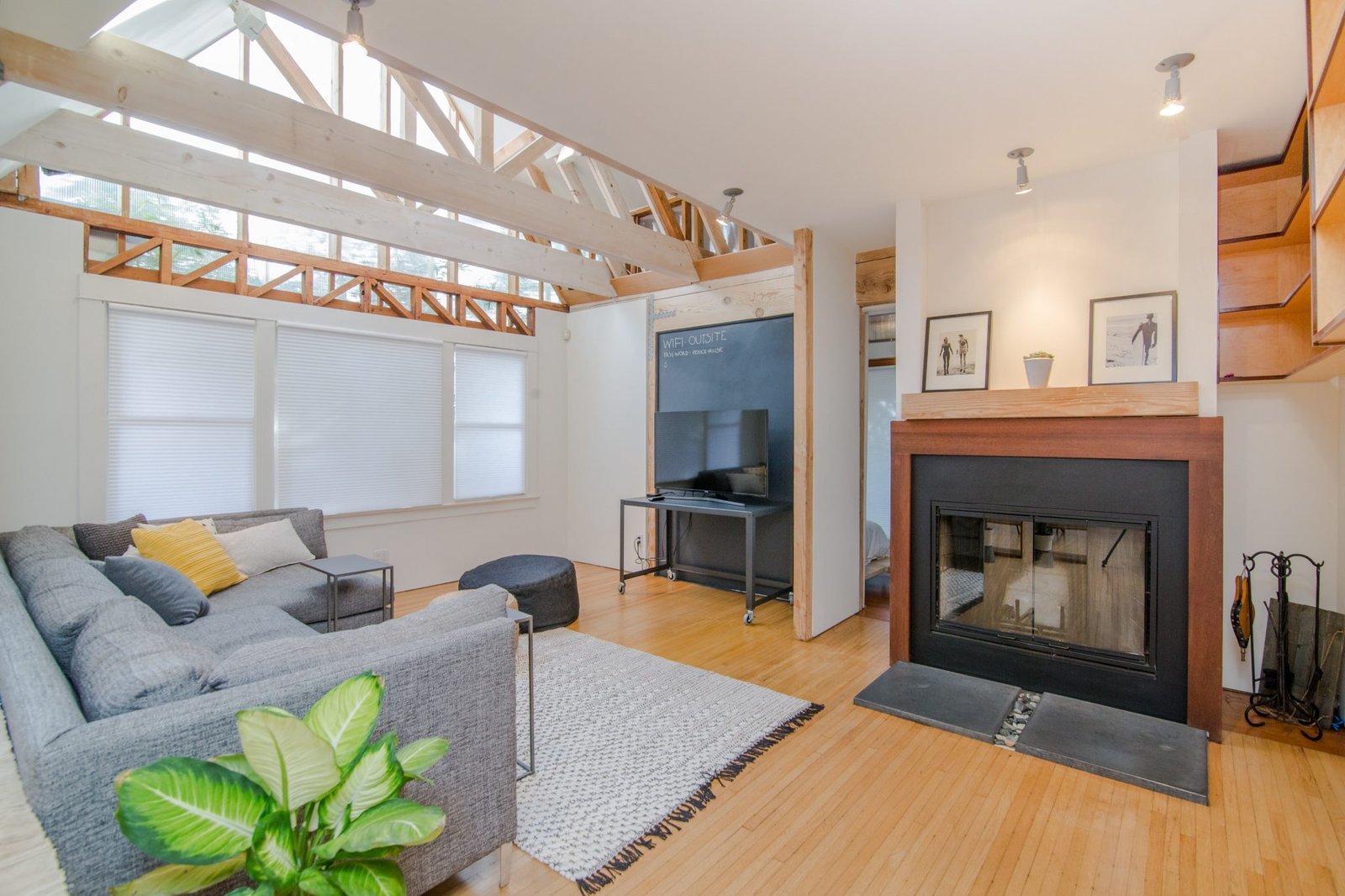 But what exactly is considered modern?
Today, modern style refers to home decor that uses natural elements and neutral colors, while being uncluttered and simple at the same time. It is the exact opposite of traditional homes, which boast antiques and classic art items and extensive use of columns and crown moldings, as well as classic and heavy furniture. Unlike classic decor, modern homes eliminate unnecessary furnishings and details.
Moreover, modern homes are characterized by their use of monochromatic colors, unlike the variety you would find in traditional homes' colors. Unlike what some would tell you, modern design is not cold or boring. On the other hand, it could be very elegant and sleek.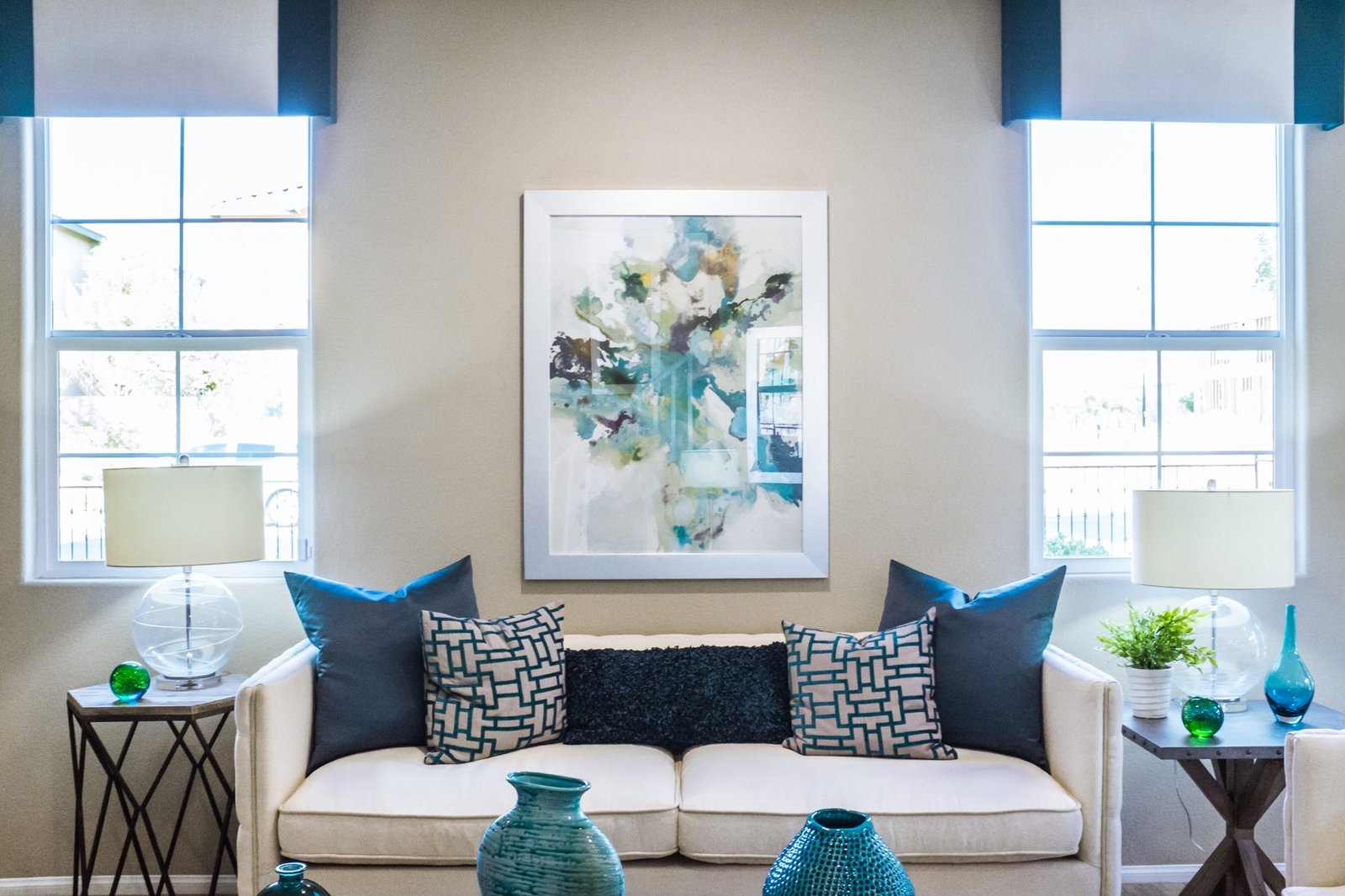 So, if a modern home is your dream home, we've got you covered. Here are some home design ideas that could give you a fresh modern look:
1. Use Earth Tones
To create a fresh modern look, you can use earth tones or bright colors. For the walls and ceilings, go for bright and neutral tones that would look simple and fresh such as white, cream, gray, etc. As for the furniture, choosing earth tones would help you in complementing that modern feel of your home. For example, try choosing your furniture in colors such as gray, beige, off-white, light brown, etc. However, you can always splash a popping color in order to add character to your space. For example, try mixing a mustard-colored armchair with an off-white sofa, and you will be amazed at the results.
2. Start With the Kitchen
The most important part of our home is probably the kitchen. So, it is always a good idea to start with the kitchen. A modern kitchen would boast acrylic cabinets and uncluttered shelves and spaces. A good idea is to choose bright colors for your cabinets, with white always being a timeless option.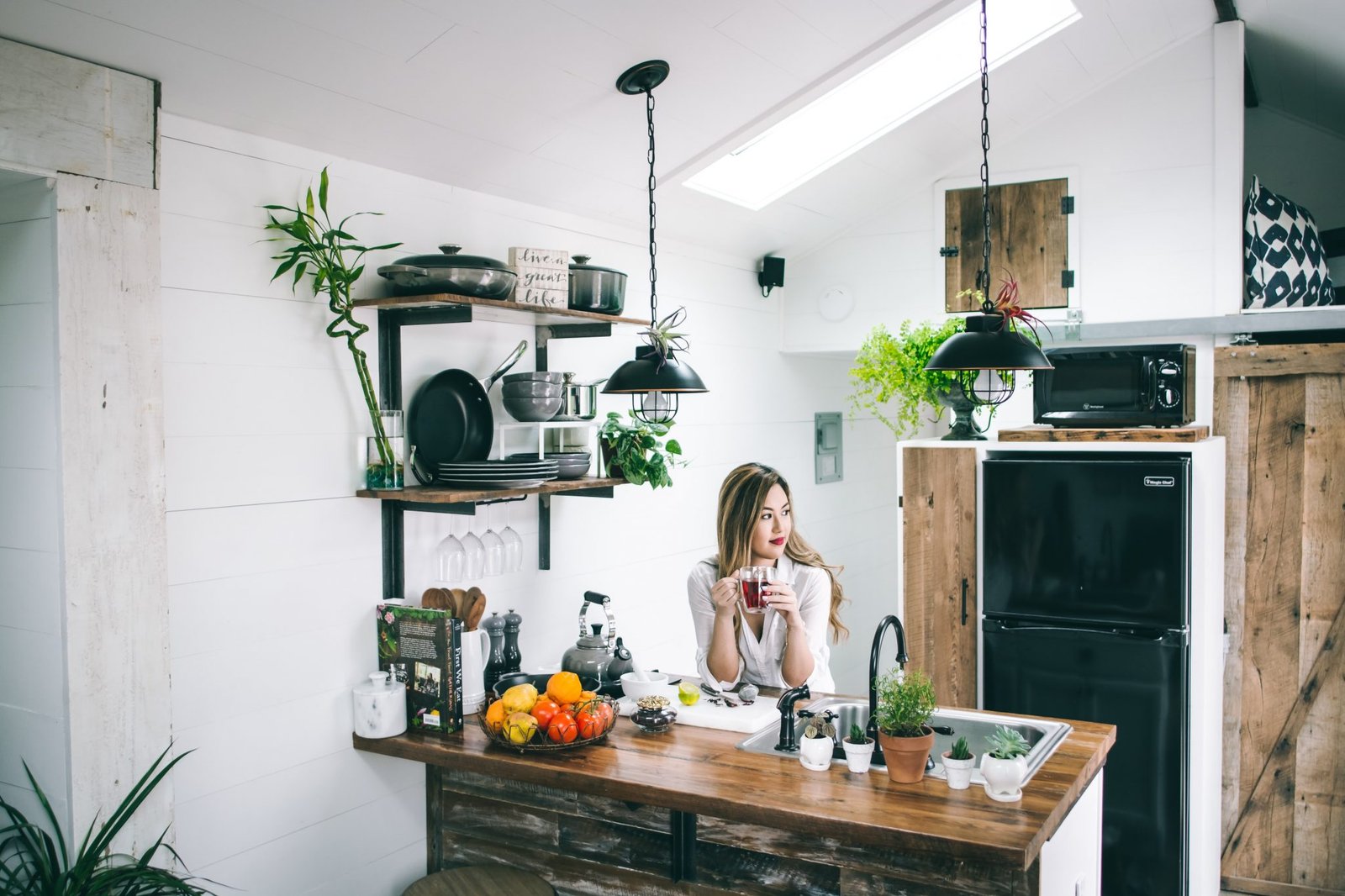 Tip: keep your shelves open to give your kitchen a look of a more extended space; you can add your own serveware or some colorful accessories, or even a colored fruit basket or a small plant.
3. Keep It Open
Open spaces characterize modern homes. First, you can start by uniting your home through an open-floor plan. This would mean an open kitchen that overlooks your living area, as well as an open bathroom overlooking the bedrooms, or open dining and living areas. Today, modern homes will allow you to spend time with your family and friends while cooking or cleaning. Gone are the days when closed doors separated kitchens and living rooms.
4. Don't Forget the Dining Room
Your dining room is essential in complementing the modern décor of your home, so make sure you have the right dining room. Your dining table is where you invite your friends or family to share your mouth watering dishes, and it leaves a huge impression on your guests. One way to make your dining room look modern, you will need to pick a modern sideboard. If you aren't sure what a sideboard is, interior home designers at Modern Digs Furniture explained how to choose the right sideboard for your dining table in order to give it a fresh modern look.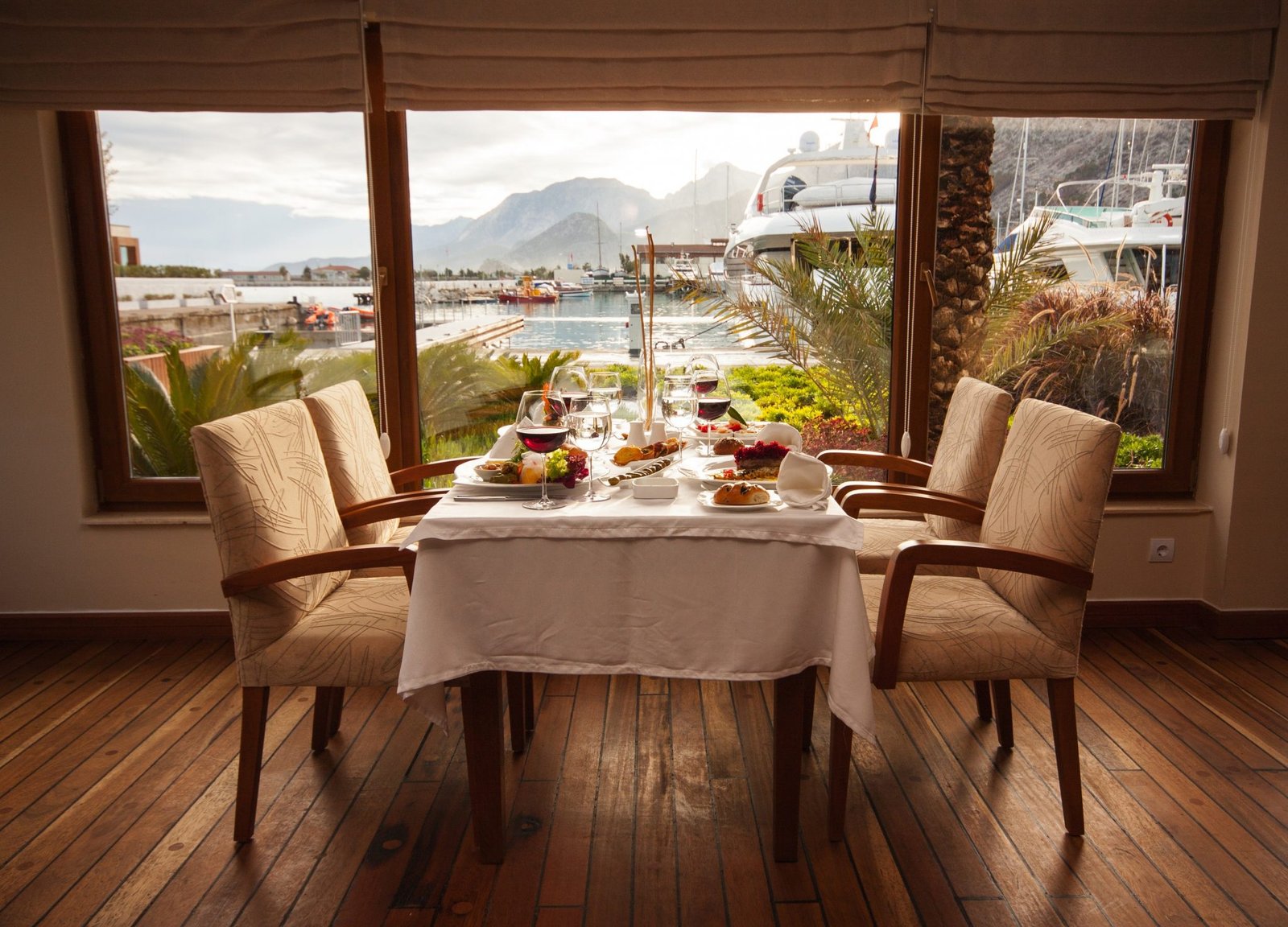 Moreover, when you are choosing your dining table and chairs, go for simple ones that would complement your overall home. You can go for a modern rustic table coupled with modern looking chairs, or a marble countertop with textured chairs.
Tip: go for a small table that wouldn't take too much space, while also providing adequate seating for your guests.
5. Pay Attention to the Lighting
One of the most important elements in a modern home is its use of lighting. A modern home would pay attention to its use of lighting. There's a variety of modern lighting options such as spotlights, pendants, as well as LED lighting and ambient lighting. A trend that has been rising in popularity lately is industrial and geometric fixtures. You can make use of modern-looking fixtures in your dining room, living area, or in your master bedroom.
6. Make a Statement With Your Flooring
Your floor is an essential element for you to create a modern and stylish look to your home. Create a coherent look throughout your home by using hardwood, ceramic, or polished concrete for a simple yet elegant looking floor.  Make use of simple rugs to beautify your spaces and add a sense of warmth to them.
7. Use Wall Art
Unique wall art can transform dull areas into a great-looking space. The most common place to hang your favorite wall art would be your living room or in the hallways. Your wall art should reflect your modern aesthetic. You can go for modern abstract paintings, black and white photographs, or graphic art.
8. Connect With the Outdoors
A common theme of modern homes is the connection between the indoors and outdoors. The most common way it is executed is by using large transparent windows that can open up and connect both areas. So if your house overlooks a garden or any sort of view, use big glass windows which will give you that modern and sleek look you find in interior design magazines.
9. Take a Minimalistic Approach
Overall, modern homes are all about minimalism and how to keep things simple. So try not to over clutter any space with excessive accessories or unnecessary details. Modern homes are the opposite of traditional or classic homes that are cluttered with accessories, embellishments, chandeliers, and furniture. Instead, all those unnecessary elements should disappear because it is all about functionality and simplicity.
Modern home decor can make your home look elegant and stylish. With those tips, you will be able to create that dream-modern home you always envisioned. Start one step at a time, and once you are done, your home will look like it is fresh out of a luxury magazine.