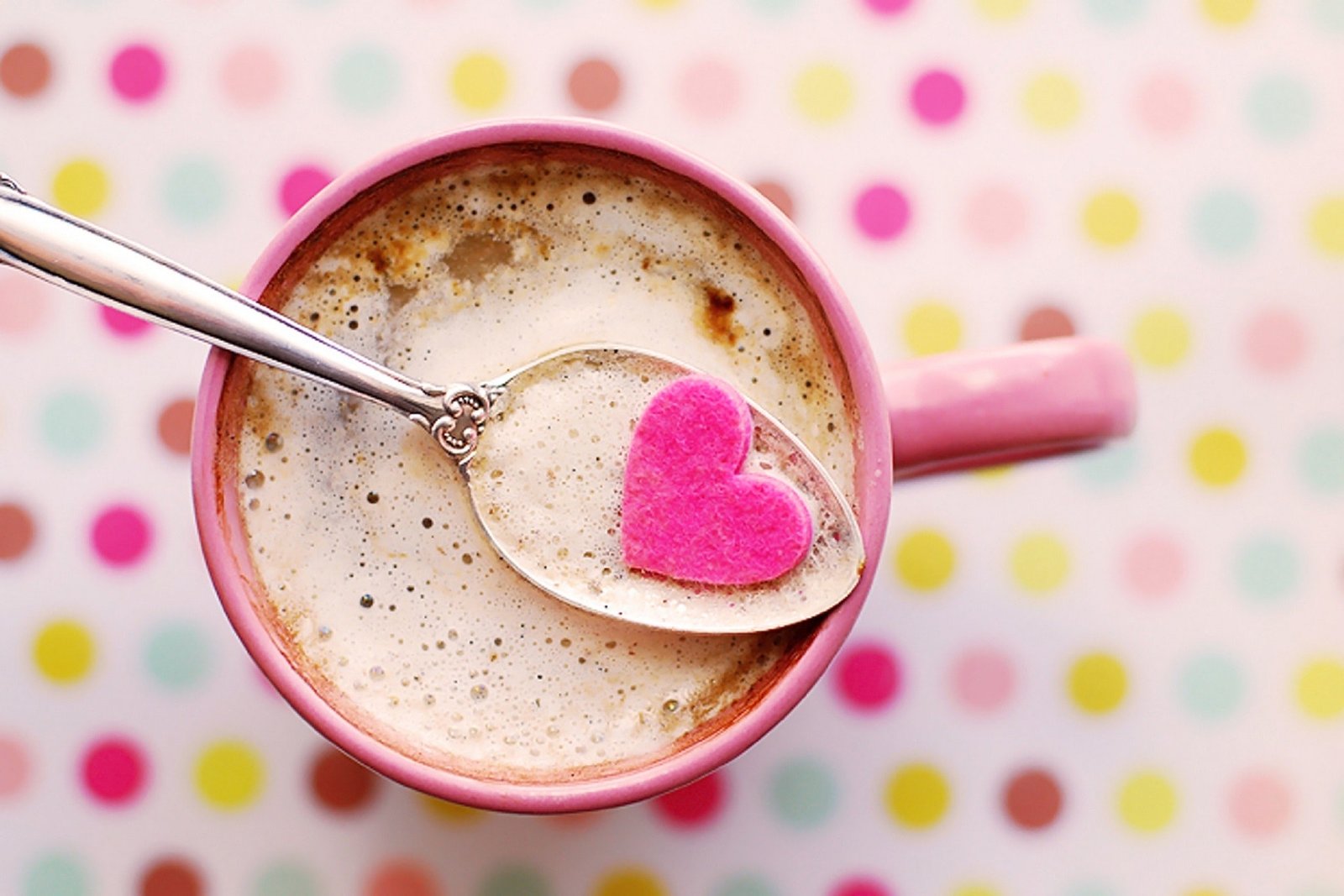 3 Valentine's Day Recipes Good For The Heart From Cali'flour Kitchen
Valentine's Day is a time to celebrate your love, and most of the time that means sharing a lavish meal with your special someone.
This Valentine's Day, plan the unforgettable dinner you've been dreaming of minus the unhealthy ingredients that lead to inflammation and other health conditions. These elegant recipes from Cali'flour Kitchen are perfect for celebrating any special occasion. (And they feature a surprisingly versatile and, yes, elegant, superfood: cauliflower!)
"Yes, the struggle to find satisfying foods that work with our dietary needs is real," says Amy Lacey. But you're not doomed to a lifetime of lackluster food. If you're sick of studying restaurant menus in search of something you can eat, just skip the hassle (and the crowds!) and make your own Valentine's Day feast that's naturally free of the foods you want to avoid.
"Certain foods can cause inflammation and lead to health problems for many people," says Lacey, author of Cali'flour Kitchen: 125 Cauliflower-Based Recipes for the Carbs You Crave. "For some, it's grains like wheat and rice; for others, it's processed sugar or dairy. Either way, you don't have to miss out on the satisfying dishes you crave most on special occasions.
"You can make the dishes you love while leaving out the foods that are off limits," she continues. "And the best part is, you can make them instead with healthier ingredients that nourish and fuel your body."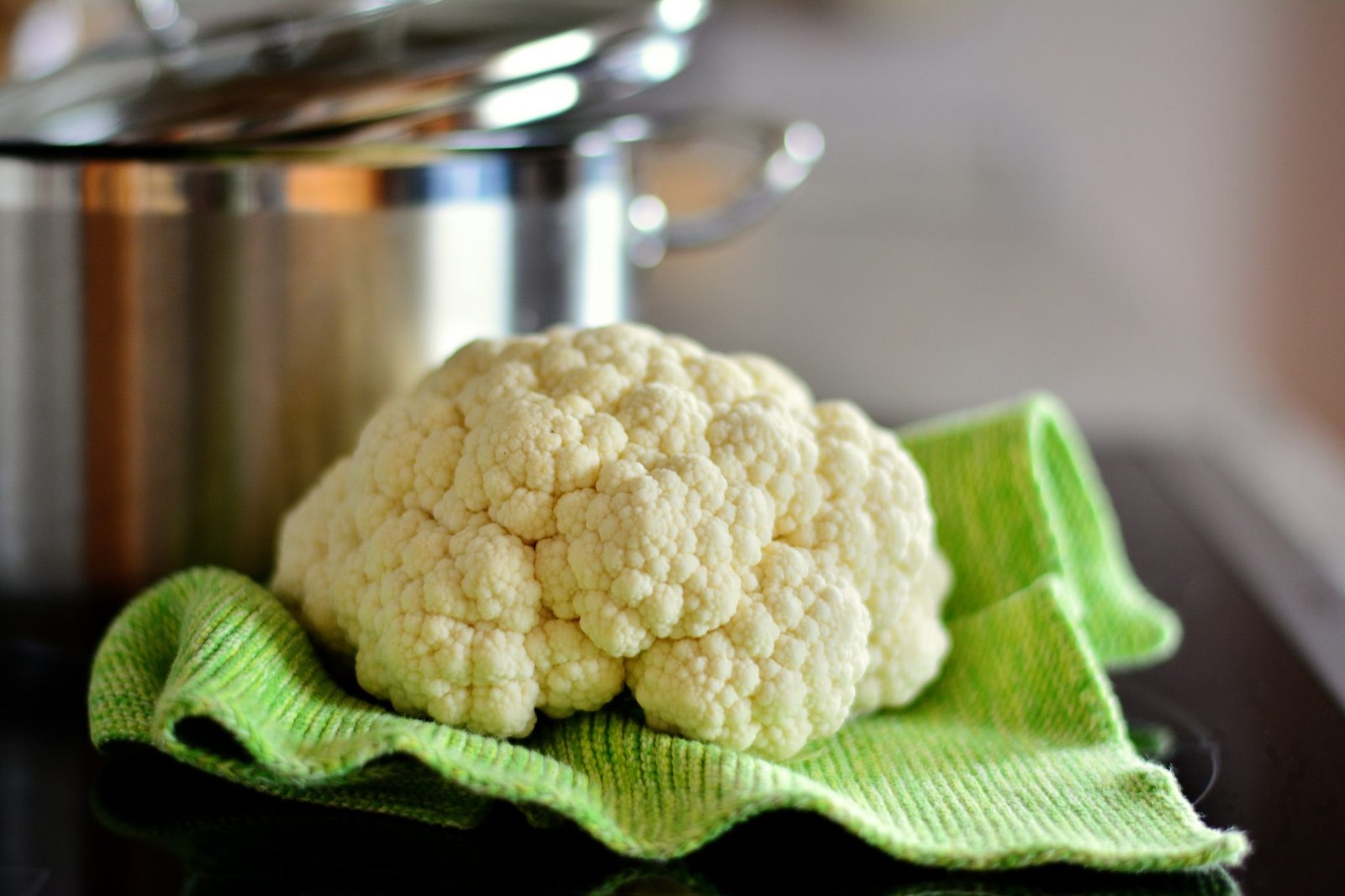 Lacey is the founder of Cali'flour Foods, a national brand famous for its grain-free cauliflower-based pizza crusts, crisps, flatbreads, pasta, and more. After being diagnosed with lupus and other autoimmune conditions, she used dietary changes to combat her pain, inflammation, and other symptoms. Upon giving up gluten and processed sugar, her health instantly improved. But Lacey wasn't ready to forgo her favorite foods. Instead, she set out to recreate them using cauliflower—a versatile superfood with abundant health benefits—and began selling her crusts online and in stores, to national acclaim. Now for the first time, she is sharing her award-winning recipes with the world.
Cali'flour Kitchen is designed for people across the dietary spectrum, providing perfect, guilt-free recipes for every carb-heavy craving, whether you're eating vegan, dairy-free, keto, paleo, or a plant-based diet. For those suffering from health issues like diabetes and autoimmune diseases, this cookbook reintroduces those favorites that have long been forsaken, reinventing them to include a full serving of vegetables.
With more than 125 quick and easy recipes and photos plus detailed how-tos on creating cauliflower crusts, rice, crisps, wraps, and zoodles, Cali'flour Kitchen is all about indulging without compromising health.
No matter where you fall on the dietary spectrum, you'll find delicious and easy-to-prepare recipes in Cali'flour Kitchen that are perfect for lovebirds, families, friends, and everyone in between.
Keep reading for a Valentine's Day menu that's worthy of your love.
Italian Bread Salad
Serves 2
Gluten-free | Grain-free | Paleo* | Keto-friendly | Vegetarian
*If making the bread with ghee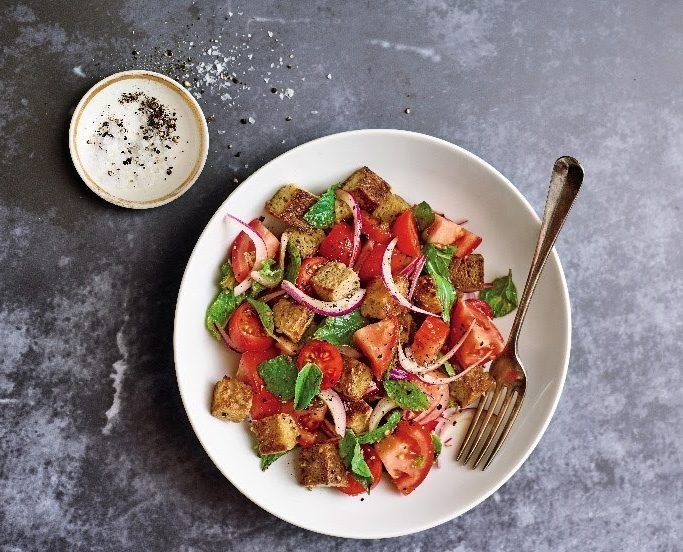 The base of traditional bread salad, or Panzanella, is stale or toasted crusty bread tossed with tomatoes and an herb dressing and left for a bit to soak up the juices. I recently spent some time in Italy for research and development with my COO, Jimi Sturgeon-Smith, and Doug Smith of our research and development team. You could say that we ate our way through Italy, and this recipe is inspired by our time there. As we use a soft bread in this version, you can bypass the soaking step. Juicy, ripe tomatoes make this dish, so hold out for the season and seek out beautiful heirloom tomatoes of varying colors. Feel free to add other vegetables such as sliced cucumber or bell pepper.
1 pound (455 g) juicy ripe tomatoes, cored and cut into bite-size pieces
1/4 teaspoon sea salt, plus more as needed
1 tablespoon red wine vinegar
1/2 teaspoon Dijon mustard
1 clove garlic, pressed through a garlic press
1/8 teaspoon freshly ground black pepper, or to taste
2 tablespoons extra-virgin olive oil
3 slices New White Bread (page 30), cut into 1/2-inch (12-mm) cubes and toasted well
1/4 small red onion, thinly sliced
1/4 cup (10 g) lightly packed fresh basil leaves, torn
1/4 cup (10 g) lightly packed fresh mint leaves, torn
Put the tomatoes in a strainer set over a bowl. Add the salt and toss. Set aside at room temperature to drain, tossing a few times, for 15 to 30 minutes. Remove the strainer from the bowl and whisk the vinegar, mustard, garlic, and pepper into the bowl with the tomato juice. Whisk in the oil. Add the tomatoes, bread, onion, basil, and mint to the dressing and toss to coat. Taste and add more salt and pepper if needed.
Shrimp and Cauliflower Leaf Grits
Serves 4
Gluten-free | Grain-free | Keto-friendly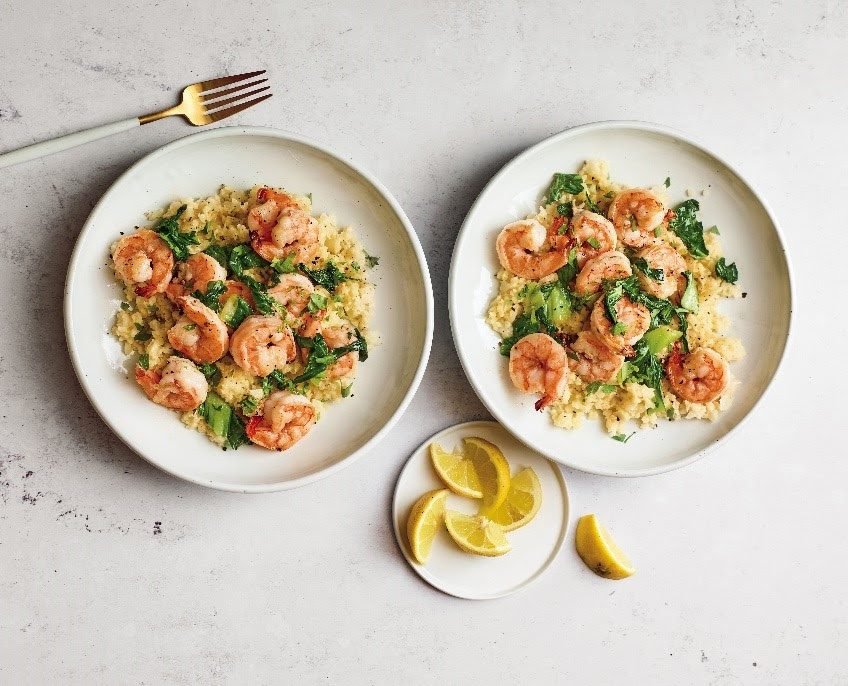 For eight years, my husband, Jim, and I lived in New Orleans, where we ate our fair share of shrimp and grits. This cauliflower rice take on the classic is even easier to make and adds cauliflower leaves to the mix for their incredible flavor. If you don't have cauliflower leaves on hand, you can substitute bok choy.
6 cups (780 g) Cauliflower Rice (page 36)
2 cloves garlic, pressed through a garlic press
1/2 cup (120 ml) chicken stock
3/4 teaspoon sea salt, or to taste
1/2 teaspoon coarsely ground black pepper, plus more for topping
1/4 cup (60 ml) heavy cream
2 tablespoons unsalted butter
1/2 cup (55 g) shredded Cheddar cheese
1/4 cup (25 g) grated Parmesan cheese, plus more for topping
1 pound (455 g) large shrimp, peeled and deveined
1 tablespoon extra-virgin olive oil
1 cup (70 g) thinly sliced cauliflower leaves
1/2 teaspoon grated lemon zest
2 teaspoons fresh lemon juice, or to taste
1 tablespoon chopped fresh flat-leaf parsley
Heat the cauliflower rice and garlic in a medium saucepan over medium-high heat, stirring often, for 3 to 5 minutes to remove excess moisture from the cauliflower. Add the stock, 1/2 teaspoon of the salt and the pepper bring to a simmer, and cook for 3 minutes, or until the liquid is mostly absorbed and the cauliflower rice is slightly softened but still al dente. Stir in the cream and butter until the butter is melted. Stir in the Cheddar and Parmesan cheeses until melted. Remove from the heat.
Rinse the shrimp and pat dry with paper towels. Season with the remaining 1/4 teaspoon salt. In a large skillet, heat the oil over medium-high heat. Add the shrimp one by one in clockwise order around the edge of the pan without touching and cook without stirring until the shrimp start to turn pink about 2 minutes. Using tongs, turn the shrimp in the order you placed them in the pan and cook until the second side turns pink and the shrimp are just about cooked through, about another 2 minutes. Move the shrimp to one side of the pan, add the cauliflower leaves, and cook for about 30 seconds to start to wilt them, then stir the leaves into the shrimp until fully wilted and the shrimp is cooked through. Remove from the heat and add the lemon zest and juice.
Spoon the cauliflower rice into bowls and serve topped with the shrimp. Finish with a squeeze of lemon juice, a sprinkle of Parmesan cheese, and the parsley and serve.
Pear and Honey Tartlets
Makes 6
Gluten-free | Grain-free | Keto-friendly | Vegetarian
These no-cook little tarts highlight ripe seasonal pears with a drizzle of honey to bring out their natural sweetness. Thick, dark buckwheat honey adds a strong molasses flavor that stands out against creamy mascarpone, but you can use any pourable honey. Make sure to use a plain crust for this recipe, and save the scraps left from cutting out the crust circles to make breadcrumbs (page 35).
1 Cali'flour Pizza Crust (page 26)
3 tablespoons mascarpone cheese or crème fraîche, at room temperature
1 small ripe pear, cored and cut into slices to fit the crust circles
1 tablespoon runny honey, preferably buckwheat honey
Ground cardamom
Preheat the oven to 425°F (220°C) and line a baking sheet with parchment paper.
Use a 2 1/2- to 3-inch (6- to 7.5-cm) cookie cutter or the top of a drinking glass to cut out 6 rounds of crust. Place on the prepared baking sheet and bake, turning once, until they are crispy and well browned, 7 to 10 minutes. Remove from the oven and cool.
Spread 1 1/2 teaspoons of the mascarpone over each crust. Top with pieces of pear and drizzle the honey on top. Finish with a sprinkle of cardamom.
"Whether you're planning a romantic dinner for two or making a festive cupid-themed meal for the whole family, you'll feel good about doing what's best for everyone's health," concludes Lacey. "It's the best way to say I love you to the people in your life and, most importantly, to yourself!"