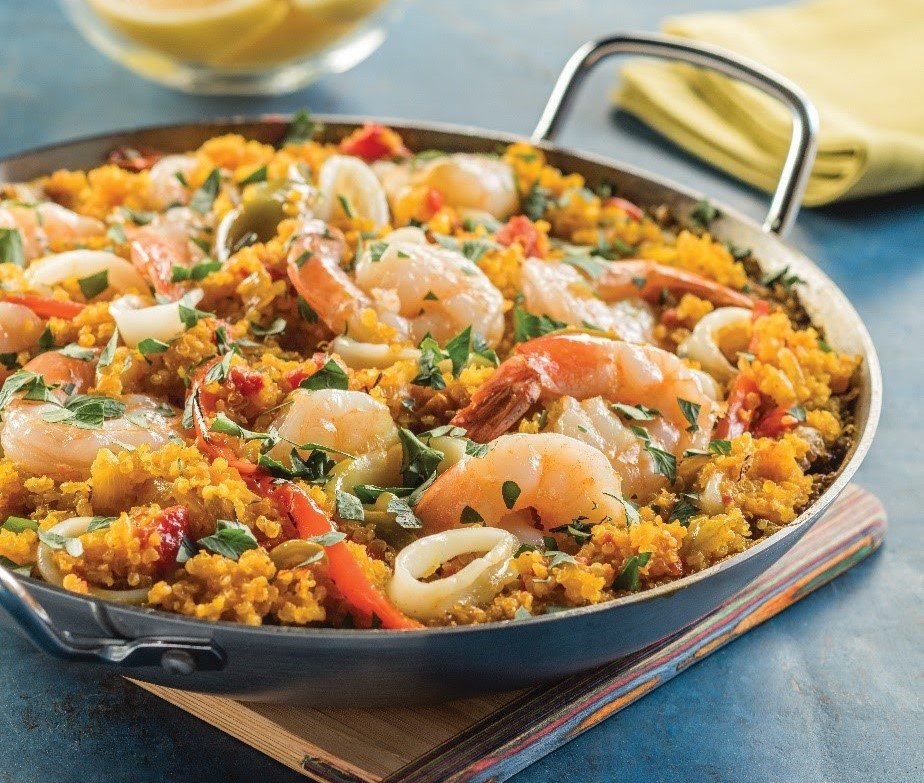 Cookbook from Celebrity Chef Ingrid Hoffmann Gives Your Favorite Latin Comfort Foods A Healthy Makeover
Whether you're Latino or not, chances are you have a special place in your heart (and stomach!) for the delicious foods of the culture.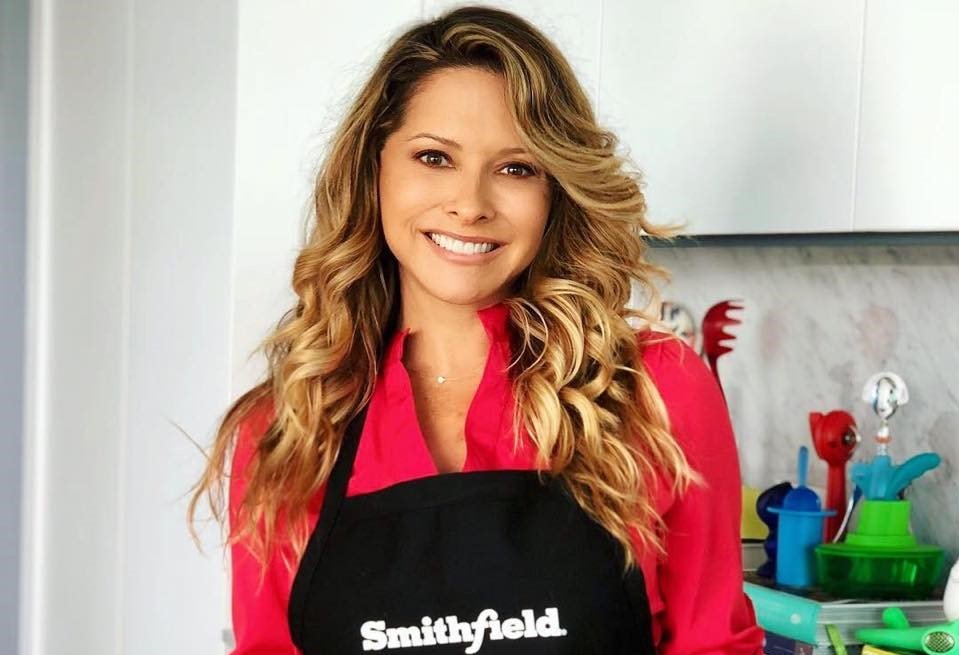 From hearty stews to savory rice-and-beans dishes, to creamy guacamole, these familiar flavors signify comfort, tradition, and time shared with loved ones. But if you have diabetes or other health issues, you may think you have to avoid these traditional comfort foods. Not true, says celebrity chef Ingrid Hoffmann—and to prove it, she has partnered with the American Diabetes Association to write a new cookbook full of healthier (and deliciously simple) versions of beloved Latin dishes.
"Traditionally prepared Latin foods tend to be carb heavy, deep fried, and full of salt and fat," says Hoffmann, cooking personality and author of Latin Comfort Foods Made Healthy: More Than 100 Diabetes-Friendly Latin Favorites. "This is a major concern for people with diabetes or prediabetes. But you don't have to say goodbye to your favorite flavors and cherished dishes. Just try their lighter, healthier, and easy-to-prepare versions instead!"
Diabetes is an urgent problem in the Hispanic/Latin communities. In fact, 12.8 percent of Hispanic/Latino adults in the United States live with diabetes. That's why the Latina Telemundo and Cooking Channel star is so excited to participate in this project. With a focus on pure and clean ingredients and staying within the guidelines of the ADA, Hoffmann has transformed traditional Latin favorites into nutritious, diabetes-friendly meals that feature protein, whole grains, and fresh vegetables.
"The best part is, you get to enjoy the foods you crave without having to spend all day in the kitchen preparing them," adds Hoffmann.
Not only has Hoffmann developed healthful and delicious versions of traditional Latin comfort foods, she really practices what she preaches. A self-described "lupus warrior," Hoffmann has experienced firsthand the healing power of food. Her research led her to embrace an alkaline diet that allowed her to get off her medications and live a happy, active, and delicioso life. The recipes in Latin Comfort Foods Made Healthy demonstrate Hoffmann's philosophy of easy, simple recipes with a healthy twist.
In the book, you'll find a variety of popular Latin dishes, including:
Energizing breakfasts like oatmeal arepas breakfast bread, a tropical punch breakfast smoothie, and salsa verde-drowned eggs
Exciting appetizers such as corn and cheese phyllo empanadas, cucumber guacamole, and yucca buns
Filling soups including Colombian chicken ajiaco, green chile pork posole, and beef sancocho
Hearty entrees like Latin zucchini lasagna, chicken tinga poblana, and carnitas baked chimichangas
Seafood favorites like quinoa seafood paella, chipotle fish tacos, and cod cakes with black bean and papaya salsa
Savory side dishes such as veggie-stuffed poblanos, healthy refried beans, and oven-baked maduros
Sweet treats like Mexican chocolate cookies, mojito crema, and cinnamon flan
and much, much more!
The book also contains nutritional guidance, cultural tidbits about the recipes, and Hoffmann's signature "Chica Tips" that offer tricks of the trade to help you learn multiple uses for an ingredient, storage ideas, or how to get more out of one recipe.
At a time when people are becoming much more "food aware," Hoffmann's message about the healing power of food is more relevant than ever. But keep in mind that Latin Comfort Foods Made Healthy is not a diet book. It's a tool to teach you to "eat yourself healthy" without sacrificing flavor or taking the fun out of the kitchen.
"It's important to enjoy the comfort foods that Latinos were raised with and continue to crave," concludes Hoffmann. "And now with a few tricks and tips, you can enjoy simple-to-prepare versions of these traditional dishes in less time and with healthier ingredients. Soon you will learn just how healing food can be! Life should be fun and joyful, and cooking and eating delicioso foods is a big part of making it that way."
Two Recipes from Chef Ingrid Hoffmann's New Diabetes-Friendly Cookbook, Latin Comfort Foods Made Healthy
Quinoa Seafood Paella
Serves: 8
Serving size: 1 cup
Prep time: 20 minutes
Cook time: 33 minutes
Total time: 53 minutes
1 Tbsp extra-virgin olive oil
1 onion, finely chopped
1 red bell pepper, thinly sliced
1 green bell pepper, thinly sliced
4 cloves garlic, minced
1 Tbsp tomato paste
1 tsp Spanish saffron threads
1 cup uncooked quinoa, rinsed
2 cups unsalted chicken broth
1 (10-oz) can diced tomatoes
1/4 tsp coarse salt
1 lb wild, never frozen, large shrimp, peeled and deveined (about 30 shrimp)
1 lb calamari rings
3 Tbsp chopped fresh flat-leaf parsley
1 lemon, cut into 8 wedges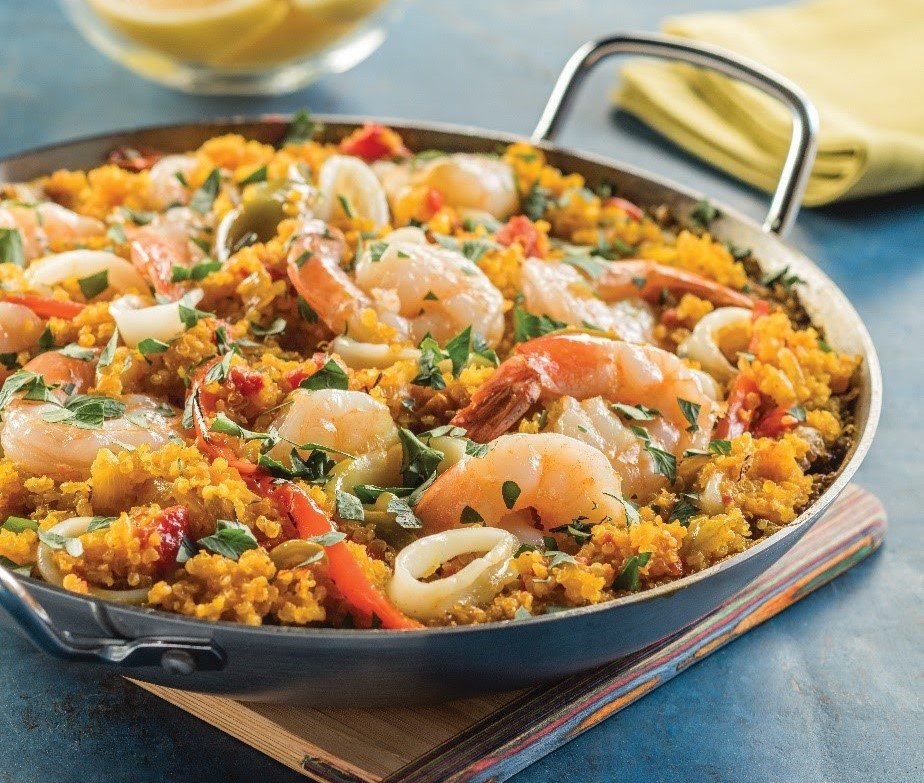 Heat the oil in a large nonstick skillet or paella pan over medium-high heat. Add the onion, bell peppers, and garlic and cook, stirring occasionally, until the vegetables are tender, about 8 minutes.
Add the tomato paste and saffron to the skillet, stirring until well mixed. Add the quinoa, broth, tomatoes, and salt; bring to a boil. Reduce the heat to medium-low. Cover and simmer until the liquid is absorbed and the quinoa is tender, about 20 minutes.
Tuck the shrimp and calamari into the quinoa mixture. Cover and cook until the shrimp and calamari are cooked through, about 5 minutes. Remove from the heat; sprinkle with parsley and garnish with lemon wedges.
Chica Tip
Washing your quinoa thoroughly before cooking is a very important step. The quinoa grain is covered with saponin, which gives it a bitter taste.
Choices/Exchanges
1 Starch, 1 Nonstarchy Vegetable, 2 Lean Protein
Basic Nutritional Values
Calories 210
Calories from Fat 35
Total Fat 4.0 g
Saturated Fat 0.6 g
Trans Fat 0.0 g
Cholesterol 195 mg
Sodium 260 mg
Potassium 590 mg
Total Carbohydrate 23 g
Dietary Fiber 3 g
Sugars 5 g
Protein 21 g
Phosphorus 335 mg
Fennel, Radish, and Orange Salad
Serves: 6
Serving size: 1 cup
Prep time: 15 minutes
Cook time: none
Total time: 15 minutes
2 Tbsp sherry vinegar
2 Tbsp extra-virgin olive oil
1 tsp honey
1/2 tsp salt
1/4 tsp pepper
2 navel oranges, peeled and cut into sections (1-1/2 lb total)
1 fennel bulb, halved, cored, and thinly sliced (1 lb)
6 radishes, thinly sliced (1 cup/4 oz)
1/4 cup chopped fresh mint
1 (5-oz) container baby arugula (about 6 cups)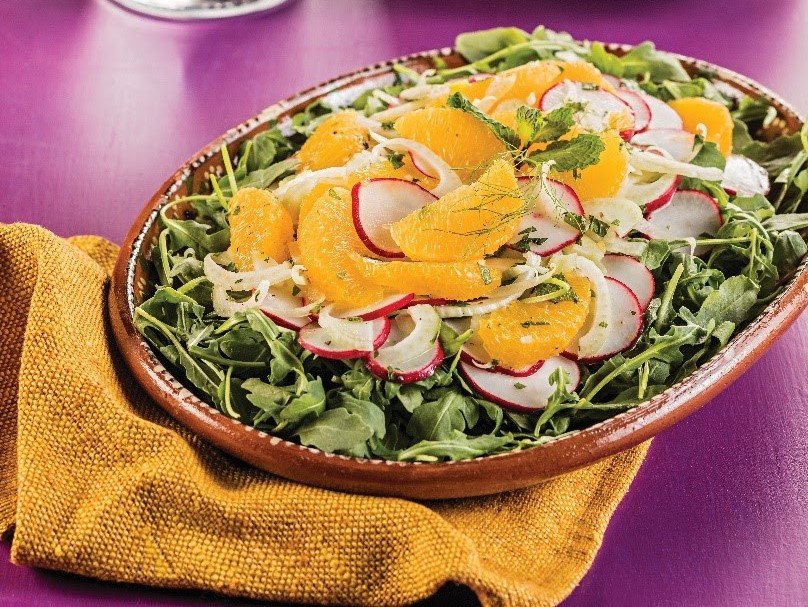 Whisk together the vinegar, oil, honey, salt, and pepper in a large bowl. Add the oranges, fennel, radishes, and mint; toss until well mixed.
Serve over a bed of arugula.
Chica Tip
I like serving my salads on platters by layering the ingredients, instead of in bowls. Not only does this make for a pretty presentation, but it also keeps the salad toppings from ending up at the bottom of the bowl.
Choices/Exchanges 
1/2 Fruit, 1 Nonstarchy Vegetable, 1 Fat
Basic Nutritional Values
Calories 110
Calories from Fat 45
Total Fat 5.0 g
Saturated Fat 0.7 g
Trans Fat 0.0 g
Cholesterol 0 mg
Sodium 240 mg
Potassium 520 mg
Total Carbohydrate 16 g
Dietary Fiber 5 g
Sugars 11 g
Protein 2 g
Phosphorus 55 mg