Discover A Unique Quick Bread: Falafel Loaf
A mouthwatering treat that unites the vibrant taste of falafel with the irresistible texture of classic quickbreads.
Create a loaf yourself to enjoy the brightness of fresh parsley, flavorful falafel spice, and chewy chickpeas. Schmear with some tahini butter for a delectable afternoon treat.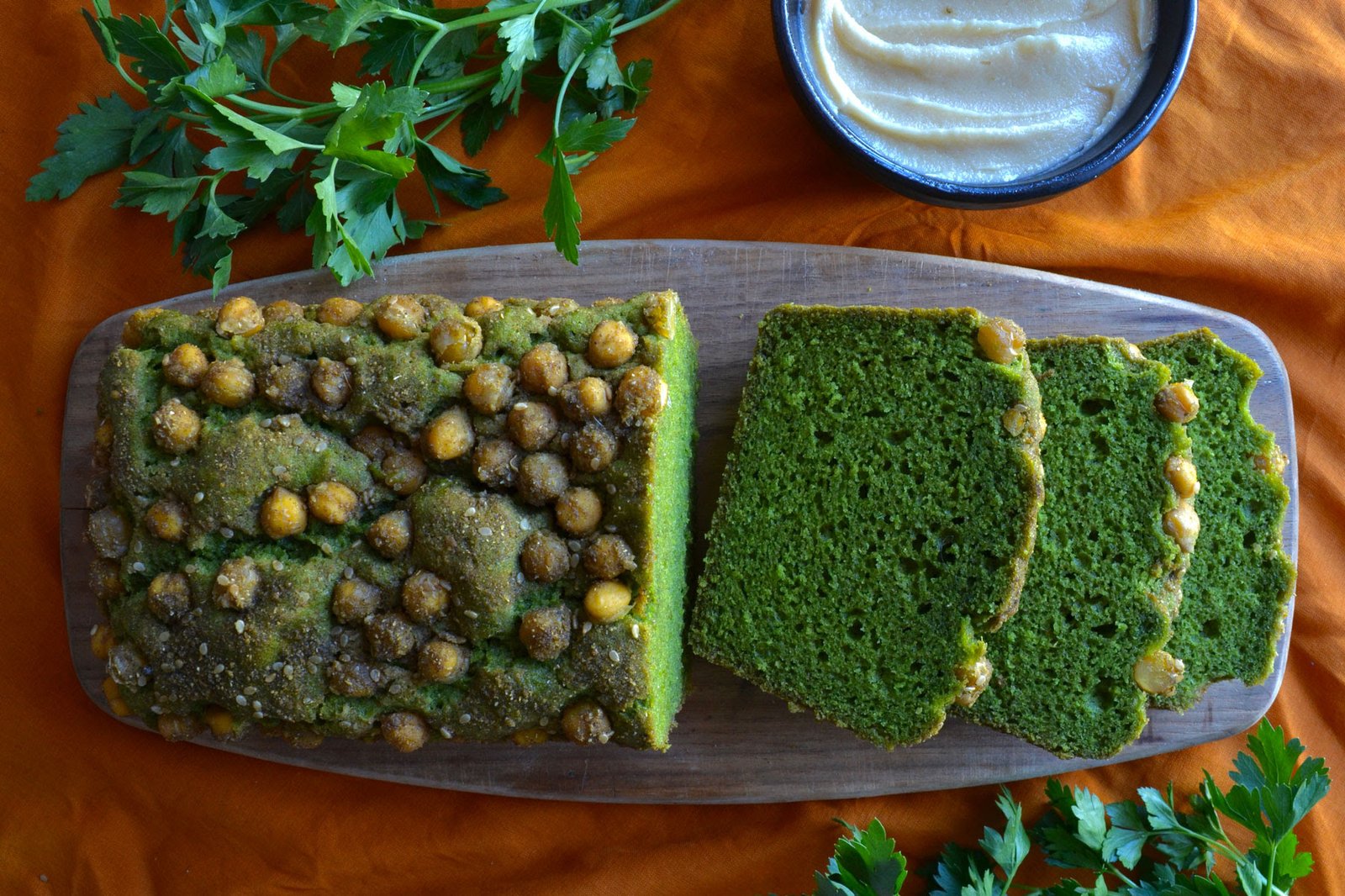 Read on for the full recipe.
Ingredients
Falafel Bread:
½ cup (1 stick) butter softened
1 ¼ cup All-Purpose Flour
¼ cup Pereg Chickpea Flour
2 tsp. Baking Powder
1 tsp. Baking Soda
2 tsp. Pereg Fine Red Sea Salt
1 Tbsp. & 2 tsp. Pereg Falafel Spice Mix
4 Large Eggs or vegan egg option: (½ cup + 2 Tbsp) water + 4 Tbsp flaxseed meal
2 Tbsp. Sugar
¾ cup Olive Oil
1 cup firmly packed chopped Curly Leaf Parsley from about 1 bunch
Zest from 1 Lemon
Chickpea Za'atar Topping:
Tahini Butter:
Directions:
Ensure you have a rack in the middle of your oven, then preheat to 350°F. Line an 8.5 x 4-inch loaf pan with a piece of parchment paper with an overhang on the longer sides to help lift the finished bread out of the pan.
Sift the all-purpose flour, chickpea flour, baking powder, baking soda, salt, and falafel spice mix all together into a medium bowl.
In a high-speed blender, blend parsley and olive oil until the mixture is completely smooth and the parsley is fully incorporated into the oil, about 30-50 seconds.
Whisk eggs and sugar together in a medium bowl then whisk in parsley oil and lemon zest until combined.
Using a rubber spatula, combine dry ingredients into the egg mixture stirring together until no dry parts remain and the mixture is smooth. The batter will be thick.
Make the Chickpea Za'atar Topping by using a paper towel to dry off any moisture from the cooked and drained chickpeas, then toss them in a small bowl with the olive oil, salt, and 1 tsp za'atar.