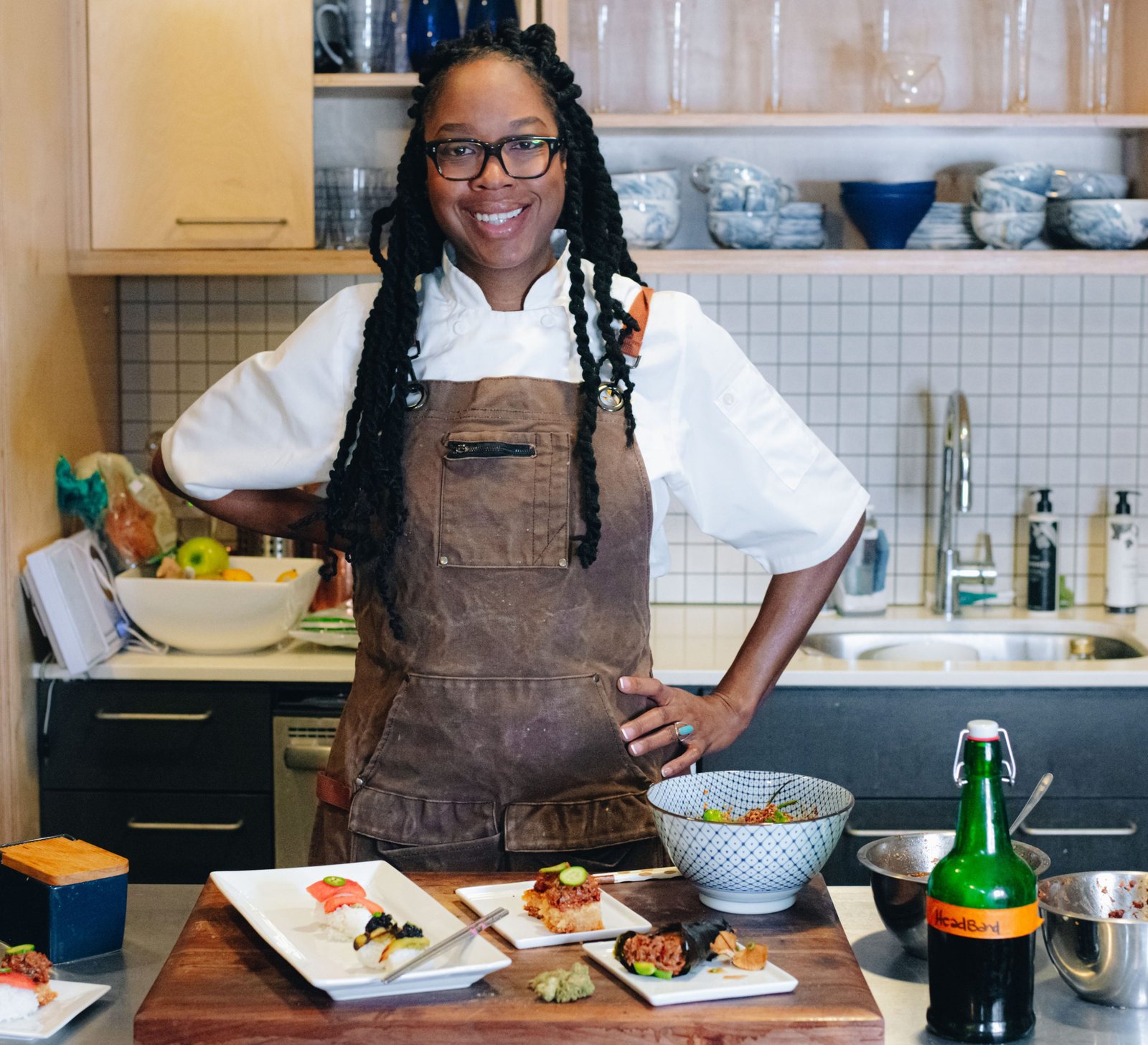 Get A Taste For Cooking Cannabis With Acclaimed Chef Andrea Drummer
Chef

Drummer's culinary experience dates back to her childhood in Fort Lauderdale, FL.

She first learned the basics of cooking by watching and helping her mother at age 6. In the midst of a successful career in the business world, Chef Drummer realized that she could no longer ignore her life passion of cooking. After honing her palette living in Miami, Philadelphia, Atlanta, and Brooklyn, she left corporate America to attend Le Cordon Bleu in Los Angeles, CA where she lives currently.
Since graduating she has worked for Michelin-starred chefs and renowned restaurateurs such as Neal Fraser and Thomas Keller. She was also the chef for the Executive Lounge at the Ritz-Carlton Los Angeles and now owns a unique California base cooperative, Elevation VIP. Recently, the cooperative was featured on the Chelsea Handler Netflix docu-series, Chelsea Does. Chef Drummer continues to be a staunch advocate for the cannabis community.
She also dedicates her time to educating the community on proper dosing and a healthy diet. Andrea has presented at various events throughout California and continues to impress others with her cooking attached to a great personality.
Chef Andrea Drummer began her career, first as a youth advocate and anti-drug counselor with organizations like Planned Parenthood and The Coalition for the Homeless. With a desire to transition from the world of non-profit to pursue her passion, she enrolled at Le Cordon Bleu, Los Angeles. This second career found her working at the renowned Ritz Carlton and with the likes of famed Chef Neal Frazer. The two worlds would oddly collide as Chef Drummer deepened her understanding of the schedule 1 drug that she had once advocated so vehemently against.
In 2012, she co-founded Elevation VIP Cooperative and become versed in cooking with cannabis. A staunch advocate for the legalization of marijuana, Chef Drummer has gained a wealth of knowledge working with local activists and allies while cooking for the likes of Chelsea Handler and other noted celebrities. She has been featured in Marie Claire Magazine, Vogue Online, Pop-Sugar, 60 Second Docs and LA Times and was recently named 1 of 10 Top Cannabis Chefs in the country. As an entrepreneur and a patient, she continues to spread her new gospel about the benefits of cannabis by educating, advocating and cooking.
Get to know Chef Andrea Drummer in our latest cover story interview.
Where are you from originally and where do you consider to be your culinary home that inspired your love of food?
I originate from South Florida. Fort Lauderdale, specifically. Though I was born in Hollywood, FL. From Hollywood to Hollywood! I would say that my culinary home and earlier food memories were between my mother's kitchen and the other great women that led before me. My aunts shared competing dishes during the holidays, my grandmothers farmed, baked, pickled, and planted, and my sister who'd introduced me to cuisines across different cultures. They made food exciting and accessible.
Tell us about your upbringing in the kitchen with your mother. What were some of your favorite homemade dishes or memories?
I like to say that my mother was absolutely my first chef instructor. She was stern and taught me many of the lessons that were fortified during my time at Le Cordon Bleu. I had a natural curiosity about food, it's the origin and was fascinated on transforming ingredients. Though her patience with me was limited, it afforded me the ability to be a fast study in the kitchen. My mother was no stay-at-home mom, so she wanted to get food on and out as fastidious as possible. I didn't make it easy with my many inquiries – who, what, why, how long.
The Fox Magazine is all about inspiration, what/who inspires you the most?
Wow. I'm inspired by many people! I honor the full process of what goes into bringing inspired food to a table. But the most – again I would throw it back to the women in my family and the great ancestors who still guide our hands. Their ability to make dope food, often from nothing but which still carried the breath of heritage and cultural influence still confounds me. There's humility in carrying that on and sharing that legacy. But too, there is great honor and reverence!
What's a typical day like for you now?
When I'm not cooking for a client, I'm writing, developing recipes, seeking out inspiration in random and familiar places and really investing in myself and my next best thing. Ultimately, I want to have a chain of cannabis-inspired boutique hotels.
Has food always been your career plan?
NOT at all! While I've always enjoyed the creative aspect and found solace in cooking/creativity, I never thought to consider it as a career path until I had to. Cooking, in my family, was a skill that you had to atone before leaving the nest. I didn't fashion myself to be special in any regard. I know better now though.
Can you share with us a few lessons or experiences during your time at Le Cordon Bleu in LA?
Terror! Sheer terror! It was a complete occupational overhaul from my previous career path in nonprofit. I courted the idea for better than a year. So walking through those doors, I'd assumed that everyone was as intentional and far better cook than I. What I learned was that I'd done the work, the foundation was laid, and that I was ready. I then learned how to be a professional and to cook with confidence. That's always in practice but not always practical! Ha.
How did the idea of integrating cannabis into cuisine come about?
Sheer unadulterated excruciating chronic pain. I had an extreme bout with my sciatic nerve and literally spent a few days crawling between my bedroom to the bathroom and managing a "kitchen crawl" to forage a plum. Doctor's visits after the next only produced a collection of opiates. Though I had reconciled that I'd live with that level of pain for life, refusing to take the prescriptions, it was recommended that I try medical-grade cannabis. I did! It worked! But being fresh out of culinary schools AND preferring to consume via edibles, I got to work. That was like putting myself through a master's class in cannabis culinary immediately after graduating.
What inspired the creation of your business Elevation VIP?
Well, that long story (ha) coupled with a desire to share my knowledge and what worked for me as well, to advocate for those without access to cannabis in the ways that I am afforded. I want to be able to educate others on cooking with cannabis and why it's a viable option medicinally while simultaneously advocating for the brothers and sisters currently incarcerated for what I'm able to openly engage as an occupation.
How has cannabis helped you with your health or life?
Before cannabis, it would take upward 45 minutes to get out of bed, stand upright and have functional mobility. I've not had that as a concern since 2012. Before cannabis I had conceded to my anxiety. I've now familiarized myself with strains that are of great cannabinoid support for my metabolism. And just the ability to marry these two beautiful communal experiences and play with different flavor profiles is ridiculously fascinating for me. To be intentional with food and flower as medicine fascinates and inspires me.
Can you share with us any tips or advice about consuming cannabis-infused food for those who haven't tasted these kinds of dishes before?
The primary, undoubtedly, would be to first understand your tolerance level and be mindful of proper dosing. I think it's always imperative that you're familiar with the source of said edibles. Source the same as would you a beautiful ribeye or even a melon. From a reputable chef, purveyor or dispensary. Infused cuisine is evolved and exciting and nuanced. You may not always immediately pick up on the flavor profile but respect it's presence! Ha.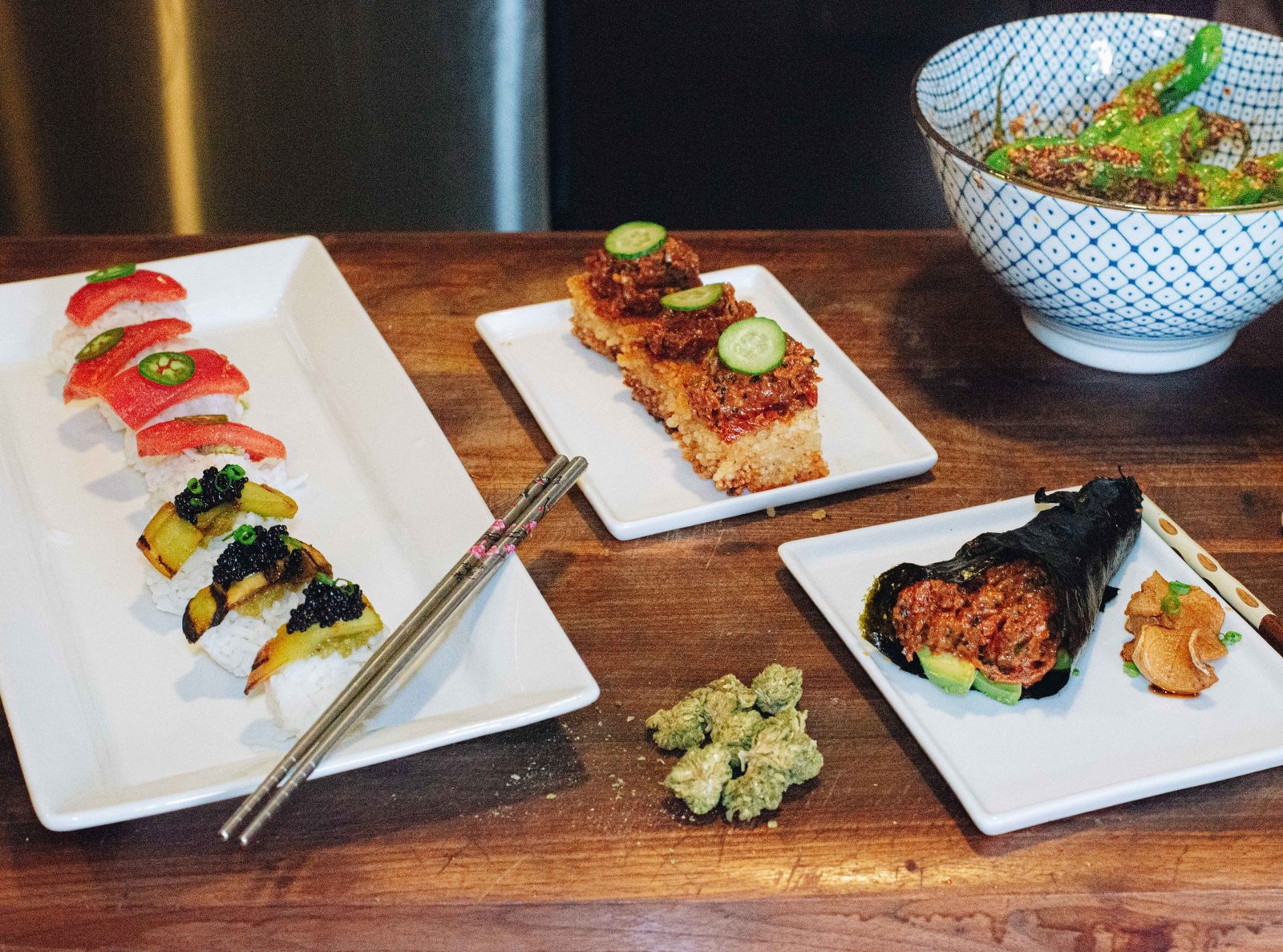 How do you deal with challenges in the kitchen?
I'm usually stealthy in the kitchen. I guess it's much like my approach to life… if it hasn't knocked you on your ass or killed you, it's fixable and or manageable. Yet something's require surgery while others, a bandaid! I can honestly say that I've gotten heated but once in the kitchen where I've yelled at a cook. However, for sure, I'd charge that to the pandemic. As with the rest of the world, it took it's toll.
How do you deal with positive praise in the kitchen?
Easy. Give it freely and frequently. Accept it for myself with a grain of salt. I'm working on self appreciation though. We're all just walking around here with imposter syndrome. Ha.
Everything I do, I do for the people.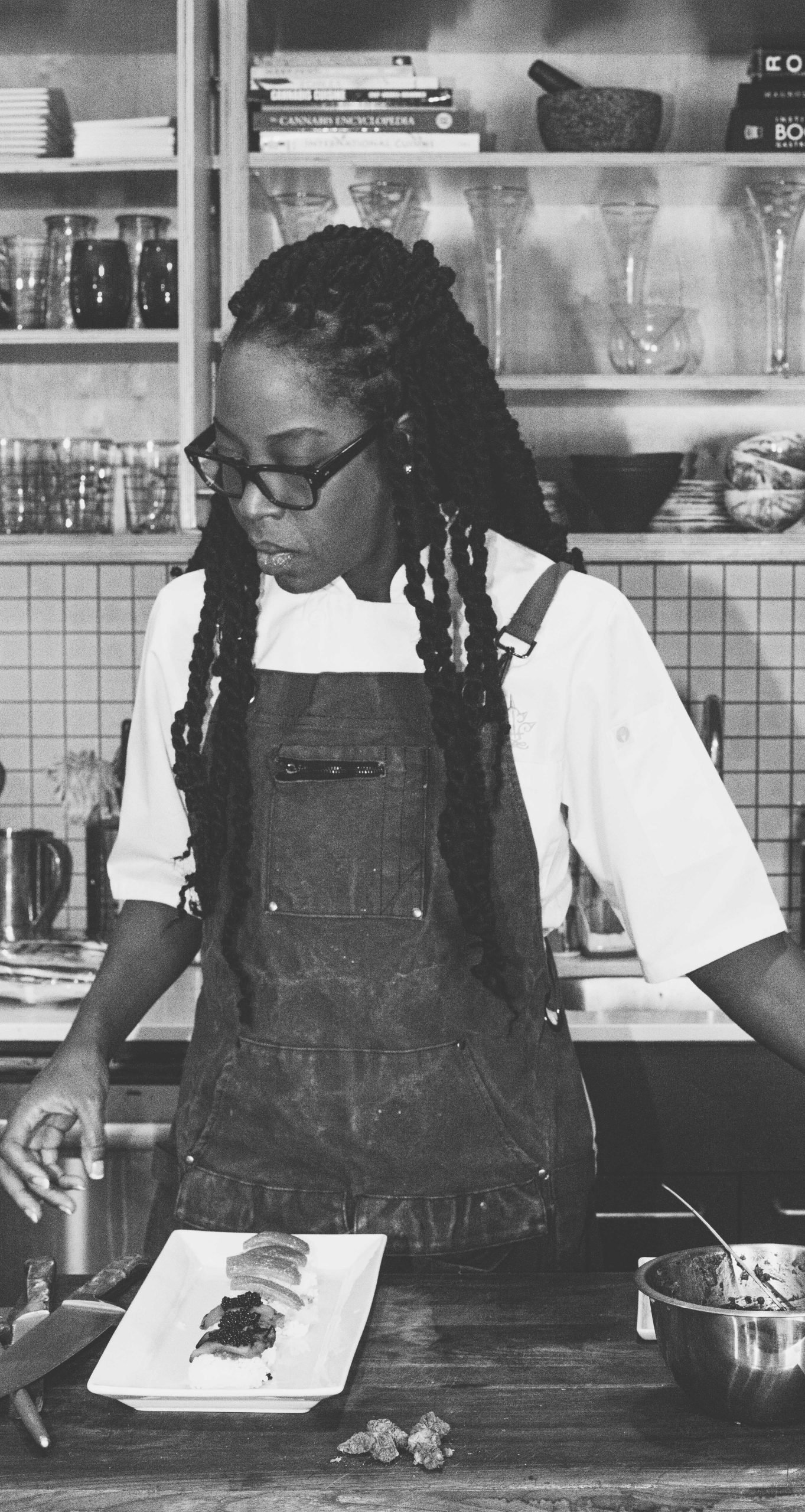 What's something people would be surprised to learn about you?
Hmm. Lots! I'm not as serious as most people project. Quite silly. I love all forms of creativity and would like to move in other spaces in that regard (fashion design, more writing etc. ).
And an odd fun fact: I was born with a defect whereby I was "confined" to wear Forest Gump leg braces. It was said that I'd never walk. We don't always get right.
Are there any culinary peers you'd like to meet one day or cook with in the future? Why?
Oh plenty! Far too many to name but for perspective, I'm saddened that I wasn't able to meet Anthony Bourdain. He was very cerebral and a bold representation of chefs bringing their fullness to the kitchen and beyond. He's an example that creativity has no boundaries. A chef too, could be an author of fiction, a creator of other things. That energy and the notion anchors me and challenges me to challenge myself! Any chef, and there are SO many, that thinks of food and life integrally and without boundaries, I'd love to chop it up with!
What's your favorite food-related motto, quote, or words to live by?
Be Great or Be Distracted. Meaning focus on your own purpose or inspired goals, be it in the kitchen or otherwise. Not on others intentions. Harness your energy.
And another favorite: If you can open a mouth, you can open a mind! Phil Rosenthal said that in his Netflix Series, Somebody Feed Phil.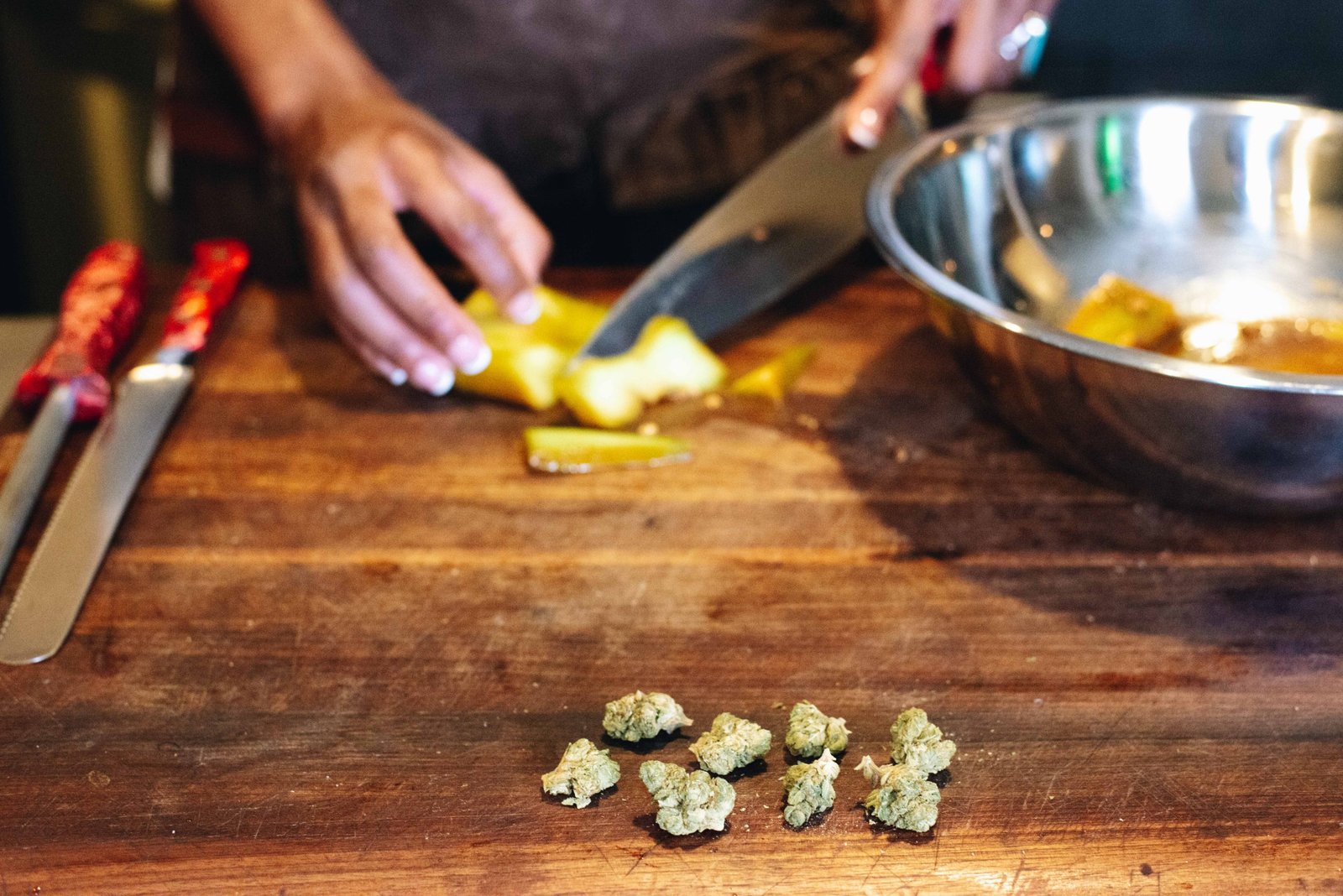 ---
Connect With Andrea!