Rice University Kitchens Introduce Plant-based Meats and Cheese for Student Meals
Rice University has taken a huge step forward in its plant-based journey with the introduction of a meat-and-dairy-free charcuterie program in its student serveries.
The menu of from-scratch vegan meats and cheeses is the first of its kind in the nation when it comes to on-campus dining.
Senior executive chef Roger Elkhouri debuted a full lineup of plant-based lunch meats including turkey, corned beef and roast beef. In addition, he debuted cheeses such as provolone, smoked cheddar, and dill Havarti. On special days, Elkhouri serves plant-based barbecue brisket or Italian sausage with peppers and onions.
All of it is made on-site using unique, individual recipes created by Elkhouri over the course of a year's work in the kitchen. Each of the charcuterie items is entirely vegan, although Elkhouri prefers the inclusive term "plant-based" to the "vegan" label, which implies his creations are only meant for a subset of students.
"A plant-based diet is good for everybody," Elkhouri said, "and it's good for the environment too."
In fact, a recent study from the University of Oxford published in Science found that consumers who switch to a plant-based diet drastically reduce their individual carbon footprint.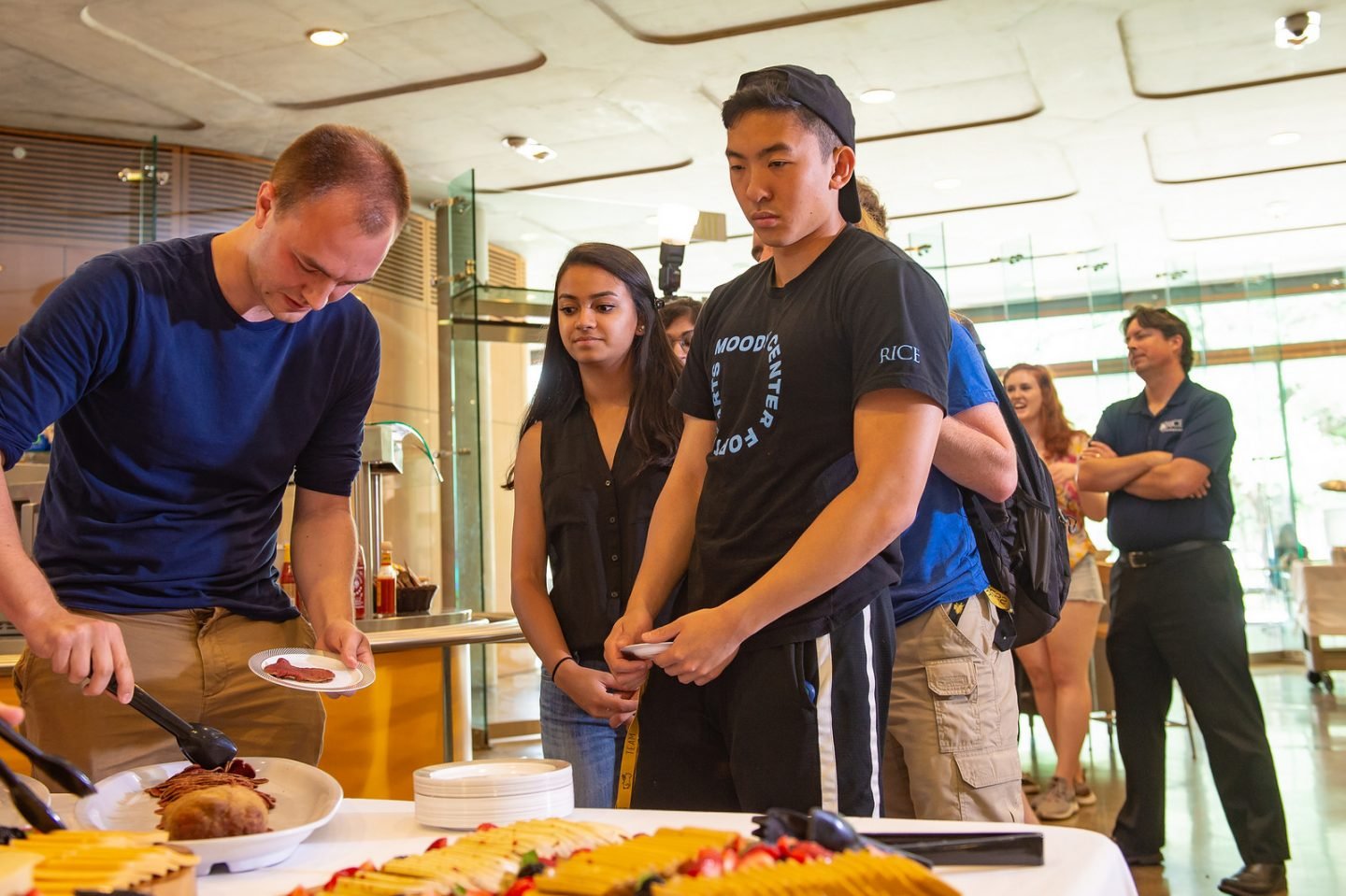 Instead of purchasing pre-made mixes, Elkhouri spent months crafting each recipe. Following a year of trial and error using various ingredients to nail everything from texture to appearance. "You can't have rubbery turkey, and it can't be purple," Elkhouri said. The project was completed just in time for the fall semester.
In addition to the turkey and brisket, Elkhouri has also created plant-based versions of pastrami, pepper jack and even a paprika-spiked "cheese ball" with the same spreadable texture and sharp bite of the original. Just like real meats and cheeses, each can be cut thin on a deli slicer; each also has a weeklong shelf life.
The "meats" are made using a proprietary blend of vital wheat gluten, powdered mushrooms, liquid smoke and other ingredients designed to mimic the taste, texture, and appearance of deli meats. The cheeses primarily incorporate coconut milk instead of nut milk, more conventional vegan alternatives.
"You will alienate a number of people if you use cashews or other nuts," Elkhouri said. "So if there's a chance I can take the nuts out, that was my first intention."
The meals served to Rice students out of the campus's six kitchens and serveries consistently rank among the best in the nation each year. But Elkhouri wanted to set a new bar by making lunch meat, cheese, sausage and barbecue available to all.
Students have responded enthusiastically to the new offerings, especially those with dietary restrictions.
"When I was talking to the students, they were very happy," Elkhouri said. "I saw a spark in their eyes that somebody was listening to them and hearing their needs. You're dealing with extremely talented and sophisticated students here," Elkhouri said. "They're always asking questions and you have to be on your toes, so what we try to do is get out ahead of them. Four or five years down the road you'll be seeing 'plant-based' everywhere. We're pioneers."
After 18 years working in the busiest serveries on campus, Elkhouri said it's feedback like this and the challenges he sets for himself that keep him in love with his job. Moreover, it keeps Rice University in the top tier of campus dining across the nation.