Sample The Sierra Celebrates 10 Years Of Food + Wine + Art This September
The exponential growth of farm-to-fork fest reflects the destination's culinary appeal.
Sample the Sierra, South Lake Tahoe's farm-to-fork festival will celebrate its tenth anniversary of regional foods, wines, beers and spirits at Bijou Community Park, South Lake Tahoe, Calif., Saturday, Sept. 14, 2019.
What began as a geotourism initiative in 2009 by the Lake Tahoe South Shore Chamber of Commerce (Tahoe Chamber) with El Dorado County and the Lake Tahoe Visitors Authority to promote the bounty and heritage of the region, Sample the Sierra has grown into a sold-out festival that attracts residents, foodies, and international visitors alike. For ten years attendees have tasted their way through the unique and popular flavors of the Sierra Nevada via wine, spirits, beer, and cuisine created from local sources. The festival and the area's expanding food scene has morphed since it began in 2010.
"The goal of the festival was initially to see more local products being used in restaurants," said Emily Abernathy, director of operations at the Tahoe Chamber. "We wanted to connect the western slope of the county with the eastern side and what we've seen is a connection between not only the businesses of these areas but also real relationships built between the consumers."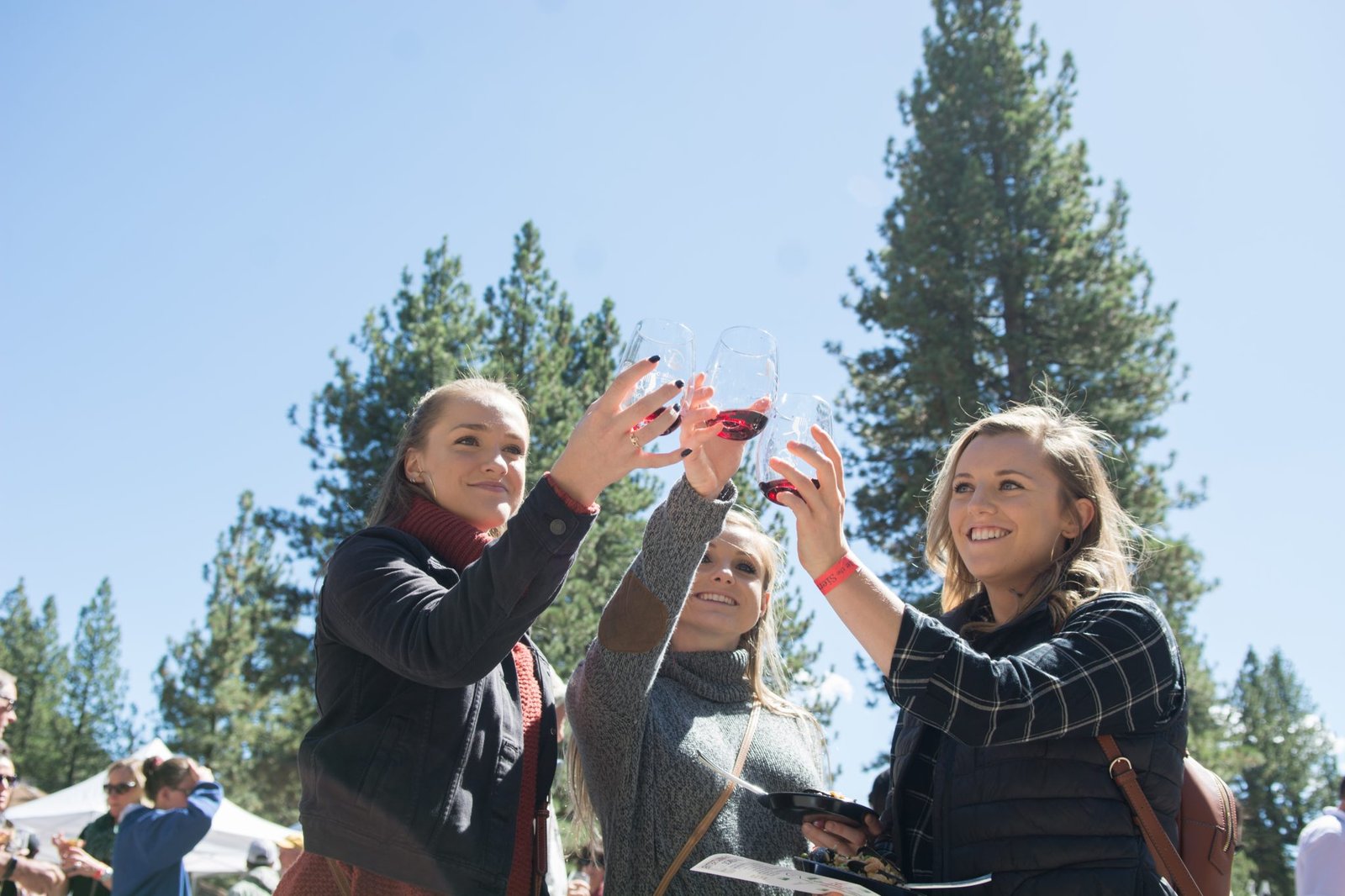 The original festival had 36 vendors with 600 attendees. It quickly grew and moved to an expanded location at Bijou Community Park in 2014, where the event now hosts over 1,500 guests – a 150 percent increase over that inaugural year, and over 60 vendors – a 66 percent increase. Many have participated from the start: Beals Orchard, Harris Tree Farm, Rainbow Orchards, Lava Cap Winery and Tahoe Mountain Soap.
The greater connection between individuals and food in the South Shore has extended beyond the festival to breweries – from three in 2009 to eight in the area this year, including 2019 participants South Lake Brewing Company, Sidellis Lake Tahoe, The Brewery, Lake Tahoe AleWorX and South of North Brewing Co. A recent city ordinance allows food trucks within city limits with many stationed at the breweries, extending the ability to pair food and drink throughout the year.
The continued success of the festival has also led to an increase in local produce used in South Shore restaurants; Riva Grill, Primo's, and MacDuff's are just a few that have incorporated farm-to-fork flavors into their year-round menus. MacDuff's sources many of its ingredients from local farmers markets and specifically Hooverville Orchards, a farm they utilize for several dishes including their stonefruit salad.
"We like to keep it local and support our community," said Chrystal Kennedy of MacDuff's. "The product is better and we know where it's grown. It's nice to know where your food is coming from."
While the event has focused on marrying food and drink to create a symbiotic taste and relationship representative of the region, other attention has gone towards the event's entertainment, including the Sierra Chef Challenge. Now in its seventh year, this year's competitors are Michael Lynard of Cold Water Brewery & Grill; Lonny Huot of Edgewood Tahoe; Andrew Anderson of Gunbarrel Tavern & Eatery; Dean Hiatt of Poor Red's BBQ; and Michael Sheldon, an amateur chef whose culinary passions led him to try out for Gordon Ramsay's cooking show "Masterchef," will join the contest and challenge these locally renowned cooks. The contest will include each participant preparing two dishes within 45 minutes with judging based on creativity, presentation, taste and use of secret ingredients.
The fest will include over 20 booths featuring a different winery, distillery or brewery expertly paired with a restaurant utilizing local produce in signature dishes. A commemorative anniversary canvas tote bag will be available for purchase online for $7, or for $10 at the gate, ideal for stowing goods purchased from the numerous artists and artisans at the festival marketplace (full list available online). 
Food providers include Burger Lounge, Café Fiore, Chicken in a Barrel BBQ, Cold Water Brewery & Grill, The Lodge at Edgewood Tahoe, Gunbarrel Tavern & Eatery, Lake Tahoe AleWorX, MacDuff's Public House, Poor Red's Bar-B-Q, Primo's Italian Bistro, Revive Coffee & Wine, Riva Grill on the Lake, Solid Ground Brewing, Stateline Brewery, Tahoe Pops, Ten Crows BBQ, The Cork & More, and The Loft Tahoe.
Drink providers include Bella Grace Vineyards, Boeger Winery, Booch Craft, Cold Water Brewery & Grill, Crystal Basin Cellars, E16 Winery, Hart 2 Hart Vineyards & Everhart Cellars, Findleton Estate Winery, Lake Tahoe AleWorX, Lava Cap Winery, Madrona Vineyards, Mediterranean Vineyards, Nello Olivo Winery, Rosa-Lucca Estates, Rucksack Cellars, Sentivo Vineyards, Shadow Ranch, Sidellis Lake Tahoe, Sierra Nevada Brewing Co., Sierra Vitners, Solid Ground Brewing, South Lake Brewing Company, South of North Brewing Co., Stateline Brewery, Tahoe Blue Vodka, and The Brewery.
Pairings will be announced online closer to the festival date.
Online ticket sales are open until Sept. 13 for $50 for adults and $40 for under 21 and designated drivers. If any remain, day-of pricing is $55 and $45. Tickets can be purchased at http://bit.ly/SampletheSierra2019. Events, experiences, deals and discounts will be available surrounding the 10th annual festival and can be found at https://www.samplethesierra.com/10th-anniversary-celebration.

Sample the Sierra is produced by the Lake Tahoe South Shore Chamber of Commerce, Lake Tahoe Visitors Authority, El Dorado County, and the City of South Lake Tahoe. The festival is supported by Wine Glass Sponsors Tahoe Culinary Academy at LTCC and Powered by Advance; Festival Napkin Sponsors Bently Heritage, Camelot Party Rentals and South Tahoe Alliance of Resorts; Main Stage Sponsors South Tahoe Restaurant Association, Winters Electric, Town Cutler and Sierra Sotheby's International Realty; Sierra Stage Sponsors South Tahoe Refuse & Recycling Services, Deb Howard & Co, RPM Mortgage, Welk Resorts and Nevada Museum of Art; Sierra Chefs Challenge Sponsors Lake Tahoe Resort Hotel, Lake Tahoe Community College, Sierra Meat & Seafood, Sacramento International Airport, Hard Rock Hotel & Casino Lake Tahoe and Local Tahoe Adventures.
The event is also supported by Sustenance Sponsor Liberty Utilities and the Tahoe Regional Planning Agency, as well as Media Sponsors Getaway Reno/Tahoe, Sierra Living, Tahoe Quarterly, Tahoe Daily Tribune, Sierra FoodWineArt, Lake Tahoe TV and Tahoe.com. 
For information about Sample the Sierra, tickets, and participation, visit www.samplethesierra.com or contact: Shannon Graves / Phil Weidinger, Weidinger Public Relations, 775-588-2412 or shannon@weidingerpr.com.