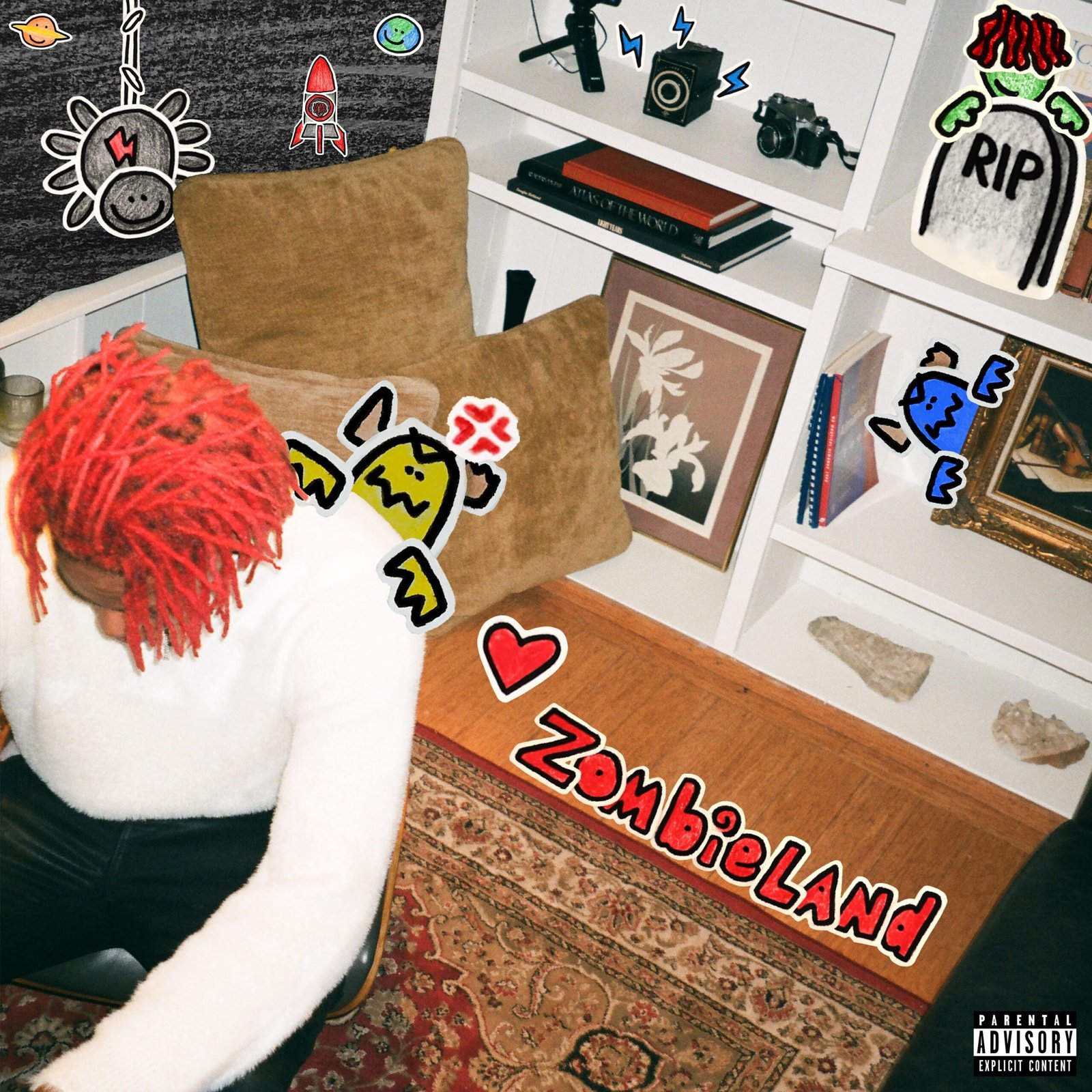 DC The Don Aims For The Head In New Single: Zombieland
Arriving ahead of an upcoming tour, the Rostrum Records artist gives a glimpse into his apocalyptic mind in new video single from DC's next album Funeral.
Animated by his fearless creative vision, DC The Don creates music that fearlessly balances forces of good and evil, pleasure and pain, and gain and loss. Fighting to maintain that balance amidst the increasingly hectic life of a rising star, the Rostrum Records artist shares his new video single, "Zombieland," the latest glimpse of DC"s next album Funeral.
Produced by Maaly Raw, the track's playfully airy instrumental provides the perfect canvas for DC's bright auto-tuned vocals: "I like the way that you move when you stackin' it/She hate the way I've been practicing abstinence/I don't want your heart I stole that on an accident/I got a double cup, it's filled with Activis."
Though the undead makes no appearance in "Zombieland," save for a brief doodle, the video captures the similarity between DC's mental strife and the horrific fantasy of a zombie apocalypse. As he struggles to reconcile his issues with his current partner, he turns to the distractions his rockstar lifestyle offers to ignore the issues. In the life of a riser like DC, the problems you face can exponentiate and overwhelm just as quickly as the money coming in. Whether those problems are with lovers, drugs, or any potential vice, DC knows he must regain the balance he's always been able to maintain: "Sh*t was all good last week, now this sh*t's so ugly."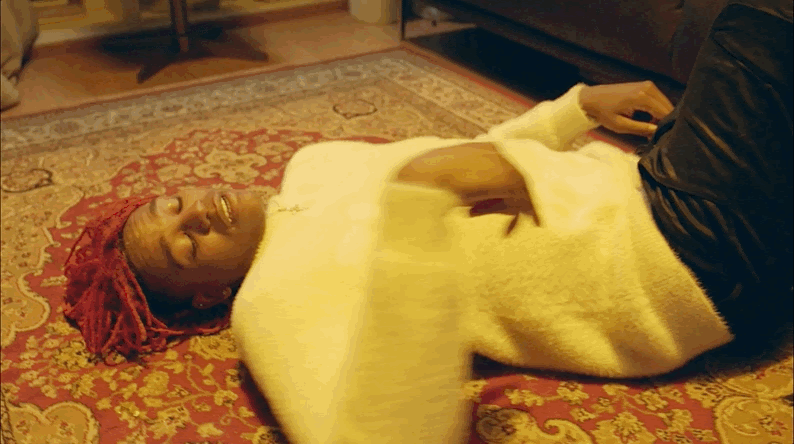 The new video single arrives as DC The Don prepares for the Funeral Tour. Kicking off in late October, the "FUNERAL Tour" starts in Chicago, continues with a hometown show in Milwaukee on October 29th, and makes stops in Atlanta, Los Angeles, Miami, and more before concluding in Houston in mid-December. Tickets for the "FUNERAL Tour" are available now.
The Funeral Tour follows in the wake of "Zombieland" "Hate It or Love It," DC's first new singles since releasing My Own Worst Enemy, his second studio album, in February. The project, which has racked up over 53 million streams on all platforms to date, tells a loose narrative about DC's inner conflict, which manifests as a battle between two distinct personalities: the wholesome RAG3 KIDD and the demonic DONNY.
Blending elements of rap, pop-punk, hyper pop, and more, My Own Worst Enemy both expands and refines DC's sound, allowing the 22-year-old rapper to showcase every facet of his wide-ranging vocal ability. With production by heavy hitters like JetsonMade, Starboy, Supah Mario, Trademark Charlie Heat, Astroboy, and more, who deliver DC some of their most adventurous beats, MOW3 percolates with the energy of a young artist testing the limits of what he's capable of accomplishing–and having fun while doing it.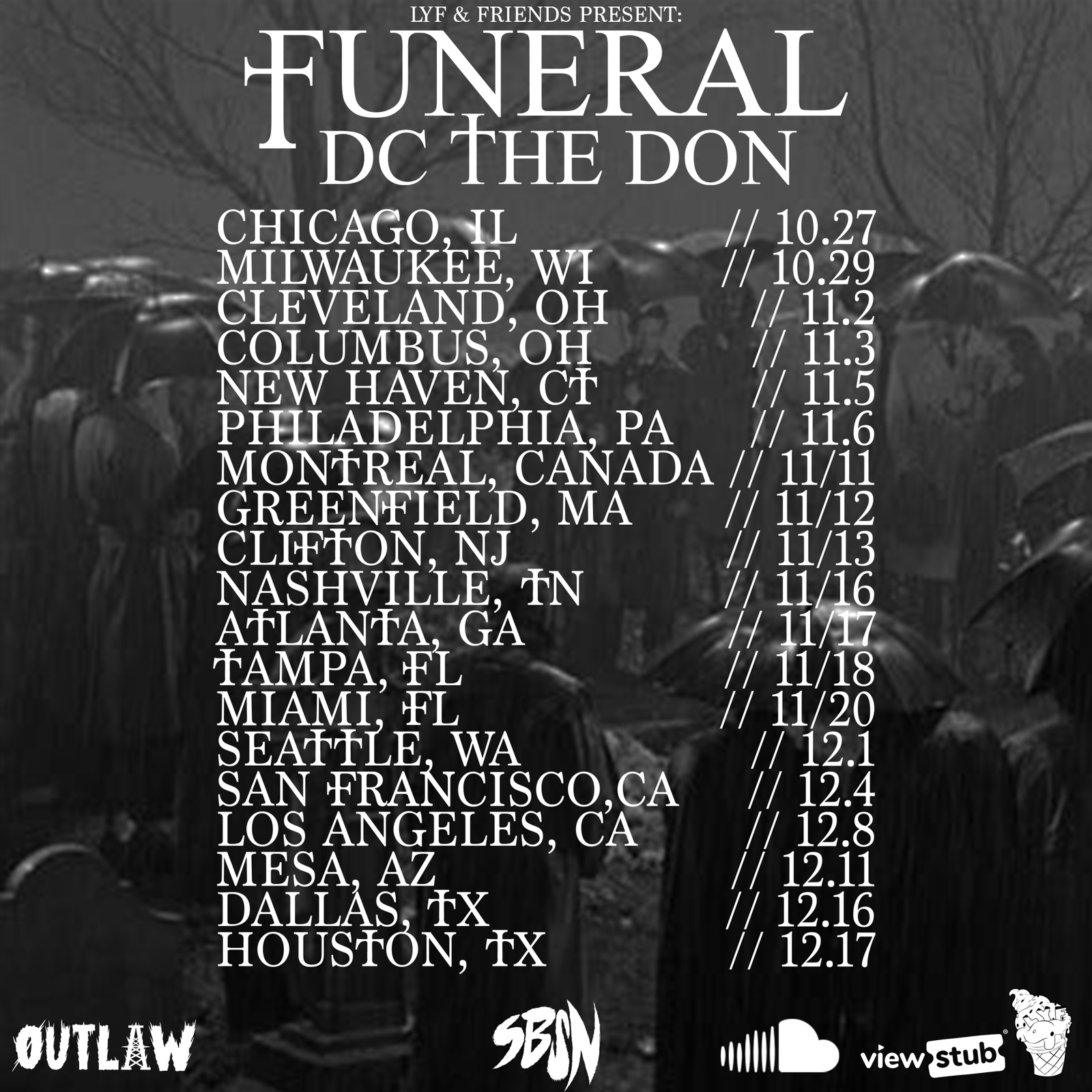 Stay tuned for more from the young artist, including his upcoming third album Funeral, as his star continues to rise!
DC The Don is a rapper from Milwaukee, WI. In 2016, at the age of 16 and standing 6'7", DC moved to Los Angeles to pursue a basketball career under Lavar Ball and alongside teammate LaMelo Ball. During this time, he fell in love with music and used his spare time to make experimental records which suddenly gained traction – As the public became increasingly aware of DC The Don's talent for rapping, NBA player Lonzo Ball featured his song "Everything 1k" on the first Big Baller Brand shoe commercial, introducing DC The Don's music to an even wider audience. DC signed to Rostrum Records in 2020, releasing his debut album Come As You Are on August 7, generating over 125 million streams across platforms. The artist looks to reach another level with My Own Worst Enemy, his ambitious new album, available everywhere now.