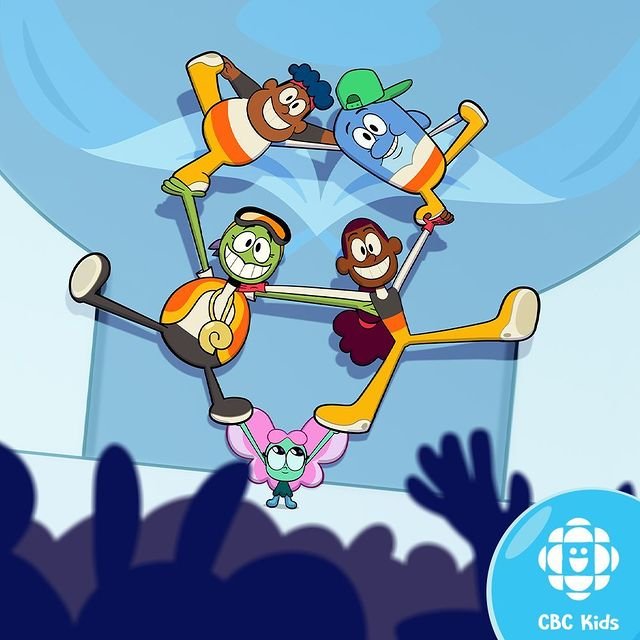 Music Producer Timbaland Releases Extended Theme Song for Animated Series: Big Blue
Fans of the new animated series "Big Blue" have something extra special to dive into today, as the hit series unveiled an extended version of the show's theme song produced by Grammy Award-winning producer Timbaland.
Written by Anthem Entertainment's Jingle Punks, an award-winning company and one of the largest providers of music for media in the world, the catchy, heart-pumping hip-hop jam is available now across streaming services via Anthem Records.
"Trying something different is what it's all about and being a part of a kids show that's so unique is as different as it gets for me," says Timbaland. "I'm looking forward to speaking to the next generation and helping to make a difference."
"Big Blue" is produced by animation powerhouse Guru Studio ("PAW Patrol," "True and the Rainbow Kingdom," "Pikwik Pack") and follows sibling underwater adventurers Lettie and Lemo as they lead a quirky submarine crew with a magical ocean fairy stowaway named Bacon Berry.
Encouraging kids to explore and protect our environment, "Big Blue" was created by Guru Studio designer Gyimah Gariba, a Ghanian-Canadian artist who has built a massive online following for his distinct illustrative style and was recently named one of "15 Young African Creatives Rebranding Africa" by Forbes.
"Big Blue" airs in Canada on CBC Kids and CBC Gem, and in the U.K. on Nickelodeon.
About Anthem Entertainment
Anthem Entertainment is comprised of a music publishing division, recorded music label, production music division, and a leading film and television audio-visual secondary rights (AVSR) management company. We support artists, create content, and provide entertainment services around the world.
As technology and entertainment evolve, we work hard to create and maximize opportunities for our talent and our clients. Our difference: an approach that combines the resources, power, and reach of a major with the agility, entrepreneurship, and soul of an indie. Anthem Entertainment operates offices in New York, Los Angeles, London, Nashville, and Toronto. More information is available HERE.
About Jingle Punks
Owned by Anthem Entertainment, Jingle Punks is one of the largest providers of music for media in the world. With a catalog of nearly 500k songs, a staff of music supervisors, composers, technologists, and creatives, Jingle Punks offers best-in-class customer service.
Whether it's composing for some of the world's biggest brands, music supervising award-winning films, or creating some of the largest marketing campaigns with today's hottest artists, we're able to solve any musical need. Jingle Punks was founded in 2008 with offices in Los Angeles, New York, Toronto, and London and strives to rise above the status quo, endeavoring to create unique and innovative musical solutions for our clients.
About Guru Studio
Guru Studio is a creative-driven entertainment company renowned for creating, developing, and producing internationally acclaimed and highly successful shows including its Emmy nominated Netflix original series, "True and the Rainbow Kingdom"; "PAW Patrol," and "Abby Hatcher" produced in collaboration with Spin Master and Nick Jr.; Mattel's Ever After High; and its own two-time Emmy Award-nominated preschool series Justin Time in association with Disney Junior.
The company is currently producing original comedy-adventure series "Big Blue" with the CBC, and its newest preschool series "Pikwik Pack" airing on Disney Junior US. Guru Studio also contributed visual development on the Academy Award nominated animated feature The Breadwinner, which brought the rich 'story world' sequences to life. Led by President and Executive Creative Director Frank Falcone, Guru Studio is an industry leader in animated storytelling for kids of all ages. More information is available HERE.