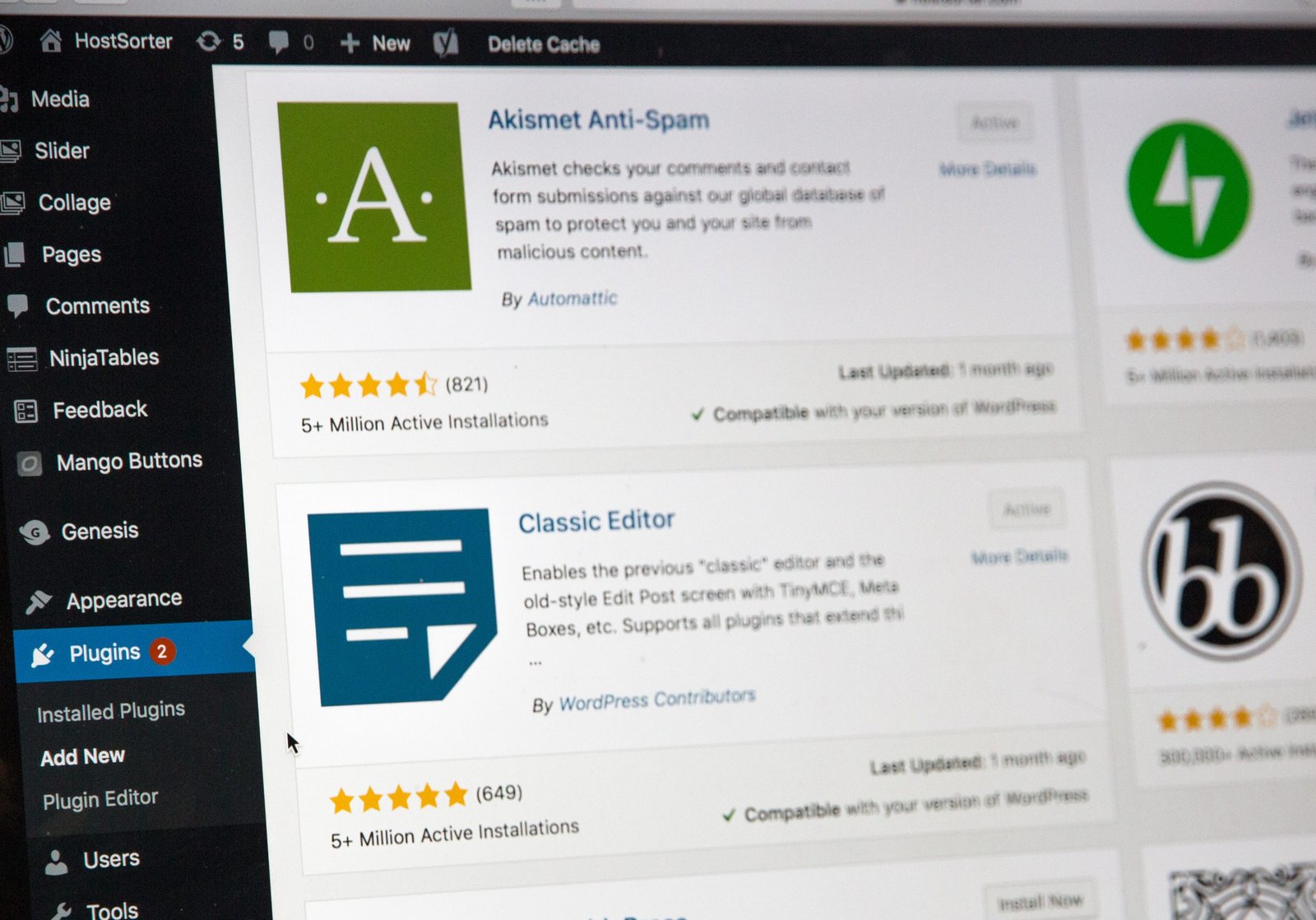 Most Commonly Used WordPress Plugins
WordPress plugins are the bread and butter of modern web design.
With over 70 million websites created with this revolutionary, open-source content management system, it should not come as a surprise. If you're only just starting out in the world of web development, and are planning to use WordPress to create your first website, you'll find that it is easy to use.
The most attractive component of WordPress, however, are the plugins. They let you customize the experience of creating your website and add some amazing features that will help you make your site user-friendly, more accessible, and, perhaps most importantly — more shareable.
As a WordPress rookie, you might find yourself feeling overwhelmed by the sheer amount of WordPress plugins that are available out there. Out of the 50,000 options, not all of them are worthy of your attention. You should also be wary of installing too many of them, as that can slow down your site and make it vulnerable to external threats.
This article will help you navigate the crowded WordPress plugin world by familiarizing you with some of the most popular ones, praised by users all over the world!
FooGallery
FooGallery, the best gallery plugin WordPress has to offer, is an absolute necessity if you're trying to create a respectable-looking photography portfolio or anything else that has to do with the visual arts. It is a free plugin that can be upgraded to a PRO version that grants you access to more templates and video support. However, even the free version allows you to create some pretty impressive galleries. If you rely on images and visual work to attract visitors to your site, you can't go wrong with FooGallery!
Yoast SEO
Yoast SEO Free allows you to set almost all SEO elements for your posts and pages from within your WordPress admin area without writing any code. For featured images and cover images, it will only work in the visual editor. You'll have to install the premium version of the Yoast SEO plugin if you're looking for support for advanced Google Search Console (formerly known as Google Webmaster Tools) features like Structured Data Markup for Rich Snippets/Google Knowledge Graph. You'll get this support if you upgrade to the latest premium version at a minimum price. The paid option also supports more social media features, which are useful when sharing posts on Facebook or Twitter.
WooCommerce
This WordPress plugin will help you set up an online store on your website in no time! It's highly customizable, mostly thanks to the sizable community that has grown around this product. WooCommerce's developers work together with the users and amateur programmers to include some very convenient extensions that make selling goods via the Internet a breeze. Regardless of what you're selling, WooCommerce can help you with most of the process, from payment methods to affiliate links.
Contact Form 7
Contact Form 7 is a WordPress plugin that makes it easy to communicate with users. It allows you to process incoming messages, and respond to them automatically without having to write custom PHP code.
It supports a variety of message types including contact forms, messages from users, and messages sent from other plugins. It can also be integrated with many popular plugins including WooCommerce and FooGallery. This plugin's intuitive template system lets you easily customize the appearance of your forms and messages. Themes and templates are provided to make it easy for you to get started with Contact Form 7 right away. Multiple themes are also available for premium users. You can also upload your own custom themes and templates by using the Theme API.
Elementor
Elementor Website Builder is a plugin that will help you to build beautiful customized websites for WordPress. It will also enable you to create totally different page designs for the individual pages of your website, which can be imported into the WordPress admin panel as if they were built-in options. That way, you won't need to keep adding custom HTML and CSS code if you need to design individual pages on your website. Instead, all you'll need to do is to import the customized design into WordPress – no more coding!
Elementor comes with a drag-and-drop editor, built-in templates and icons, pre-styled widgets, and a lot more. It also has a 1-click button. It will allow you to add posts, pages, or products from your WordPress blog. All in all, it's another great choice for users who are interested in creating fully customized site designs without having to learn to code.
The Bottom Line
The WordPress plugin directory is a big and scary place. With tens of thousands of options available to download and install, it's easy to make some pretty wrong choices. On the other hand, WordPress sites without plugins will never realize their full potential. Regardless of whether you're looking to customize your business websites using an e-commerce website builder or create a dashing photography portfolio, the five plugins outlined above will surely help you achieve your goals.
From search engine optimization to an advanced form builder, you simply can't go wrong with these add-ons. Of course, there are many other great plugins that weren't included in our list. Feel free to browse around the Internet and check out some other options. Remember not to overdo it, though. Installing too many WordPress plugins can slow down your website!