Popular Food Delivery Service Apps To Try Out
The food-delivery industry is going from strength to strength.
During the pandemic, food-delivery apps' saw their business double. This trend has continued, despite lockdowns being drawn back and reduced. Because of the demand for food-delivery apps, there are now more than there ever was before.
When you're choosing a food-delivery app, it can be difficult. You need to take a lot of factors into consideration, including speed and customer support. Some apps also have better restaurants available than other apps.
In this article, we will present to you a list of the most popular delivery service apps, so that you can find the right one for you.
GrubHub
GrubHub is a food-delivery app that hosts over 50,000 restaurants in over 1,000 American cities. The application gives you the option of selecting your preferred cuisine, then displays all of your options. You're able to adjust your search according to ratings, stars, and customer experience. The company offers a bike delivery service. It was founded in 2017, by Mike Evans and Matt Maloney, two entrepreneurs who wanted to create an alternative to traditional take-out. For the pair's idea, they won an award. Their business has since taken off and grown in popularity.
GoPuff
GoPuff is one of America's most exciting food-delivery applications. Unlike other services, GoPuff has expanded its services into delivering food and goods sold in convenience stores. According to the shopping experts from https://www.swagbucks.com/shop/gopuff-coupons, they also offer coupons of up to $15. In addition to convenience store goods and competitive coupons, GoPuff also has an alcohol delivery service. The company is now working on going international, acquiring a partnership deal with Uber Eats in the United Kingdom. If you're interested in having convenience store goods delivered instead of fast food, then GoPuff's the application that you're looking for.
DoorDash
DoorDash is another of America's most popular and exciting food-delivery apps. The application offers breakfast, lunch, and dinner delivery options. Like GoPuff, it also has an alcohol delivery service, direct from restaurants, stores, and breweries. The company was founded in 2012 at Stanford University, where students Tony Xu, Stanley Tang, Andy Fang, and Evan Moore got together to create the service, after several other profitable joint business ventures. In 2018, the service overtook UberEats, and held the number two position in total U.S. food delivery sales, just behind GrubHub.
Delivery.com
Delivery.com is a service available on both Android and iOS. With it, you're able to order from local restaurants and grocery stores. Delivery.com also offers a very unique laundry service, which is a service exclusive to this application. You can also order alcohol and gifts. Delivery.com has quickly become one of America's most popular applications, rightfully so considering the multitude of services that it offers its customers. The company's headquarters is in New York and it services over a hundred cities in the United States, boasting over one million users. Very briefly in 2016, the service expanded to Hong Kong and was delivered internationally.
Seamless
Seamless is another exciting delivery app, very popular in North America. The application simplifies ordering food online, offering lots of restaurants to its users. You can get access to coupon codes and discounts, as well as special promotional offers when you frequent the app. Seamless was founded by a New York lawyer in 1999, originally providing companies with a web-based system for ordering take-out food. Over two decades later, it is available to everybody and is still thriving.
Uber Eats
Uber Eats is quickly becoming a powerhouse in food delivery. The application has expanded internationally, offering over 600,000 restaurants in over 45 countries. The application's industry influence grows on an almost daily basis, achieving worldwide success. The Uber brand is one of the delivery industry's most exciting names. Like GoPuff, it offers a multitude of coupon codes. Uber Eats was launched by taxi giant Uber in 2014, quickly becoming one of the world's most popular food-delivery apps. Its drivers arrive on foot, by bike, or in a car.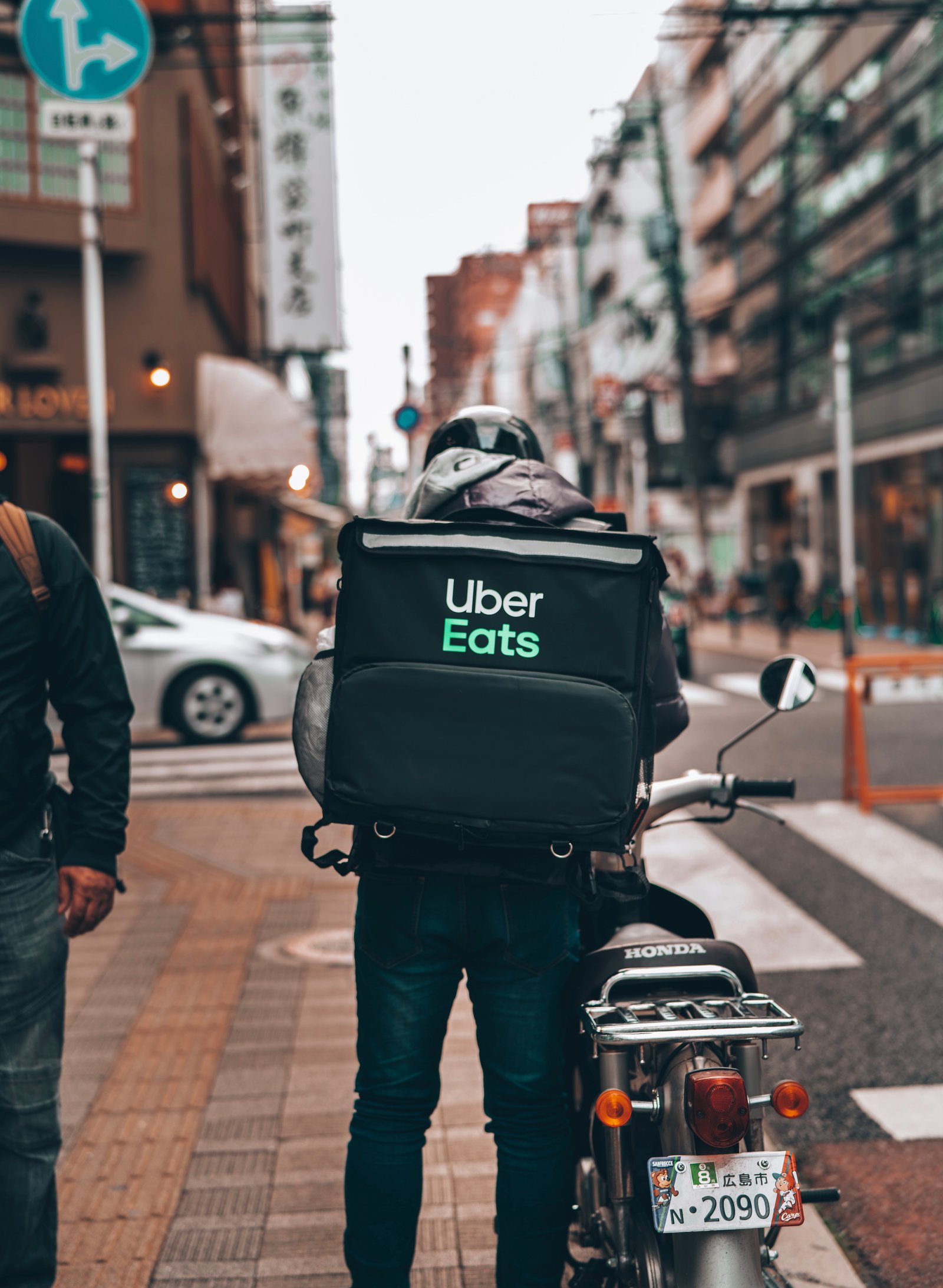 Postmates
Postmates, like GoPuff, offers convenience store goods, delivered straight to your door. Postmates hosts over 100,000 grocery stores, restaurants, and retailers. Postmates offers a very exciting subscription service for $9.99 a month, which allows you to get $0 delivery on orders over $20. The most exciting part about Postmates is that you're able to order convenience store goods and fast food in one handy restaurant, whereas with other applications that aren't possible.
Eat 24
Eat 24 is very similar to the other food-delivery apps that we have mentioned so far. It stocks thousands of local restaurants and offers great discount codes. It's quickly becoming one of the most popular services in North America. In 2017, Eat 24 was purchased from Yelp by GrubHub, a previously mentioned service. Eat 24 is a very exciting service, which, with help from GrubHub, is rising in popularity exponentially. Over the next few years, the service is predicted to overtake other market rivals.
Instacart
Instacart is a service that offers quick delivery on grocery products, hosting thousands of stores. It's very convenient to use, fast, and the delivery times are not long. You can get your groceries delivered on the same day, which is actually quicker than when you order groceries with a supermarket online. Instacart is quickly proving to be one of the industry's best apps. You can also use coupons to get discounts on your groceries.
Munchery
Finally, we came to Munchery. Munchery offers a unique service, delivering chilled, freshly made meals to your door according to your meal plan. The service is very similar to a meal kit delivery service, though they are cooked for you. The meals are actually priced lower than restaurants, and they are freshly cooked. Munchery is healthy, efficient, and a great way to get your dinner when you're working and don't have the time to cook, but don't want to eat unhealthy take-out food. Munchery also donates a meal to a needy person, every time you purchase a meal.
When you're looking for a food-delivery app, you're spoiled for choice. With the information contained within this page, you should be able to effectively select the perfect application for you.