A Buddy Trip Golf Destination with Modern and Historic Charm
Regarded as one of the Best Golf Resorts in the Americas by Golf Digest magazine, French Lick Resort is a top resort in the Midwest and a destination that circles all the items.
French Lick Resort in southern Indiana, Bandon Dunes, Pinehurst, Streamsong, Kiawah and Kohler fit the profile and have earned reputations as great trip destinations for golfers. For quantity and quality of golf, it features 45-holes of championship golf designed by Donald Ross, Pete Dye, and Tom Bendelow.
For dining, lodging and activities there is a choice between a pair of historic and iconic hotel destinations with great restaurants, a casino, and many other amenities, as well as short, quick trip access to restaurants and activities like fishing and hunting in the welcoming resort community around French Lick.

The Pete Dye course achieved a rare double honor in 2009 by being selected as America's best new course by the two leading golf publications in the country – Golf Digest and GOLF Magazine. It is located on a dramatic hilltop, which is one of the highest points in the state of Indiana, and offers panoramic views of the Hoosier National Forest that stretch as far as 40 miles.
"I have spent over five decades designing golf courses all over the world, including courses on great coastal sites, and this course at French Lick is on arguably the best inland site I have ever worked on," Dye has proclaimed.
As for the historic Donald Ross course, it underwent a $4.6 million restoration project in recent years that brought the course back to Ross's original genius plans. It was a site of the 1924 PGA Championship won by the legendary Walter Hagen and has hosted other golf greats and celebrities including Gene Sarazen, Chick Evans, and Bing Crosby.


It is a parkland gem that meanders up and down the rolling hills a few miles from the main resort. The wonderful routing of the holes takes full advantage of the many elevation points for classic Ross green sites, which are sloped dramatically and in classic form from back to front.
French Lick is the only resort in the world that combines the classic historic work of Ross with the extraordinary modern-day work of Dye providing a spectacular opportunity for golfers to experience two of the best designers in golf history on one trip.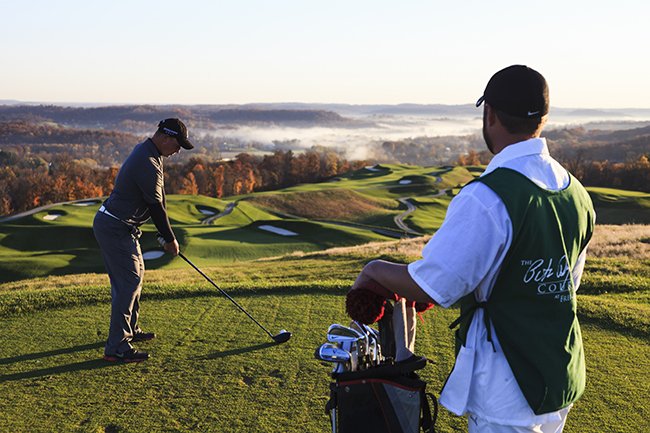 A trip that scores a perfect 4 for buddies can be best experienced through French Lick Resort's Hall of Fame Golf Package. It provides opportunities to play both the Ross and Dye courses all day over a two-day period. Golfers can opt to stay at either the French Lick Springs Hotel, which is connected to the 51,000-square foot casino, or the elegant West Baden Springs Hotel.
On the arrival day, golfers also receive a 9-hole welcome warmup round on the Bendelow course, which is a classic, fun parkland design.
If all-day golf is not everybody's option, then beckoning are the spa, pool area or area activities such as private hunting and fishing experiences, a shooting range, or testing luck in the casino.