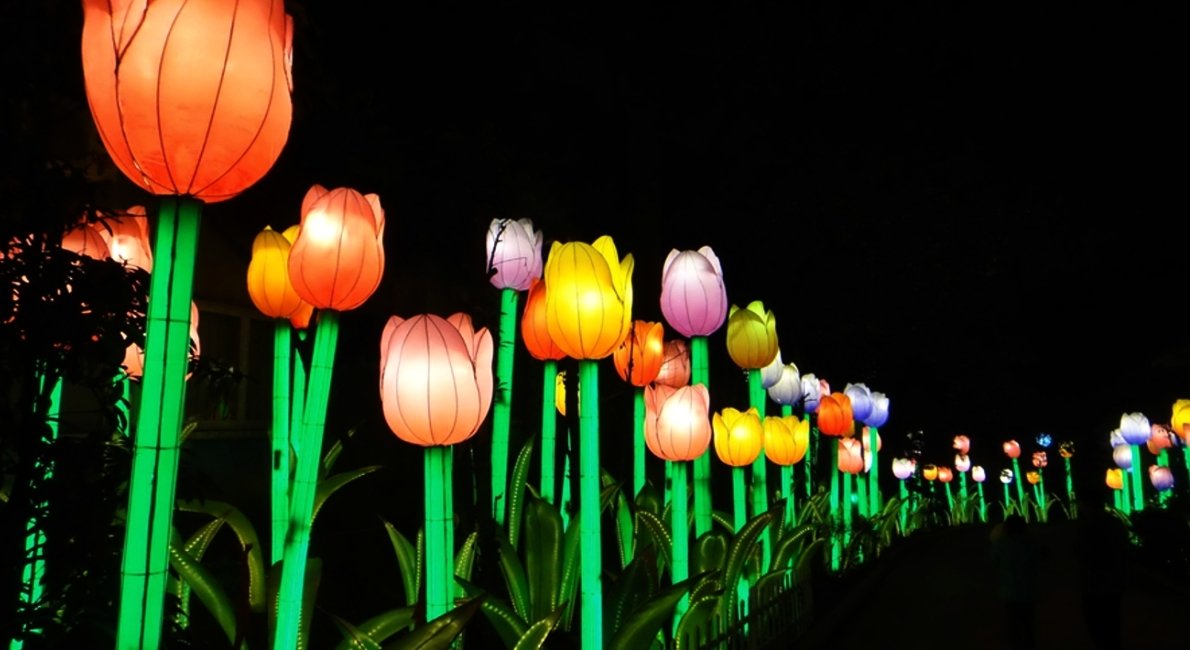 China Lights: Illuminating The Fairgrounds
Chinese Lantern Festival

Opens at The Fairgrounds Nashville.
As the sun goes down, The Fairgrounds Nashville will be transformed into a dramatic display of color, light, and sound at the first festival of its kind in the south.
China Lights: Illuminating the Fairgrounds is a celebration of Asian culture featuring 30 larger-than-life sculptural lantern displays, stage performances highlighting folk-culture, entertainment and activities, and a bustling marketplace. China Lights will be open through June 11th and will operate Tuesday–Sunday from 5:30PM to 10:00PM.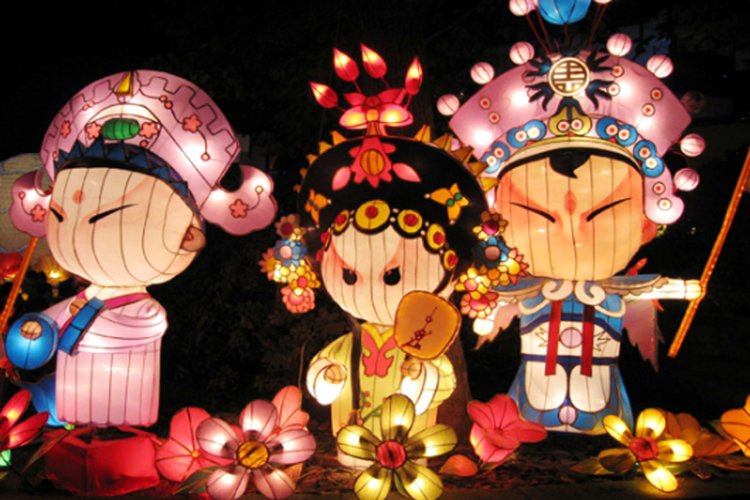 Lantern Displays
After passing through the Welcome Gate, visitors may find that each display is more magical than the last.
Over the past month, 15 artisans from China have been on-site creating welded metal frames, lighting the frames from within using various types and colors of LED lights, covering the framework in brilliantly colored fabric, and hand-painting finishing touches. Among the components emerging from the process are glowing flowers, phoenix, dragon and pandas.  Using a special technique, artisans in China created a sparkling surface on a pair of kylin, a mythical animal with the head of a dragon, horns, the hooves of a deer, and the tail of an ox. Covering the bodies are thousands of tiny bottles filled with colored water.  Display sizes are as large as the 200-foot-long dragon and the two story main gate.
Illumination Parade
Each night at about 6:15PM members of the entertainment staff will lead a procession as part of the Illumination Parade and will conclude at the main stage in time for the first performance of the night.
Stage Performances
Opening night offers three stage performances highlighting folk-culture. At 6:30PM, 8:00PM and 9:00PM, Folk dance and Bian Lian, or face changing, will amaze the audience. Face changing, or mask changing, is the ancient Chinese art form from the Sichuan opera. Performers wear thin masks that change with the passing of a fan.  All shows will feature Chinese acrobats.
Entertainment will be varied throughout the run of the show. Tuesday through Thursday, performances will be at 6:30PM and 8:00PM.  A third performance will be added every Friday through Sunday at 9:00PM.
Cultural Displays
The Culture Tent will be the center for cultural displays featuring various handcrafts, continuous streaming video on China's history, culture and tourism and the construction of China Lights display.
Food & Beverages
Throughout the festival a variety of Asian and American food options will be available for purchase. Some of the items you will find from local restaurant Lucky Bamboo of West Nashville will be General Tso's Chicken, Chicken Lettuce Wrap, Vegetable Spring Rolls, Shamai, Crab Rangoon, and Bubble Tea are among the few. You don't want to miss the Hibachi Steak and Chicken with yum yum sauce. Don't worry, your American favorites like all beef hot dogs, grilled chicken, polish sausages, Tennessee Kettle Corn, Roasted Nuts, fresh Lemonade and ice cold Coke Products will also be available. Additionally, local food trucks will be on location. For the adults, we will have available an assortment of local and domestic beers, a Chinese favorite Tsingtao, and specialty themed cocktails such as the Panda Passion, made with Local Picker's Vodka.
As part of China's five-year economic plan, the Sichuan Provincial Department of Commerce developed a campaign with the goal of holding 100 light shows in 100 cities worldwide to spread Chinese traditional culture and promote cultural exchange. The custom of lighting lanterns has occurred for thousands of years and Zigong City now boasts 380 lantern-making companies with 80,000 lantern artisans.