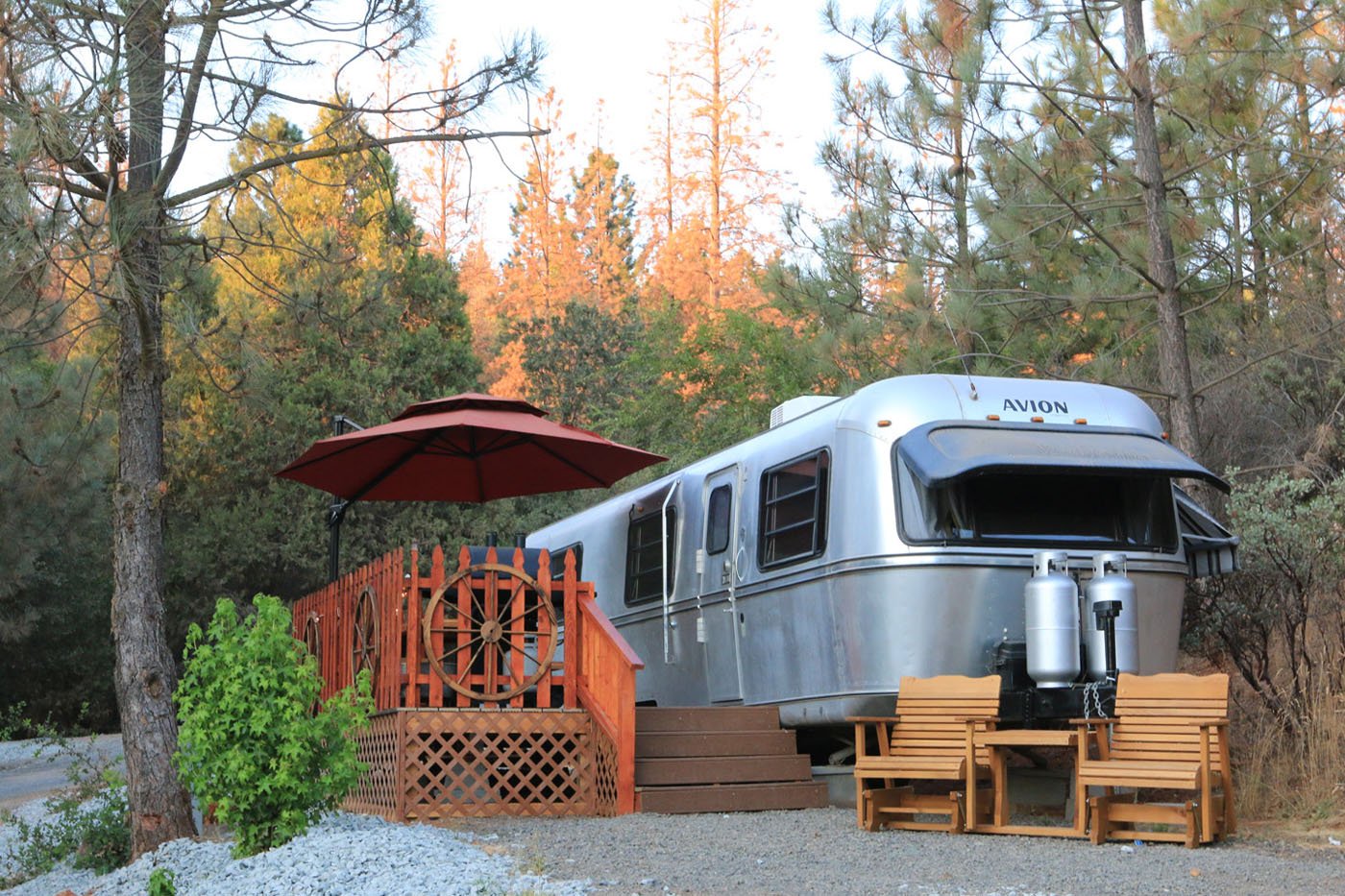 Glamping at Yosemite with Yosemite Pines RV Resort and Family Lodging
New Conestoga Wagons at Yosemite Pines RV Resort and Family Lodging Being Introduced with Special Offer.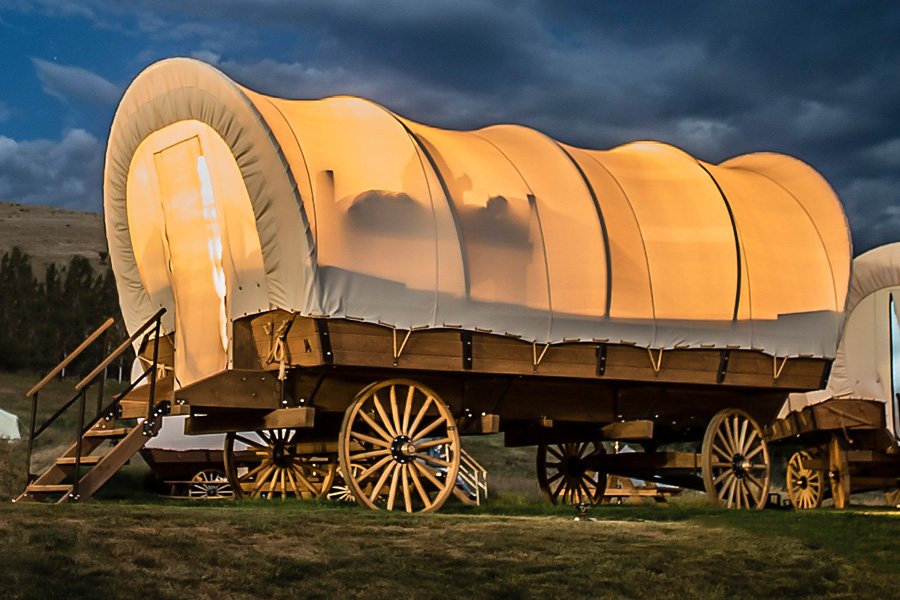 They won't be driving six white horses when they come around the mountain, but when the new American Made Conestoga Wagons arrive at Yosemite Pines RV Resort and Family Lodging for Labor Day, we will all go out to meet them, just as the famous song details.
The resort is the first in Northern California to offer this unique Conestoga Wagon Yosemite Area 'Glamping' option. The new Conestoga Wagons are much larger than the familiar covered wagons described in stories of the Old West, and that larger width and depth translates well for a current unique experience at the resort.
Glamping at Yosemite
With the largest-ever response to a recent Facebook post by the resort announcing the new wagons – with a king-size bed and one or two sets of bunk beds – it is expected that 'glamping' in the new wagons will a high-demand experience for families as well as individuals. To meet this demand, Yosemite Pines is offering special "buy one night, get one night free" introductory pricing through September 30, 2018.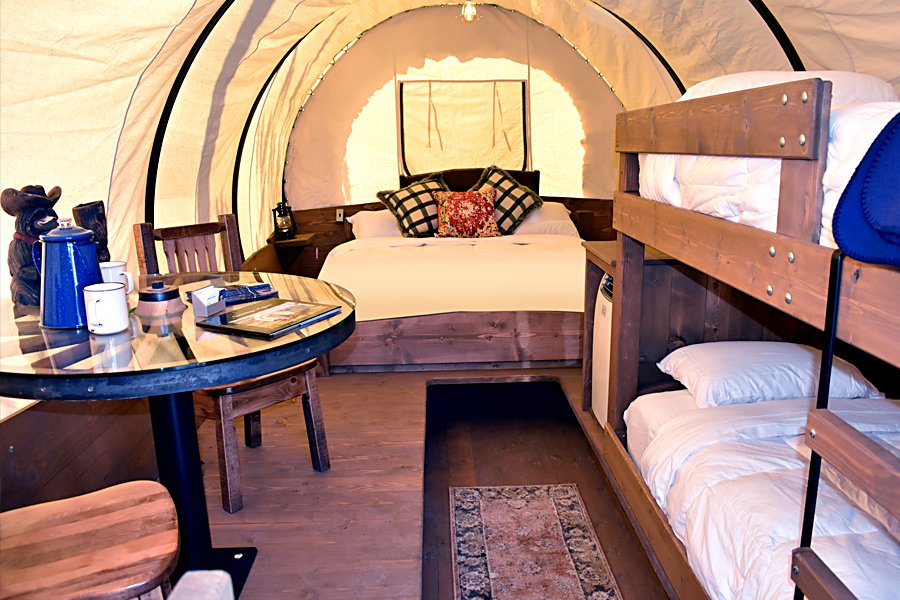 Today's modern Conestoga Wagons have heating and air conditioning, and all have microwaves and refrigerators. If guests don't want to make coffee over the morning campfire in the fire ring next to each wagon while enjoying breakfast at the picnic table, they will be able to use the provided modern Keurig coffee maker.
Where Escape and Vacation Meet
A stay in the Conestoga Wagons will be among the best of Yosemite camping at the resort, which is just 22 miles from the western gate of Yosemite National Park. However, guests do have other lodging choices to spend quality time with friends or family on an Escapation™ – where "escape" and "vacation" meet. Fully-restored classic trailers like the 34′ Airstream, 34′ Silver Avion, 31′ Silver Avion or 32′ Boles Aero provide a generous dose of nostalgia, and the resort's new 19′ and 24′ Silver Beach trailers built in the "retro" style sleep up to 6 people and are an affordable and popular choice for families.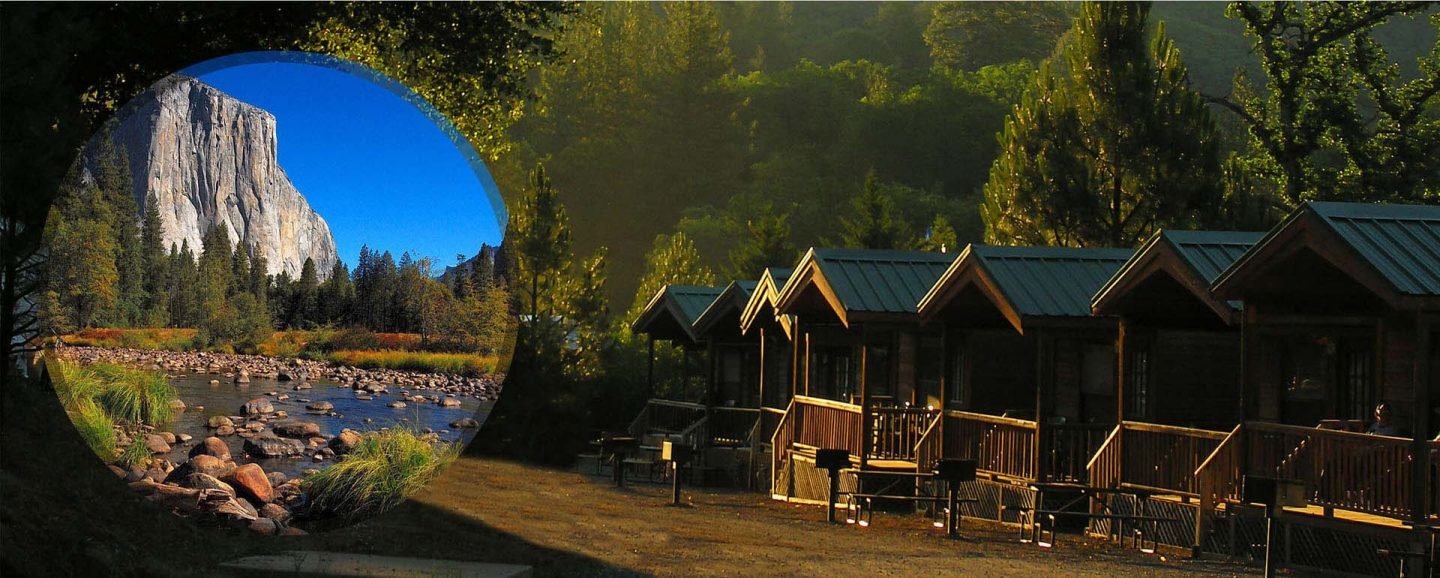 The resort's trailers offer a fun camping experience for individual campers or groups who want to enjoy a throwback lifestyle but expect comfortable amenities. And, the resort's Yurts offer another "glamping" experience for those who want to combine the ambiance of nature with the comfort of a cabin.
For guests who would like to stay in Yosemite area cabins, the resort has several different configurations of accommodations as well as Yosemite area Yurts and RV and tent sites. Many of the cabins have full kitchens and living rooms while some are basic and make very affordable options.
Recreation
The resort also offers guests many on-site recreation amenities such as a swimming pool, Petting Farm with many adorable animals, Bocce Ball and Volleyball courts, Fitness Trail plus outdoor movies and hayrides during the summer season.
The on-site deli also offers quick meals, or with a three-mile trip to the nearby city of Groveland, guests will find grocery and specialty shops and many wonderful restaurants, museums and other local attractions. Nearby recreation includes touring California's historic Gold Country, horseback riding, whitewater rafting, hiking, and trips to gorgeous waterfalls and swimming holes.