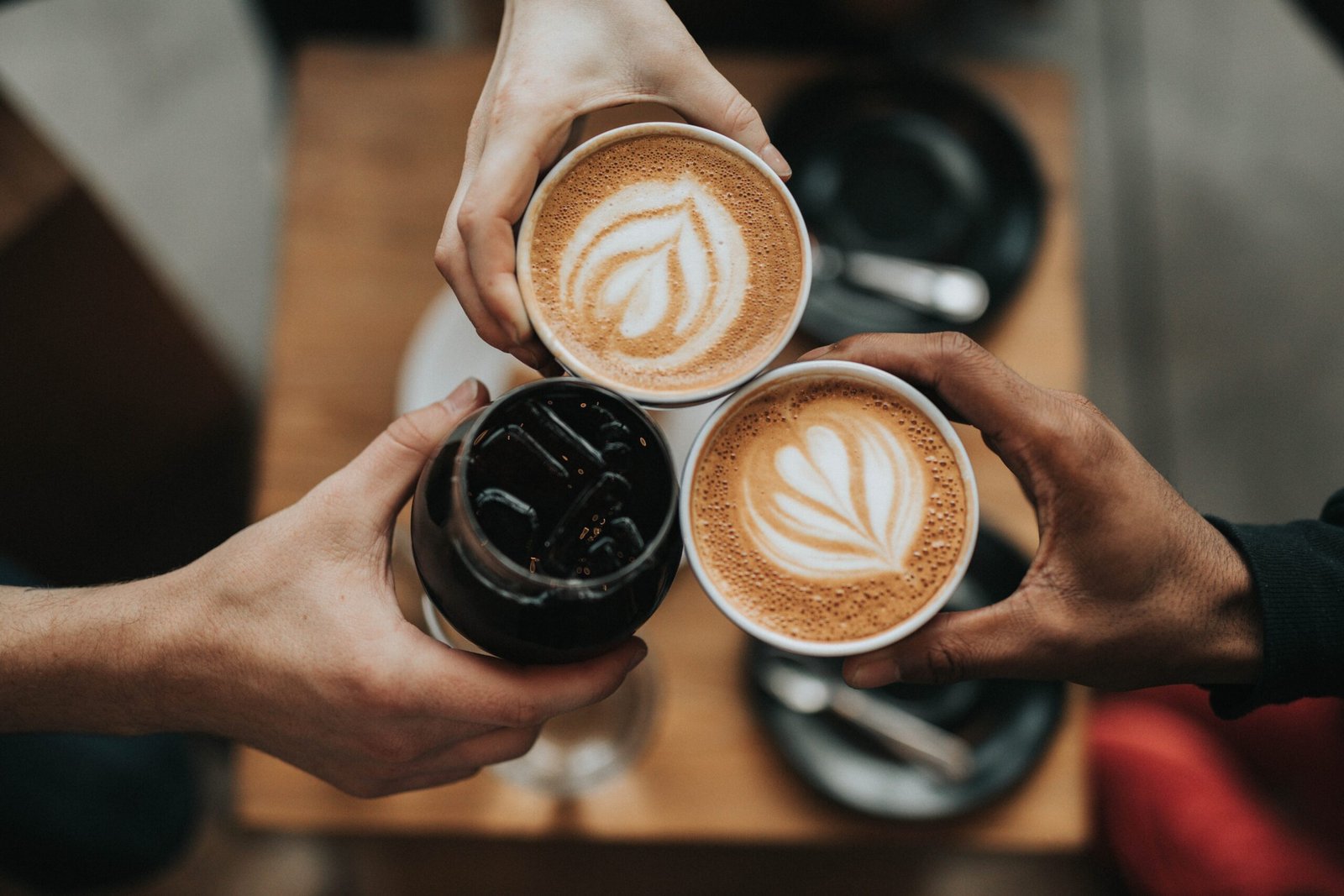 Decor Ideas For Furnishing Your Cafe
Whether it be a businessman working on a laptop, or a group of friends making some great memories, cafes are a major go-to for a wide range of customers.
Besides the warm feeling a coffee provides, a cafe's interior has the ability to increase comfort, engage guests, and encourage them to become loyal patrons.
That is why knowing how you should furnish your cafe is a great advantage when it comes to managing a shop of your own.
Cafe Interior Decor Basics
The following are the three basics you should know in setting up your cafe:
Reflect Your Brand and Mission
A lot of customers will remember your cafe when it has a strong brand that is appreciable through your employees, products, service, and of course, your decor. Your brand should include your cafe's identity, concept, mission, and personality. 
Furthermore, your cafe's interior design and decor should enhance and be consistent with your brand, which emanates the ambiance that manifests your patrons.
Work With Your Lighting
As much as possible, take advantage of natural lighting. This is to conserve energy and make use of organic light. Moreover, adding cool lights complement well during the day because they lighten up areas with similar tones to daylight. In the evening, warm and soft tone lights create a comforting atmosphere.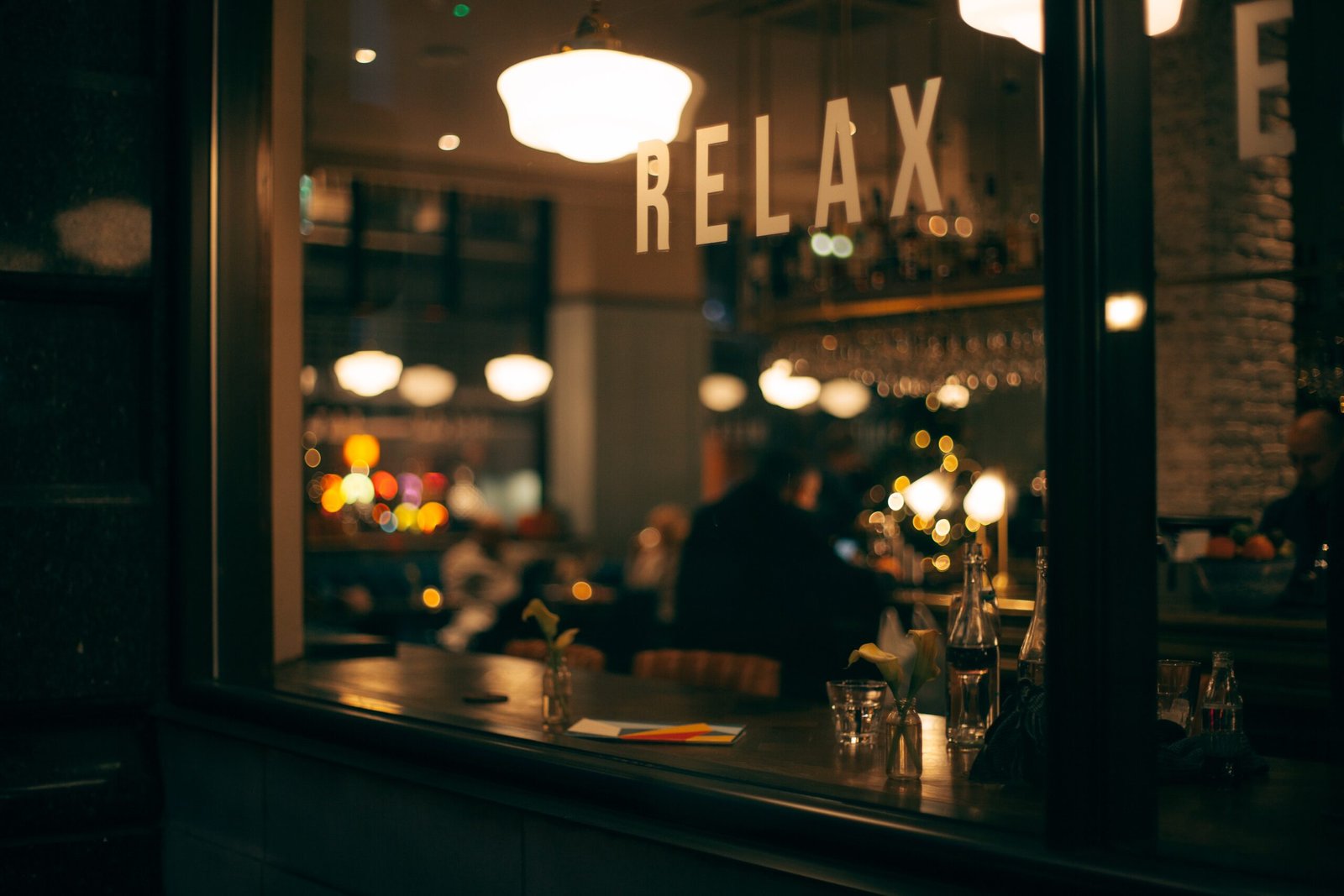 Make Interactive and Insta-Worthy Decor
According to studies, the restaurant industry continues to rise because people enjoy engaging themselves in experiences, like going out to have coffee. With the popularity of social media, more and more people tend to look forward to sharing their experiences online through platforms such as Instagram. In relation to this, designing your cafe interior with unique and eye-catching elements adds to making a full-pledge experience for your customers.
Interior Theme Ideas for Your Cafe
Your cafe interior should be consistent with your brand while setting the tone of your space. The themes below are the ideas you should consider to bring your concept, values, and brand come to light:
Industrial Style Cafe Interior
The industrial theme takes its inspiration from factories, warehouses, and other industrial spaces. The following are some of the examples you might see in a cafe with industrial-style decor:
Exposed architecture such as brick, pipes, iron reinforcements, ceiling beams, and weathered wood;
Block shapes and squared lines;
Metal accents such as wire baskets;
The juxtaposition of modern components and timeworn, like a modern lamp on top of a vintage side table. There are a wide variety of cafe table tops for sale online to achieve this kind of look;
Mechanical components such as bolts, nuts, and gears;
Use of tough, utilitarian material such as copper, leather, aluminum, and stone;
Color palette: black, gray, white, tan, and darker tones such as maroon.
Modern Cafe Interior
The modern theme has become popular in the first half of the 20th century. The following are some of the examples you might get to see in a modern-style decorated cafe:
Lack of intricate details;
Smooth surfaces and crisp lines;
Very dark or light wood tones;
Neutral colors and clean lines that might be balanced with vivid accessories and textures like a brightly colored pillow, sofa, or an abstract piece of art;
Clean metal accents such as chrome, stainless steel, and nickel create a sleek look;
Clean and organized spaces;
Texture added to fabrics such as linen, crushed velvet, silk, or wool;
Color palette: taupe, cream, brown or pure white.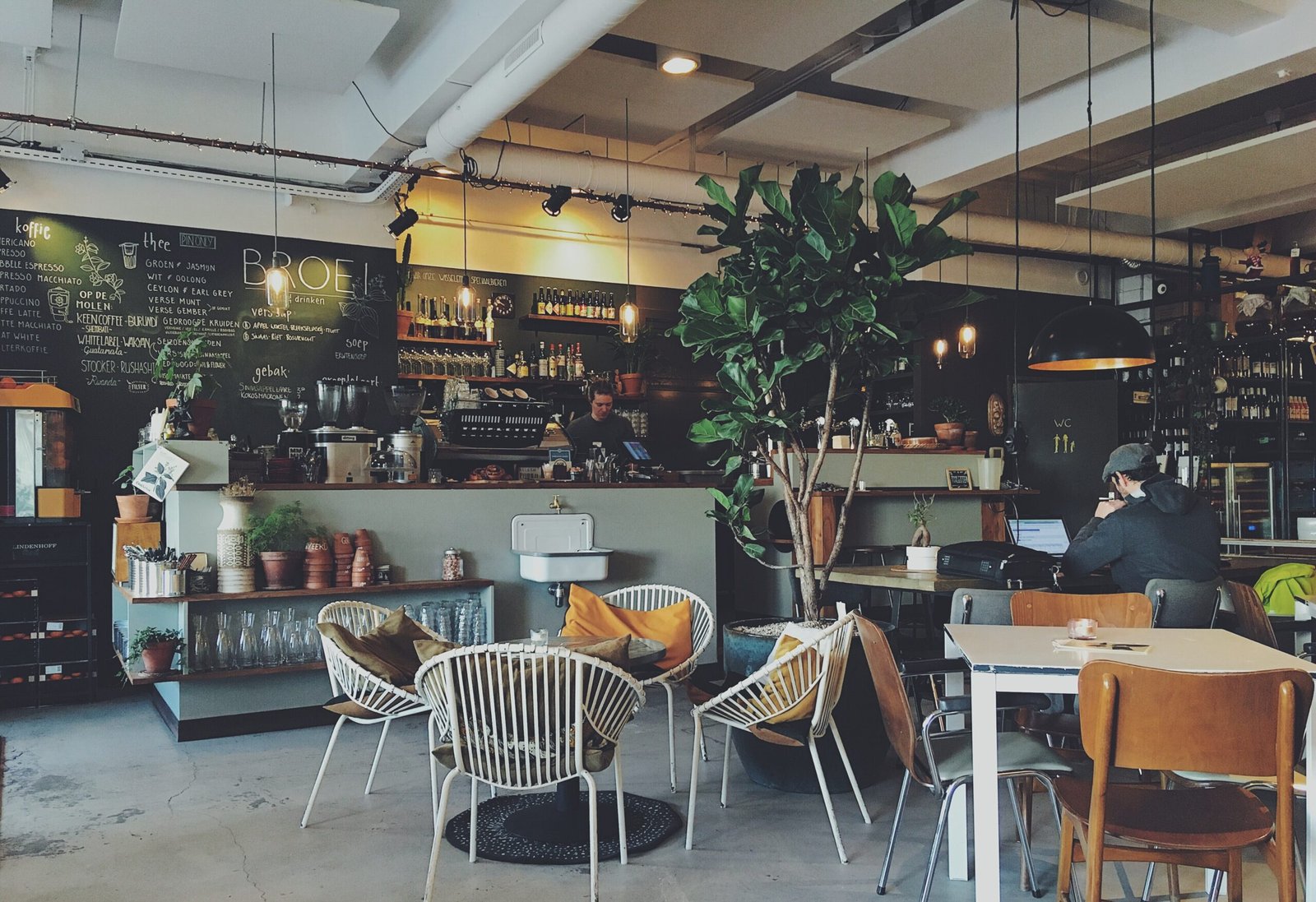 Mid-Century Cafe Interior
The mid-century designs can be traced from the mid-30s through the 60s. It is quite similar to the modern design, which emphasizes function over form. The following are some of the examples you might see in mid-century decor:
Tables and chairs with tapered legs;
Clean lines, geometric and organic shape;
Wood and tweed elements;
Ergonomic furniture;
Color palette: mustard yellow, smoky grey, avocado green, and pumpkin orange.
Hygge Cafe Interior
Hygge is a Danish concept and word that refers to presence and joy. This design showcases warmth, comfort, and indulgence without extravagance. The following are some of the examples you might see in a cafe with hygge decor:
Fluffy pillows, soft throws, and plush rugs;
Warm and inviting atmosphere;
Warm and soft lightings (twinkly string lights, fireplace, candles);
Natural and laidback ambiance;
Use of stone and wood;
Rustic elements that are combined with contemporary;
Soft textures and mix of patterns and materials;
Cozy nooks;
Color palette: browns, neutral colors, creams, and light grays.
Rustic Cafe Interior
The rustic design is made up of a wide range of natural and organic elements. Below are some of its examples:
A mix of wood types;
Galvanized planters;
Raw wood, metal, stone;
Lots of natural elements such as plant walls, plants in pots and flowers;
Indoor picnic table;
Chalkboard;
Rugged beauty;
Wicker baskets and elements;
Farmhouse components such as vintage milk crates and jars;
Color palette: brown, tan, cream, green, and other neutral colors.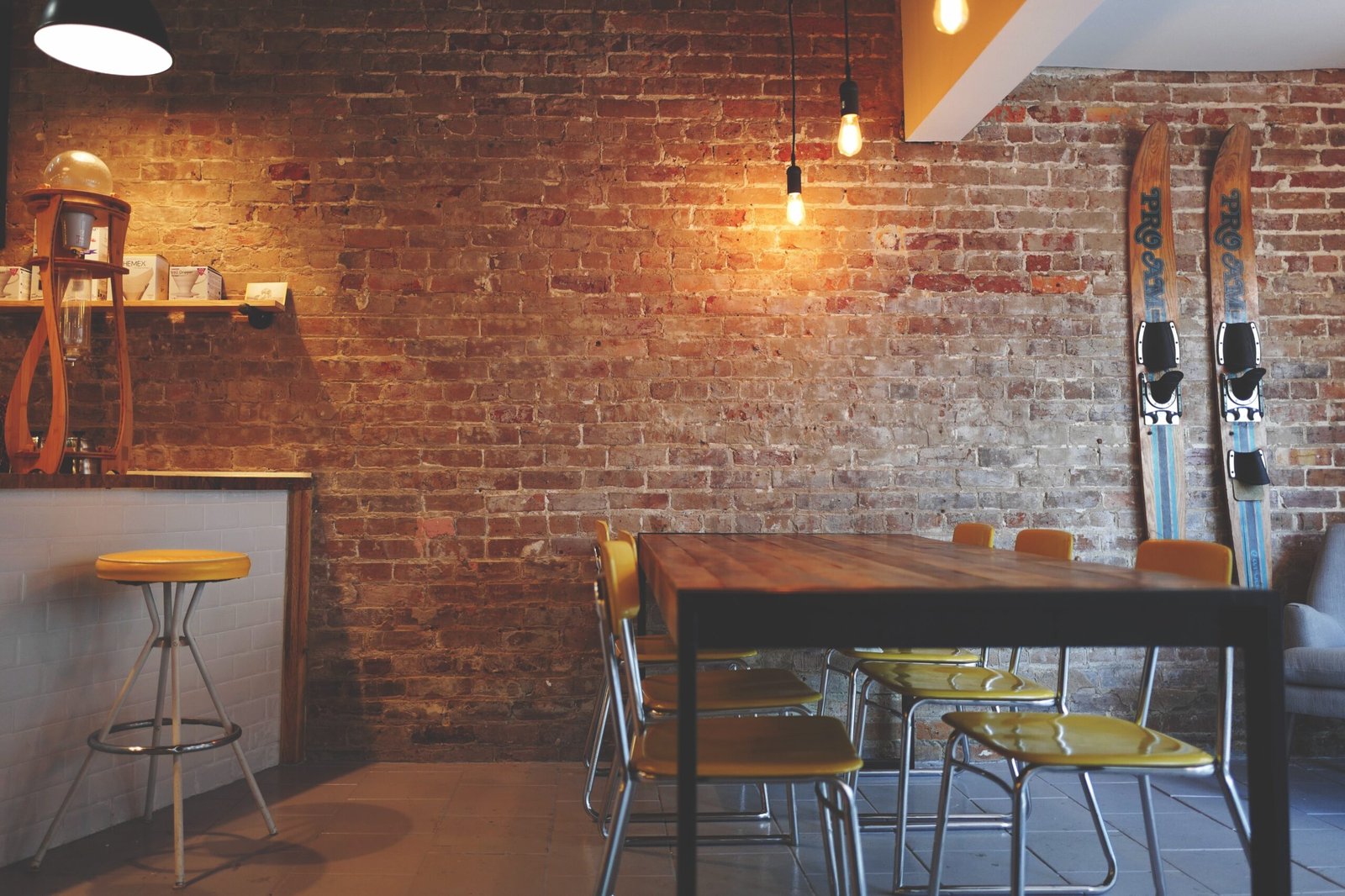 Vintage Cafe Interior
The vintage decor takes its inspiration from the past and might include styles from different decades. Below are some of the things you might see in a vintage-inspired cafe:
Cedar chests;
Cafe curtains;
Floral wallpaper and accents;
Vintage luggage;
Checkered napkins and tablecloths;
Mahogany wood;
Pieces with ornate elements such as hoops, embroidered doilies, couches, or quilts, and chairs with intricate patterns;
China dishes for serving or as decoration;
Chandeliers or stained glass lamps;
Victorian-style or distressed chairs and couches;
Canisters for holding tea, coffee, sugar, or flour;
Color palette: different types of pastel or faded colors like mustard yellow, peach, sea green, burgundy, and light orange.
Hiring an Interior Designer
Once you have decided on what design you want for your cafe, consider getting help from an interior designer. Hiring a professional can be an advantage in turning your cafe dreams into reality. Here are some tips you can use when hiring one in the future:
Hire an interior designer with significant experience;
Discuss the time frame and budget with the interior designer;
Communicate about the ideas you have in your head;
Discuss your preferred choices, especially when it comes to painting and lighting;
Always make sure you take part every step along the way.
Final Words
Now that you are already equipped with a bunch of interior ideas, it is time to focus on finding the perfect cafe design. Furnishing your cafe with beautiful furniture, designs, and decors will elevate its status and attract more people to come in. Remember, having a strong cup of coffee is not enough to keep your cafe stay competitive; your cafe's interior design also plays a big part in it.