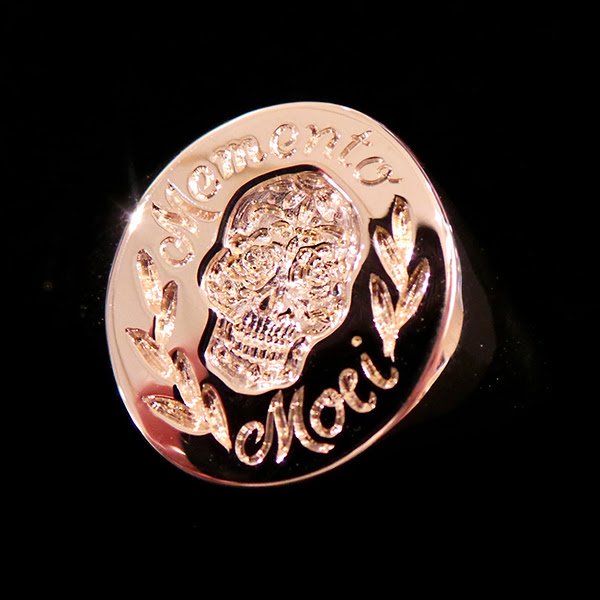 Rebus Memento Mori Signet Rings Remind Us To Live In The Moment At The Start Of A New Year
Rebus' newest Signet Rings, inspired by the concept of Memento Mori, a Latin phrase, translating to "Remember that you must die."
Commonly known symbols of memento mori include skulls, clocks or watches, rotting fruits or flowers, all symbolizing the inevitability of death.
Although it symbolizes death, memento mori is meant to be seen in a positive light, inspiring the wearer to wake up and live each moment as if it is their last…akin to the idea of carpe diem (seize the day).
Emmet Smith, Master Engraver and Founder of Rebus, says,
"These reminders of the inevitability of death, serve to remind us of those who have passed but also to live our own lives to the full. It's a universal notion – and in the form of a signet ring, with hand engraved phases and symbols, serve as a humbling reminder of the transience of life."
Rebus Signet Rings are customizable with symbols and text, and for memento mori, can include depictions of skulls, leaves, and more. Working one-on-one with clients, the Rebus workshop customizes the metal type, shape, and style of choice with symbols of the customer's choice.
The link to the story behind a signet ring Emmet Smith made, in memory of his father can be found HERE.
During the New Year, many strive to improve themselves. Therefore, a unique, cherished signet ring with the symbol of memento mori is perfect for reminding oneself to live in the moment, and not get stuck in the past. It is also a perfect piece for commemorating lost loved ones along each person's path, inspiring one to carry on their legacies and energy every day of the New Year.