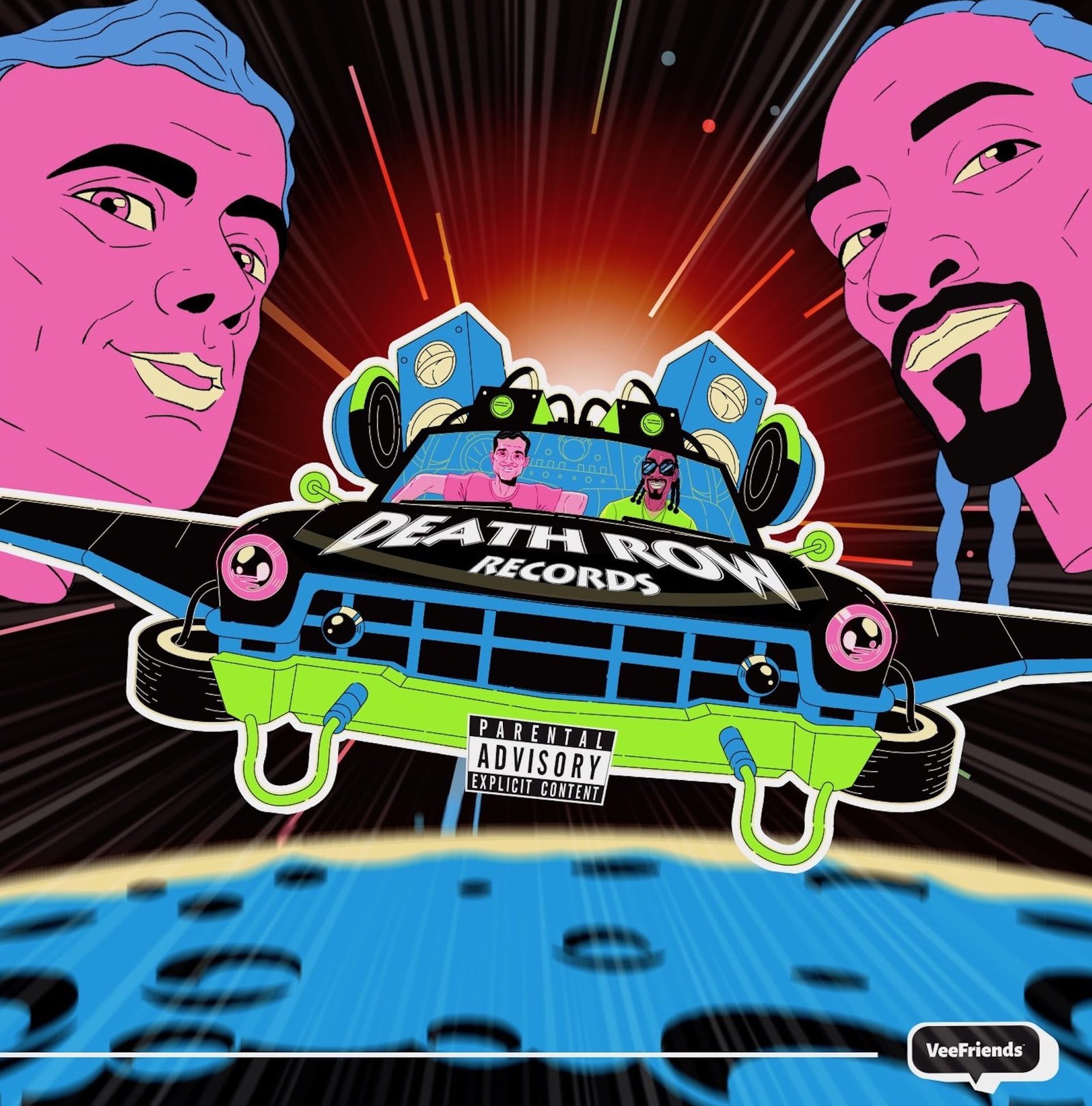 Snoop Dogg & GaryVee Speed Through The Cosmos In Animated Music Video: Please Take A Step Back
The Legendary Emcee Snoop Dogg and Acclaimed Entrepreneur GaryVee Present "Please Take A Step Back" NFT with Generative PFPs Inspired by the Video.
A One-Of-A-Kind Web3 Project, Accessible to Attendees of VeeCon 2022, "Please Take A Step Back" Urges Listeners to Take Stock and Give Thanks For All They Have. Snoop Dogg and GaryVee share the animated music video for "Please Take A Step Back," their collaborative single, and the first official single released by GaryVee, out now via Death Row Records.
Animated and directed by @VeeFriends, the psychedelic video for "Please Take A Step Back" brings Snoop's lyrics to life in vivid color, underlining the song's inspirational message about cherishing our time on Earth. As the two entrepreneurs cruise the cosmos in a custom coupe, they transform into Bored Apes and Black Cats and encounter a host of other characters on the way.
Characters from the video inspired the design of Snoop Dogg and GaryVee's "Please Take A Step Back" NFT, exclusively available to attendees of VeeCon 2022, which was minted last week. Holders of the "Please Take A Step Back" NFT will each earn a one-of-one profile pic inspired by the music video's design. Every generated "Please Take A Step Back" token will unlock the ability to participate in new Burn Island: Trivia competitions, where "Please Take a Step Back" NFT holders can test their knowledge of VeeFriends and Snoop Dogg for a chance to win NFTs including Bored Ape Yacht Club #1452, GaryVee's own prized token, with an estimated value of 80 ETH.
"The idea of taking a step back has been something that's been woven through my content for 15 years," says Gary Vee. "Every time I say 'patience' in my content, that's saying take a step back. Every time I'm saying 'be empathetic and care about the other person', every time I'm saying 'be self-aware, know yourself.' What I'm really saying to people is take a step back, take a breath, take a beat, and figure out who the f*ck you are."
Close friends for years, Snoop and GaryVee came up with the idea for "Please Take A Step Back" at the inaugural VeeCon 2022, where Snoop participated in a panel conversation about business, innovation, and collaboration with GaryVee. Snoop and Gary teased a potential Web3 project, available only to the attendees of VidCon 2022, and "Please Take A Step Back" is the result. Fans who hold the "Please Take A Step Back" NFT will also be eligible for a once-in-a-lifetime chance to join GaryVee and Snoop Dogg at the Atlanta stop of The High School Reunion Tour (w/ Wiz Khalifa) on August 9th. 10 winners will enjoy the ultimate insider's experience, enjoying an intimate pre-show gathering with Gary, riding together to the concert in style, and experiencing the show with front-row seats and backstage access.
Stay tuned for more from Snoop Dogg and GaryVee, including more music curated by the VaynerMedia CEO.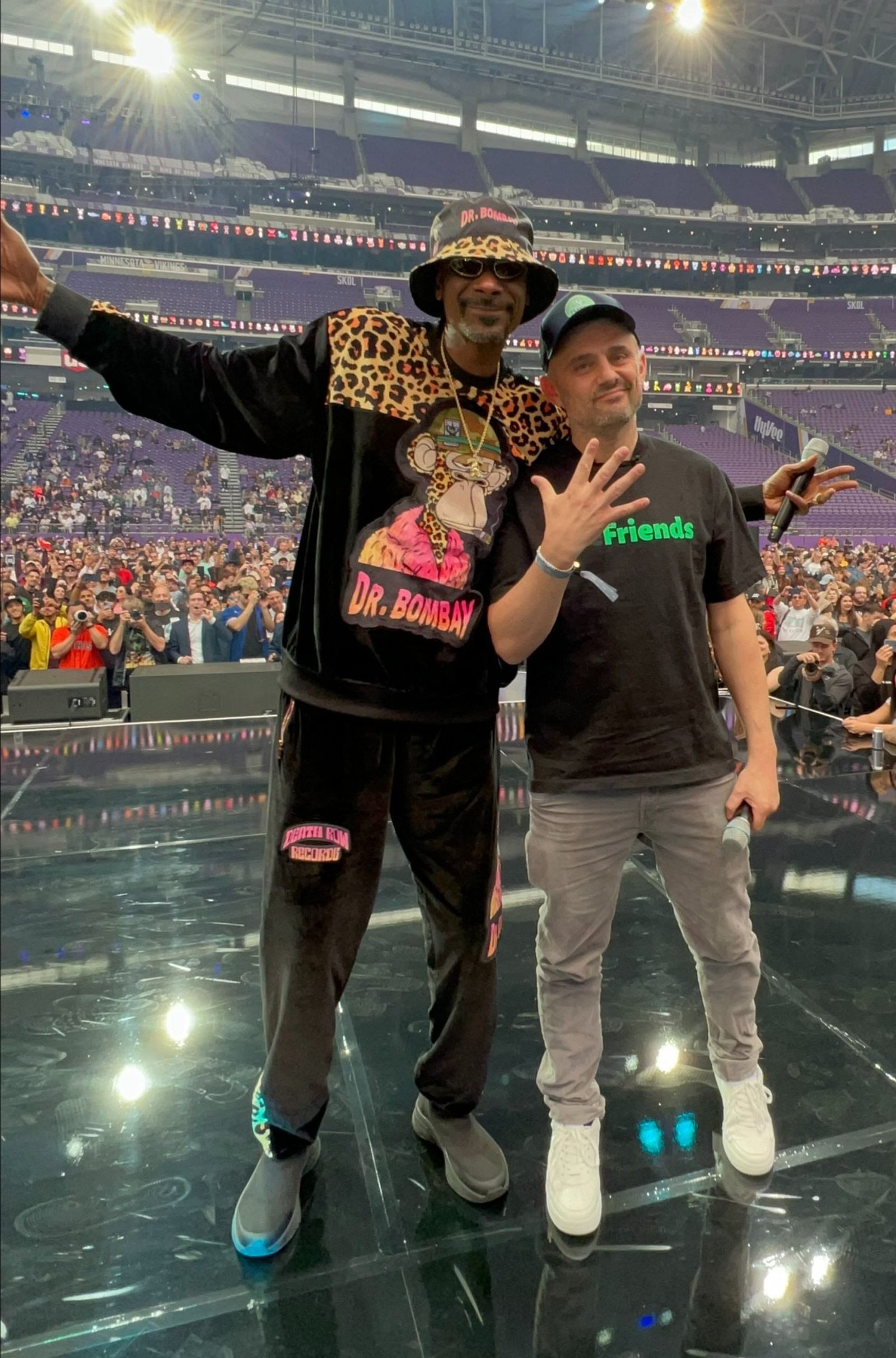 About GaryVee:
Gary Vaynerchuk is a serial entrepreneur and serves as the Chairman of VaynerX,  the CEO of VaynerMedia, and the Creator & CEO of VeeFriends. Gary is considered one of the leading global minds on what's next in culture, relevance, and the internet. Known as "GaryVee," he is described as one of the most forward thinkers in business – he acutely recognizes trends and patterns early to help others understand how these shifts impact markets and consumer behavior. Whether it's emerging artists, esports, NFT investing, or digital communications, Gary understands how to bring brand relevance to the forefront. He is a prolific angel investor with early investments in companies such as Facebook, Twitter, Tumblr, Venmo, Snapchat, Coinbase, and Uber.
Gary is an entrepreneur at heart – he builds businesses. Today, he helps Fortune 1000 brands leverage consumer attention through his full-service advertising agency, VaynerMedia, which has offices in New York, Los Angeles, London, Mexico City, and Singapore. VaynerMedia is part of the VaynerX holding company, including Eva Nosidam Productions, Vayner3, Gallery Media Group, The Sasha Group, VaynerSpeakers, and VaynerCommerce. Gary is also the Co-Founder of VaynerSports, Resy, and Empathy Wines. Gary guided both Resy and Empathy to successful exits – which were sold respectively to American Express and Constellation Brands. He's also a Board Member at Candy Digital, Co-Founder of VCR Group, Co-Founder of ArtOfficial, Co-Founder of VaynerWATT, and Creator & CEO of VeeFriends. In addition, Gary was recently named to the Fortune list of the Top 50 Influential people in the NFT industry.
In addition to running multiple businesses, Gary documents his life daily as a CEO through his social media channels, which have more than 44 million followers and garnish over 173 million monthly impressions/views across all platforms. His podcast, "The GaryVee Audio Experience," ranks among the top podcasts globally. He is a five-time New York Times Bestselling Author and one of the most highly sought-after public speakers.
Gary serves on the board of MikMak, Bojangles Restaurants, and Pencils of Promise. He is also a longtime Well Member of Charity:Water.