Explore New Zealand's Newest Luxury Lodge in Marlborough
It's no surprise that "The Land of the Long White Cloud" continues to reign as a bucket list destination drawing travelers from far and near. The diversity of New Zealand's dramatic landscapes, unique wildlife and comfortable climates attributes to the country's growing popularity as a year-round destination.
Transforming into an incredible winter wonderland from mid-June through September, travelers can take advantage of smaller crowds, lower prices and more during the non-peak seasons.
Located at the Top of the South Island, the province of Marlborough is known for its world-famous Sauvignon Blanc as New Zealand's largest wine-growing region with over 110 wineries and 33 cellar doors in the area. Credited as having the most sunlight hours in all of New Zealand, Marlborough is one of the sunniest regions in the country with an enviable climate and diverse topography from valleys to vines to sheltered waterways and more. More than 70% of New Zealand's Greenshell mussels are farmed in the Marlborough Sounds, as well as the region offering an abundance of King Salmon, clams and oysters.
From prime whale watching in June and July to hiking and kayaking just minutes away throughout the Marlborough Sounds to exploring world-renowned vineyards to indulging in locally sourced produce and fresh seafood, winter is an ideal time to explore Marlborough. One of New Zealand's newest luxury lodges, The Marlborough Lodge, offers the perfect basecamp to discover the bounty of Marlborough, a region rich in culture, nature, soft adventure, food and wine and more.
As one of New Zealand's newest luxury lodges, The Marlborough Lodge is centrally located in the heart of the spectacular Marlborough wine region, just minutes from the airport and 20 minutes by car to the stunning Marlborough Sounds. An ideal resting spot to explore the Marlborough region, The Marlborough Lodge is a former Sisters of Mercy convent in Blenheim built in 1901 and moved to its current location 26 years ago and has been recently beautifully restored to offer a luxury experience unlike any other in the area.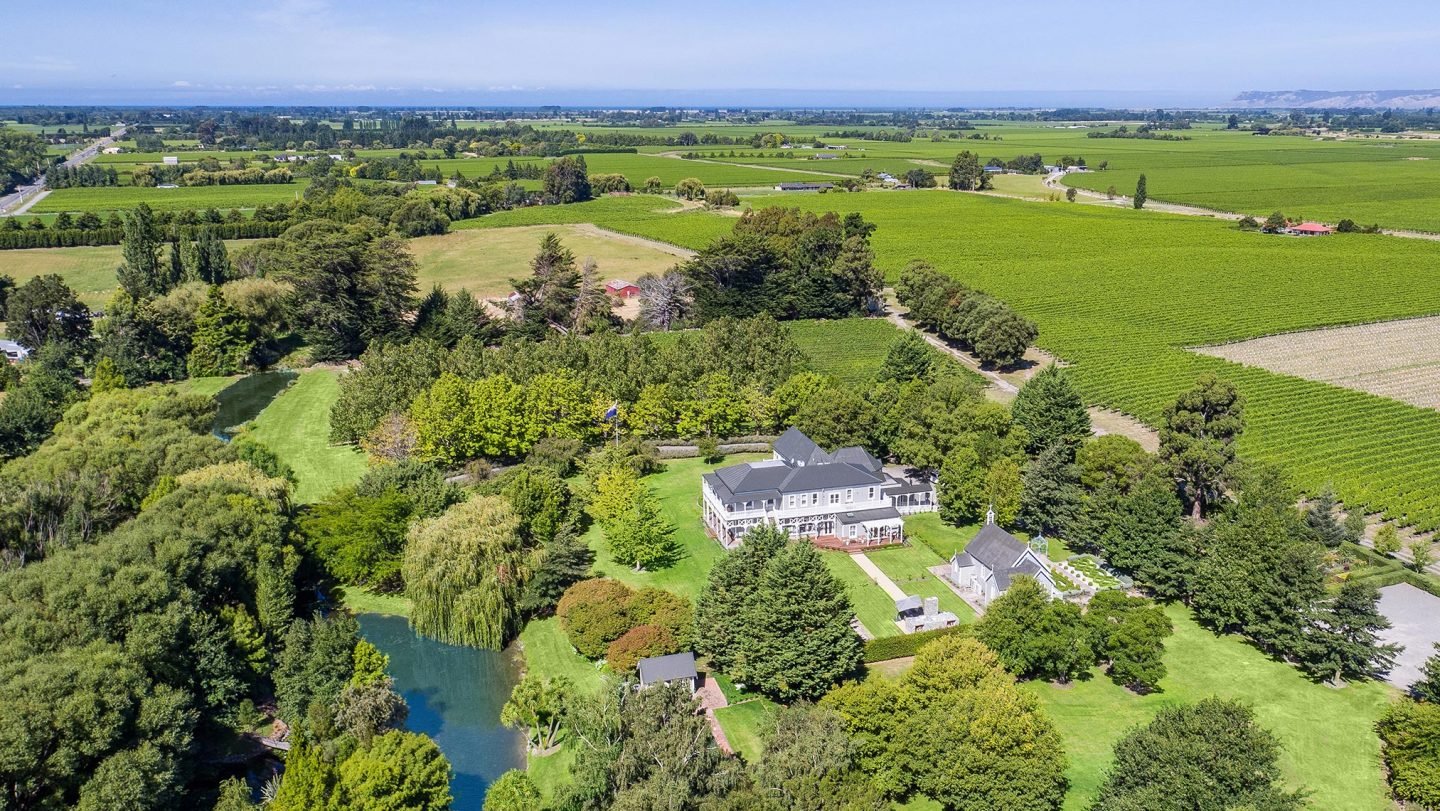 On the heels of just completing the second stage of a four-stage renovation, The Marlborough Lodge offers 10 contemporary suites and rooms set on 16 acres of sprawling parkland gardens with over 239 types of trees, 154 native New Zealand trees, bushes, and vineyards with four variances of grapes.
The second stage of renovation centered on fine-tuning the final touches of the lodge's design by eminent Auckland-based interior designer, Peter Lloyd. While retaining many of the building's elegant original character features and paying homage to its history, Lloyd's restoration creates a warm and welcoming ambiance throughout with a minimalist and contemporary look with soft colors, textures, fabrics, furnishings and New Zealand artwork.
Some examples of preserving the history of the building include the 1901 hand carved Kauri wood staircase in the center of the building, original wood doors, wood paneling and glass panes and stained-glass windows in some of the suites. Each of the 10 suites features its own unique interior style with different sizes, configurations, and lighting and no two rooms are alike. Named after native New Zealand birds and trees, the three categories of luxury rooms are spread over two floors and feature premium suites, lodge suites and lodge rooms. Of particular note, the special Kingfisher Suite (#10) was originally a nun's chapel and the lodge retained its original arched windows, vaulted ceiling, stained-glass windows which allows beautiful natural light to come in at all times of the day. Original artwork from New Zealand artists creates conversation among guests and are placed throughout the lodge in nooks and spaces that encourage interaction. Plans for a stand-alone spa and guests' entertaining area are underway for the 3rd stage of renovation.
The Marlborough gourmet province is known for its bounty of fresh, local seafood, wine, honey (7 varieties of honey produced right in Marlborough), salt, game meat, olive oil, garlic, nuts, and fruits. Due to favorable water temperatures, King/Chinook Salmon grow faster in Marlborough Sounds than anywhere else in New Zealand, more than 70% of Greenshell Mussels in the country are farmed in the Marlborough region and Cloudy Bay clams are wild harvested right in this region. With all of the region's locally sourced produce and seafood, it's no surprise that the Top of the South Island has attracted many internationally acclaimed chefs including The Marlborough Lodge's very own Head Chef Sam Webb.
Born and raised in New Zealand, Chef Webb received his culinary training internationally and joined the lodge in October of 2017 where he oversees the food and beverage offered at the lodge's The Harvest Restaurant, open to lodge and non-lodge guests. Focusing on fresh, seasonal and locally-sourced produce, Head Chef Webb's a la carte menus are complemented by a selection of wines with an emphasis on New Zealand whilst also including an international selection. Guests can enjoy dining at the Chef's Bench or taking a tour with the Chef through the lodge's extensive vegetable and fruit garden, cooking demonstrations and more.
Showcasing the bounty of the local seafood, The Marlborough Lodge is offering two new food and wine experiences for lodge and non-lodge guests. For a "Taste of Cloudy Bay Surf Clams & Sauvignon Blanc", the lodge invites foodies for a day out in the pristine Marlborough Region where guests will see, touch, cook and devour the fantastic Cloudy Bay Surf Clams and pair them with the renowned Cloudy Bay Sauvignon Blanc. After seeing how the clams are processed and cleaned at Cloudy Bay, guests return to the lodge where Chef Sam Webb conducts an interactive cooking demonstration with tips and secrets on how best to serve the Surf Clams followed by a delicious lunch.
For the more adventurous, the lodge's new "Helicopter Reef Fishing: D'Urville Indulgence" takes guests to one of New Zealand's best-kept secrets – an island located off the northern coast of the South Island. Guests will fly by helicopter to fish off of a reef in the island, catch Blue Cod and enjoy a beach lunch location with Blue Cod sashimi, grilled Blue Cod with fresh salads, baked bread and paired with outstanding Marlborough white wines or local craft beer.
To fully appreciate the beauty and serenity of the property's natural surroundings, guests can learn about the extensive gardens and vineyards with a tour of the grounds with the lodge's very own head gardener. Learn about all of the different tree and bush varieties (both native and non-native), orchard fruit trees, vegetables, herbs, and flowers and even visit the chicken coop where eggs are used in the daily menu.
With the gentle Spring Creek running through the property, guests can spot various birds and ducks and other wildlife while taking a leisurely stroll on the grounds. Other lodge amenities include bicycles and maps to explore the area, freshwater pool, grass tennis courts next door, daily breakfast with freshly baked muffins, breads, granola, yogurt, fruit and eggs cooked to order, pre-dinner drinks and canapes and mini-bar. The lodge can organize with their local partners private wine tastings and tours, cultural tours including area museums (Marlborough's Omaka Aviation Heritage Centre is the world-renowned display of Sir Peter Jackson's rare collection of WW1 aircraft and memorabilia), helicopter tours, kayaking/hiking/biking in Marlborough Sounds, fly-fishing tours on the Wairu River, whale watching and dolphin tours, cruises and boat tours and more.
A former Victorian convent from 1901, The Marlborough Lodge has been beautifully renovated and restored and offers 10 luxury, contemporary suites and rooms set on 16 acres of parkland gardens and vineyards. Located in the heart of the vineyards of Marlborough just 10 minutes from the Marlborough Airport and 20 minutes from the Marlborough Sounds, The Marlborough Lodge is centrally located at the Top of the South Island, just a 15-minute flight to Wellington or a 90-minute flight to Auckland.