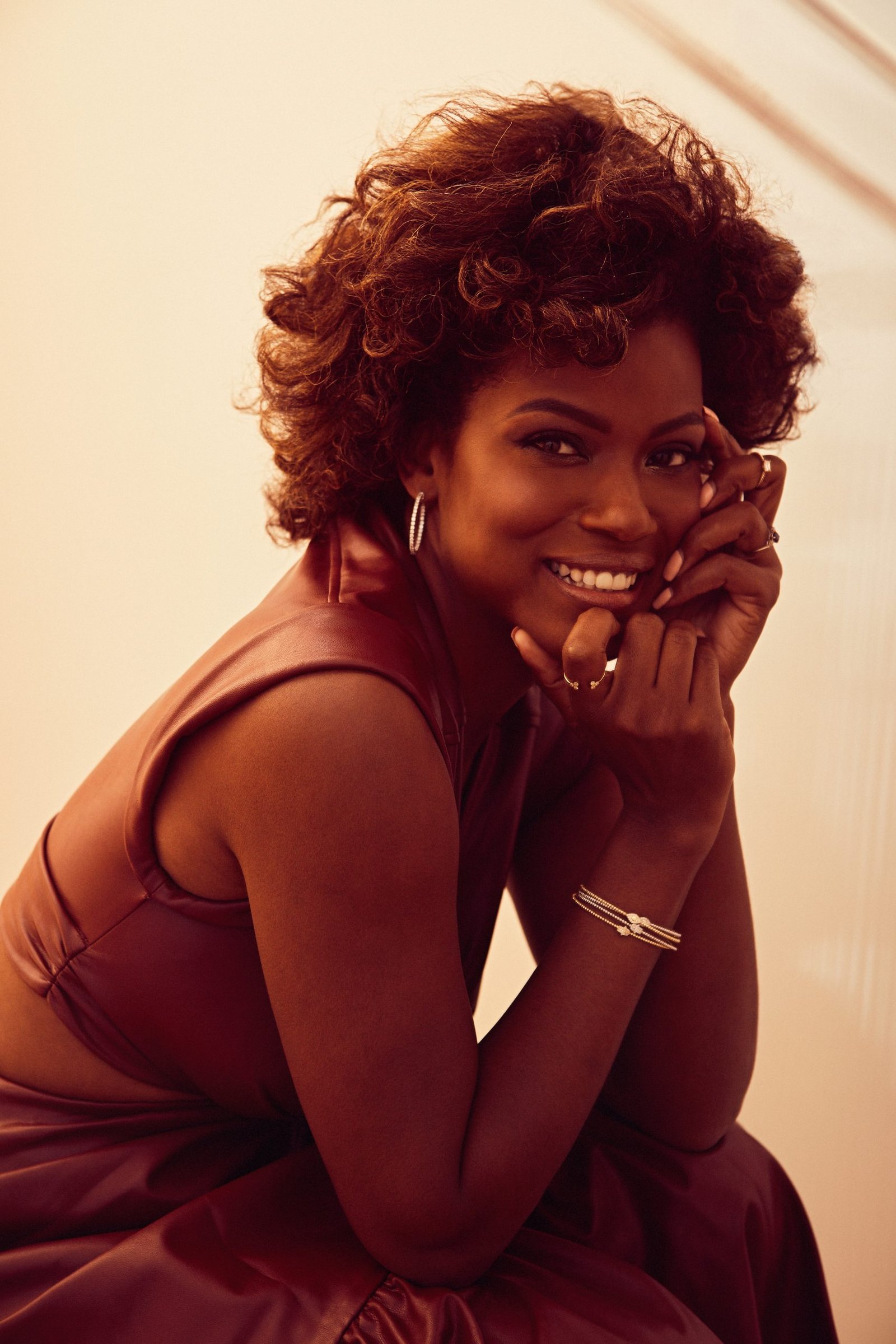 Cassandra Freeman Talks Playing Aunt Viv On 'Bel-Air' and Building Creaticity For BIPOC Creatives
---
If you're a fan of the new Bel-Air series on Peacock, then you're definitely a fan of Cassandra Freeman.
Her character Aunt Viv sees Freeman playing the iconic maternal figure to Will Smith's mom, with Will being played by Jabari Banks in the reimagined series. In the first season, Freeman not only had to hold down her husband Uncle Phil (played by Adrian Holmes, whom she's worked with in the past), but also had to face the fact that she had put her own dreams to the side to take care of her family.
Now, Bel-Air enters their second season, as things between the Banks' family continue to get heated.
While she was born in West Palm Beach, Florida, Cassie was raised in Jacksonville where she attended an arts high school. In 9th grade, she began acting, slowly building the foundation for what's to come. After attending college at Florida State, Cassie enrolled in NYU or grade school — the exact time she considers her professional career began.
Cassie's first big role was for a Spike Lee movie called Inside Man, playing Denzel Washington's love interest. For any aspiring actors or actresses out there, imagine going to work and you're playing a scene across Denzel! One year later, Cassie starred in the 2007 rom-com I Think I Love My Wife, alongside Chris Rock. She even credits him for jumpstarting her standup career! But there's so much more to Cassie than what you see on television or in film.
Aside from her acting endeavors, Freeman is a mother, wife, and someone who "just likes to laugh a lot." She's the founder of Creatricity, whose goal is to highlight diverse professionals in hopes of bringing BIPOC creatives to the forefront of the industry, with inclusion being the primary focus.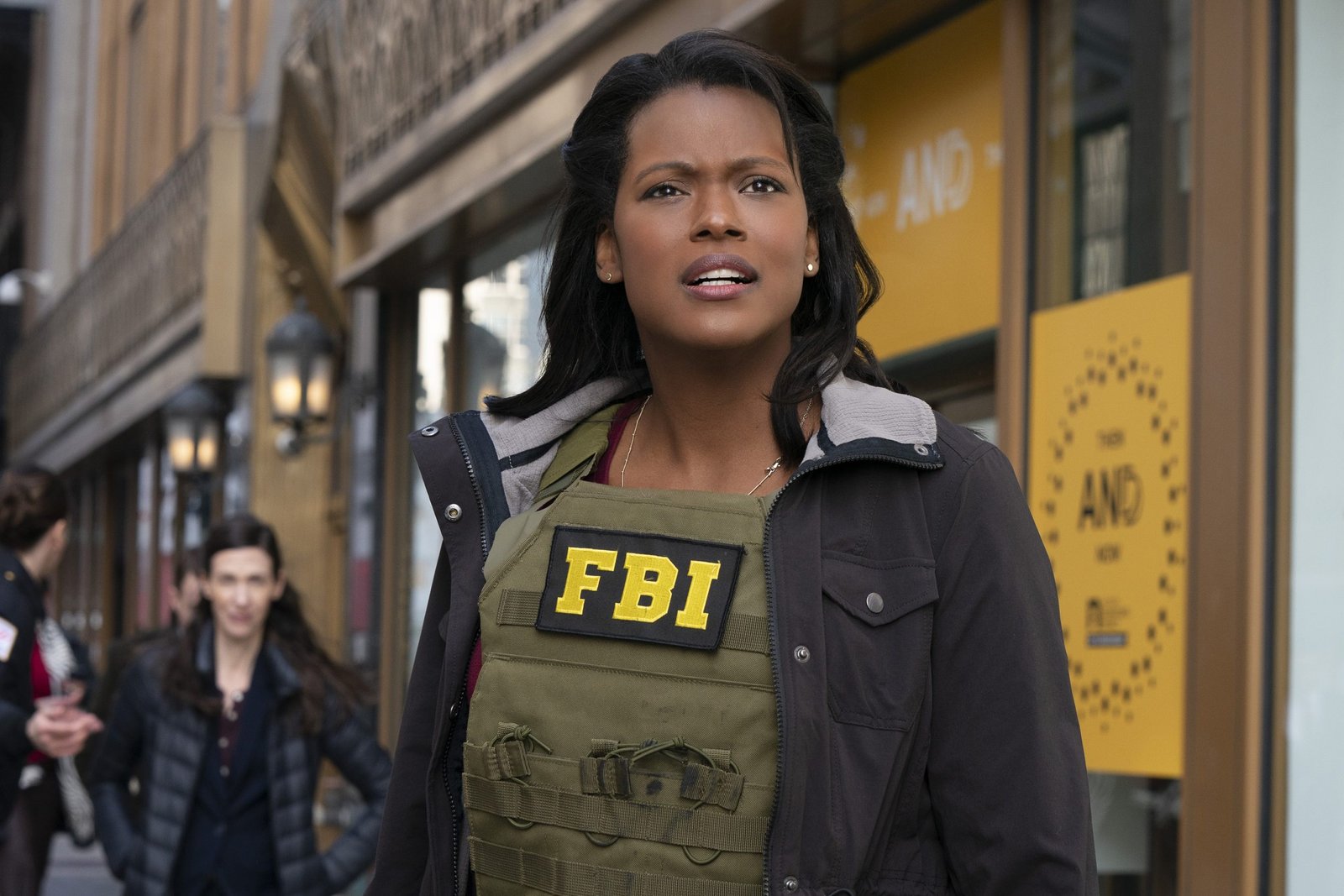 THE ENEMY WITHIN — "Eye Of Horus" Episode 106 — Pictured: Cassandra Freeman as Jacqueline Pettigrew — (Photo by: Virginia Sherwood/NBC)
TheFoxMagazine spoke with Cassandra Freeman via Zoom to discuss her biggest inspirations, acting with Denzel Washington for her first big acting gig, what she was going through during that time, landing the role as Aunt Viv, starting Creatricity, and more!
Growing up when you wanted to act, did you think you'd be here now today?
I definitely used to say it all the time. When I was a little kid, I used to always say "watch, Denzel Washington will be married to me. And if not, we'll be doing movies together." I used to say that all the time. So for that to be the first film, definitely the people who grew up in Florida are like, "Oh my God. She did it!" It's crazy, but that's always been my dream. I'm so thankful that God has definitely exceeded my expectations.
What do you feel when you act?
I'm in search of trying to be fully self-expressed. I'm always looking to feel this thing of revealing some type of deep truth that has not been revealed yet.
TheFoxMagazine is all about inspiration, who or what inspires you the most?
So many things inspire me right now. Anything that's great art always inspires me. For instance, I was on the Kelly Clarkson show. She gave me this album of The Miseducation of Lauryn Hill. Oh my goodness, as soon as I saw this album, it gave me all the feels because that album represents the best of artistry. Every track. It takes me back to when I was still trying to put the pieces together of what it means to be an actress, how to put a life together as an actress. I was just an undergrad.
Also what inspires me is my husband is a sound designer and music composer. You have never seen — when my husband works, he's always in the zone. His level of precision and perfection within that precision is unmatched by anyone I know. Anytime I go to work with him and watch him, I think to myself "Oh, I need to work harder."
I love that! I'm sure you motivate him as well.
Yes, yes. I'm sure he would say that as well, but we're such different types of people. I remember, we went to a karaoke thing I was invited to. I stood up and sang "Suddenly Seymour." My husband got so teary-eyed, he dropped tears. I said, "Oh my goodness!" He's like, "you're just so free." We're inside out of each other. He's so calm and I'm so full of energy, but we represent different aspects of each other's personality that we wish we could tap into.
When I first met you at the hotel in Pasadena, my biggest takeaway was "oh my gosh, you're such a vibe!" Your energy is so contagious.
Thank you! I'm just happy. It's so crazy when I have downtime, I have real downtime. I'm a person who takes baths, gets massages and enjoys saunas. I need deep downtime, but it's because I get around people, people really do energize me. People remind me why I'm happy to be alive. I love being around people, but I love my downtime. I can have a bad day and if I'm around like the right group of people, I'm like "oh, this is why I'm alive." I was made for community, that's what what I was made for.
Your first big acting gig was Spike Lee's Inside Man which starred Denzel Washington. You played his love interest. What are those conversations with Denzel like?
It was amazing to work with Denzel. Because here's my first film, my first anything professionally. It's the job that got me my Screen Actors Guild card. I was in three scenes. I remember thinking, "Is this even a big deal?" I knew it was a big deal, but am I a big deal? Am I part of the process? From day one, he treated me like a professional. He's like, "Here, let's sit down. Let's look at the script. Let's figure out what else we can do to make it feel authentic to who we are."
He made me realize early on that when people write scripts, they don't always know who is going to be the actor who sits in it. He said "you almost always have to try to tailor or make it for you and your idea of the character." So he did that with me. It's amazing to me that someone like Denzel Washington created a space for us to have a conversation about who I think this person is, and who I think he is, and who we are together. Mind you, so much of my career has been the opposite of that, of people who don't give you space to take up space and have an opinion.
In some ways, he inoculated me from not having self-esteem about creating choices for myself. Because he made it very clear that as an actor, you see things that other people can't see, just like a writer can see things they can't see. But they gave you a job for a reason, and he showed me that time and time again on set. I'm endlessly thankful to Denzel and to Spike Lee. Spike Lee made it very clear that I'm an artisan with a craft. No different than the guy who's grip, who's lighting. No different than the sound guy, we're all here as craftspeople, trying to do our certain technique. Because it really is a miracle that all these different technicians can come together and somehow ignite the same vision.
Were you nervous? You dreamed of working with Denzel, then you go into working with Denzel. 
It was a really dark part of my life, that just happened to be the bright spot. Weeks before I booked that, my father passed away suddenly. My grandfather passed away from pancreatic cancer. I was engaged to someone for three years, and it fell apart weeks before either one of those two things happened. By the time this came around, I didn't have the space to be nervous on set. I was definitely excited when Denzel called my house the first time, I'll never forget how excited I was. When I met Denzel and Spike Lee, or even when I hit the set, I didn't have that level of enthusiasm because I was in such a deep depression.
It's amazing that work can fulfill you in that way.
Honey! It happens to a lot of people where something dark happens. If you can keep your chin above water long enough, something magnificent will come for you. It's not a fake metaphor when they say "the darkest times are when the light will shine again. The rainbow after the greatest storm," these are all true things. Over and over my life, very dark things have happened, then another chapter will show up.
I'm always like ugh, if the devil is trying its best to defeat you in something dark, know it's trying to defeat you because he knows something magnificent is on the other side.
It's almost like playing a video game, you gotta get through this last challenging round before you get all of the confetti of getting to the next level.
In my life, I've seen that time and time again to be true.
Talk about landing the role for Aunt Viv for Bel-Air, you're perfect for it!
It's an audition that pops up in your email one day, and I sort of ignored it. I'm not gonna be Aunt Viv, it seems too big for the mantle. My manager reached out to me, he said "Are you gonna put yourself on tape?" Nah, it's probably not for me. My manager's like, "What do you mean? These are all the things you said you wanted." I said I didn't want to do any more Black pain stories for a while. I don't want to be a Black woman crying in the street over her dead son. I'm over Black pain. I need something else other than the Black pain that goes through a lot of this industry.
I needed a mental break. I have a son. I have a four-year-old so at that point, he was two or three. My heart couldn't handle any dark stories. I said I'd love to play someone who's rich, fantastic, I get to dress beautifully. She's chasing her passions, not chasing racism. There's gotta be other stories to tell. My manager said, "This does all the things, what're you talking about?!" Alright, I'ma do it. So I put myself on tape. A week later, the showrunner and creator of the show, Morgan Cooper, wanted to have a meeting with me. I said, "You mean like a call back?" He's like, "No, a meeting." We had a meeting, we talked. They asked, "Do you like young people?" Yes, I do. These are crazy questions because I used to be a professor for 12 years. I said "of course, I love young people."
That's the only thing I remember them asking. That, and I shouldn't feel like I'm trying to do a version of Janet Hubert's character or Daphne Maxwell's version. They're like, "This is an opportunity for someone to create their own idea of who it is." I'm like "Oh, that's great information." Two weeks after that, I went on vacation to Greece. I get the call that they want me to do a chemistry test. Chemistry is when you audition with your love interest in the show. Who for me, would be Uncle Phil. They said, "We have a couple of Uncle Phil's." These people, they're so sweet. But they're not casting me. I'm in Greece, this is ridiculous. Let me tell you how hard it is to have good reception on this little island. I'm not going to put my life upside down, I'm trying to enjoy my first break in years.
They're like, "No, no, no, we'll make it work for you." So they made it work. They said "It's just one person we want you to read with," and it was Adrian Holmes who's the Uncle Phil today. I've worked with him twice before. As soon as I saw him, oh my God! Adrian? Adrian knew I was going to be there, this is crazy. He was so mesmerizing as Uncle Phil, I'm like "oh, then I must not be Aunt Viv. But they definitely found the right Uncle Phil."
After that, a week later I got a call from my manager. He called me at 3am like," You're the new Aunt Viv!" When I tell you he screeched it, I couldn't even understand him. I know there were dogs all over the country who could hear him. My son for some reason woke up and he came to my room. He said, "Congratulations mommy!" I don't know how my son knew, why he was awake. It was like a movie. Me and my husband were like oh my God, we're so excited. Then my husband had such a moment where we looked at each other like "ugh, it's in California." We live in Brooklyn.
Did you have to move to Los Angeles for the show?
Yes, we're here for half the year.
Did you fall in love with California?
I used to live here. I lived here for a few years, a long time ago now. Back in '06, I used to live here, through '09. I'm very familiar with California and the West Coast, but my whole family and life is in Brooklyn. Brooklyn's a very different vibe and community is so easy to have in Brooklyn, because everyone lives right outside your doors. California, you gotta get a car and drive. It's different.
It's a little bit more challenging to be here as a parent, versus Brooklyn where you can walk everywhere. You got two or three playgrounds in walking distance, all his best friends are in walking distance. You come here, you're like "ugh!" But my son loves both. If you ask him which one does he love? He's like "I love both, because California has the ocean and the mountains. New York doesn't have that, but New York is new York! I live in downtown Brooklyn, there's nothing like it." That's all I care about. If he loves both, I love both.
Is he gonna take after mommy's footsteps and act?
My son tells me, "It's gonna be very hard for me to have friends when I'm older because I'm going to do everything. People are gonna go 'Hudson is here, Hudson is there.' So I'm gonna be doing everything." I'm just gonna go watch and see what he develops into. To be any artist is a calling, because it's the most difficult journey one can take. It's as difficult as many other things, but because it's your heart and soul out there for public consumption to talk about high and low, it's a calling. It's nothing I think people should do once unless calling you.
What has been the highlight of Bel-Air Season 2?
Highlight of Season 2 is finding out we got a Season 3. [laughs] That's for sure. In episode 9 or 10, you'll see there's this moment I have with Daphne Maxwell. The end of the season is really about people having to confront one's truth, even if that truth is uncomfortable to other people. Every character in the show deals with that. I love when this show dares to be vulnerable and not perfect and clumsy in its way of trying to show how difficult and challenging it can be to be in a family and to pursue your dreams. It's very complicated, you'll see. That and Episode 6 is my most favorite episode ever.
Definitely want to talk about Creatricity, why is it important for you to create a community for BIPOC creatives. 
I wish there was another word for diversity. I want to work with cool people who think of themselves as white people, I think people who are BIPOC want to work with those people too. My world is about integration. This is about how do we all come together and give each other an authentic way to meet each other? It's meant to solve a problem. The problem is when you're traveling and creating, where do you go to find your next director? Where do you go to find your next hairstyles? How do you find your next DP or photographer or videographer? How do you find these people? Right now, all we do is email, word of mouth. You hope you bump into someone.
Creatricity is meant to take that away. You go, you sign up as a member. We only allow people who are vetted members of media and entertainment to be a part of it. That way hopefully, you can find your next entertainment lawyer, your next actor. Hopefully in a click of a button, you're able to collaborate. We also do meetups in person, so it could be fun to meet new people. I always say it's like LinkedIn had a baby with IMDB, that's what it is.
Aristotle Torres' Story Ave and Bill Oliver's Our Son, opposite Luke Evans and Billy Porter.
What can we expect from your upcoming roles?
It's two beautiful independent movies. Story Ave, which is about a street artist who has to deal with the death of his brother. He's a conflicted soul. He basically runs away from home, tries to rob a bank. But it's a robbery that goes right and the direction that takes his life. Luis Guzman plays the guy who he tries to rob, it's a tour de force role for him. I hope everyone sees the genius that is Luis Guzman. It is like you've never seen him before, in a way we should have always seen him. He's a full, 360 degree character. Full of life. I play the leading guy's mother.
The other movie is Our Son with Luke Evans and Billy Porter. It's really a movie about a couple, Luke Evans and Billy Porter are a married couple who end up in a custody battle over their son. It's like Kramer vs. Kramer, but today. Beautiful and poetic movie. I haven't seen it so I can only tell you what I've read, I know that'll be coming out later this year. I play the woman who helps give them the opportunity to even have a kid in the first place, and just see the journey of where that takes them. I think they'll be very excited to see that one.
---
Connect With Cassandra!